Bowen, Howard Rothmann 1908-
Most widely held works about Howard Rothmann Bowen
more
fewer
Most widely held works by Howard Rothmann Bowen
Investment in learning : the individual and social value of American higher education
by
Howard Rothmann Bowen
( Book )
33 editions published between
1977
and 1997 in
English
and
Undetermined
and held by 1,280 WorldCat member libraries worldwide
This volume explores the many ways in which college and university education influences the lives of individuals and society. While the book recognizes the economic benefits of a college education, it also surveys and lends support to the evidence of the noneconomic benefits of higher education, both for the individual and for the nation. The 15 chapters of the book are grouped into 4 parts: (1) setting the stage, (2) consequences for individuals, (3) consequences for individuals, and (4) a conclusion. Individual chapters cover the following topics: efficiency and accountability in higher education; goals and intended outcomes; cognitive learning; emotional and moral development; practical competence for citizenship and economic productivity; competence for family life, consumer behavior, leisure and health; the "whole person"; similarities and differences among institutions; societal outcomes and the ethos of higher education; societal outcomes from research and public service; progress toward human equity; economic returns on investment in higher education (prepared by Gordon K. Douglas); views of social critics (prepared by Peter Clecak); outcomes of higher education and worth to individuals; and the current debate on the future of American higher education. (Contains 650 references and a name index.) (Ch)
American professors : a national resource imperiled
by
Howard Rothmann Bowen
( Book )
19 editions published between
1985
and 1986 in
English
and
Undetermined
and held by 794 WorldCat member libraries worldwide
The impact of upheavals in U.S. higher education on the professoriate was examined, focusing on such factors as declines in enrollment and governmental support, and shifts in enrollment among fields of study. Characteristics of faculty were identified, including their tasks and capabilities, personal background, attitudes and values, emergent subgroups within the faculty, and their effectiveness in terms of the quantity and quality of their work. Based on more than 500 interviews nationally, trends in the rewards and working conditions of the profession were also considered, including workload, time use, compensation, and work environment. In considering the academic labor market, attention was directed to faculty supply and demand, faculty attrition, the changing market for Ph. D.s, and the flow to academe of persons at various stages in their careers, including the exceptionally talented. The possibility that there may be many faculty positions filled with persons inadequately qualified was addressed, along with suggestions for recruiting and retaining competent faculty and the roles of government, colleges, and faculty. Appendices cover the methodology for campus visits, data for surveying leading graduate departments, estimates of faculty attrition, estimates of faculty numbers for 1980-2010, and a bibliography. (Sw)
The costs of higher education : how much do colleges and universities spend per student and how much should they spend?
by
Howard Rothmann Bowen
( Book )
19 editions published between
1980
and 1993 in
English
and held by 788 WorldCat member libraries worldwide
The question of what American colleges and universities should spend to educate their students is addressed. Both societal and institutional factors that determine the costs of colleges' educating their students and longitudinal changes in the unit cost of higher education are examined. The following issues are considered: long-term trends in unit cost, faculty and staff compensation as a major element of cost, costs that have been socially imposed as the nation has tried to protect and enhance social welfare, and undermaintenance of assets. In addition to examining the higher education system as a whole, a sample of institutions are also assessed. Cost differences among institutions, institutional affluence and patterns of resource allocation, effect of institutional affluence on educational outcomes, and economies and diseconomies of scale are analyzed. Implications of the study of national trends and of the study of individual institutions are discussed. Appended materials concern: sources and methods for allocating total expenditures, historical trends in the costs of higher education institutions, and sources and methods of analysis for data on institutional costs. References are included. (Sw)
The state of the nation and the agenda for higher education
by
Howard Rothmann Bowen
( Book )
10 editions published between
1982
and 1993 in
English
and held by 756 WorldCat member libraries worldwide
The recent shift away from traditional liberal education to vocational training is examined, along with the effects this trend may have on the United States. After a preliminary review in Chapter 1, "American Higher Education: Recent History and Present Condition," Chapter 2, "How Well-Educated Are the American People?" Examines past trends in educational attainment, future trends in educational attainment, educational content, findings from studies of competence, knowledge, and values, and a periodic survey of educational attainments. Chapter 3, "Progress of the Nation," discusses the population, the economy, social conditions, communications, and quality of life. In Chapter 4, "Problems Facing the Nation," economic, social, political and educational problems, the informed and responsible citizen, and the plight of the youth are discussed. Chapter 5, "Education in Democracy," discussed equilibrium, economic problems, political problems, values, and the role of education. Sources of influence, liberal learning, and higher education's role in social change are examined in Chapter 6, "Higher Education and Social Change." Chapter 7, "Toward a Nation of Educated People," discusses the baccalaureate degree, the course of study, characteristics of a well-educated person, educability, and what a nation of well-educated people would be like. Chapter 8, "Agenda for Higher Education," discusses the notion of a nation of educated people, education for values, American youth, international reconciliation, and offers concluding remarks. It is concluded the responsibilities of highest priority for higher education are: (1) to strengthen and extend higher education so that America might become a nation of educated people; (2) to elevate the values of the American people; (3) to redeem the lives of the millions of disadvantaged youth in America; and (4) to lay the groundwork for international reconciliation. Appendices include: indicators of economic and social progress in the United States, 1950-1980, and data on the educational attainments of the American people. (Lc)
Automation and economic progress
by
United States
( Book )
16 editions published in
1966
in
English
and held by 640 WorldCat member libraries worldwide
Background papers and summary of the Report of the U.S. National Commission on Technology, Automation and Economic Progress, established in January, 1965
Social responsibilities of the businessman
by
Howard Rothmann Bowen
( Book )
31 editions published between
1953
and 2013 in 4 languages and held by 633 WorldCat member libraries worldwide
Corporate social responsibility (CSR) expresses a fundamental morality in the way a company behaves toward society. It follows ethical behavior toward stakeholders and recognizes the spirit of the legal and regulatory environment. The idea of CSR gained momentum in the late 1950s and 1960s with the expansion of large conglomerate corporations and became a popular subject in the 1980s with R. Edward Freeman's Strategic Management: A Stakeholder Approach and the many key works of Archie B. Carroll, Peter F. Drucker, and others. In the wake of the financial crisis of 2008-2010, CSR has again become a focus for evaluating corporate behavior. First published in 1953, Howard R. Bowen's Social Responsibilities of the Businessman was the first comprehensive discussion of business ethics and social responsibility. It created a foundation by which business executives and academics could consider the subjects as part of strategic planning and managerial decision-making. Though written in another era, it is regularly and increasingly cited because of its relevance to the current ethical issues of business operations in the United States. Many experts believe it to be the seminal book on corporate social responsibility. This new edition of the book includes an introduction by Jean-Pascal Gond, Professor of Corporate Social Responsibility at Cass Business School, City University of London, and a foreword by Peter Geoffrey Bowen, Daniels College of Business, University of Denver, who is Howard R. Bowen's eldest son
Toward social economy
by
Howard Rothmann Bowen
( Book )
25 editions published between
1948
and 1979 in 3 languages and held by 447 WorldCat member libraries worldwide
more
fewer
Audience Level
0

1
Kids
General
Special
Audience level: 0.38 (from 0.30 for Social res ... to 0.93 for The studio ...)
Associated Subjects
Adult education
Automation--Economic aspects
Bowen, Howard Rothmann,
Business enterprises
College administrators--Salaries, etc
College costs
College presidents
College students--Economic conditions
College teachers
College teachers--Salaries, etc
College teaching--Vocational guidance
Continuing education
Democracy
Economic history
Economics
Economics--Research
Economists
Education, Higher
Education, Higher--Aims and objectives
Education, Higher--Costs
Education, Higher--Economic aspects
Education, Higher--Social aspects
Education, Humanistic
Educational accountability
Educational sociology
Education--Finance
Great Britain
Industries--Social aspects
Iowa
Journalism
Local government
Manpower policy
Medical care, Cost of
Medical economics
Municipal finance
Politics and government
Presidents
Private universities and colleges
Social conditions
Social policy
Teachers--Pensions
Teachers--Salaries, etc
Technological unemployment
United States
Universities and colleges
Universities and colleges--Administration
Universities and colleges--Employees--Salaries, etc
Universities and colleges--Finance
University of Iowa
Welfare economics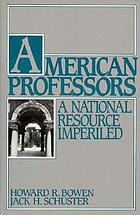 Alternative Names
Bowen, Howard

Bowen, Howard R.

Bowen, Howard R. 1908-

Bowen, Howard R. (Howard Rothmann), 1908-

Bowen, Howard Rothmann

Bowen, Howard Rothmann 1908-1989

Howard Bowen American economist

Howard Bowen economista estadounidense

Howard Bowen économiste américain

Rothmann Bowen, Howard

Говард Боуэн

هوارد بوين عالم اقتصاد أمريكي

ボーエン, ハワード・R.

Languages
Covers