Wildavsky, Aaron B.
Overview
| | |
| --- | --- |
| Works: | 305 works in 1,445 publications in 7 languages and 39,361 library holdings |
| Genres: | History Popular works Juvenile works |
| Roles: | Author, Editor, Author of introduction, Other, Honoree, Interviewee, Performer, Compiler, Speaker |
| Classifications: | JK528, 324.973 |
Most widely held works about Aaron B Wildavsky
more
fewer
Most widely held works by Aaron B Wildavsky
Presidential elections : strategies of American electoral politics
by
Nelson W Polsby
( Book )
97 editions published between
1900
and 2004 in 3 languages and held by 4,341 WorldCat member libraries worldwide
Describes and analyzes the process by which Presidents of the United States are nominated and elected, appraises voting behavior and the influence of nonparty, independent activists, and suggests possible future trends
Presidential elections : strategies and structures of American politics
by
Nelson W Polsby
( )
39 editions published between
1976
and 2016 in
English
and held by 2,194 WorldCat member libraries worldwide
Brimming with data and examples from the 2008 and 2012 elections, and laced with previews of 2016, the fourteenth edition of this classic text offers a complete overview of the presidential election process from the earliest straw polls and fundraisers to final voter turnout and exit interviews. The comprehensive coverage includes campaign strategy, the sequence of electoral events, and the issues, all from the perspective of the various actors in the election process: voters, interest groups, political parties, the media, and the candidates themselves
Implementation: how great expectations in Washington are dashed in Oakland; or, Why it's amazing that Federal programs work at all, this being a saga of the Economic Development Administration as told by two sympathetic observers who seek to build morals on a foundation of ruined hopes
by
Jeffrey L Pressman
( Book )
46 editions published between
1973
and 2005 in
English
and
Undetermined
and held by 1,602 WorldCat member libraries worldwide
This book confronts the widespread impression that policy or program implementation should be easy, arguing instead that implementation, even under the best of circumstances, is exceedingly difficult. Using the Oakland Project as a case study, this book discusses each stage of the process of implementation, demonstrating that completion of what might seem to be a simple sequence of events will in fact depend on a complex chain of reciprocal interactions. Each part of the chain must be built with the others in view, so the separation of policy design from implementation is fatal. The first four chapters illustrate the movement from simplicity to complexity. Chapter 5 discusses the number of decision points throughout the process, giving an indication of the magnitude of the task. Chapter 6 examines why project targets may be set even if they are unlikely to be met, considering both the position of those who set targets -- top federal officials who wish large accomplishments from small resources in a short time -- and those who must implement them -- career bureaucrats and local participants characterized by high needs and low cohesion. The last chapter discusses the relationship between the evaluation of programs and the study of their implementation, arguing that tendencies to assimilate the two should be resisted
The real world order : zones of peace, zones of turmoil
by
Max Singer
( Book )
25 editions published between
1993
and 1996 in
English
and held by 1,490 WorldCat member libraries worldwide
The fall of communism in Eastern Europe and the resulting demise of Cold War bipolar politics pose a provocative question for observers of the international scene: If there is a new world order, what are its defining features and what do its current tendencies portend for the future? In The Real World Order: Zones of Peace/Zones of Turmoil, Max Singer and Aaron Wildavsky argue that no prior attempt to describe the post-Cold War world order has succeeded because none has divided the apparent disarray into its two parts: zones of peace and democracy, in which they discern a new basis for international relations, and zones of turmoil and development, where the future will be like the past, at least for a while. Singer and Wildavaky integrate political, military, cultural, and economic factors into a coherent vision of how the world works today and what it is becoming. The result is an analysis that is neither liberal nor conservative, hawk nor dove, isolationist nor interventionist, but cuts across the usual stereotypes to sketch the main outlines of a comprehensive world order and provide a realistic basis upon which all parties may debate policy. By taking the perspective of a century or two, rather than focusing on a snapshot of today or a view of a few years, and by comparing the next century with this one, during which over 40 million people were killed in wars and over 100 million by their own governments, Singer and Wildavsky approach their subject with a disconcerting optimism and find in contemporary prospects a hopeful model for progress toward global peace and prosperity. The Real World Order will set the terms for further reflection and debate, and it poses primary questions for the future: How will the stable, prosperous societies in the zones of peace protect their democracy, how will they deal with conflict that does not threaten national survival, and what responsibility will they have to mitigate the horrors of war and poverty in the zones of turmoil during the next century?
The new politics of the budgetary process
by
Aaron B Wildavsky
( Book )
55 editions published between
1987
and 2012 in
English
and
Indonesian
and held by 1,192 WorldCat member libraries worldwide
Foreword p. xi Preface to the Fifth Edition p. xix Preface to the First Edition p. xxvii Biographical Note p. xxxiii Chapter 1 Budgeting as Conflicting Promises p. 1 Budgets Are Conflicting Commitments p. 7 Tax Preferences p. 11 Appropriations: The Power of Congress and Power Within Congress p. 13 The President Is Both Rival and Partner of Congress p. 16 Conflicting Promises: The Multiple Meanings of Budgetary Control p. 19 Chapter 2 Budgets as Struggles for Power: A Historical Perspective p. 25 Colonial Origins p. 26 Turning Points: Civil War through World War I p. 30 The Executive Budget Movement p. 33 Dislocation and Continuity: Depression and War p. 40 Chapter 3 The Dance of the Dollars: Classical Budgeting p. 42 Calculations p. 44 Complexity p. 44 Aids to Calculation p. 45 Incremental Budgeting p. 46 Roles and Perspectives p. 50 The Agency p. 50 The Bureau of the Budget p. 54 The Appropriations Committees p. 56 Strategies p. 57 Be a Good Politician p. 58 Clientele p. 58 Confidence p. 60 Congressional Committee Hearings p. 62 Strategies Designed to Capitalize on the Fragmentation of Power in National Politics p. 62 Chapter 4 The Collapse of Consensus p. 68 The Growth of Entitlements p. 69 Economic Activism p. 70 Federal Credit p. 71 Priorities p. 72 Impoundment p. 73 The Budget Act: More Checks, More Balances, but Not More Control p. 75 Impoundment Again p. 75 Congressional Budget Office p. 76 Senate Budget Committee and House Budget Committee p. 76 Scheduling p. 76 Resolutions p. 77 Reconciliation p. 78 Complexity p. 78 A Congressional Budget, or Merely More Budgeting? p. 78 The Budget Process, 1975--1979: Making Totals Stick p. 79 Classical Budgeting Withers Without Quite Disappearing p. 81 Chapter 5 The Politics of Dissensus p. 83 Why Budget Decisions Became So Difficult p. 84 The Focus on Totals p. 84 The End of Economic Management p. 85 Dominance of the Deficit p. 86 Polarization of the Parties p. 87 The Congressional Budget Act in the 1980s p. 88 R and R: Resolution and Reconciliation p. 88 Deferral and Rescission Redux p. 90 The Shifting Budgetary Base p. 91 Continuing Omnibus Resolutions p. 92 OMB in an Era of Perennial Budgeting p. 93 Top-Down Policy Making p. 94 Continuous Budgeting p. 94 Negotiating with Congress p. 95 Implications for OMB p. 96 Dissensus in Congress p. 97 Role Reversal p. 97 Rolled on the Floor p. 98 Budgeting Penetrates Congress p. 100 Gimmicks p. 100 Chapter 6 The Politics of Balancing Budgets p. 103 Gramm-Rudman-Hollings p. 105 The Budget Enforcement Act of 1990 p. 106 The Clinton Budget of 1993 p. 108 The Politics of Radical Reversal 1995 p. 111 Prologue: Constitutional Amendment and Rescission p. 112 Budgets and Counterbudgets: The President's Budget and the Congressional Resolution p. 113 Incrementalism in Mirror Image: Appropriations p. 114 Confrontation: Continuing Resolutions and the Debt Limit p. 115 Reconciliation and Intransigence p. 118 The Balanced Budget Act of 1997 p. 120 Chapter 7 Entitlements p. 123 The "Ought" and "Is" of Entitlements p. 124 Entitlements and Budgeting p. 129 How Do Entitlements Start? p. 132 Why Do Entitlements Grow? p. 135 Maintaining Commitment: Social Security p. 136 Escalating Costs: Medicare p. 138 Expanding Eligibility: Medicaid p. 140 Provider Pressures: End-Stage Renal Disease p. 142 How Have Entitlements Been Controlled? p. 144 Declining Need: Black Lung Disease p. 145 Ending an Entitlement: Welfare p. 146 Entitlements and Others p. 148 Appropriations: Head Start and WIC p. 148 Tax Expenditures: Earned Income Tax Credit (EITC) p. 149 Formula Grants to States: Adoption Assistance Program, Individuals With Disabilities Education Act, and the Ryan White Care Act p. 149 Chapter 8 Budgeting for Defense p. 152 Dimensions of Defense p. 153 Defense Strategy and Funding p. 155 The Internal Budget Process p. 161 Planning, Programming, Budgeting p. 161 Acquisitions p. 165 The Congressional Budget Process p. 170 Reprogramming p. 173 Secrecy p. 175 Cuts p. 176 Contingencies p. 179 Chapter 9 Reform p. 181 Norms of Budgetary Behavior p. 181 Forms of Budgeting p. 184 Reform Without Conflict p. 184 The Politics in Budget Reform p. 186 Unit of Measurement: Cash or Volume p. 187 Time Span: Months, One Year, Many Years p. 188 Calculation: Incremental or Comprehensive p. 189 Management Reforms p. 191 Performance and Budgeting p. 191 Centralization and Decentralization: The Role of OMB p. 193 Credit Reform p. 195 Financial Management p. 196 Capital Budgeting p. 197 Limits p. 198 The Line-Item Veto p. 200 Chapter 10 From Surplus to Deficit p. 205 The Disappearing Deficit p. 205 The Politics of Budget Surplus p. 208 The End of the Surplus p. 212 Afterword p. 219 Characteristics of the Budget Process p. 219 The Budgetary Process Is Powerful Yet Impotent p. 220 The Budgetary Process Is Structured Yet Formalistic p. 220 The Budgetary Process Is Complex Yet Segmented p. 221 Budgetary Politics Are Polarized but Moderated p. 223 Glossary p. 225 Guide to Acronyms p. 230 Select Bibliography p. 231 Credits p. 245 Index
Risk and culture : an essay on the selection of technical and environmental dangers
by
Mary Douglas
( Book )
15 editions published between
1982
and 1983 in
English
and held by 1,087 WorldCat member libraries worldwide
The concern of many Americans with dangers to the natural environment is not justified rationally, according to the authors, but results from American cultural biases and the political goals of environmentalists
more
fewer
Audience Level
0

1
Kids
General
Special
Audience level: 0.38 (from 0.07 for The new pu ... to 1.00 for Aaron Wild ...)
Related Identities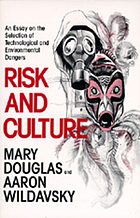 Covers
Alternative Names
Aaron Wildavsky American political scientist

Aaron Wildavsky Amerikaans econoom (1930-1993)

Aaron Wildavsky politólogo estadounidense

Wildavsky, A.

Wildavsky, A. 1930-1993

Wildavsky Aaron

Wildavsky, Aaron, 1930-

Wildavsky Aaron 1930-1993

Wildavsky, Aaron B.

Wildavsky, Aaron B 1930-

Wildavsky, Aaron Bernard

Wildavsky, Aaron Bernard 1930-1993

Wildavsky, Aron 1930-1993

와일브스키, 아론 1930-1993

와일브스키, 아론 B. 1930-1993

윌다브스키, A. 1930-1993

윌다브스키, 아론 B. 1930-1993

ウィルダフスキー, アアロン

Languages