Council for Exceptional Children
Most widely held works about Council for Exceptional Children
more
fewer
Most widely held works by Council for Exceptional Children
Teaching exceptional children in all America's schools : a first course for teachers and principals
by
Maynard C Reynolds
( Book )
8 editions published between
1977
and 1982 in
English
and held by 811 WorldCat member libraries worldwide
Intended for pre and inservice training of regular and special education teachers, the textbook offers a mainstream approach to educating handicapped and gifted students. The first two chapters give an historical overview of the development of special education and discuss some of the major conceptual shifts that seem to be inherent in the mainstreaming movement. Chapter 3 focuses on assessment of both programs and students, and chapter 4 considers how student and program assessments can be matched to provide individualized programs for each exceptional student with particular emphasis on the parents' role in the planning process. Seven chapters provide information on the state of the art in the following areas: giftedness and talents, mental retardation, learning disabilities and behavior disorders, physical and health impairments, speech problems, hearing impairments, and visual impairments. Additional chapters cover emerging trends in school personnel roles and instructional procedures; emerging programs relating to early childhood education, child neglect and abuse, drug handicapped learners, and school age parents; and present problems and issues that appear to hold strong portents for the future development of public school operations. For each issue considered, the authors contrast the prevailing practices with preferred approaches. Each of the 14 chapters begins with suggestions for students and instructor on how to develop the topic into a learning unit with additional resources and activities. Appended are the names and addresses of organizations agencies concerned with exceptional persons and information on teacher training materials. (Sbh)
Exceptional child education resources
( )
in
English
and held by 683 WorldCat member libraries worldwide
Comprehensive, bibliographic database for those interested in education and development of individuals who have disabilities or who are gifted. The database is maintained by the Council for Exceptional Children. Records are drawn from the professional literature, English and non-English, including books, journal articles, doctoral dissertations and various non-print media. Coverage includes all areas of gifted education, special education and related services provided by audiologists, speech therapists, occupational therapists and educational psychologists
Behavioral research on exceptional children. editors, Samuel A. Kirk [and] Bluma B. Weiner
by
Samuel A Kirk
( Book )
6 editions published in
1963
in
English
and held by 528 WorldCat member libraries worldwide
This monograph provides reviews of behavioral research studies which include author, title, purpose, subjects, methods or procedures, and results. Reviews are grouped by 11 exceptionality areas and administration of special education. The areas of exceptionality are (1) gifted, (2) educable mentally retarded, (3) trainable mentally retarded, (4) visually impaired, (5) hard of hearing, (6) deaf, (7) cerebral dysfunction, (8) orthopedic handicaps and special health problems, (9) speech and language impairments, (10) emotionally disturbed, and (11) delinquents. Introductory remarks for each area and comments by the reviewer on some studies are included. An author index is included. The document was published by the council for exceptional children, 1201 16th street, N.w, washington, D.C. 20036, and is available paperbound as stock number 551-19530 for $4.50 or clothbound as stock number 551-19532 for $6.50. (my)
Differentiating instruction for students with learning disabilities : best teaching practices for general and special educators
by
William N Bender
( Book )
4 editions published between
2002
and 2008 in
English
and held by 388 WorldCat member libraries worldwide
Differentiated instruction strategies that target the special needs of students with learning disabilities! These classroom-proven strategies empower the teacher to target instructional modifications to the content, process and products for students with learning disabilities in the general and the special education classroom. These best practices are the most up-to-date tactics available and specify numerous ways to differentiate instruction for students with learning disabilities. Invaluable for teachers in both inclusive and individual classes. This book provides numerous ideas and examples: Stress the brain-compatible teaching guidelines for varied instruction; Create practical, flexible lessons by varied instructional tactics, including webbing, cubing, scaffolded instruction, metacognitive tactics and many other strategies; Foster the attention of diverse learners via self-monitoring, self-management and responsibility strategies; Institute various peer tutoring systems that are practical and manageable in the inclusive class; Implement performance assessment and portfolios to diversity evaluation; Enhance social skills through group projects, role-play and sharing tutoring responsibilities. The use of these research-proven practices will result in academic enhancement in your classroom. Whether your challenging students are identified as learning disabled or low-achieving, these strategies and tactics can lead to significant gains for them in reading comprehension, language arts and math. This is a survival guide for differentiating instruction in today's classrooms!
Early childhood education for exceptional children : a handbook of ideas and exemplary practices
by
June B Jordan
( Book )
4 editions published in
1977
in
English
and held by 382 WorldCat member libraries worldwide
Intended as a guide for educators and researchers, the volume provides ideas and program descriptions in the field of education for young exceptional children. An introductory chapter (J. De Weerd) presents an overview of education for handicapped children and describes the establishment under the Bureau of Education for the Handicapped (beh) of the Handicapped Children's Early Education Program, sometimes known as the First Chance Program. Presented are a review of relevant legislation, descriptions of existing programs, and guidelines to aid in the development of new programs in the field of early childhood education for the handicapped in chapters with the following titles and authors: "The Enabling Legislation: How Did It All Begin?" (J. Harvey), "Alternative Models for Delivering Services to Young Handicapped Children" (M. Karnes and R. Zehrbach), "Identification, Screening, and Assessment" (A. Hayden and E. Edgar), "Record Keeping" (H. Fredricks, et al), "Curriculum and Instruction" (M. Wood and O. Hurley), "Special Program Needs of the Culturally Diverse Child" (J. Harvey), "Physical Facilities and Environments" (M. Jones), "Parent Involvement" (M. Shearer and D. Shearer), "Multiple Staffing Patterns" (A. Hayden and E. Gotts), and "Evaluation of Programs" (C. Huberty and W. Swan). Appended are a directory of beh First Chance Projects listed by states, and a listing, by title, of standardized tests used by beh First Chance Projects. (Im)
Creating schools for all our students : what 12 schools have to say : Working Forum on Inclusive Schools
by
Council for Exceptional Children
( Book )
4 editions published in
1994
in
English
and held by 364 WorldCat member libraries worldwide
A forum on inclusive schools, developed cooperatively by 10 national organizations, focused on the experiences of 12 schools and school districts across the United States and Canada. Twelve features are identified as characterizing inclusive schools: (1) a sense of community; (2) leadership; (3) high standards; (4) collaboration and cooperation; (5) changing roles and responsibilities; (6) an array of services; (7) partnership with parents; (8) flexible learning environments; (9) strategies based on research; (10) new forms of accountability; (11) access; and (12) continuing professional development. After a chapter describing how two schools began to use an inclusive approach, five chapters focus on these 12 characteristics with examples from the participating schools. Following the main body of the report, each of the schools is individually profiled. An appendix presents the policies and position statements on inclusive schools issued by five major national organizations: the Council for Exceptional Children; the National Association of State Boards of Education; the National Association of Elementary School Principals; the National Education Association; and the National School Boards Association. (Db)
more
fewer
Audience Level
0

1
Kids
General
Special
Audience level: 0.33 (from 0.19 for CEC home p ... to 0.94 for Society fo ...)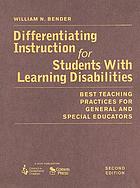 Alternative Names
C.E.C.

C.E.C. (Council for Exceptional Children)

CEC

CEC (Council for Exceptional Children)

Council for Exceptional Children in Canada

Etats-Unis Council for exceptional children

International Council for Exceptional Children.

International Council for the Education of Exceptional Children

National Education Association of the United States Council for Exceptional Children

National Education Association of the United States International Council for Exceptional Children

Languages
Covers