Wells, David F.
Most widely held works about David F Wells
more
fewer
Most widely held works by David F Wells
No place for truth, or, Whatever happened to evangelical theology?
by
David F Wells
( Book )
14 editions published between
1992
and 2006 in 3 languages and held by 565 WorldCat member libraries worldwide
Written expressly to encourage renewal in evangelical theology, No Place for Truth explores the interface between Christian faith and the modern world in entirely new ways and with uncommon rigor. It raises profound questions about the future of conservative Protestant faith. Here is provocative reading for scholars, ministers, Christian leaders, seminary students, and all theologically concerned people
The courage to be Protestant : reformation faith in today's world
by
David F Wells
( )
3 editions published in
2017
in
English
and held by 535 WorldCat member libraries worldwide
At its heart, the Protestant Reformation was about a deep, doctrinally shaped faith centered on God and his Word. But that historic, substantive faith is not faring so well in our contemporary Western context. In his 2008 book The Courage to Be Protestant, David Wells issued a summons to return to the historic Protestant faith, defined by the Reformation solas (grace, faith, and Scripture alone) and by a high regard for doctrine. In this thoroughly reworked second edition, Wells presents an updated look at the state of evangelicalism and the changes that have taken place since the original publication of his book. There is no better time than now to hear and heed Wells's clarion call to reclaim the historic, doctrinally serious Reformation faith in our fast-paced, technologically dominated, postmodern culture
Losing our virtue : why the church must recover its moral vision
by
David F Wells
( Book )
6 editions published between
1998
and 1999 in
English
and held by 468 WorldCat member libraries worldwide
In Losing Our Virtue: Why the Church Must Recover Its Moral Vision, theologian David Wells argues that the Church is in danger of losing its moral authority to speak to a culture whose moral fabric is torn. Although much of the Church has enjoyed success and growth over the past years, Wells laments a "hollowing out of evangelical conviction, a loss of the biblical word in its authoritative function, and an erosion of character to the point that today, no discernible ethical differences are evident in behavior when those claiming to have been reborn and secularists are compared." The assurance of the Good News of the gospel has been traded for mere good feelings, truth has given way to perception, and morality has slid into personal preference. Losing Our Virtue is about the disintegrating moral culture that is contemporary society and what this disturbing loss means for the church. Wells covers the following in this bold critique: how the theologically emptied spirituality of the church is causing it to lose its moral bearings; an exploration of the wider dynamic at work in contemporary society between license and law; an exposition of the secular notion of salvation as heralded by our most trusted gurus -- advertisers and psychotherapists; a discussion of the contemporary view of the self; how guilt and sin have been replaced by empty psychological shame; an examination of the contradiction between the way we view ourselves in the midst of our own culture and the biblical view of persons as created, moral beings. Can the church still speak effectively to a culture that has become morally unraveled? Wells believes it can. In fact, says Wells, no time in this century has been more opportune for the Christian faith -- if the church can muster the courage to regain its moral weight and become a missionary of truth once more to a foundering world. - Publisher
God in the wasteland : the reality of truth in a world of fading dreams
by
David F Wells
( Book )
8 editions published between
1994
and 2007 in 3 languages and held by 425 WorldCat member libraries worldwide
David F. Wells's award-winning book No Place for Truth - called "a stinging indictment of evangelicalism's theological corruption" by TIME magazine - woke many evangelicals to the fact that their tradition has slowly but surely capitulated to the values and structures of modernity. In God in the Wasteland Wells continues his trenchant analysis of the cultural corruption now weakening the church's thought and witness with the intent of getting evangelicals to rethink their relationship to the "world." Wells argues that the church is enfeebled in part because it has lost its sense of God's sovereignty and holiness. "The fundamental problem in the evangelical world today," says Wells, "is that God rests too inconsequentially upon the church. His truth is too distant, his grace is too ordinary, his judgment is too benign, his gospel is too easy, and his Christ is too common." God has become weightless to the extent that the church no longer allows him to shape its character, outlook, and practice. Evangelicals have become heavily invested in the mind-set of modernity - a mind-set that Wells correlates with the biblical concept of the "world." They have become enamored of advanced management and marketing techniques, have blurred the distinctions between Christ and culture, and have largely abandoned their traditional emphasis on divine transcendence in favor of an emphasis on divine immanence. In doing so, they have produced a faith in God that is of little consequence to those who believe. An extensive survey of students at seven evangelical theological seminaries - the results of which are included in this book - indicates that the next generation of evangelical leaders is as caught up in these trends as the laity. Arguing that the church's diminished appetite for truth will not be restored without repentance and a fresh encounter with the holy God, Wells makes a compelling case for urgently needed reform in the evangelical church. Without such reform, he says, evangelical faith will be lost in and to the modernity that has invaded the church
The search for salvation
by
David F Wells
( Book )
12 editions published between
1978
and 2000 in
English
and held by 376 WorldCat member libraries worldwide
Above all earthly pow'rs : Christ in a postmodern world
by
David F Wells
( Book )
5 editions published between
2005
and 2008 in
English
and
Korean
and held by 370 WorldCat member libraries worldwide
In our postmodern world, every view has a place at the table but none has the final say. How should the church confess Christ in today's cultural context? Above All Earthly Powrs, the fourth and final volume of the series that began in 1993 with No Place for Truth, portrays the West in all its complexity, brilliance, and emptiness. As David F. Wells masterfully depicts it, the postmodern ethos of the West is relativistic, individualistic, therapeutic, and yet remarkably spiritual. Wells shows how this postmodern ethos has incorporated into itself the new religious and cultural relativism, the fear and confusion, that began with the last centurys waves of immigration and have continued apace in recent decades. Wells' book culminates in a critique of contemporary evangelicalism aimed at both unsettling and reinvigorating readers. Churches that market themselves as relevant and palatable to consumption-oriented postmoderns are indeed swelling in size. But they are doing so, Wells contends, at the expense of the truth of the gospel. By placing a premium on marketing rather than truth, the evangelical church is in danger of trading authentic engagement with culture for worldly success
The courage to be Protestant : truth-lovers, marketers, and emergents in the postmodern world
by
David F Wells
( Book )
3 editions published in
2008
in
English
and held by 311 WorldCat member libraries worldwide
"It takes no courage to sign up as a Protestant." These words begin this bold new work, the culmination of David Wells's long-standing critique of the evangelical landscape. But to live as a true Protestant, well, that's another matter. This book is a jeremiad against "new" versions of evangelicalism -- marketers and emergents -- and a summons to return to the historic faith, defined by the Reformation solas (grace, faith, and Scripture alone) and by a high regard for doctrine. Wells argues that historic, classical evangelicalism is marked by doctrinal seriousness, as opposed to the new movements of the marketing church and the emergent church. He energetically confronts the marketing communities and their tendency to try to win parishioners as consumers rather than worshipers, advertising the most palatable environment rather than trusting the truth to be attractive. He takes particular issue with the most popular evangelical movement in recent years, the emergent church. Emergents, he says, are postmodern and postconservative and postfoundational, embracing a less absolute understanding of the authority of Scripture than traditionally held. The Courage to Be Protestant is a forceful argument for the courage to be faithful to what Christianity in its biblical forms has always stood for, thereby securing hope for the church's future. - Publisher
more
fewer
Audience Level
0

1
Kids
General
Special
Audience level: 0.34 (from 0.04 for Records of ... to 1.00 for The prophe ...)
Associated Subjects
Berkhof, Louis,
Calvinism
Catholic Church
Christian ethics
Christianity
Christianity and culture
Christology
Church and the world
Conversion
Conversion--Biblical teaching
Conversion--Christianity
Deyneka, Peter,
Dooyeweerd, H.--(Herman),
Evangelicalism
Evangelistic work
Ford, Leighton
God (Christianity)--Love
Guinness, Os
Holy Spirit
Hunter, James Davison,
Incarnation
Incarnation--History of doctrines
Jesus Christ
Latin America
Leith, John H
Missions to Muslims
Moral conditions
Nicole, Roger R
Norway
Portugal
Postmodernism--Religious aspects--Christianity
Presbyterian Church--Doctrines
Princeton theology
Protestant churches--Doctrines
Protestantism
Reformed Church--Doctrines
Salvation
Salvation--Christianity--History of doctrines
Schaeffer, Frank
Secularism
Stott, John R. W
Theologians
Theology
Theology, Doctrinal
Theology--Study and teaching
Tyrrell, George,
United States
Van Til, Cornelius,
Vatican Council
Wells, David F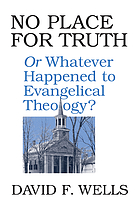 Covers
Alternative Names
David F. Wells teólogo estadounidense

David F. Wells teologo statunitense

David F. Wells theoloog

David Wells

David Wells US-amerikanischer Theologe

F. Wells, David, 1939-

Falconer Wells, David, 1939-

Wells, David 1939-

Wells, David Falconer.

Wells, David Falconer, 1939-

데이비드 F. 웰즈

웰스, 데이비드 1939-

웰스, 데이비드 F. 1939-

デイビッド・ウェルズ

Languages