Peterson, Paul E.
Most widely held works by Paul E Peterson
The education gap : vouchers and urban schools
by
William G Howell
( )
23 editions published between
2001
and 2006 in
English
and held by 4,236 WorldCat member libraries worldwide
"The voucher debate has been both intense and ideologically polarizing, in good part because so little is known about how voucher programs operate in practice. In The Education Gap, William Howell and Paul Peterson, with coauthors Patrick Wolf and David Campbell, report new findings drawn from the most comprehensive study on vouchers conducted to date." "The result of a massive research enterprise, the book presents data from randomized field trials conducted in New York City; Dayton, Ohio; and Washington, D.C. It also includes findings from a voucher initiative in the Edgewood school district in San Antonio and a randomized field trial evaluation of a program that offered vouchers to 40,000 low-income families nationwide." "The findings shed new light on how existing voucher programs affect students' educational experiences, covering factors such as school climate, class size, homework, resources, and test scores. They also reveal the impact of voucher programs on racial segregation, school-family communication, political tolerance, community social capital, parental satisfaction, and children's self-esteem."--Jacket
Saving schools : from Horace Mann to virtual learning
by
Paul E Peterson
( )
11 editions published between
2010
and 2011 in
English
and held by 2,353 WorldCat member libraries worldwide
Discusses the impact Horace Mann, John Dewey, Martin Luther King Jr., Albert Shanker, William Bennett, and James Coleman had on the public schools of the United States, describing their roles as mission-driven reformers, and examining how public education will change in the twenty-first century
Charters, vouchers, and public education
by
Paul E Peterson
( )
11 editions published in
2001
in
English
and held by 2,270 WorldCat member libraries worldwide
This volume brings together the most current empirical research on two important innovations reshaping American education today -- voucher programs and charter schools. Contributors include many of the foremost analysts in education policy. Of specific significance is cutting-edge research that evaluates the impact of vouchers on academic performance in the New York City, Washington, D.C., and Dayton, Ohio, school systems. The volume also looks beyond the American experience to consider the impact of market-based education as pioneered by New Zealand. Contributors also take stock of the movement's effects on public schools in particular and public opinion at-large. Also provides summaries of the existing research and the legal issues facing school choice
Learning from school choice
by
Paul E Peterson
( )
9 editions published in
1998
in
English
and held by 2,213 WorldCat member libraries worldwide
While educators, parents, and policy-makers are still debating the pros and cons of school choice, it is now possible to learn from choice experiments in public, private, and charter schools across the country. This book both examines the evidence from these early school choice programs and looks at the larger implications of choice and competition in education
The price of federalism
by
Paul E Peterson
( )
13 editions published in
1995
in
English
and held by 2,171 WorldCat member libraries worldwide
After showing how both theories help explain American federalism, Peterson concludes that the federal system has been evolving in a functional direction. As the costs of transportation and communication have declined, labor and capital have become increasingly mobile, placing states and localities in greater competition with one another. State and local governments are responding to these changes by overlooking the needs of the poor and focusing instead on economic development. Meanwhile, the national government has concentrated on social welfare policy. From this perspective, Peterson evaluates the Republican "Contract with America." He applauds its commitment to decentralizing transportation, education, and other basic services to state and local government. But he says that passing the responsibility for welfare to the states would only induce among them a "race to the bottom."
The Urban underclass
by
Christopher Jencks
( Book )
14 editions published between
1990
and 1991 in
English
and held by 2,056 WorldCat member libraries worldwide
This book comprises 19 essays that attempt to tell the truth about urban poverty, social dislocation, and changes in American family life. They show that the rise in the percentage of children living in poverty is due to an increasing number of female-headed households and a decline in the earnings of young men. The following papers are included: (1) "The Urban Underclass and the Poverty Paradox" (P.E. Peterson); (2) "Is the American Underclass Growing?" (C. Jencks); (3) "Employment and Earnings of Disadvantaged Young Men in a Labor Shortage Economy" (R.B. Freeman); (4) "Gains from Growth? The Impact of Full Employment on Poverty in Boston" (P. Osterman); (5) "Joblessness and Shiftlessness: Labor Force Activity in Chicago's Inner City" (M. Tienda and H. Stier); (6) "Teenage Underclass Behavior and Subsequent Poverty: Have the Rules Changed?" (G.J. Duncan and S.D. Hoffman); (7) "Socioeconomic Change and the Decline of Marriage for Blacks and Whites" (R.D. Mare and C. Winship); (8) "'We'd Love To Hire Them, But ... ': The Meaning of Race for Employers" (J. Kirschenman and K.M. Neckerman); (9) "Ghetto Poverty in the United States, 1970-1980" (P.A. Jargowsky and M.J. Bane); (10) "Residential Segregation of Social and Economic Groups among Blacks, 1970-80" (R. Farley); (11) "Effects of Neighborhoods on Dropping Out of School and Teenage Childbearing" (J. Crane); (12) "How Much Does a High School's Racial and Socioeconomic Mix Affect Graduation and Teenage Fertility Rates?" (S.E. Mayer); (13) "Employment and Earnings of Low-Income Blacks Who Move to Middle-Class Suburbs" (J.E. Rosenbaum and S.J. Popkin); (14) "The Political Behavior of Poor People" (J.M. Berry, K.E. Portney, and K. Thomson); (15) "Neighborhood Effects on Teenage Pregnancy" (E. Anderson); (16) "Culture, Rationality, and the Underclass" (J.D. Greenstone); (17) "Targeting within Universalism: Politically Viable Policies to Combat Poverty in the United States" (T. Skocpol); (18) "Universal and Targeted Approaches to Relieving Poverty: An Alternative View" (R. Greenstein); and (19) "Public Policy Research and the Truly Disadvantaged" (W.J. Wilson). There are 73 tables of statistical data and 23 illustrative figures. (Sld)
School money trials : the legal pursuit of educational adequacy
( )
8 editions published in
2007
in
English
and held by 1,908 WorldCat member libraries worldwide
Adequacy lawsuits have, with little fanfare, emerged as a major alternative strategy in the pursuit of improved public education in the United States. Plaintiffs allege insufficient resources to provide students with the quality of education promised in their state's constitution, hoping the courts will step in and order the state to increase funding levels. Since 1985, more than thirty states have faced such suits. How pervasive--and effective--is this trend? What are its ramifications, in local school districts and on a broader scale? This important new book addresses those questions. In Sch
School choice international : exploring public-private partnerships
by
R Chakrabarti
( )
16 editions published between
2008
and 2009 in
English
and held by 1,749 WorldCat member libraries worldwide
This volume analyses and studies public-private partnerships in education and the varied forms they take in different parts of the world, for example it studies publicly-funded vouchers in Chile and Columbia and private schools in India
Schools and the equal opportunity problem
by
Ludger Woessmann
( )
13 editions published between
2007
and 2016 in
English
and held by 1,727 WorldCat member libraries worldwide
In this work, leading researchers from the United States and Europe report on new findings on the effect of education on equal opportunity, using economic and statistical techniques to assess the results of education policy reform in countries including the United States, Britain, Sweden, Germany, and Italy. Much educational research today is focused on assessing reforms that are intended to create equal opportunity for all students. Many current policies aim at concentrating extra resources on the disadvantaged. The state-of-the-art research in "Schools and the Equal Opportunity Problem" suggests, however, that even sizeable differential spending on the disadvantaged will not yield an equality of results. In this CESifo volume, leading scholars from the United States and Europe use the tools of economics to assess the outcome of efforts to solve education's equal opportunity problem in a range of countries, including the United States, Britain, Germany, Sweden, and Italy. The evidence shows some routes for advancement - testing with high performance standards, for example, and well-designed school choice - but also raises considerable doubts about whether many current school policies are effective in dramatically altering the opportunity structure. The evidence presented also calls into question the idea that causal peer effects are very strong. The contributors examine such topics as the link between education and parental income, the problematic past research on peer effects, tracking, the distribution of educational outcomes, human capital policy aimed at disadvantaged students, and private/public school choice
more
fewer
Audience Level
0

1
Kids
General
Special
Audience level: 0.11 (from 0.04 for School cho ... to 0.40 for When feder ...)
Related Identities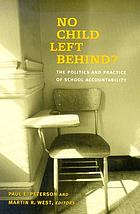 Covers
Alternative Names
Paul E. Peterson American academic

Peterson, Paul

Peterson, Paul 1940-

Peterson, Paul E

Languages