Bagnall, Roger S.
Most widely held works about Roger S Bagnall
Most widely held works by Roger S Bagnall
Barrington atlas of the Greek and Roman world
by
Richard J. A Talbert
( )
21 editions published in
2000
in
English
and
Undetermined
and held by 1,171 WorldCat member libraries worldwide
In 99 full-color maps spread over 175 pages, the Barrington Atlas recreates the entire world of the Greeks and Romans from the British Isles to the Indian subcontinent and deep into North Africa. It spans the territory of more than 75 modern countries. Its large format (13 x 19 ins or 33 x 48 cm) has been custom-designed by the leading cartographic supplier MapQuest.com, Inc., and is unrivalled for range, clarity and detail. Over 70 experts, aided by an equal number of consultants, have worked from satellite-generated aeronautical charts to return the modern landscape to its ancient appearance, and to mark ancient names and features in accordance with the most up-to-date historical scholarship and archaeological discoveries. Chronologically, the Barrington Atlas spans archaic Greece to the Late Roman Empire, and no more than two standard scales (1:500,000 and 1:1,000,000) are used to represent most regions. Since the 1870s, all attempts to map the classical world comprehensively have failed. This new initiative has finally achieved that elusive and challenging goal. It began in 1988 at the University of North Carolina, Chapel Hill, under the direction of the distinguished ancient historian Richard Talbert, and has been developed with approximately $4 million in funding support. The resulting Barrington Atlas is a reference work of permanent value. It has an exceptionally broad appeal to everyone worldwide with an interest in ancient Greeks and Romans, the lands they penetrated, and the peoples and cultures they encountered in Europe, North Africa and Western Asia. Scholars and libraries should all find it essential, although it is not just for them. It is also for students, travelers and lovers of fine cartography, as well as for anyone eager to retrace Alexander's eastward marches, to cross the Alps with Hannibal, to traverse the Eastern Mediterranean with St. Paul, or to ponder the roads, aqueducts and defense works of the Roman Empire. For the new millennium the Barrington Atlas brings the ancient past back to life in an unforgettably vivid and inspiring way.--Publisher description
Egypt in late antiquity
by
Roger S Bagnall
( Book )
33 editions published between
1993
and 2005 in
English
and
Undetermined
and held by 891 WorldCat member libraries worldwide
Egypt in Late Antiquity brings together a vast amount of information pertaining to the society, economy, and culture of a province important to our understanding of the entire eastern part of the later Roman Empire. Focusing on Egypt from the accession of Diocletian in 284 to the middle of the fifth century, Roger Bagnall draws his evidence mainly from documentary and archaeological sources, including the papyri that have been published over the last thirty years. He deals with the natural and technological setting, the life of Greco-Roman cities and Egyptian country villages, family life, religion, language and literacy, and the distribution and uses of power. One dominant theme in this volume is the changing relationship between the cities and villages. Bagnall examines how the villages, which had been undergoing integration into the urban economies, were losing their internal structure and sense of community as the influence of local temples declined. He argues that in the fourth century Christianization and the development of Coptic allowed Hellenism to serve as a vehicle for a resurgent native culture, with the church providing new internal structure for the villages and new ties to the cities
Reading papyri, writing ancient history
by
Roger S Bagnall
( Book )
29 editions published between
1995
and 2007 in 5 languages and held by 539 WorldCat member libraries worldwide
An indispensable guide for students and teachers to using ancient documents in their work, which shows how the methodologies of anthropology, comparative history and statistics can fruitfully be used alongside more traditional tools
Hellenistic Egypt : monarchy, society, economy, culture
by
Jean Bingen
( Book )
20 editions published between
2006
and 2013 in
English
and held by 523 WorldCat member libraries worldwide
Hellenistic Egypt brings together for the first time the writings of the preeminent historian, papyrologist, and epigraphist Jean Bingen. These essays, first published by Bingen from 1970 to1999, make a distinctive contribution to the historiography of Hellenistic Egypt, a period in ancient Egypt extending from its conquest by Alexander the Great in 332 B.C. until its annexation as a province of the Roman Empire by Octavian (later Augustus) in 30 B.C., after his defeat of Mark Antony and Cleopatra. Ruled by Ptolemaic kings during this period, Hellenistic Egypt was a sophisticated, rich, and fertile country. Its history is intimately bound up with the history of the Mediterranean as a whole, yet parts of that history remain relatively obscure and open to debate. New evidence, particularly from papyri, emerges frequently and shifts our understanding and interpretation of this significant time. For the last six decades Jean Bingen has been a leading editor and interpreter of such evidence. In particular his work on the Ptolemaic monarchy and economy, which illustrates how the Greeks and Egyptians interacted, has transformed the field and influenced all subsequent work. Historian and classicist Roger Bagnall has selected and introduced Bingen's most important essays on this topic
The Oxford handbook of papyrology
by
Roger S Bagnall
( Book )
28 editions published between
2009
and 2012 in
English
and held by 505 WorldCat member libraries worldwide
Thousands of texts, written over a period of three thousand years on papyri and potsherds, in Egyptian, Greek, Latin, Aramaic, Hebrew, Persian, and other languages, have transformed our knowledge of many aspects of life in the ancient Mediterranean and Near Eastern worlds. The Oxford Handbook of Papyrology provides an introduction to the world of these ancient documents and literary texts, ranging from the raw materials of writing to the languages used, from the history of papyrology to its future, and from practical help in reading papyri to frank opinions about the nature of the work of papyrologists. --from publisher description
Women's letters from ancient Egypt, 300 BC-AD 800
by
Roger S Bagnall
( Book )
18 editions published between
2006
and 2015 in
English
and held by 493 WorldCat member libraries worldwide
"More than three hundred letters written in Greek and Egyptian by women in Egypt in the millennium from Alexander the Great to the Arab conquest survive on papyrus and pottery. These letters were written by women from various walks of life and shed light on critical social aspects of life in Egypt after the pharaohs. Roger S. Bagnall and Raffaella Cribiore collect the best preserved of these letters in translation and set them in their paleographic, linguistic, social, and economic contexts. As a result, Women's Letters from Ancient Egypt, 300 B.C.-A.D. 800, provides a sense that these women's habits, interests, and means of expression were a product more of their social and economic standing than of specifically gender-related concerns or behavior."--Jacket
The demography of Roman Egypt
by
Roger S Bagnall
( Book )
27 editions published between
1994
and 2006 in
English
and held by 484 WorldCat member libraries worldwide
(Publisher-supplied data) The traditional demographic regime of ancient Greece and Rome is almost entirely unknown; but our best chance for understanding its characteristics is provided by the three hundred census returns that survive on papyri from Roman Egypt. These returns, which date from the first three centuries AD, list the members of ordinary households living in the Nile valley: not only family members, but lodgers and slaves. The Demography of Roman Egypt has a complete and accurate catalogue of all demographically relevant information contained in the returns. On the basis of this catalogue, the authors use modern demographic methods and models to reconstruct the patterns of mortality, marriage, fertility and migration that are likely to have prevailed in Roman Egypt. They recreate a more or less typical Mediterranean population as it survived and prospered nearly two millennia ago
Early Christian books in Egypt
by
Roger S Bagnall
( Book )
9 editions published in
2009
in
English
and held by 393 WorldCat member libraries worldwide
"For the past hundred years, much has been written about the early editions of Christian texts discovered in the region that was once Roman Egypt. Scholars have cited these papyrus manuscripts - containing the Bible and other Christian works - as evidence of Christianity's presence in that historic area during the first three centuries AD. In Early Christian Books in Egypt, distinguished papyrologist Roger Bagnall shows that a great deal of this discussion and scholarship has been misdirected, biased, and at odds with the realities of the ancient world. Providing a detailed picture of the social, economic, and intellectual climate in which these manuscripts were written and circulated, he reveals that the number of Christian books from this period is likely fewer than previously believed."--BOOK JACKET
The Hellenistic Period : historical sources in translation
by
Peter Derow
( Book )
23 editions published between
2003
and 2008 in
English
and held by 392 WorldCat member libraries worldwide
"Thousands of documents surviving on stone and papyrus help us to understand the complex society that took shape after the death of Alexander the Great. This book presents some of the most revealing of these documents in translation, allowing readers to form a direct impression of life in the Hellenistic world." "The book contains 175 documents capturing the political, social, economic and religious dynamism of the Hellenistic kingdoms and cities. It covers the entire Hellenistic world and draws extensively on the papyrus remains of the Ptolemaic kingdom in Egypt, which allow an unequalled depth of insight into daily life at every level of society."--Jacket
more
fewer
Audience Level
0

1
Kids
General
Special
Audience level: 0.50 (from 0.00 for Ostraka fr ... to 0.82 for Roger Bagn ...)
Related Identities
Associated Subjects
Antiquities
Census
Christian literature, Early
Christian literature, Early--Manuscripts
Chronology, Byzantine
Chronology, Egyptian
Chronology, Roman
Civilization
Civilization, Greco-Roman
Civilization--Greek influences
Classical antiquities
Consuls, Roman
Coptic inscriptions
Economic history
Egypt
Egypt--Amheida Site
Egyptian language
Egypt--Trimithis (Extinct city)
Excavations (Archaeology)
Geography, Ancient
Graffiti
Greece
Greek language
Hellenism
Historiography
History, Ancient
History, Ancient--Historiography
Inscriptions, Egyptian
Inscriptions, Greek
Kings and rulers
Letter writing, Egyptian
Manners and customs
Manuscripts, Greek
Manuscripts, Greek (Papyri)
Manuscripts (Papyri)
Mediterranean Region
Middle East
Ostraka
Paleography
Politics and government
Population
Printed ephemera
Ptolemaic dynasty,
Roman law
Rome (Empire)
Schiller, A. Arthur,
Syriac language
Taxation
Women
Written communication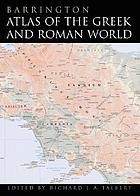 Alternative Names
Bagnall, R. S.

Bagnall, R.S. 1947-

Bagnall, R. S. (Roger S.)

Bagnall, Roger.

Bagnall, Roger S.

Bagnall, Roger Shaler 1947-

Roger S. Bagnall Amerikaans n/a

Roger S. Bagnall historiador estadounidense

Roger S. Bagnall historien américain

Roger S. Bagnall US-amerikanischer Althistoriker und Papyrologe

Rogerius Shaler Bagnall

Shaler Bagnall, Roger 1947-

Languages
Covers