Desmond, Adrian J. 1947-
Most widely held works by Adrian J Desmond
Darwin
by
Adrian J Desmond
( Book )
66 editions published between
1991
and 2012 in 4 languages and held by 2,532 WorldCat member libraries worldwide
"It is like confessing a murder." These are the words Charles Darwin uttered when he revealed to the world what he knew to be true: that humans are descended from headless hermaphrodite squids. How could a wealthy gentleman, a stickler for respectability, attack the foundations of his religion and Anglican society? Authors Adrian Desmond and James Moore, in what has been hailed as the definitive biography of Charles Darwin, not only explain the paradox of the man but bring us the full sweep of Victorian science, theology, and mores. The authors unveil the battle over the mind and soul that raged around the student Darwin as well as his drunken high-life in prostitute-ridden Cambridge. They vividly re-create Darwin's five-year voyage on the Beagle and his struggle to develop his theory of evolution. Then, they follow Darwin through his decades of torment. Fully aware that his ideas could bring ruin and social ostracism to his beloved family, Darwin kept his thoughts secret for twenty years. Seeming to lead an ideal squire's life in rural Kent, he was actually a man "living in Hell," plagued by trembling, vomiting, and violent cramps and confronted by personal tragedy that left him grief-stricken for the rest of his life. But even more than Marx and Freud, this anguished man was to transform the way we see ourselves on this planet. Desmond and Moore's rich, comprehensive, and unparalleled portrait of his life contains a wealth of newly transcribed and unpublished letters, a thorough understanding of all available Darwin research, and ninety photographs, many never published before. Its lively and accessible style makes each chapter as gripping to read as a novel, yet the legitimacy and importance of this seminal work is never diminished--providing the whole story of how Darwin came to his world-changing conclusions and how, when the Origin of Species was finally published, its consequences were far more dramatic than Darwin's worst fears ... and wildest dreams
The hot-blooded dinosaurs : a revolution in palaeontology
by
Adrian J Desmond
( Book )
53 editions published between
1975
and 1994 in 7 languages and held by 1,547 WorldCat member libraries worldwide
Draws upon recent discoveries and research to recount the rise and fall of the dinosaurs, as dominant, warm-blooded animals, and to reassess their intelligence, agility, physiological complexity, and advanced social behavior
Darwin's sacred cause : how a hatred of slavery shaped Darwin's views on human evolution
by
Adrian J Desmond
( Book )
12 editions published between
2009
and 2011 in
English
and held by 1,328 WorldCat member libraries worldwide
There is a mystery surrounding Darwin: How did this quiet, respectable gentleman, a pillar of his parish, come to embrace one of the most radical ideas in the history of human thought? Darwin risked a great deal in publishing his theory of evolution, so something very powerful--a moral fire--must have propelled him. That moral fire, argue authors Desmond and Moore, was a passionate hatred of slavery. They draw on a wealth of fresh manuscripts, correspondence, notebooks, diaries, and even ships' logs to show how Darwin's abolitionism had deep roots in his mother's family and was reinforced by his voyage on the Beagle as well as by events in America. Leading apologists for slavery in Darwin's time argued that blacks and whites were separate species, with whites created superior. Darwin believed that the races belonged to the same human family, and slavery was therefore a sin.--From publisher description
Huxley : from devil's disciple to evolution's high priest
by
Adrian J Desmond
( Book )
16 editions published between
1997
and 1999 in
English
and
Undetermined
and held by 1,127 WorldCat member libraries worldwide
T.H. Huxley (1825-1895) was Darwin's bloody-fanged bulldog. His giant scything intellect shook a prim Victorian society; his "Devil's gospel" of evolution outraged. He put "agnostic" into the vocabulary and cave men into the public consciousness. Adrian Desmond's fiery biography with its panoramic view of Dickensian life explains how this agent provocateur rose to become the century's greatest prophet. Synoptic in its sweep and evocative in its details, Desmond's biography reveals the poverty and opium-hazed tragedies of young Tom Huxley's life as well as the accolades and triumphs of his later years
The ape's reflexion
by
Adrian J Desmond
( Book )
13 editions published between
1979
and 1980 in
English
and held by 818 WorldCat member libraries worldwide
The politics of evolution : morphology, medicine, and reform in radical London
by
Adrian J Desmond
( Book )
24 editions published between
1989
and 2011 in
English
and held by 623 WorldCat member libraries worldwide
Looking for the first time at the cut-price anatomy schools rather than genteel Oxbridge, Desmond winkles out pre-Darwinian evolutionary ideas in reform-minded and politically charged early nineteenth-century London. In the process, he reveals the underside of London intellectual and social life in the generation before Darwin as it has never been seen before. ""The Politics of Evolution is intellectual dynamite, and certainly one of the most important books in the history of science published during the past decade.""-Jim Secord, Times Literary Supplement ""
Darwin's sacred cause : race, slavery and the quest for human origins
by
Adrian J Desmond
( Book )
22 editions published between
2009
and 2014 in 5 languages and held by 350 WorldCat member libraries worldwide
There is a mystery surrounding Darwin: How did this quiet, respectable gentleman, a pillar of his parish, come to embrace one of the most radical ideas in the history of human thought? Darwin risked a great deal in publishing his theory of evolution, so something very powerful--a moral fire--must have propelled him. That moral fire, argue authors Desmond and Moore, was a passionate hatred of slavery. They draw on a wealth of fresh manuscripts, correspondence, notebooks, diaries, and even ships' logs to show how Darwin's abolitionism had deep roots in his mother's family and was reinforced by his voyage on the Beagle as well as by events in America. Leading apologists for slavery in Darwin's time argued that blacks and whites were separate species, with whites created superior. Darwin believed that the races belonged to the same human family, and slavery was therefore a sin.--From publisher description
The descent of man, and selection in relation to sex
by
Charles Darwin
( Book )
7 editions published between
2004
and 2008 in
English
and held by 344 WorldCat member libraries worldwide
Charles Darwin's seminal work 'The Descent of Man' is published here edited and with an introduction by Adrian Desmond and James Moore. Suggestions are provided for further reading, a chronology of Darwin's life and works, and a biographical glossary
Huxley : the devil's disciple
by
Adrian J Desmond
( Book )
11 editions published in
1994
in
English
and held by 309 WorldCat member libraries worldwide
more
fewer
Audience Level
0

1
Kids
General
Special
Audience level: 0.34 (from 0.08 for The politi ... to 0.97 for Huxley ...)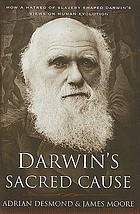 Alternative Names
Adrian Desmond Historian of science

Desmond Adrian

Desmond, Adrian 1947-

Desmond, Adrian J.

Desmond, Adrian J. 1947-

Desmond, Adrian J. (Adrian John), 1947-

데스먼드, 에이드리언 1947

アドリアン・J・デズモンド

デズモンド, アドリアン・J

デズモンド, エイドリアン

Languages
Covers