Katznelson, Ira
Most widely held works about Ira Katznelson
Most widely held works by Ira Katznelson
Liberalism's crooked circle : letters to Adam Michnik
by
Ira Katznelson
( )
21 editions published between
1996
and 2001 in
English
and held by 2,115 WorldCat member libraries worldwide
Katznelson's first letter explores how the virtues of socialism, including its moral stand on social justice, can be related to liberalism while overcoming debilitating aspects of the socialist inheritance. The second asks whether liberalism can recognize, appreciate, and manage human difference. Situated in the lineage of efforts by Richard Hofstadter, C. Wright Mills, and Lionel Trilling to "thicken" liberalism, these letters also draw on personal experience in the radical politics of the 1960s and in the dissident culture of East and Central Europe in the years immediately preceding communism's demise
Desolation and enlightenment : political knowledge after total war, totalitarianism, and the Holocaust
by
Ira Katznelson
( )
15 editions published between
2002
and 2004 in
English
and held by 2,007 WorldCat member libraries worldwide
"During and especially after the Second World War, a group of leading scholars who had been perilously close to the war's devastation joined others fortunate enough to have been protected by distance in an effort to redefine and reinvigorate Western liberal ideals for a radically new age. Treating evil as an analytical category, they sought to discover the sources of twentieth-century horror and the potentialities of the modern state in the wake of western desolation. In the process, they devised strikingly new ways to understand politics, sociology, and history that reverberate still. In this major intellectual history, Ira Katznelson examines the works of Hannah Arendt, Robert Dahl, Richard Hofstadter, Harold Lasswell, Charles Lindblom, Karl Polanyi, and David Truman, detailing their engagement with the larger project of reclaiming the West's moral bearing."--Jacket
Religion and democracy in the United States : danger or opportunity?
by
Alan Wolfe
( )
16 editions published in
2010
in
English
and held by 1,811 WorldCat member libraries worldwide
The United States remains a deeply religious country and religion plays an inextricably critical role in American politics. Controversy over issues such as abortion is fueled by opposition in the Catholic Church and among conservative Protestants, candidates for the presidency are questioned about their religious beliefs, and the separation of church and state remains hotly contested. While the examination of religion's influence in politics has long been neglected, in the last decade the subject has finally garnered the attention it deserves. In Religion and Democracy in the United States, prominent scholars consider the ways Americans understand the relationship between their religious beliefs and the political arena. --From publisher's description
Marxism and the city
by
Ira Katznelson
( )
27 editions published between
1992
and 2004 in
English
and held by 1,800 WorldCat member libraries worldwide
Defeated in the East and discredited in the West, Marxism has broken down as an ideology and as a guide to governance. But, for all its flaws, it remains an important tool for understanding and raising questions about key aspects of modern life. In Marxism and the City Ira Katznelson critically assesses the scholarship on cities that has developed within Marxism in the past quarter century to show how some of the most important weaknesses in Marxism as a social theory can be remedied by forcing it to engage seriously with cities and spatial concerns. He argues that such a Marxism still has a significant contribution to make to the discussion of such historical questions as the transition from feudalism to a world composed of capitalist economies and nation-states and the acquiescence of the western working classes to capitalism. Professor Katznelson demonstrates how a Marxism that embraces complexity and is open to engagement with other social-theoretical traditions can illuminate our understanding of cities and of the patterns of class and group formation that have characterized urban life in the West
Fear itself : the New Deal and the origins of our time
by
Ira Katznelson
( Book )
15 editions published between
2013
and 2014 in
English
and held by 1,397 WorldCat member libraries worldwide
Redefining our traditional understanding of the New Deal, this book finally examines this pivotal American era through a sweeping international lens that juxtaposes a struggling democracy with enticing ideologies like Fascism and Communism. Historian Ira Katznelson asserts that, during the 1930s and 1940s, American democracy was rescued yet distorted by a unified band of southern lawmakers who safeguarded racial segregation as they built a new national state to manage capitalism and assert global power. --From publisher description
Paths of emancipation : Jews, states, and citizenship
by
Pierre Birnbaum
( )
17 editions published between
1995
and 2016 in
English
and
German
and held by 1,295 WorldCat member libraries worldwide
Throughout the nineteenth century, legal barriers to Jewish citizenship were lifted in Europe, enabling organized Jewish communities and individuals to alter radically their relationships with the institutions of the Christian West. In this volume, one of the first to offer a comparative overview of the entry of Jews into state and society, eight leading historians analyze the course of emancipation in Holland, Germany, France, England, the United States, and Italy as well as in Turkey and Russia. The goal is to produce a systematic study of the highly diverse paths to emancipation and to explore their different impacts on Jewish identity, dispositions, and patterns of collective action. Jewish emancipation concerned itself primarily with issues of state and citizenship. Would the liberal and republican values of the Enlightenment guide governments in establishing the terms of Jewish citizenship? How would states react to Jews seeking to become citizens and to remain meaningfully Jewish? The authors examine these issues through discussions of the entry of Jews into the military, the judicial system, business, and academic and professional careers, for example, and through discussions of their assertive political activity. In addition to the editors, the contributors are Geoffrey Alderman, Hans Daalder, Werner E. Mosse, Aron Rodrigue, Dan V. Segre, and Michael Stanislawski. Originally published in 1995. The Princeton Legacy Library uses the latest print-on-demand technology to again make available previously out-of-print books from the distinguished backlist of Princeton University Press. These paperback editions preserve the original texts of these important books while presenting them in durable paperback editions. The goal of the Princeton Legacy Library is to vastly increase access to the rich scholarly heritage found in the thousands of books published by Princeton University Press since its founding in 1905
Preferences and situations : points of intersection between historical and rational choice institutionalism
by
Ira Katznelson
( )
14 editions published between
2005
and 2007 in
English
and held by 1,006 WorldCat member libraries worldwide
"A scholarly gulf has tended to divide historians, political scientists, and social movement theorists on how people develop and act on their preferences. Rational choice scholars assumed that people - regardless of the time and place in which they live - try to achieve certain goals, like maximizing their personal wealth or power. In contrast, comparative historical scholars have emphasized historical context in explaining people's behavior. Recently, a common emphasis on how institutions - such as unions or governments - influence people's preferences in particular situations has emerged, promising to narrow the divide between the two intellectual camps. In Preferences and Situations, editors Ira Katznelson and Barry R. Weingast seek to expand that common ground by bringing together an esteemed group of contributors to address the ways in which institutions, in their wider historical setting, induce people to behave in certain ways and steer the course of history."--Jacket
The politics of power : a critical introduction to American government
by
Ira Katznelson
( Book )
47 editions published between
1975
and 2014 in
English
and
French
and held by 998 WorldCat member libraries worldwide
This brief introduction to American government highlights the ongoing tension between capitalism and democracy. With recent political conflict over issues such as how to rein in Wall Street, expand access to health care, put Americans back to work, and plan for an increasingly globalized future, the time is ripe for a new edition of The Politics of Power
more
fewer
Audience Level
0

1
Kids
General
Special
Audience level: 0.24 (from 0.06 for Desolation ... to 0.77 for Ira Katzne ...)
Related Identities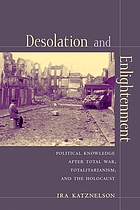 Covers
Alternative Names
Ira Katznelson American academic

Ira Katznelson Amerikaans politicoloog

Ira Katznelson politólogo e historiador estadounidense (n. 1944)

Ira Katznelson US-amerikanischer Zeitgeschichtler und Politologe

Katznelson, Ira, 1944-

Katznelson, Ira I.

Іра Кацнельсон

Languages