Sowell, Thomas 1930-
Most widely held works about Thomas Sowell
more
fewer
Most widely held works by Thomas Sowell
Ethnic America : a history
by
Thomas Sowell
( Book )
25 editions published between
1981
and 2015 in 3 languages and held by 2,630 WorldCat member libraries worldwide
Traces the story of nine different ethnic groups in American society, discussing their various reactions to the American experience, cultural and hisotrical backgrounds, patterns of difficulty, and modes of success
Race and culture : a world view
by
Thomas Sowell
( Book )
18 editions published between
1992
and 1995 in
English
and
Undetermined
and held by 1,963 WorldCat member libraries worldwide
This seminal book by one of our leading thinkers on race issues will forever change our views on race and ethnicity, culture, and the explosive policy issues that revolve around them, not only in contemporary America but in societies around the world and down through history. Race and Culture brings together more than a decade of research, encompassing dozens of ethnic groups in scores of countries around the world, to challenge most of the fundamental assumptions underlying the whole spectrum of "social science" beliefs and government policies dealing with racial and ethnic minorities. Its thesis is that differences in productive skills and cultural values are the key to understanding the advancement - or regression - of particular groups, particular countries, and whole civilizations. Thomas Sowell concludes that cultural capital has far more impact than politics, prejudice, or genetics on the social and economic fates of minorities, nations, and civilizations. The spread of these skills across the planet, whether through migration or conquest, has shaped much of the history of the world and transformed its landscape. Attempts to achieve through multiculturalism, affirmative action, or other policies what can only be achieved by the development of cultural capital are illusions and distractions only likely to make matters worse
Marxism : philosophy and economics
by
Thomas Sowell
( Book )
27 editions published between
1985
and 2011 in 3 languages and held by 1,919 WorldCat member libraries worldwide
Provides a step-by-step introduction to Marxian theories
A conflict of visions
by
Thomas Sowell
( Book )
44 editions published between
1980
and 2007 in 4 languages and held by 1,900 WorldCat member libraries worldwide
Controversies in politics arise from many sources, but the conflicts which endure for generations or for centuries show a remarkably consistent pattern. This book maintains that the enduring political controversies of the past two centuries reflect radically different assumptions about the nature of man. The very meaning of such words as "freedom," "equality," "rights," and "power" is drastically different in the context of different visions of man. Issues as diverse as criminal justice, income distribution, or war and peace repeatedly show those with one vision lining up on one side and those with another lining up on the other. The varied writings of such landmark figures as Adam Smith, Edmund Burke, Oliver Wendell Holmes, and Milton Friedman show the clear mark of one vision, while the opposite vision is manifested in another tradition which extends from Thomas Paine and Condorcet to George Bernard Shaw, John Kenneth Galbraith, and John Rawls. At the heart of the conflict are questions about the moral and intellectual capabilities of human beings, and how these capabilities vary from one individual or group to another. The historical record shows these assumptions to be surprisingly different from what is commonly believed about the basic premises of the political left and the political right. The purpose of this book is not to choose between the two principal visions of the modern era, but to show the inherent logic of each. These are not rarefied theoretical--everyone is part of the conflict, and the stakes are as real as money, power, and survival.--From publisher description
Applied economics : thinking beyond stage one
by
Thomas Sowell
( Book )
27 editions published between
2003
and 2009 in 3 languages and held by 1,829 WorldCat member libraries worldwide
Publisher description: The application of economics to major contemporary real world problems--housing, medical care, discrimination, the economic development of nations--is the theme of this new book that tackles these and other issues head on in plain language, as distinguished from the usual jargon of economists. It examines economic policies not simply in terms of their immediate effects but also in terms of their later repercussions, which are often very different and longer lasting. The interplay of politics with economics is another theme of Applied Economics, whose examples are drawn from experiences around the world, showing how similar incentives and constraints tend to produce similar outcomes among very disparate peoples and cultures
Inside American education : the decline, the deception, the dogmas
by
Thomas Sowell
( Book )
12 editions published between
1992
and 2010 in 3 languages and held by 1,769 WorldCat member libraries worldwide
Our educational establishment - a vast tax-supported empire existing quasi-independently within American society - is morally and intellectually bankrupt, charges distinguished economist and social critic Thomas Sowell. And in this top-to-bottom tour of the mismanaged institutions, cynical leadership, and tendentious programs of American education, Sowell exposes the numerous "deceptions and dogmas" that have concealed or sought to justify the steep and very dangerous decline in our educational standards and practices across the board. Among the more serious ills of American education are the technically sophisticated brainwashing techniques now being applied to children and teenagers in so-called "affective education" programs; the special "peace" and "nuclear" education programs that actively promote "politically correct" attitudes; the "values clarification" and sex education curricula that portray parental and religious authority figures as agents of a repressive and unjust social and political orthodoxy; and the racial "mini-establishments" created on college campuses by minority demagogues and complaisant administrators that enshrine a self-serving ideological double standard, thus betraying the real interests of minority students. Sowell's exhaustively researched investigation draws particular attention to the wide array of textbooks and other instructional materials, promoted with astonishing success by a multi-million dollar industry styling itself a "secular humanist" movement, which fosters these ideas - ideas that are not just anti-American, Sowell maintains, but essentially totalitarian in character. These sinister curricular developments, combined with often cowardly and irresponsible management more concerned about institutional image and ranking than with fiscal integrity or a commitment to educate our youth, will breed disaster unless immediate steps are taken to reform the entire educational system
Migrations and cultures : a world view
by
Thomas Sowell
( Book )
18 editions published between
1996
and 2000 in
English
and held by 1,724 WorldCat member libraries worldwide
Migrations and Cultures shows the persistence of cultural traits in particular racial and ethnic groups and the role these groups' relocations play in redistributing skills, knowledge, and other forms of "human capital" from where they originated to the four corners of the earth. Each ethnic group has carried forth a particular set of skills, attitudes, and lifestyles, whether settling in Russia, Brazil, Australia, or the United States. What are the effects of disseminating these patterns - both for the immigrants and for the host countries, in social as well as economic terms? Migrations and Cultures places the sagas of particular immigrant groups within the larger history of the nations sending and receiving these groups. The book also tells the story of the resentments engendered by the achievements of immigrant groups, even though these achievements have played a major role in the advancement of the human race in general. Whether considering the Germans, Japanese, Italians, Chinese, Indians, or Jews, Thomas Sowell brings context, insight, and reason to an inflamed debate that threatens to dissolve the social fabric of our country
Economic facts and fallacies
by
Thomas Sowell
( Book )
24 editions published between
2007
and 2011 in 3 languages and held by 1,641 WorldCat member libraries worldwide
Exposes some of the most popular fallacies about economic issues, in a lively manner and without requiring any prior knowledge of economics by the reader. These include many beliefs widely disseminated in the media and by politicians. One of the book's themes is that fallacies are not simply crazy ideas but in fact have a certain plausibility that gives them their staying power--and makes careful examination of their flaws both necessary and important, as well as sometimes humorous.--From publisher description
Civil rights : rhetoric or reality?
by
Thomas Sowell
( Book )
15 editions published between
1984
and 2014 in
English
and
Undetermined
and held by 1,564 WorldCat member libraries worldwide
It is now more than three decades since the historic Supreme Court decision on desegregation, Brown v. Board of Education. Thomas Sowell takes a tough, factual look at what has actually happened over these decades -- as distinguished from the hopes with which they began or the rhetoric with which they continue, Who has gained and who has lost' Which of the assumptions behind the civil rights revolution have stood the test of time and which have proven to be mistaken or even catastrophic to those who were supposed to be helped'
more
fewer
Audience Level
0

1
Kids
General
Special
Audience level: 0.23 (from 0.03 for Dismantlin ... to 1.00 for Papers, Se ...)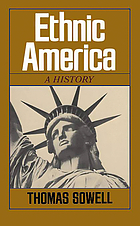 Alternative Names
So-wei-erh, Tʻo-ma-ssu 1930-

Sowell, T.

Sowell, Thomas

Thomas Sowell Amerikaans econoom

Thomas Sowell US-amerikanischer Ökonom

Томас Соуел

סואל, תומאס 1930-

סואל, תומס 1930-

תומס סואל

تامس سول اقتصاددان آمریکایی

توماس سوويل، 1930-

توماس سويل

توماس سويل، 1930-

사우월, 토마스

사우월, 토머스

소웰, 토머스

토머스 소웰

ソーウェル, トマス

トーマス・ソウェル

托马斯·索维尔

湯瑪斯.索維爾

Languages
Covers