Ellis, Joseph J.
Most widely held works about Joseph J Ellis
more
fewer
Most widely held works by Joseph J Ellis
Founding brothers : the revolutionary generation
by
Joseph J Ellis
( Book )
77 editions published between
2000
and 2013 in 5 languages and held by 5,527 WorldCat member libraries worldwide
Includes material on John Adams, Aaron Burr, Benjamin Franklin, Alexander Hamilton, Thomas Jefferson, James Madison, and George Washington
His Excellency : George Washington
by
Joseph J Ellis
( Book )
44 editions published between
2004
and 2011 in 3 languages and held by 4,397 WorldCat member libraries worldwide
Drawing from the newly catalogued Washington papers at the University of Virginia, the author paints a full portrait of Washington's life and career in the context of eighteenth-century America, richly detailing his private life and illustrating the ways in which it influenced his public persona. When Washington died in 1799, Ellis tells us, he was eulogized as "first in the hearts of his countrymen." Since then, however, his image has been chiseled onto Mount Rushmore and printed on the dollar bill. He is on our landscape and in our wallets but not, Ellis argues, in our hearts. Ellis strips away the ivy and legend that have grown up over the Washington statue and recovers the flesh-and-blood man in all his passionate and fully human prowess. In the pantheon of our republic's founders, there were many outstanding individuals. And yet each of them, Franklin, Hamilton, Adams, Jefferson, and Madison, acknowledged Washington to be his superior, the only indispensable figure, the one and only: "His Excellency." Both physically and politically, Washington towered over his peers for reasons this book elucidates. His Excellency is a full, glorious, and multifaceted portrait of the man behind our country's genesis
American sphinx : the character of Thomas Jefferson
by
Joseph J Ellis
( Book )
43 editions published between
1996
and 2005 in
English
and held by 3,650 WorldCat member libraries worldwide
In this volume, the author sifts the facts from legends and rumors, treading a path between vilification and hero worship in order to formulate a plausible portrait of the man who still today "hover(s) over the political scene like one of those dirigibles cruising above a crowded football stadium, flashing words of inspiration to both teams."
American creation : triumphs and tragedies at the founding of the republic
by
Joseph J Ellis
( Book )
28 editions published between
2007
and 2008 in
English
and
Undetermined
and held by 3,314 WorldCat member libraries worldwide
An ironic examination of the founding years of our country. Historian Ellis guides us through the decisive issues of the nation's founding, and illuminates the emerging philosophies, shifting alliances, and personal and political foibles of our now iconic leaders. He explains how the idea of a strong federal government, championed by Washington, was eventually embraced by the American people, the majority of whom had to be won over. And he details the emergence of the two-party system--then a political novelty--which today stands as the founders' most enduring legacy. But Ellis is equally incisive about their failures, making clear how their inability to abolish slavery and to reach a just settlement with the Native Americans has played an equally important role in shaping our national character. Ellis strips the mythic veneer of the revolutionary generation to reveal men possessed of both brilliance and blindness.--From publisher description
Revolutionary summer : the birth of American independence
by
Joseph J Ellis
( Book )
16 editions published between
2013
and 2014 in
English
and held by 2,566 WorldCat member libraries worldwide
Pulitzer-winning American historian Joseph Ellis tells an old story in a new way. The summer months of 1776 witnessed the most consequential events in the story of our country's founding. While the thirteen colonies came together and agreed to secede from the British Empire, the British were dispatching the largest armada ever to cross the Atlantic to crush the rebellion in the cradle. The Continental Congress and the Continental Army were forced to make decisions on the run, improvising as history converged around them. Ellis meticulously examines the most influential figures in this propitious moment, including George Washington, John Adams, Thomas Jefferson, Benjamin Franklin, and Britain's Admiral Lord Richard and General William Howe. He weaves together the political and military experiences as two sides of a single story, and shows how events on one front influenced outcomes on the other
The quartet : orchestrating the second American Revolution, 1783-1789
by
Joseph J Ellis
( Book )
21 editions published between
2013
and 2018 in
English
and
Chinese
and held by 2,471 WorldCat member libraries worldwide
"The prizewinning author of Founding Brothers and American Sphinx now gives us the unexpected story--brilliantly told--of why the thirteen colonies, having just fought off the imposition of a distant centralized governing power, would decide to subordinate themselves anew. The triumph of the American Revolution was neither an ideological nor political guarantee that the colonies would relinquish their independence and accept the creation of a federal government with power over their individual autonomy. The Quartet is the story of this second American founding and of the men responsible--some familiar, such as George Washington, Alexander Hamilton, John Jay, and James Madison, and some less so, such as Robert Morris and Governeur Morris. It was these menwho shaped the contours of American history by diagnosing the systemic dysfunctions created by the Articles of Confederation, manipulating the political process to force a calling of the Constitutional Convention, conspiring to set the agenda in Philadelphia, orchestrating the debate in the state ratifying conventions, and, finally, drafting the Bill of Rights to assure state compliance with the constitutional settlement"--
First family : Abigail and John
by
Joseph J Ellis
( Book )
10 editions published between
2010
and 2011 in
English
and held by 2,027 WorldCat member libraries worldwide
John and Abigail Adams left a remarkable portrait of their lives together in their personal correspondence: both were prolific letter writers (although John conceded that Abigail was the more gifted), and over the years they exchanged more than twelve hundred letters. Joseph J. Ellis distills them to give us an account both intimate and panoramic; part biography, part political history, and part love story. Ellis describes their first meeting as inauspicious--John was twenty-four, Abigail just fifteen, and each was entirely unimpressed. But they soon began a passionate correspondence that resulted in their marriage five years later. Over the next decades, the couple were separated nearly as much as they were together. When John became president, Abigail's health led to reservations about moving to the swamp on the Potomac, but he persuaded her that he needed his closest advisor by his side. Here, John and Abigail's relationship unfolds in the context of America's birth as a nation.--From publisher description
Passionate sage : the character and legacy of John Adams
by
Joseph J Ellis
( Book )
22 editions published between
1993
and 2001 in 3 languages and held by 1,471 WorldCat member libraries worldwide
Readers will discover Adams to be both contentious and lovable, generous and petty, and the most intellectually profound of the revolutionary generation, a man who may have contributed to the earlier underestimates of his role in history, and whose perspective on America's prospects has relevance for us today
His Excellency : George Washington
by
Joseph J Ellis
( Recording )
16 editions published between
2004
and 2014 in
English
and held by 1,441 WorldCat member libraries worldwide
From the French and Indian War to Mount Vernon, from the American Revolution to the presidency, Ellis delivers what will stand the test of time as the definitive biography of the greatest American icon
Founding brothers : the revolutionary generation
by
Joseph J Ellis
( Recording )
25 editions published between
2000
and 2016 in
English
and
No Linguistic content
and held by 1,121 WorldCat member libraries worldwide
An analysis of the intertwined careers of the founders of the American republic documents the lives of John Adams, Aaron Burr, Benjamin Franklin, Alexander Hamilton, Thomas Jefferson, James Madison, and George Washington
more
fewer
Audience Level
0

1
Kids
General
Special
Audience level: 0.15 (from 0.08 for History re ... to 0.75 for Thomas Jef ...)
Associated Subjects
Adams, Abigail,
Adams, John,
Ambrose, Stephen E
American Revolution (1775-1783)
Bellesiles, Michael A
Civilization
Confederation of states
Conscience
Constitutional history
Crime--Psychological aspects
Detective and mystery stories
Dostoyevsky, Fyodor,
Ellis, Joseph J
Federal government
Founding Fathers of the United States
Franklin, Benjamin,
Generals
Goodwin, Doris Kearns
Guilt
Hamilton, Alexander,
Historians
Historiography
Historiography--Political aspects
Historiography--Social aspects
Intellectuals
Jefferson, Thomas,
Johnson, Samuel,
Madison, James,
Marriage
Married people
Murder
Mystery
National characteristics, American
Philosophy
Political and social views
Political culture
Politicians
Politics and government
Presidents
Presidents' spouses
Professional ethics
Psychological fiction
Psychology
Russia
Russia (Federation)--Saint Petersburg
Russian fiction
Russian literature
Statesmen
United States
Washington, George,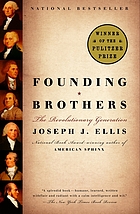 Covers
Alternative Names
Ioseph Ioannes Ellis

Joseph Ellis Amerikaans historicus

Joseph Ellis historiador estadounidense

Joseph Ellis historien américain

Joseph Ellis US-amerikanischer Historiker

ג'וזף אליס היסטוריון אמריקאי

جوزف الیس

ジョゼフ・エリス

约瑟夫·埃利斯

Languages