Almeder, Robert F.
Most widely held works by Robert F Almeder
Is there a duty to die
( )
7 editions published in
2000
in
English
and held by 1,586 WorldCat member libraries worldwide
Although a legal and moral right to privacy is generally recognized in society, there is no agreement regarding how these rights should apply to medical information. In Privacy and Health Care, leading ethical, medical, legal, and philosophical thinkers debate the conflicting moral and legal demands for maintaining the privacy of health care records in an age of easy computer access to those records and growing pressure by insurance companies, public health agencies, and employers for personal health care data. The essays by Boleyn-Fitzgerald, Margo Goldman, and Bill Allen & Ray Moseley favor restrictions being placed upon access to medical information, whereas the chapters by David Korn and Mark Meany argue for the opposing view. An introductory article by Charity Scott delineates the principal legal and ethical issues on the general topic of medical privacy. Interdisciplinary and enlightening, Privacy and Health Care presents the latest moral and legal thinking for and against greater protection of the privacy of health care information, and advances this important issue to a new level of clarity and decision
Human cloning
by
James M Humber
( )
10 editions published between
1983
and 1998 in
English
and held by 1,336 WorldCat member libraries worldwide
In Human Cloning a panel of distinguished philosophers, medical ethicists, religious thinkers, and social critics tackle the thorny problems raised by the now real possibility of human cloning. In their wide ranging reviews, the distinguished contributors critically examine the major arguments for and against human cloning, probe the implications of such a procedure for society, and critically evaluate the "Report and Recommendations of the National Bioethics Advisory Commission." The debate includes both religious and secular arguments, as well as an outline of the history of the cloning debate and a discussion of human cloning's impact on our sense of self and our beliefs about the meaning of life. Human Cloning offers a timely and concise one volume survey of all the major arguments for and against human cloning. It will well serve medical ethicists, social and cultural critics, public policy specialists, and the educated layperson who wants to better understand this issue and its implications for our society, culture, and civilization
Biomedical ethics and the law
by
James M Humber
( Book )
29 editions published between
1976
and 1979 in
English
and held by 1,287 WorldCat member libraries worldwide
In the past few years an increasing number of colleges and universities have added courses in biomedical ethics to their curricula. To some extent, these additions serve to satisfy student demands for "relevance." But it is also true that such changes reflect a deepening desire on the part of the academic community to deal effectively with a host of problems which must be solved if we are to have a health-care delivery system which is efficient, humane, and just. To a large degree, these problems are the unique result of both rapidly changing moral values and dramatic advances in biomedical technology. The past decade has witnessed sudden and conspicuous controversy over the morality and legality of new practices relating to abortion, therapy for the mentally ill, experimentation using human subjects, forms of genetic interven tion, suicide, and euthanasia. Malpractice suits abound and astronomical fees for malpractice insurance threaten the very possibility of medical and health-care practice. Without the backing of a clear moral consensus, the law is frequently forced into resolving these conflicts only to see the moral issues involved still hotly debated and the validity of existing law further questioned. In the case of abortion, for example, the laws have changed radically, and the widely pub licized recent conviction of Dr. Edelin in Boston has done little to foster a moral consensus or even render the exact status of the law beyond reasonable question
Truth and skepticism
by
Robert F Almeder
( )
12 editions published in
2010
in
English
and held by 1,052 WorldCat member libraries worldwide
""Few philosophers have thought as long and as hard about the issues of the truth and our knowledge of it as Robert Almeder. And as so often in philosophy, the way to insight proceeds most smoothly along the path of criticism. By critiquing virlually all of the influential present-day opponents of his views, Almeder manages to provide a firm footing for his own persuasive and eminently instructive position."--Nicholas Rescher, University of Pittsburgh" ""The most sustained defense of an epistemic theory of truth available, coupled with a detailed response to various species of skepticism. Highly recommended as a gateway to contemporary debates on the nature of fruth."-Paul Humphreys, University of Virginia" ""Those who take the epistemic account of fruth to be a nonsfarler should read this compact book carefully. Almeder goes on the offense here and develops a pragmalist epistemology farther than anyone has before. A must-read."-Linda Alcoff, Cuny Grad Center" "Robert Almeder provides a comprehensive discussion and definitive refulation of our common conception of truth as a necessary condition for knowledge of the world and defends in detail an epistemic conception of truth without falling into the usual epistemological relativism or classical idealism in which all properties of the world turn out to be linguistic in nature and origin. There is no other book available that so clearly and thoroughly defends the case for an epistemic conception of truth and also claims success in avoiding idealism or epistemological relativism."--Jacket
Care of the aged
by
James M Humber
( )
7 editions published between
2002
and 2003 in
English
and held by 735 WorldCat member libraries worldwide
This interdisciplinary collection of essays deals with the moral issues associated with the treatment and care of the elderly-and offers proposals for solving them. Writing in a readily understandable style, the authors debate the propriety of Western society's current mechanisms for dealing with elderly citizens and consider the problems that arise for medical personnel and family members who provide such care
Physician-assisted death
by
John Charles Harbert
( Book )
6 editions published between
1993
and 1994 in
English
and held by 672 WorldCat member libraries worldwide
The Nonnecessity of Euthanasia: Gregg A. Kasting
Stem cell research
by
James M Humber
( Book )
9 editions published between
2003
and 2010 in
English
and held by 540 WorldCat member libraries worldwide
A panel of philosophers, ethicists, feminists, and historians examine the moral issues posed by stem cell research, and introduce the principle arguments for and against such research. The book attempts to offer both a balanced presentation and thoughtful critiques of the main arguments in the debate
Human happiness and morality : a brief introduction to ethics
by
Robert F Almeder
( Book )
6 editions published in
2000
in
English
and held by 479 WorldCat member libraries worldwide
In Human Happiness and Morality, noted philosopher Robert Almeder provides lucid introductory explanations of the major ethical theories and traditions, as well as a clear and comprehensive discussion of the proposed answers to three basic questions in ethics: What makes a right act right? Why should I be moral? What is human happiness and how can I attain it? He then ventures beyond the basic questions, describing the relationship between morality and happiness; clearly defining human happiness; and raising the question of whether happiness, so defined, is the likely product of a life lived morally. In the final chapter, Almeder details simple Stoic rules for happy living and shows how it is possible to live the good life despite the existence of unhappiness and failure in others
more
fewer
Audience Level
0

1
Kids
General
Special
Audience level: 0.31 (from 0.10 for Is there a ... to 0.54 for Scrutinizi ...)
Related Identities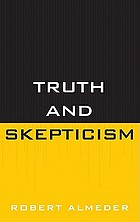 Covers
Alternative Names
Almeder, Robert.

Robert F. Almeder American philosopher and academic

Robert F. Almeder Amerikaans wetenschapsfilosoof

Robert F. Almeder filósofo estadounidense

アルメダー, ロバート

Languages