Hofstede, Geert H.
Most widely held works about Geert H Hofstede
more
fewer
Most widely held works by Geert H Hofstede
Cultures and organizations : software of the mind
by
Geert Hofstede
( Book )
84 editions published between
1991
and 2011 in 3 languages and held by 2,086 WorldCat member libraries worldwide
"The world is a more dangerously divided place today than it was at the end of the Cold War. This despite the spread of free trade and the advent of digital technologies that afford a degree of global connectivity undreamed of by science fiction writers fifty years ago. What is it that continues to drive people apart when cooperation is so clearly in everyone's interest? Are we as a species doomed to perpetual misunderstanding and conflict? Find out in Cultures and Organizations: Software of the Mind." "A veritable atlas of cultural values, it is based on cross-cultural research conducted in seventy countries for more than thirty years. At the same time, it describes a revolutionary theory of cultural relativism and its applications in a range of professions. Fully updated and rewritten for the twenty-first century."--Jacket
Culture's consequences : international differences in work-related values
by
Geert Hofstede
( Book )
29 editions published between
1980
and 2000 in
English
and
Undetermined
and held by 1,380 WorldCat member libraries worldwide
"This important book is based on a monumental study of the sales subsidiaries of a major multinational corporation which operates in 39 countries in the world. Since, in all countries, the respondents do the same work ... and since the formal organization structure is the same everywhere, the important differences found in work attitudes and values can be ascribed to cultural differences among the countries. The author found four major dimensions for classifying cultures across the world: (i) power distance ... (ii) uncertainty avoidance ... (iii) individualism ... (iv) masculinity. ... The author also proposes some interesting theories to explain how cultures come to be as they are, which combine climate, economic development and historical process."--The Good Book Guide for Business "One of the most significant comparative organizational studies to date." --Industrial and Labor Relations Review "Important scientific books may be classified according to two types. ... The second type includes those books which people like to have close at hand and consult for reference. There is little doubt that this book belongs to the second category." --Journal of Management Studies "What the author has done has been to analyze questionnaire results obtained in some 40 different countries, applied to employees of a large multinational American company, and to use the results for extracting dimensions along which to compare these different cultures, and then to evaluate and discuss the resulting groupings. ... The book is full of interesting and important findings. ... It should certainly be studied by anyone in the field." --New Society
Culture's consequences : comparing values, behaviors, institutions, and organizations across nations
by
Geert Hofstede
( Book )
35 editions published between
2000
and 2013 in
English
and held by 1,298 WorldCat member libraries worldwide
The Second Edition of this classic work, first published in 1981 and an international bestseller, explores the differences in thinking and social action that exist among members of more than 50 modern nations. Geert Hofstede argues that people carry "mental programs" which are developed in the family in early childhood and reinforced in schools and organizations, and that these programs contain components of national culture. They are expressed most clearly in the different values that predominate among people from different countries. Geert Hofstede has completely rewritten, revised and updated Cultures Consequences for the twenty-first century, he has broadened the book's cross-disciplinary appeal, expanded the coverage of countries examined from 40 to more than 50, reformulated his arguments and a large amount of new literature has been included. The book is structured around five major dimensions: power distance; uncertainty avoidance; individualism versus collectivism; masculinity versus femininity; and long term versus short-term orientation. --Publisher
Masculinity and femininity : the taboo dimension of national cultures
by
Geert Hofstede
( Book )
19 editions published between
1998
and 1999 in
English
and held by 555 WorldCat member libraries worldwide
Bundel essays over mannelijkheid en vrouwelijkheid als componenten van de vorming van nationale cultuur. Bevat de volgende bijdragen: Masculinity/Femininity as a dimension of culture / door Geert Hofstede; Validating the masculinity/femininity dimension on elites from 19 countries / door Michael H. Hoppe; Femininity and subjective well-being / door Willem A. Arrindell; Masculinity/femininity and consumer behavior / door Marieke de Mooij; The cultural construction of gender / door Geert Hofstede; Masculinity and femininity in the self and ideal self descriptions of university students in 14 countries / door Deborah L. Best en John E. Williams; Gender role gaps, competitiveness, and temperature / door Evert van de Vliert; Why children play: American versus Dutch boys and girls / door Jacques H.A. van Rossum; Femininity shock: American students in the Netherlands / door Mieke Vunderink en Geert Hofstede; Comparative studies of sexual behavior: sex as achievement or as relationship / door Geert Hofstede; The importance of femininity in explaining cross-national differences in secularization / door Johan Verweij; Religion, masculinity, and sex / door Geert Hofstede
Uncommon sense about organizations : cases, studies, and field observations
by
Geert Hofstede
( Book )
11 editions published in
1994
in
English
and held by 535 WorldCat member libraries worldwide
"Hofstede's lifetime of research into organizational behavior has yielded a considerable number of studies using a variety of methodologies. Uncommon Sense About Organizations assembles 17 of the author's superlative articles and case studies, grouping them within three main themes: the impact of jobs on people, power and control in organizations, and studies in training sessions. Hofstede further divides and examines these subjects in relation to their sizes, categorizing studies of the individual or small group as belonging to organizational psychology, for example, while attributing the study of a single, larger, and more complex organization to the discipline of organizational anthropology. The combination of the author's careful and informed scrutiny and his thoughtful juxtaposition of these topics reveals organizational realities that might not otherwise be discerned." "Encompassing such wide-ranging disciplines as sociology, psychology, and anthropology, Uncommon Sense About Organizations is a tour de force of behavioral science research."--Jacket
Lokales Denken, globales Handeln : interkulturelle Zusammenarbeit und globales Management
by
Geert Hofstede
( Book )
33 editions published between
1997
and 2017 in
German
and held by 514 WorldCat member libraries worldwide
Wie unsere Herkunft das Denken, Fühlen und Handeln beeinflusst: Die Polarisierung der Welt ist heute bedenklicher als am Ende des Kalten Krieges, trotz freiem Handel und digitaler Technik, durch die eine globale Verbundenheit zustande kam, von der Science Fiction & ndash; Autoren vor 50 Jahren nicht einmal träumten. Woran liegt es aber, dass Menschen getrennte Wege gehen, wenn doch Kooperation so klar in jedermanns Interesse liegt? Sind wir eine Spezies, die dazu verdammt ist, sich permanent misszuverstehen und in Konflikt miteinander zu geraten? Sie finden die Antworten in diesem Buch. Dieser Atlas für kulturelle Werte basiert auf über 30jähriger Forschung über mehr als 70 Länder. Gleichzeitig beschreibt das Buch eine revolutionäre Theorie des kulturellen Relativismus und seiner Anwendungsmöglichkeiten in verschiedenen Berufen
Exploring culture : exercises, stories, and synthetic cultures
by
Gert Jan Hofstede
( Book )
35 editions published between
2002
and 2012 in
English
and held by 469 WorldCat member libraries worldwide
Product Description: A unique training book containing over 100 culture awareness exercises, dialogues, stories incidents and simulations that bring to life Geert Hofstede's five dimensions of culture. These dimensions are: power distance, collectivism versus individualism, femininity versus masculinity, uncertainly avoidance, and long-term versus short-term orientation. Exploring Culture also contains new material on Geert Hofstede's cultural dimensions and the synthetic cultures
Allemaal andersdenkenden : omgaan met cultuurverschillen
by
Geert Hofstede
( Book )
35 editions published between
1991
and 2017 in
Dutch
and
Undetermined
and held by 269 WorldCat member libraries worldwide
Beschouwingen over het vergroten van het begrip voor andersdenkenden door inzicht te krijgen in wat cultuur eigenlijk inhoudt
Futures for work : a book of original readings
by
Jaap Boersma
( Book )
14 editions published in
1979
in
English
and held by 260 WorldCat member libraries worldwide
One hundred years ago, on the first of November 1878, the first, partly elected, workers representation within a Dutch industrial concern was installed. This took place at the Nederlandsche Gist- en Spiritusjabriek which is now known, since amalgamating in 1967 with Brocades, Stheeman & Pharmacia, as Gist-Brocades. The centennial of workers representation occurs at a time in which the debate about the relationship between man and his work has reached a new height. The role of social pioneer that, in the history of industry, fell to this concern, now creates for us a twofold obli gation: In the first instance to give due honour, after 100 years, to the pioneer ofthose days, J.C. Van Marken and to commemorate hirn in contemporary fashion: the first chapter of this book, published on the occasion ofthe centennial, is devoted to the life and work of our illustrious precursor. Secondly we fee! that it is in the spirit of pioneership to look forward and thereby direct ourselves primarily to the future of work. To this end, the European Institute for Advanced Studies in Management in Brussels formulated some pertinent questions which were then laid before a number of prominent writers and social thinkers in Holland and elsewhere. This book contains their responses. VIII FOREWORD We did not ask the authors to look into teacups or to tell the future from the stars
more
fewer
Audience Level
0

1
Kids
General
Special
Audience level: 0.54 (from 0.08 for Exploring ... to 0.91 for Konservier ...)
Related Identities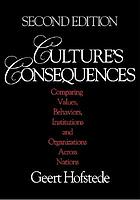 Alternative Names
Chofšted, Girt 1928-

Geert Hofstede antropologo e psicologo olandese

Geert Hofstede Nederlands econoom

Geert Hofstede niederländischer Kulturwissenschaftler

Geert Hofstede Psychologue néerlandais

Hofstede, G.

Hofstede, G. H.

Hofstede, G. H. 1928-

Hofstede, G. H. (Geert H.)

Hofstede, G. H. (Geert H.) 1928-

Hofstede, G. H. (Gerard Hendrik), 1928-

Hofstede, Geert

Hofstede, Geert 1928-

Hofstede, Geert H.

Hofstede, Geert H. 1928-

Hofstede, Geert Hendrik

Hofstede Geert Hendrik 1928-....

Hofstede, Gerard H.

Hofstede, Gerard Hendrik.

Hofstede Gerard Hendrik 1928-....

Герт Хофстеде

Хофстеде, Герт

Գերթ Հոֆստեդ

جيرارد هوفستيد

قیرت هافستد

گیرت هافستد

길트 홉스테데

吉爾特·霍夫斯塔德

Languages
Covers