Devlin, Keith J.
Most widely held works about Keith J Devlin
Most widely held works by Keith J Devlin
The math gene : how mathematical thinking evolved and why numbers are like gossip
by
Keith J Devlin
( Book )
13 editions published between
2000
and 2001 in
English
and held by 1,378 WorldCat member libraries worldwide
Why is math so hard? And why, despite this difficulty, are some people so good at it? If thereʹs some inborn capacity for mathematical thinking -- which there must be, otherwise no one could do it -- why canʹt we all do it well? Keith Devlin has answers to all these difficult questions, and in giving them shows us how mathematical ability evolved, why itʹs a part of language ability, and how we can make better use of this innate talent. He also offers a breathtakingly new theory of language development -- that language evolved in two stages, and its main purpose was not communication -- to show that the ability to think mathematically arose out of the same symbol-manipulating ability that was so crucial to the emergence of true language. Why, then, canʹt we do math as well as we can speak? The answer, says Devlin, is that we can and do -- we just donʹt recognize when weʹre using mathematical reasoning. -- Publisher description
Goodbye, Descartes : the end of logic and the search for a new cosmology of the mind
by
Keith J Devlin
( Book )
7 editions published between
1997
and 1999 in
English
and
Italian
and held by 1,281 WorldCat member libraries worldwide
Keith Devlin chronicles scientists' centuries-old quest to discover the laws of thought, from the astonishingly adept efforts of the ancient Greeks, to the invention of the first primitive "thinking machine" in the late nineteenth century, to radical findings that are challenging the very notion that the mind follows logical rules. Devlin introduces a host of new findings showing that many ways of thinking that are perfectly rational are at the same time entirely illogical, and that the exquisite verbal tango of human communication has little to do with logical processing. We must begin to appreciate, Devlin argues, that our minds are intimately intertwined with the world around us, and that our feelings and perceptions, even our social norms, play crucial roles in the marvelously complex dance of human cognition
Life by the numbers
by
Keith J Devlin
( Book )
12 editions published between
1998
and 1999 in
English
and
Undetermined
and held by 1,261 WorldCat member libraries worldwide
Keith Devlin reveals the astonishing range of creative and powerful ways in which scientists, artists, athletes, medical researchers, and many others are using mathematics to explore our world and to enhance our lives. On this tour you will explore deep-sea volcanoes with oceanographer Dawn Wright, go behind the scenes of blockbuster movies with special-effects designer Doug Trumbull, and probe the strange lives of viruses with microbiologist Sylvia Spengler. Listen to astronomer Robert Kirshner describe how he is charting the curve of space; discover how biologist Mike Labarbara visualizes the way a Tyrannosaurus rex carried its massive frame; and, along with brain researcher Brad Hatfield, peer into the mind of an Olympic markswoman at the moment she takes a shot. Glimpse a future of wearable computers and silicon "butlers" with computer scientist Pattie Maes, and watch a lilac come to life on screen with "computer botanist" Przemyslaw Prusinkiewicz
The language of mathematics : making the invisible visible
by
Keith J Devlin
( Book )
34 editions published between
1998
and 2013 in 3 languages and held by 1,145 WorldCat member libraries worldwide
Taking the reader on a wondrous journey through the invisible universe that surrounds us - a universe made visible by mathematics - Devlin shows us what keeps a jumbo jet in the air, explains how we are able to view a football game on TV, and describes the mathematics that allow us to predict the weather, the behavior of the stock market, and the outcomes of elections
The man of numbers : Fibonacci's arithmetic revolution
by
Keith J Devlin
( Book )
13 editions published between
2011
and 2014 in
English
and
Italian
and held by 1,054 WorldCat member libraries worldwide
In 1202, a 32-year old Italian finished one of the most influential books of all time, which introduced modern arithmetic to Western Europe. Devised in India in the 7th and 8th centuries and brought to North Africa by Muslim traders, the Hindu-Arabic system helped transform the West into the dominant force in science, technology, and commerce, leaving behind Muslim cultures which had long known it but had failed to see its potential.The young Italian, Leonardo of Pisa (better known today as Fibonacci), had learned the Hindu number system when he traveled to North Africa with his father, a customs agent. The book he created was Liber abbaci, the "Book of Calculation," and the revolution that followed its publication was enormous. Arithmetic made it possible for ordinary people to buy and sell goods, convert currencies, and keep accurate records of possessions more readily than ever before. Liber abbaci's publication led directly to large-scale international commerce and the scientific revolution of the Renaissance.Yet despite the ubiquity of his discoveries, Leonardo of Pisa remains an enigma. His name is best known today in association with an exercise in Liber abbaci whose solution gives rise to a sequence of numbers'the Fibonacci sequence'used by some to predict the rise and fall of financial markets, and evident in myriad biological structures.One of the great math popularizers of our time, Keith Devlin recreates the life and enduring legacy of an overlooked genius, and in the process makes clear how central numbers and mathematics are to our daily lives
The millennium problems : the seven greatest unsolved mathematical puzzles of our time
by
Keith J Devlin
( Book )
18 editions published between
2001
and 2013 in 4 languages and held by 1,020 WorldCat member libraries worldwide
"In 2000, the Clay Foundation of Cambridge, Massachusetts, announced a historic competition: Whoever could solve any of seven extraordinarily difficult mathematical problems, and have the solution acknowledged as correct by the experts, would receive $1 million in prize money. There was some precedent for doing this: In 1900 David Hilbert, one of the greatest mathematicians of his day, proposed twenty-three problems, now known as the Hilbert Problems, that set much of the agenda for mathematics in the twentieth century. The Millennium Problems are likely to acquire similar stature, and their solution (or lack of one) will play a strong role in determining the course of mathematics in the current century. They encompass many of the most fascinating areas of pure and applied mathematics, from topology and number theory to particle physics, cryptography, computing and even aircraft design. Keith Devlin, renowned expositor of mathematics, tells here what the seven problems are, how they came about, and what they mean for math and science." "These problems are the brass rings held out to today's mathematicians, glittering and just out of reach. In the hands of Devlin, "the Math Guy" from NPR's Weekend Edition, each Millennium Problem becomes a fascinating window onto the deepest and toughest questions in the field. For mathematicians, physicists, engineers, and everyone else with an interest in mathematics' cutting edge, The Millennium Problems is the definitive account of a subject that will have a very long shelf life."--Jacket
Logic and information
by
Keith J Devlin
( Book )
36 editions published between
1991
and 2014 in
English
and
German
and held by 858 WorldCat member libraries worldwide
The unfinished game : Pascal, Fermat, and the seventeenth-century letter that made the world modern
by
Keith J Devlin
( Book )
13 editions published between
2008
and 2010 in
English
and held by 763 WorldCat member libraries worldwide
Examines the seventeenth-century correspondence between Blaise Pascal and Pierre de Fermat that described a mathematical method that became the foundation of probability, and discusses how it later developed into the concept of risk management in the twenty-first century
Mathematics : the new golden age
by
Keith J Devlin
( Book )
35 editions published between
1988
and 2013 in 6 languages and held by 688 WorldCat member libraries worldwide
This survey on mathematics includes recent developments with sections on Fermat's Last Theorem, knots and topology and the mathematics of the physical universe
The math instinct : why you're a mathematical genius (along with lobsters, birds, cats and dogs)
by
Keith J Devlin
( Book )
10 editions published between
2005
and 2009 in
English
and held by 654 WorldCat member libraries worldwide
If we have innate mathematical ability, why do we have to teach math and why do most of us find it so hard to learn? Are there tricks or strategies that the ordinary person can do to improve mathematical ability? Can we improve our math skills by learning from dogs, cats, and other creatures that "do math"? The answer to each of these questions is a qualified yes.-- from pub. descr
more
fewer
Audience Level
0

1
Kids
General
Special
Audience level: 0.33 (from 0.00 for Beauty and ... to 0.69 for Aspects of ...)
Associated Subjects
Arithmetic
Axiom of constructibility
Communication
Communication in organizations
Constructibility (Set theory)
Constructive mathematics
Devlin, Keith J
Experimental mathematics
Fermat, Pierre de,
Fibonacci, Leonardo,
Fibonacci numbers
France
Games in mathematics education
Information theory
Information theory--Mathematics
Italy
Knowledge, Theory of
Knowledge management
Life by the numbers (Television program)
Life sciences
Logic
Logic, Symbolic and mathematical
Management information systems
Mathematical ability
Mathematical recreations
Mathematical statistics
Mathematicians
Mathematics
Mathematics, Medieval
Mathematics--Industrial applications
Mathematics in nature
Mathematics--Philosophy
Mathematics--Psychological aspects
Mathematics--Research
Mathematics--Study and teaching (Elementary)
Model theory
Neurolinguistics
Number concept
Number theory
Pascal, Blaise,
Philosophy of mind
Probabilities
Probabilities--Famous problems
Science
Set theory
Situation (Philosophy)
Thought and thinking
Video games and children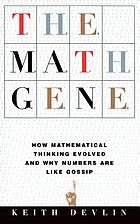 Alternative Names
Devlin, K.

Devlin, K. J.

Devlin, Keith.

Devlin Keith 1947-....

Devlin, Keith J

Devlin, Keith J. 1947-

Keith Devlin britischer Mathematiker und Wissenschaftsjournalist

Keith Devlin britisk matematikar

Keith Devlin britisk matematiker

Keith Devlin Brits wiskundige

Keith Devlin brittisk matematiker

Keith Devlin matematico e scrittore inglese

Kit Devlin

Кит Девлин

كيث دفلين، 1947-

كيث ديفلن

데블린, 키스

キース・デブリン

デブリン, キース

基思`德夫林 英国数学家

Languages
Covers