Snyder, C. R.
Most widely held works about C. R Snyder
Most widely held works by C. R Snyder
Positive psychological assessment : a handbook of models and measures
by
Shane J Lopez
( Book )
29 editions published between
2003
and 2009 in
English
and
Chinese
and held by 996 WorldCat member libraries worldwide
This handbook is a primer for practitioners and researchers striving to incorporate the assessment of human strengths, resources, and fulfillment into their work. Contributors aptly examine the scientific underpinnings and practical applications of measures of hope, optimism, self-efficacy, problem solving, locus of control, creativity, wisdom, courage, positive emotion, self-esteem, emotional intelligence, empathy, attachment, forgiveness, humor, gratitude, faith, morality, and quality of life. Vocational and multicultural applications of positive psychological assessment are also discussed, as is the measurement of contextual variables that may facilitate the development or enhancement of human strength. The variety of perspectives offered will be immensely helpful to readers who wish to incorporate balance into their assessments and research through the integration of theoretically grounded positive measures. (PsycINFO Database Record (c) 2004 APA, all rights reserved)
Handbook of positive psychology
by
C. R Snyder
( Book )
40 editions published between
2001
and 2011 in
English
and
Undetermined
and held by 887 WorldCat member libraries worldwide
What strengths does a person employ to deal effectively with life? This handbook provides a forum for a more positive view of the human condition
Oxford handbook of positive psychology
by
C. R Snyder
( Book )
31 editions published between
2005
and 2011 in
English
and held by 849 WorldCat member libraries worldwide
"The Oxford Handbook of Positive Psychology, Second Edition is the seminal reference in the burgeoning field of positive psychology, which, in recent years, has transcended academia to capture the imagination of the general public. The handbook provides a roadmap for the psychology needed by the majority of the population - those who don't need treatment, but want to achieve the lives to which they aspire. The 65 chapters summarize all of the relevant literature in the field, and each of the international slate of contributors is essentially defining a lifetime of research. The content's breadth and depth provide an unparalleled cross-disciplinary look at positive psychology from diverse fields and all branches of psychology, including social, clinical, personality, counseling, school, and developmental psychology. Topics include not only happiness--which has been perhaps misrepresented in the popular media as the entirety of the field--but also hope, strengths, positive emotions, life longings, creativity, emotional creativity, courage, and more, plus guidelines for applying what has worked for people across time and cultures."--Jacket
Coping with stress : effective people and processes
by
C. R Snyder
( Book )
13 editions published in
2001
in
English
and held by 735 WorldCat member libraries worldwide
This is a companion volume to Coping: The Psychology of What Works, which is also edited by Snyder. This second book includes chapters by some of the most well known clinical and health psychologists and covers some of the newest and most provocative topics currently under study in the area of coping. The contributors address the key questions in this literature: Why do some of us learn from hardship and life's stressors? And why do others fail and succumb to depression, anxiety, and even suicide? What are the adaptive patterns and behaviors of those who do well in spite of the obstacles that
Positive psychology : the scientific and practical explorations of human strengths
by
C. R Snyder
( Book )
35 editions published between
2006
and 2015 in
English
and held by 680 WorldCat member libraries worldwide
Offer comprehensive coverage of the science and application of positive psychology and present new frameworks for understanding positive emotions and human strengths. The authors bring positive psychology to life by tackling issues such as how positive psychology can help improve schooling and the workplace, as well as promote cooperative lifestyles among people. Further, the book covers Western and Eastern approaches to understanding human strengths, along with the cultural and developmental influences on positive functioning. The authors also explore various positive conditions such as happiness and well-being, along with other processes related to mindfulness, wisdom, courage, and spirituality. Features of the Second Edition: - Offers an in-depth discussion of science and applications: The book provides the most comprehensive coverage of postive psychology's science and applications. It explores various positive conditions such as empathy, altruism, gratitude, attachment and love. - Encourages active learning: The authors include over 50 case studies, grounded in the practice, research, teaching, and daily lives of the authors that reveal how positive psychological phenomenon operates in the lives of real people. Personal Mini-Experiments and Life Enchancement Strategies help readers apply knowledge of the science and practice of positive psychology in their lives. - Instructor's Resource Site is available to adopters. New to the Second Edition: - Updated with the latest research in positive psychology that covers topics such as hope, courage, altruism, and more - Provides examples and research from many different cultural groups that includes such facets as race, ethnicity, socioeconomic status, sexual orientation, gender, nation of origin and others
Coping with negative life events : clinical and social psychological perspectives
by
C. R Snyder
( Book )
14 editions published between
1987
and 1988 in
English
and held by 651 WorldCat member libraries worldwide
"Like a Bridge over Troubled Waters" The surge of current interest in the interface between clinical and social psychology is well illustrated by the publication of a number of general texts and journals in this area, and the growing emphasis in graduate programs on providing training in both disciplines. Although the bene℗Ư fits of an integrated clinical-social approach have been recognized for a number of years, the recent work in this area has advanced from the℗Ư oretical extrapolations of social psychological models to clinical issues to theory and research that is based on social principles and conducted in clinical domains. It is becoming increasingly common to find social psy℗Ư chologists pursuing research with clinical populations and clinical psy℗Ư chologists investigating variables that have traditionally been in the realm of social psychology. A major area of interface between the two disciplines is in research and theory concerned with how individuals respond to negative events. In addition to the trend toward an integrated clinical-social approach, the growing body of literature in this area reflects the explosion of cur℗Ư rent interest in the area of health psychology; work by clinical and social psychologists on the topics of stress and coping has been one of the major facets of this burgeoning field. The purpose of the present volume is to provide a common forum for recent advances in the clinical and social literature on responses to negative life outcomes
Coping : the psychology of what works
by
C. R Snyder
( Book )
17 editions published in
1999
in
English
and held by 537 WorldCat member libraries worldwide
"Coping is a fundamental psychological process, and people's skills are commensurately sophisticated. This volume builds on people's strengths and emphasizes their role as positive copers. It features techniques for preventing psychological problems and breaks from the traditional research approach, which is modeled on medical practices that emphasize pathology and treatment."--Jacket
The psychology of hope : you can get there from here
by
C. R Snyder
( Book )
2 editions published in
1994
in
English
and held by 521 WorldCat member libraries worldwide
In this compelling look at the psychology of hope, C.R. Snyder provides insights into the personality of the highly hopeful individual. Drawing on inspiring clinical cases, as well as his seminal research and widely distributed hope scale, Snyder shows that very hopeful people differ from the rest of us in some intriguing respects. First, they have the ability to envision a broader range of goals than most people. Second, they have greater will power and energy in pursuing those goals. And third, they have the skills to generate a greater variety of routes to reach their objectives. The book includes in the first chapter a hope test for adults that allows readers to assess their individual levels of hope. Snyder then analyzes the significant events in the first 18 years that contribute to the development of hope, and he provides a useful scale for children that parents and professionals can administer to determine a child's level of hope. Through a variety of clinical cases, he also explores how hope is often destroyed in children and in adults. He shows, for example, how neglect, abuse, parental loss, unrealistic expectations for the child, and inconsistent parenting can erode in different ways children's ability to envision goals or their ability to develop strategies to reach them. Finally, he provides practical, research-based information on how hope can be fostered in children and adults. In this section, he gives specific advice on how to envision goals more strongly, how to increase one's energy in pursuing one's objectives, and how to develop a greater variety of strategies to reach one's goals. The Psychology of Hope is a book for anyone who seeks to understand the psychological underpinning of this essential virtue
more
fewer
Audience Level
0

1
Kids
General
Special
Audience level: 0.34 (from 0.06 for Handbook o ... to 0.58 for A Comparis ...)
Related Identities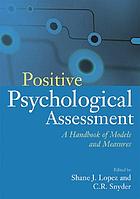 Alternative Names
Charles R. Snyder Amerikaans psycholoog (-)

Charles R. Snyder Amerikaans psycholoog (1944-2006)

Snyder, C. R.

Snyder, C.R. 1944-2006

Snyder, Charles Richard.

Snyder, Charles Richard 1944-2006

Snyder, Rick.

Snyder, Rick 1944-2006

چارلز آر. اسنایدر

스나이더, C. R

스나이더, 찰스 R

Languages
Covers