Tada, Joni Eareckson
Most widely held works about Joni Eareckson Tada
more
fewer
Most widely held works by Joni Eareckson Tada
Joni
by
Joni Eareckson Tada
( Book )
23 editions published between
1976
and 1998 in 9 languages and held by 1,243 WorldCat member libraries worldwide
Autobiography of Joni Eareckson, who at 17 was left a quadriplegic as a result of a diving accident, and who today as an accomplished artist drawing with a pen held in her teeth, describes her struggles and her abiding faith in Christ
When is it right to die? : suicide, euthanasia, suffering, mercy
by
Joni Eareckson Tada
( Book )
7 editions published between
1992
and 1994 in
English
and
Dutch
and held by 1,237 WorldCat member libraries worldwide
Most of us respond quickly when asked for opinions about pornography, crime, or other moral issues facing America. But what do you say when asked, "When is it okay to remove a dying loved one from life supports? Is it ever appropriate to hurry the end of a terminal illness before pain becomes unbearable? How much money and effort should be used to save a person's life?" In short; when is it right to die?
Heaven : your real home
by
Joni Eareckson Tada
( Book )
19 editions published between
1995
and 2010 in 4 languages and held by 778 WorldCat member libraries worldwide
Learn what Heaven is like and who will be there
When God weeps : why our sufferings matter to the Almighty
by
Joni Eareckson Tada
( Book )
10 editions published between
1997
and 2010 in 3 languages and held by 758 WorldCat member libraries worldwide
Through a panoramic overview of what the Bible says about suffering, the authors make clear who God is, why he permits so much heartache and pain, and how it is we can trust him. With both a practical edge and heartfelt warmth. When God Weeps offers dependence on His love and mercy in spite of our doubts, fears, longings and questions
Ordinary people, extraordinary faith
by
Joni Eareckson Tada
( Book )
6 editions published between
2001
and 2004 in 3 languages and held by 500 WorldCat member libraries worldwide
The stories of people who have inspired the author "as they found their faith rise to the occasion--to forgive an assailant, to find strength despite the debilitating effects of cerebral palsy, to choose love in the face of racial prejudice, and to discover in the midst of questioning that God Himself is the answer to all questions."--Cover
Joni & Ken : an untold love story
by
Ken Tada
( Book )
8 editions published between
2013
and 2014 in 3 languages and held by 458 WorldCat member libraries worldwide
Ken underestimated the challenges of marrying a quadriplegic woman. Even the honeymoon wasn't easy. Through their years together, Ken becomes increasingly overwhelmed by the never-ceasing demands of caring for a woman with chronic, extreme, nightmarish pain. He sinks into depression, and the couple finds themselves drifting apart emotionally. In the midst of their deepest struggles, Ken and Joni return to the one true answer. In their darkest hour, they encounter a heavenly visitation that changes their lives--and maybe yours--forever.--From publisher description
Glorious intruder : God's presence in life's chaos
by
Joni Eareckson Tada
( Book )
12 editions published between
1989
and 2011 in
English
and held by 435 WorldCat member libraries worldwide
Learn how God's constant presence can bring peace, perspective, and healing into the puzzling and chaotic circumstances of your life, through these powerful devotional insights
Secret strength : for those who search
by
Joni Eareckson Tada
( Book )
8 editions published between
1988
and 2011 in 3 languages and held by 427 WorldCat member libraries worldwide
Do you want to know a secret' What's so secret about God' Nothing. And yet everything. Scripture tells us, "the secret things belong to the Lord our God." God has secrets. Some to keep, and some to tell. And who doesn't want to know a secret' Most of us are filled with an incurable urge to discover secrets, to walk the higher and hidden roads. And it is our God, our wonderfully mysterious God, who has placed that yearning within us. He is the treasure we seek ... the precious gem to be mined. So take the time to spend these one hundred concise, life-changing appointments with him. And discover incredible handholds of refreshment, courage, and endurance you can cling to in Secret Strength. From the Trade Paperback edition
How to be a Christian in a brave new world
by
Joni Eareckson Tada
( Book )
3 editions published between
2006
and 2009 in
English
and held by 305 WorldCat member libraries worldwide
Stem-cell research. Cloning. Genetic engineering. Today, discoveries in biotechnology are occurring so rapidly that we can barely begin to address one ethical debate before another looms overhead. This brave new world we've entered is a daunting one as well, with disturbing implications for the sanctity of life and for human nature itself. How should we respond as Christians' Drawing on an abundance of cutting-edge information and life experience, Joni Eareckson Tada and Nigel M. de S. Cameron help you think through issues no Christian can afford to ignore. As a quadriplegic who has spent three decades advocating for the disability community out of a wheelchair, Joni offers the insights of a woman intimately acquainted with suffering and struggle. Dr. Cameron shares from his vast knowledge as one of today's foremost bioethics. Together, they offer deeply informed perspectives on such pressing issues as Human cloning Designer babies Redefining human nature Human harvesting Here is thoughtful, passionate, and gripping reading about the world that is coming-that, indeed, is already here-and how to live out your faith with conviction in its midst
A christmas longing
by
Joni Eareckson Tada
( Book )
6 editions published between
1990
and 2010 in
English
and
German
and held by 245 WorldCat member libraries worldwide
Christmas whispers of wistful longings and warm family celebrations'the Savior has come. But the story isn't finished. "Peace on earth and goodwill toward men" will only be a wish and a vision until the Prince of Peace finally rules our world. The lights, the singing, the gift giving, and the joy foreshadow an eternal morning together in His presence. Through her artwork, her creative retelling of the Nativity, and her tender reflections of the Christmas season, Joni Eareckson Tada invites the reader to consider anew the Son of God, who is the wellspring of every joy, the fulfillment of every longing. Take time this Christmas season to step outside the clamor and excitement. Visit the stable and ask God to speak to you in the quiet and serenity and stillness ... Never stop believing that He will fulfill His promise to live among us in unveiled majesty and splendor. From the Hardcover edition
more
fewer
Audience Level
0

1
Kids
General
Special
Audience level: 0.18 (from 0.12 for Joni Earec ... to 0.79 for Joni : sta ...)
Related Identities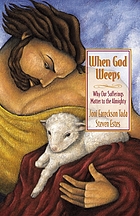 Alternative Names
Eareckson, Joni.

Eareckson, Joni 1949-

Eareckson, Joni, 1950-

Eareckson-Tada, Joni.

Eareckson-Tada, Joni 1949-

Eareckson Tada, Joni, 1950-

Ėrekson, Džoni 1949-

Eriksone, Džonija

Eriksone Tada, Džonija

Joni

Joni, 1950-

Joni Eareckson Tada Amerikaans schrijfster

Joni Eareckson Tada artiste, auteur et musicienne

Joni Eareckson Tada US-amerikanische Autorin und Künstlerin

Tada, Džoni Ėrekson 1949-

Tada, Džonija Eriksone

Tada Eareckson, Joni 1949-

Tada, Joni Eareckson-

Джони Эриксон Тада

Џони Ерeксон Тада

אריקסון, ג'וני

טדה, ג'וני אריקסון

타다, 조니 에릭슨

エレクソン, J

エレクソン, ジョニー

タダ, ジョニー・エレクソン

Languages
Covers