Laqueur, Walter 1921-
Overview
| | |
| --- | --- |
| Works: | 517 works in 2,902 publications in 11 languages and 80,703 library holdings |
| Genres: | History Sources Biography Reference works Encyclopedias Dictionaries |
| Roles: | Author, Editor, Author of introduction, Other, Honoree, Creator, Compiler, Translator, Redactor |
Most widely held works about Walter Laqueur
more
fewer
Most widely held works by Walter Laqueur
The Israel-Arab reader : a documentary history of the Middle East conflict
by
Walter Laqueur
( Book )
144 editions published between
1968
and 2016 in
English
and
Undetermined
and held by 3,692 WorldCat member libraries worldwide
The background history and direction of the Arab-Israel conflict is traced through this comprehensive chronological compilation of documents, declarations, correspondences, resolutions, policies, reports, and some commentary. a range of topics and viewpoints are presented. sources relate to zionism and the establishment of the state, the British mandate, the Palestinians and the PLO, wars, territory, un resolutions, reactions of and relations with other countries and Israel's position on various issues
A history of Zionism
by
Walter Laqueur
( Book )
109 editions published between
1971
and 2009 in 8 languages and held by 2,904 WorldCat member libraries worldwide
This book provides a history of Zionism from the French emancipation in 1789 until the creation of the State of Israel in 1948. the book is devided into three parts dealing with the conceptual idea of Zionism, the active Zionist movement and the destruction of european jewry, together with the fight for jewish independence in palestine
The Holocaust encyclopedia
( Book )
20 editions published in
2001
in
English
and held by 2,833 WorldCat member libraries worldwide
"Alphabetically arranged entries in 'Laqueur's encyclopedia provides fresh and lengthy articles on such topics as antisemitism, historiography, Jewish women, memorials, and resistance, just to brush the surface." Choice
The new terrorism : fanaticism and the arms of mass destruction
by
Walter Laqueur
( )
39 editions published between
1999
and 2006 in
English
and
Undetermined
and held by 2,623 WorldCat member libraries worldwide
"In The New Terrorism Walter Laqueur, one of the foremost experts on terrorism and international strategic affairs, recounts the history of terrorism and, more importantly, examines the future of terrorist activity worldwide. Laqueur argues that as a new quasi-religious extreme right rises, with more personal and less ideological motivations than their left-wing counterparts, it is only a matter of time before the attainability of weapons of mass destruction creates a terrifying and unstable scenario." "From militant separatism in Kashmir to state-sponsored extremism in Libya and ecoterrorism in the West, The New Terrorism offers a thorough account of terrorism in all its past and current manifestations. Most importantly, it casts a sober eye to the future, when the inevitable marriage of technology and fanaticism will give us all something new to think about."--Jacket
The dream that failed : reflections on the Soviet Union
by
Walter Laqueur
( )
22 editions published between
1994
and 1996 in
English
and held by 2,536 WorldCat member libraries worldwide
The Dream that Failed offers an authoritative assessment of the Soviet era - from the triumph of Lenin to the fall of Gorbachev. In recent years, decades of conventional wisdom about the U.S.S.R. have been swept away, while a flood of evidence from Russian archives demands new thinking about old assumptions. This inquiry is conducted on the grand scale: the author explains how the Bolsheviks won the struggle for power in 1917; how they captured the commitment of a young generation of Russians; why the idealism faded as Soviet power grew; how the system ultimately collapsed; and why Western experts have been wrong about the Communist system. Thoughtful and incisive, Laqueur reflects on the early enthusiasm of foreign observers and Bolshevik revolutionaries for the new Soviet order, then takes a piercing look at the totalitarian nature of the regime. He demonstrates how Communist society stagnated during the 1960s and '70s, while the economy wobbled to the brink; how Western observers, from academic experts to CIA analysts, made wildly optimistic estimates of Moscow's economic and political strength. Just weeks before the U.S.S.R. disappeared from the earth, some scholars were confidently predicting the survival of the Soviet Union. But in underscoring the rot and repression, he also notes that the Communist state did not necessarily have to fall when it did, and he examines the many factors behind the collapse (such as ethnic nationalism and the rigors of an accelerated arms race during the 1980s). Many of these same problems continued to shape the future of Russia and other successor states, and a second coming of national Communism, albeit in a different guise, cannot be ruled out. Only now, in the rubble of this lost empire, is it possible to gain a deeper understanding of the Soviet regime, its early achievements, its crimes and its ultimate disaster. In The Dream that Failed, the result of years of research and reflection, Walter Laqueur sheds fresh light on a central episode in our turbulent century
The changing face of antisemitism : from ancient times to the present day
by
Walter Laqueur
( )
22 editions published between
2006
and 2008 in
English
and held by 2,393 WorldCat member libraries worldwide
For thirty years the director of the Wiener Library in London, the leading institute for the study of anti-Semitism, Walter Laqueur here offers both a comprehensive history of anti-Semitism as well as an illuminating look at the newest wave of this phenomenon. Laqueur begins with an invaluable historical account of this pernicious problem, tracing the evolution from a predominantly religious anti-Semitism--stretching back to the middle ages--to a racial anti-Semitism that developed in the late 19th and early 20th centuries. The author then uses this historical account as backdrop to a brilliant analysis of the newest species of anti-Semitism, explaining its origins and rationale, how it manifests itself, in what ways and why it is different from anti-Semitism in past ages, and what forms it may take in the future. The book reveals that what was historically a preoccupation of Christian and right-wing movements has become in our time even more frequent among Muslims and left-wing groups. Moreover, Laqueur argues that we can't simply equate this new anti-Semitism with anti-Zionism and write it off as merely anti-Israel sentiments. National and religious minority groups have been systematically persecuted from Indonesia, to Bangladesh, Rwanda, and beyond, but their fate has not generated much indignation in Europe and America. If Israel alone is singled out for heated condemnation, is the root of this reaction simply anti-Zionism or is it anti-Semitism? Here is both a summing up of the entire trajectory of anti-Semitism--the first comprehensive history of its kind--and an exploration of the new wave of anti-Semitism that will be of interest to all concerned about the future of Jews, Judaism, and Israel. --Publisher
The terrible secret : suppression of the truth about Hitler's "final solution"
by
Walter Laqueur
( Book )
57 editions published between
1980
and 2017 in 3 languages and held by 2,388 WorldCat member libraries worldwide
"This book seeks to answer three vital questions about the worldwide response to Hitler's "Final Solution": When did information about the genocide first become known to Jews and non-Jews? Through what channels was this information transmitted? What was the reaction of those who received word of the slaughter?Walter Laqueur's quest focuses on the period between June 1941, when Germany invaded the Soviet Union, and December 1942, by which time the United Nations had confirmed the news about the mass killings in a common declaration. By the end of 1942, Chelmno, Belzec, Auschwitz, Maidanek, Sobibor, and Treblinka were fully operational and two and a half million Jews had already been killed.According to Laqueur, word started to spread soon after extermination began. But there is no easy, straightforward answer to the wider question of why there was a failure to read and correctly interpret the signs in 1941; why so many individuals and governments actually chose to deny the reality of genocide when faced with incontrovertible evidence. A probing and disturbing work, The Terrible Secret explores one of the most perplexing aspects of the Holocaust, a political and psychological riddle of general significance to the understanding of the history of our times."--Provided by publisher
Fascism : past, present, future
by
Walter Laqueur
( Book )
18 editions published between
1995
and 1997 in
English
and
Undetermined
and held by 2,134 WorldCat member libraries worldwide
Mussolini's march on Rome; Hitler's speeches before waves of goose-stepping storm troopers; the horrors of the Holocaust; burning crosses and neo-Nazi skinhead hooligans. Few words are as evocative, and even fewer ideologies as pernicious, as fascism. And yet, the world continues to witness the success of political parties in countries such as Italy, France, Austria, Russia, and elsewhere resembling in various ways historical fascism. Why, despite its past, are people still attracted to fascism? Will it ever again be a major political force in the world? Where in the world is it most likely to erupt next? In Fascism: Past, Present, Future, renowned historian Walter Laqueur illuminates the fascist phenomenon, from the emergence of Hitler and Mussolini, to Vladimir Zhirinovsky and his cohorts, to fascism's not-so-distant future
Europe in our time : a history, 1945-1992
by
Walter Laqueur
( Book )
25 editions published between
1992
and 1993 in 3 languages and held by 1,793 WorldCat member libraries worldwide
Chronicles the continent's political, economic, social, and cultural evolution from the Cold War to fall of the Berlin Wall
Generation exodus : the fate of young Jewish refugees from Nazi Germany
by
Walter Laqueur
( )
29 editions published between
2000
and 2005 in
English
and
Undetermined
and held by 1,768 WorldCat member libraries worldwide
"Some half a million Jews lived in Germany when Hitler came to power in 1933. Over the next decade, thousands would flee. Among these refugees, teens and young adults formed a remarkable generation. Born between 1914 and 1928, they were old enough to appreciate the loss of their homeland and the experience of flight, but often young and flexible enough to survive and even flourish in new environments. Many would go on to make great contributions to their new countries and to the world." "The young Jews who fled the Nazis escaped to Palestine and the United States, to the Soviet Union and England, to South America and Shanghai and Australia. Some even remained in Germany, in hiding throughout the war. From a variety of backgrounds - some secular, some observant; some Zionists, some German patriots; some poor, some well-to-do - they are united by the experience of flight from Nazi persecution during their formative years. This generation has produced such disparate figures as Henry Kissinger and "Dr. Ruth" Westheimer; noted academics and political leaders of both Israel and East Germany; even a Benedictine abbot, a Hindu guru, and a West African chieftain. Drawing on interviews, published and unpublished memoirs, and his own experiences, Walter Laqueur skillfully combines these numerous individual stories and experiences to paint a vivid collective portrait of Generation Exodus."--Jacket
more
fewer
Audience Level
0

1
Kids
General
Special
Audience level: 0.26 (from 0.05 for Best of ti ... to 0.95 for Le chene d ...)
Related Identities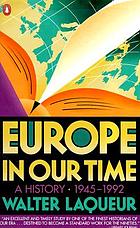 Covers
Alternative Names
Alexander, M. 1921-

Gualterius Laqueur

Lakër, Uolter

Laker, Uolter 1921-

Laker, Volter 1921-

Lakir, Zeʹev

Lakir, Zeʹev 1921-

Lakoir, Zeʹev

Lakoir, Zeʹev 1921-

Lakvir, Zeʹev

Laḳṿir, Zeʾev 1921-

Laqer Zʾeb 1921-....

Laquer, Walter.

Laquer, Walter 1921-

Laqueur, W.

Laqueur, Walter

Laqueur, Walter Z.

Laqueur, Walter Z. 1921-

Laqueur, Walter Ze-ev 1921-

Laqueur , Walter Ze'ev

Laqueur Walter Zeev 1921-....

Laqueur, Ze'ev 1921-

Laqweyr Wwalṭer 1921-....

Laqweyr Wwlṭer 1921-....

Laqweyr Zʾeb 1921-....

Leqer Zʾeb 1921-....

Walter Laqueur American historian and political commentator

Walter Laqueur Amerikaans historicus

Walter Laqueur amerikanischer Historiker und Publizist deutsch-jüdischer Herkunft

Walter Laqueur usona historiisto

Yiśraʾeliy G. Z. 1921-....

Лакер В.

Лакер, Вальтер

Лакёр, Уолтер

Лакер, Уолтер, 1921-

זאב לקויר

ישראלי, ג. ז.

ישראלי ג. ז. 1921-....

לאקויר, זאב בן פריץ

לאקר, ולטר

לעקער זאב 1921-....

לקויר וולטר 1921-....

לקויר, ז.

לקויר, זאב

לקויר זאב 1921-....

לקר זאב 1921-....

라쿼, 월터 1921-

ウォルター・ラカー

ウォルター・ラカー 1921-

ラカー, ウォルター

ラカー, ウォルター・Z.

ラカー, ワルター

ラッカー, ウォルター Z.

沃爾特·拉克

Languages