Sarason, Seymour Bernard 1919-2010
Most widely held works about Seymour Bernard Sarason
Most widely held works by Seymour Bernard Sarason
The culture of the school and the problem of change
by
Seymour Bernard Sarason
( Book )
47 editions published between
1971
and 2013 in
English
and
Undetermined
and held by 2,002 WorldCat member libraries worldwide
Revisiting "The Culture of the School and the Problem of Change" provocatively and seamlessly joins Seymour Sarason's classic, landmark text on school change with his own insightful reflections on those same issues in the face of today's crisis in public schools. This is an extensive, monograph-length revisiting
Anxiety in elementary school children : a report of research
by
Seymour Bernard Sarason
( Book )
35 editions published between
1960
and 2013 in 3 languages and held by 1,198 WorldCat member libraries worldwide
"The contents of this book represent six years of research on anxiety in children of elementary school age. Although our research project continues--it is far from finished--there were several considerations which brought us to the decision to write this book. First, in none of our publications had we spelled out the theoretical framework within which we have operated. Consequently, the relationships of our findings to each other, as well as to broader psychological issues, have not been discussed in a manner satisfactory to us. Second, we had a fair amount of unpublished data which we felt could only be evaluated within the context of all we have done. Third, we became increasingly aware that our work had important implications for psychological practices and procedures in the public schools. This awareness was due not only to our interpretation of our formal findings, or to the fact that we spent a great deal of time in the school setting, but also to the response of various school personnel who felt that our studies could be of great relevance in the development of testing procedures which would be more meaningful than those currently employed in our schools. The final factor entering into the decision to write this book was our inability, for reasons beyond our control, to remain together as a research team. We have worked intimately together for several years, all of us participating in the over-all planning, the design of the many studies carried out, and in the innumerable meetings In which we hashed over the significance of our findings. At the same time that it became apparent that we could not remain together as a research team, we realized that we had to integrate our work in one place before some of us had to leave. We assume that our work will be of interest to clinical and child psychologists, psychiatrists, and others in the behavioral sciences. However, there is a much larger group of professional people whom we wish to reach but whose points of contact with the behavioral sciences are, in our opinion, far less than they should be. We refer here to a variety of people In education: school psychologists, guidance personnel, teachers, and administrators. As we indicated earlier, when we have presented our research to these workers they have supported us in our belief that our work has relevance for testing programs in our schools. We hope, therefore, that this book will reach and be reacted to by those professional workers"--Preface. (PsycINFO Database Record (c) 2013 APA, all rights reserved)
The preparation of teachers : an unstudied problem in education
by
Seymour Bernard Sarason
( Book )
16 editions published between
1962
and 2014 in
English
and held by 1,076 WorldCat member libraries worldwide
"For a number of years, the authors of this book have been interested in and concerned with the nature and efficacy of teacher training. As colleagues on a research project on anxiety in elementary school children (Sarason, Davidson, Lighthall, Waite, and Ruebush, 1960), Drs. Sarason and Davidson found themselves becoming increasingly involved with the plight of the classroom teacher. On the one hand, they became acutely aware of the complexity of the teacher's task of guiding and stimulating children's learning and, on the other hand, of the inadequacy of their training for their difficult role. In addition, it became quite obvious that, as a group, teachers were acutely aware of this state of affairs, an awareness complicated by the knowledge that there was little they could do to remedy the situation. They could take more courses, but they held a very dim view of what they could gain thereby. From time to time. Dr. Blatt, who, as chairman of the Department of Special Education at Southern Connecticut State College, was vitally interested in teacher training, joined in discussions with Davidson and Sarason. These discussions resulted in a more comprehensive and realistic conception of the nature and problems of teacher training and in the exploration of a new approach to teacher training at Southern Connecticut State College. This approach is described and discussed in Chapters 4 and 5 of this book. The more we got into the problem (by talking with teachers, observing them in classrooms, and scrutinizing the contents and procedures of various teacher-training programs), the more we became convinced of two things: First, most teachers teach in a way reflecting the concept that education consists primarily of what we put into children rather than what we can get out of them. It is admittedly an exaggeration--but it may help us make our point--to say that more often than not children seem to be viewed as computers in whom we store information so that it can be recalled upon certain signals. Second, teacher-training programs reinforce this conception, that is, teachers handle children in the learning process in the same way that they were handled in the course of their professional training. These two dominant impressions are elaborated on in this book, together with recommendations about how this state of affairs can begin to be remedied"--Preface. (PsycINFO Database Record (c) 2014 APA, all rights reserved)
Work, aging, and social change : professionals and the one life-one career imperative
by
Seymour Bernard Sarason
( Book )
18 editions published between
1977
and 1979 in
English
and
Undetermined
and held by 1,065 WorldCat member libraries worldwide
Considers "how people's expectations from higher education have changed as a result of World War II and how these expectations, reflecting a reordering of values, have had pervasive consequences for the experience of work and the sense of the passage of time, one of the core ingredients of the sense of aging"--Preface
Educational handicap, public policy, and social history : a broadened perspective on mental retardation
by
Seymour Bernard Sarason
( Book )
9 editions published between
1978
and 1979 in
English
and
Undetermined
and held by 880 WorldCat member libraries worldwide
Examines the concept of mental retardation with regard to such societal factors as immigration policy, urban poverty, and the growth of public education, criticizes traditional methods of diagnosis and treatment as culturally biased and inadequate, and suggests alternative approaches within familial and community context
Charter schools : another flawed educational reform?
by
Seymour Bernard Sarason
( Book )
9 editions published in
1998
in
English
and
German
and held by 874 WorldCat member libraries worldwide
This book examines why most charter schools will fail. It opens with a historical overview, describing the fate and significance of the precursor to charter schools: President Nixon's Experimental Schools Program. It then turns to the author's personal experiences in educational theory and practice, presenting and discussing the essential features and problems of the process whereby new settings come into existence. The book outlines a willing merger of two organizations seeking to create a new setting that will be better and stronger than a solo effort will allow, and it looks at charter schools in terms of the features common to the process of creating a setting. The volume examines charter schools in light of what is known about a new setting that has been comprehensively described: the Manhattan Project. It explores how charter schools create numerous stakeholders who are to have a role in education and looks at a new, non- traditional high school in Providence, Rhode Island, and its first year of operation, pausing to discuss those features that will determine the fate of new settings. Most charters, it concludes, will fail or fall short of their goals due to politics, resistance from vested interests, and ignorance of inevitable problems. (Contains 37 references.) (Rjm)
Teaching as a performing art
by
Seymour Bernard Sarason
( Book )
10 editions published between
1999
and 2002 in
English
and
Spanish
and held by 869 WorldCat member libraries worldwide
Teaching as a Performing Art is a teacher education program developed for the College of Education at the University of South Carolina. It is a methodology designed to elicit better teacher performance in order to produce more effective student performance. Designed for closed-circuit television or resource center access, the course consists of 52 half-hours of videotape, 26 half-hours of audio tapes, a student guidebook, and a textbook. The videotapes are divided equally into (1) theory and performance demonstration units, and (2) interviews and discussions with guest faculty from the arts and education. The theory-demonstration sessions consist of the principle philosophies and concepts with 80 performance illustrations. Performance demonstrations were created in ecology, language arts, geometry, history, chemistry, math, biology, media arts, music, and art to further illustrate modes and styles of performance, adaptivity, ensemble techniques, theatrical skills, the pedagogy of the arts, nonverbal communication, and the training-educative-and-celebrative teaching experience. The entire series was written and produced by students and staff at the University of South Carolina. (Rc)
more
fewer
Audience Level
0

1
Kids
General
Special
Audience level: 0.33 (from 0.14 for Charter sc ... to 0.75 for Estudio co ...)
Related Identities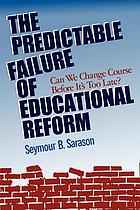 Alternative Names
Sarason, Seymour.

Sarason, Seymour 1919-

Sarason, Seymour B.

Sarason, Seymour B. 1919-

Sarason, Seymour B. 1919-2010

Sarason, Seymour B. (Seymour Bernard), 1919-

Sarason, Seymour B. (Seymour Bernard), 1919-2010

Sarason, Seymour Bernard

Sarason, Seymour Bernard 1919-

Sarason, Seymour Bernard 1919-2010

Seymour Sarason American academic

Seymour Sarason Amerikaans psycholoog (1919-2010)

Seymour Sarason US-amerikanischer Psychologe

賽爾森

Languages
Covers