Borjas, George J.
Most widely held works by George J Borjas
Heaven's door : immigration policy and the American economy
by
George J Borjas
( Book )
32 editions published between
1999
and 2011 in
English
and
Undetermined
and held by 1,394 WorldCat member libraries worldwide
"Borjas presents the most comprehensive, accessible, and up-to-date account yet of the economic impact of recent immigration on America. He reveals that the benefits of immigration have been greatly exaggerated and that, if we allow immigration to continue unabated and unmodified, we are supporting an astonishing transfer of wealth from the poorest people in the country, who are disproportionately minorities, to the richest." "In the course of the book, Borjas carefully analyzes immigrants' skills, national origins, welfare use, economic mobility, and impact on the labor market, and he makes use of new data to trace current trends in ethnic segregation. He also evaluates the implications of the evidence for the type of immigration policy that the U.S. should pursue."--Jacket
Labor economics
by
George J Borjas
( Book )
125 editions published between
1462
and 2016 in 4 languages and held by 1,311 WorldCat member libraries worldwide
George J. Borjas provides a modern introduction to labour economics, emphasizing both theory and empirical evidence. The book uses many examples drawn from state-of-the-art studies in labour economics literature
Friends or strangers : the impact of immigrants on the U.S. economy
by
George J Borjas
( Book )
14 editions published between
1990
and 1991 in
English
and held by 1,112 WorldCat member libraries worldwide
From back: "Who should come to America? Do immigrants take away jobs? Do they lower wages? Are we losing the race fo rthe most skilled immigratns? One of our leading authorities on immigration caut through the cloud of emotion and ideology that surrounds this topic to provide a convincing argumetn that America must become more competative in teh 'immigration market' in order ot attrack more skilled foreigners to our country."
We wanted workers : unraveling the immigration narrative
by
George J Borjas
( Book )
5 editions published in
2016
in
English
and held by 636 WorldCat member libraries worldwide
"We are a nation of immigrants, and we have always been concerned about immigration. As early as 1645, the Massachusetts Bay Colony began to prohibit the entry of "paupers." Today, however, the notion that immigration is universally beneficial has become pervasive. To many modern economists, immigrants are a trove of much-needed workers who can fill predetermined slots along the proverbial assembly line. But this view of immigration's impact is overly simplified, explains George J. Borjas, a Cuban-American, Harvard labor economist. Immigrants are more than just workers -- they're people who have lives outside of the factory gates and who may or may not fit the ideal of the country to which they've come to live and work. Like the rest of us, they're protected by social insurance programs, and the choices they make are affected by their social environments. In We Wanted Workers, Borjas pulls back the curtain of political bluster to show that, in the grand scheme, immigration has not affected the average American all that much. But it has created winners and losers. The losers tend to be nonmigrant workers who compete for the same jobs as immigrants. And somebody's lower wage is somebody else's higher profit, so those who employ immigrants benefit handsomely. In the end, immigration is mainly just another government redistribution program. "I am an immigrant," writes Borjas, "and yet I do not buy into the notion that immigration is universally beneficial ... But I still feel that it is a good thing to give some of the poor and huddled masses, people who face so many hardships, a chance to experience the incredible opportunities that our exceptional country has to offer.""--Jacket flap
Hispanics in the U.S. economy
by
George J Borjas
( Book )
5 editions published in
1985
in
English
and held by 574 WorldCat member libraries worldwide
Immigration and the work force : economic consequences for the United States and source areas
by
George J Borjas
( Book )
17 editions published between
1992
and 2007 in
English
and held by 499 WorldCat member libraries worldwide
Since the 1970s, the striking increase in immigration to the United States has been accompanied by a marked change in the composition of the immigrant community, with a much higher percentage of foreign-born workers coming from Latin America and Asia and a dramatically lower percentage from Europe. This timely study is unique in presenting new data sets on the labor force, wage rates, and demographic conditions of both the U.S. and source-area economies through the 1980s. The contributors analyze the economic effects of immigration on the United States and selected source areas, with a focus on Puerto Rico and El Salvador. They examine the education and job performance of foreign-born workers; assimilation, fertility, and wage rates; and the impact of remittances by immigrants to family members on the overall gross domestic product of source areas. A revealing and original examination of a topic of growing importance, this book will stand as a guide for further research on immigration
Issues in the economics of immigration
by
George J Borjas
( Book )
15 editions published between
2000
and 2008 in
English
and held by 432 WorldCat member libraries worldwide
The United States is now admitting nearly one million legal immigrants per year, while the flow of illegal aliens into the country continues to increase steadily. The debate over immigration policy has typically focused on three fundamental questions: How do immigrants peform economically relative to others? What effects do immigrants have on the employment opportunities of other workers? What kind of immigration policy is most beneficial to the host country? This authoritative volume represents a move beyond purely descriptive assessments of labour market consequences toward a more fully developed analysis of economic impacts across the social spectrum. Exploring the broader repercussions of immigration on education, welfare, Social Security and crime, as well as the labour market, these papers assess dimensions not yet taken into account by traditional cost-benefit calculations
Immigration economics
by
George J Borjas
( Book )
17 editions published in
2014
in 3 languages and held by 426 WorldCat member libraries worldwide
Millions of people--nearly 3 percent of the world's population--no longer live in the country where they were born. Every day, migrants enter not only the United States but also developed countries without much of a history of immigration. Some of these nations have switched in a short span of time from being the source of immigrants to being a destination for them. International migration is today a central subject of research in modern labor economics, which seeks to put into perspective and explain this historic demographic transformation. Immigration Economics synthesizes the theories, models, and econometric methods used to identify the causes and consequences of international labor flows. Economist George Borjas lays out with clarity and rigor a full spectrum of topics, including migrant worker selection and assimilation, the impact of immigration on labor markets and worker wages, and the economic benefits and losses that result from immigration. Two important themes emerge: First, immigration has distributional consequences: some people gain, but some people lose. Second, immigrants are rational economic agents who attempt to do the best they can with the resources they have, and the same holds true for native workers of the countries that receive migrants. This straightforward behavioral proposition, Borjas argues, has crucial implications for how economists and policymakers should frame contemporary debates over immigration
International differences in the labor market performance of immigrants
by
George J Borjas
( Book )
10 editions published between
1987
and 1988 in
English
and held by 416 WorldCat member libraries worldwide
A study examined international differences in how immigrants perform in the labor market of their chosen country of residence. The empirical analysis used five census data sets from the three host countries to document the labor market performance of foreign-born persons in Australia, Canada, and the United States. Among the major empirical findings were the following: (1) prior to the mid-1960s, the United States and Canada attracted migrants who performed quite well in the labor market, whereas Australia attracted migrants who were not relatively successful in the Australian labor market; (2) these rankings were reversed during the 1970s, with migrants to Australia performing very well, whereas those choosing the United States had very low earnings; (3) changes in immigration policy initiated by the 1965 Amendments to the U.S. Immigration and Nationality Act induced a structural decline in the quality of immigrant cohorts who chose the United States as their destination; (4) U.S. citizens who emigrated to Canada had very low earnings despite their relatively high education level. The study concluded that economic theory suggests that much more can be learned about the selection process if immigrants are compared to persons from the same country of origin who chose not to migrate and if immigrants in any given host country are compared to migrants who chose other host countries as their destination. (The document includes a 43-item bibliography, 23 tables, 5 figures, and an index.) (Cml)
Mexican immigration to the United States
( Book )
14 editions published in
2007
in
English
and held by 407 WorldCat member libraries worldwide
"This volume contains the studies presented at the fourth NBER conference, held in 2005"--Page 2
more
fewer
Audience Level
0

1
Kids
General
Special
Audience level: 0.35 (from 0.06 for Issues in ... to 0.74 for Searching ...)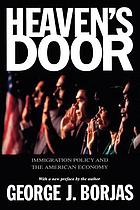 Alternative Names
Borjas, G. J. 1950-

Borjas, George 1950-

Borjas, George Jesus 1950-

Borjas, Jorge Jesus, 1950-

George J. Borjas American economist

George J. Borjas Amerikaans econoom

George J. Borjas amerikansk ekonom

George J. Borjas amerikansk økonom

George J. Borjas economista estadounidense

George J. Borjas economista estatunidenc

George J. Borjas économiste américain

George J. Borjas US-amerikanischer Ökonom

جرج برهاس اقتصاددان آمریکایی

보야스, 조지 J

乔治·J.博尔哈斯

Languages
Covers