Rössler, Otto E.
Most widely held works about Otto E Rössler
Most widely held works by Otto E Rössler
Simultaneity : temporal structures and observer perspectives
by
Susie Vrobel
( )
12 editions published in
2008
in
English
and held by 1,657 WorldCat member libraries worldwide
Pt. I. Observer perspectives: epistemological background. 1. Fractal time: extended observer perspectives / S. Vrobel. 2. Mirror neurons: evidence for the great simulator and Vrobelism / O. E. Rössler. 3. The concept of now in Dogen's philosophy / M. E. Luetchford. 4. Systems and observers from a holistic viewpoint / F.-G. Winkler. 5. A systems-theoretical generalization of non-local correlations / N. von Stillfried. 6. Brain time and physical time / U. Fidelman -- pt. II. Identifying temporal observer perspectives. 7. Simultaneity in emotional moments / G. L. Clore. 8. On time experience in depression / H. M. Emrich, C. Bonnemann and D. E. Dietrich. 9. Contextualization: memory formation and retrieval in a nested environment / M. Piefke and H. J. Markowitsch. Complexity and emergent temporal structure / P. M. Allen. 11. Ordinate logics of living systems / J. LR. Chandler. 12. Skill learning, brain engagement, context and the arts / M. F. Gardiner. 13. Utilizing fractal time / T. Marks-Tarlow -- pt. III. Disentangling temporal simultaneous contrasts. 14. Relativity of scales: application to an endo-perspective of temporal structures / L. Nottale and P. Timar. 15. Unpacking simultaneity for differing observer perspectives and qualities of environment / B. Seaman. 16. Circumcising the void: (de)contextualising in complex Lacanian psychoanalysis / D. De Grave. 17. A review of Flicker-Noise spectroscopy: information in chaotic signals / S. F. Timashev and Y. S. Polyakov. 18. Hidden perspectives in emergent structures produced by neural networks / R. Pavloski. 19. Modeling common-sense decisions / M. Zak -- pt. IV. Synchronization. 20. Synchrony in Dyadic psychotherapy sessions / F. Ramseyer and W. Tschacher. 21. Temporal perspective from auditory perception / G. Baier and T. Hermann. 22. Perception of simultaneous auditive contents / C. Tschinkel. 23. Computer simulations as hidden time-ecologies / G. Koehler. 24. Anti-flaring: how to prevent the market from overheating / A. P. Schmidt and O. E. Rössler. 25. Leveraging the future - existence of a new endo-reality in economics / A. P. Schmidt and O. E. Rössler. 26. Endonomics: looking behind the economic curtain / A. P. Schmidt and O. E. Rössler. 27. Possible quantum absorber effects in cortical synchronization / U. Kämpf. 28. Time and timing in our body and life / O. van Nieuwenhuijze
Neosentience : the benevolence engine
by
Bill Seaman
( )
8 editions published in
2011
in
English
and held by 855 WorldCat member libraries worldwide
"Coined by artist and media researcher Bill Seaman, 'neosentience' describes a new branch of scientific inquiry related to artificial intelligence. This volume explores the groundbreaking work of Seaman and chaos physicist Otto E. Rossler in exploring the potential of an intelligent robotic entity possessed of a form of sentience that ever-more-closely resembles that of a human being. Individual chapters approach the concept from a range of disciplines, including psychology, neuroscience, linguistics, and the arts. Neosentience is a burgeoning area of interest, and this book encourages readers to reflect on how we experience and interpret the world, how memory works, and what it is to be human. The study addressed in this 'book' puts forward a project that is twofold. Firstly, it discusses the conceptual basis within which it would be possible for the construction of a 'neosentient' system, a machine endowed with the capacity to perceive or feel things in the world, as if manifesting a proto form of (artificial) consciousness. Secondly, it hypothesizes about the rising of benevolence through the interaction/intra-action, between 'neosentient' machines and their environment, which include us, human beings, as inhabitants. The manuscript tackles its task in a very particular manner as it interrelates a constellation of ideas in order to address key research agendas on the fields of language, aesthetics, philosophy, biology, physics, science, technology, mind and consciousness to name some. The goal of the book is not to define the structure within which such an engine could be built, it does not bring into light the blueprint of such an, but it nails down key concepts from a broad range of topics, mapping a path for future research, reinforcing this way the sense of feasibility of its enterprise. In doing so, the book illuminates trajectories, ramifications or even non-directly correlated ideas that would pass unnoticed to the reader's mind, were not by the authors generously bringing into play sets of key scholars, theories, discoveries, even speculative ideas"--Résumé de l'éditeur
Chaotic harmony : a dialog about physics, complexity and life
by
ʻAlī Ṣanāyiʻī
( )
12 editions published in
2014
in
English
and held by 374 WorldCat member libraries worldwide
This fascinating book written by Ali Sanayei and Otto E. Rössler is not a classic scientific publication, but a vivid dialogue on science, philosophy and the interdisciplinary intersections of science and technology with biographic elements. Chaotic Harmony: A Dialog about Physics, Complexity and Life represents a discussion between Otto Rössler and his colleague and student, focusing on the different areas of science and highlights their mutual relations. The book's concept of interdisciplinary dialogue is unusual nowadays although it has a long tradition in science. It providesinsight not only into interesting topics that are often closely linked, but also into the mind of a prominent scientist in the field of physics, chaos and complexity in general. It allows a deep look into the fascinating process of scientific development and discovery and provides a very interesting background of known and unknown facts in the areas of complex processes in physics, cosmology, biology, brains and systems in general. This book will be valuable to all who are interested in science, its evolution and in an unconventional and original look at various issues. Surely it can serve as an inspiration for students, explaining the often overlooked fact that science and philosophy enrich each other
ISCS 2013 : Interdisciplinary Symposium on Complex Systems
by
ʻAlī Ṣanāyiʻī
( )
11 editions published between
2014
and 2016 in
English
and held by 345 WorldCat member libraries worldwide
The book you hold in your hands is the outcome of the "ISCS 2013: Interdisciplinary Symposium on Complex Systems" held at the historical capital of Bohemia as a continuation of our series of symposia in the science of complex systems. Prague, one of the most beautiful European cities, has its own beautiful genius loci. Here, a great number of important discoveries were made and many important scientists spent fruitful and creative years to leave unforgettable traces. The perhaps most significant period was the time of Rudolf II who was a great supporter of the art and the science and attracted a great number of prominent minds to Prague. This trend would continue. Tycho Brahe, Niels Henrik Abel, Johannes Kepler, Bernard Bolzano, August Cauchy Christian Doppler, Ernst Mach, Albert Einstein and many others followed developing fundamental mathematical and physical theories or expanding them. Thus in the beginning of the 17th century, Kepler formulated here the first two of his three laws of planetary motion on the basis of Tycho Brahe's observations. In the 19th century, nowhere differentiable continuous functions (of a fractal character) were constructed here by Bolzano along with a treatise on infinite sets, titled "Paradoxes of Infinity" (1851). Weierstrass would later publish a similar function in 1872. In 1842, Doppler as a professor of mathematics at the Technical University of Prague here first lectured about a physical effect to bear his name later. And the epoch-making physicist Albert Einstein – while being a chaired professor of theoretical physics at the German University of Prague – arrived at the decisive steps of his later finished theory of general relativity during the years 1911–1912. In Prague, also many famous philosophers and writers accomplished their works; for instance, playwright arel ape coined the word "robot" in Prague ("robot" comes from the Czech word "robota" which means "forced labor")
Iscs 2014 Interdisciplinary Symposium on Complex Systems
by
ʻAlī Ṣanāyiʻī
( )
9 editions published between
2014
and 2015 in
English
and held by 275 WorldCat member libraries worldwide
The book you hold in your hands is the outcome of the "2014 Interdisciplinary Symposium on Complex Systems" held in the historical city of Florence. The book consists of 37 chapters from 4 areas of Physical Modeling of Complex Systems, Evolutionary Computations, Complex Biological Systems and Complex Networks. All 4 parts contain contributions that give interesting point of view on complexity in different areas in science and technology. The book starts with a comprehensive overview and classification of complexity problems entitled Physics in the world of ideas: Complexity as Energy", followed by chapters about complexity measures and physical principles, its observation, modeling and its applications, to solving various problems including real-life applications. Further chapters contain recent research about evolution, randomness and complexity, as well as complexity in biological systems and complex networks. All selected papers represent innovative ideas, philosophical overviews and state-of-the-art discussions on aspects of complexity. The book will be useful as an instructional material for senior undergraduate and entry-level graduate students in computer science, physics, applied mathematics and engineering-type work in the area of complexity. The book will also be valuable as a resource of knowledge for practitioners who want to apply complexity to solve real-life problems in their own challenging applications
Endophysics : the world as an interface
by
Otto E Rössler
( Book )
10 editions published in
1998
in
English
and held by 154 WorldCat member libraries worldwide
What do yin-yang and the Lorenzian butterfly in chaos have in common? The outside perspective. Only by going very far outside - beyond the end of the world - do certain aspects of the world become intelligible. The computer makes it possible today to go after the interface. What does the world look like if you are an internally chaotic part? Is the world just a difference, an interface, a forcing function? Is it possible to identify those features which exist only from the inside? How far does the meta-unmaskability go? Is quantum mechanics a virtual reality? Can the microinterface be manipulated? Such questions are tackled in this book
more
fewer
Audience Level
0

1
Kids
General
Special
Audience level: 0.31 (from 0.03 for Simultanei ... to 0.96 for Aussenwelt ...)
Related Identities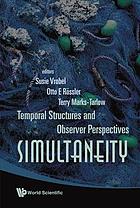 Covers
Alternative Names
Otto E. Rössler tysk professor

Otto Rössler

Otto Rössler chimiste allemand

Otto Rössler Duits biochemicus

Otto Rössler German biochemist and chaos theorist (b.1940)

Rössler, O. E.

Rössler, O. E. 1940-

Rössler, O. E. (Otto E.)

Rössler, Otto

Rossler, Otto E.

اتو رسلر

オットー・レスラー

レスラー, オットー・E.

Languages