Kunreuther, Howard
Most widely held works by Howard Kunreuther
Paying the price : the status and role of insurance against natural disasters in the United States
by
Howard Kunreuther
( )
12 editions published in
1998
in
English
and held by 2,252 WorldCat member libraries worldwide
This book considers the effectiveness of insurance coverage for low-probability, high-consequence events such as natural disasters - and how insurance programs can successfully be used with other policy tools, such as building codes and standards, to encourage effective loss reduction measures. The authors discuss the reasons for the dramatic increase in insured losses from natural disasters since 1989 and the concern that insurers have about their ability to provide coverage against similar events in the future
At war with the weather : managing large-scale risks in a new era of catastrophes
by
Howard Kunreuther
( )
20 editions published between
2009
and 2011 in
English
and held by 2,016 WorldCat member libraries worldwide
The United States and other nations are facing large-scale risks at an accelerating pace. In 2005, three major hurricanes - Katrina, Rita, and Wilma - made landfall along the U.S. Gulf Coast within an eight-week period. The damage caused by these storms led to insurance reimbursements and federal disaster relief of more than $180 billion - a record sum. Today we are more vulnerable to catastrophic losses because of the increasing concentration of population and activities in high-risk coastal regions of the country. The question is not whether but when future catastrophes will strike. Who should pay the costs associated with catastrophic losses suffered by homeowners in hazard-prone areas? In At War with the Weather, Howard Kunreuther and Erwann Michel-Kerjan and their colleagues deliver a groundbreaking analysis of how we currently mitigate, insure against, and finance recovery from natural disasters in the United States. They offer innovative, long-term solutions for reducing losses and providing financial support for disaster victims that define a coherent strategy to assure sustainable recovery from future large-scale disasters. The amount of data collected and analyzed and innovations proposed make this the most comprehensive book written on these critical issues in the past thirty years
Accident precursor analysis and management : reducing technological risk through diligence
by
National Academy of Engineering
( )
13 editions published between
2004
and 2005 in
English
and held by 1,754 WorldCat member libraries worldwide
In the aftermath of catastrophes, it is common to find prior indicators, missed signals, and dismissed alerts that, had they been recognized and appropriately managed before the event, could have resulted in the undesired event being averted. These indicators are typically called "precursors."
Wharton on making decisions
by
Stephen J Hoch
( )
10 editions published between
2001
and 2003 in
English
and
Chinese
and held by 1,269 WorldCat member libraries worldwide
Perspectives from leaders in decision science at Wharton. Organized in part through Wharton's Risk Management and Decision Processes Center, the book assembles leading researchers from Wharton's business faculty who demonstrate how to apply the latest approaches in decision-making from four perspectives: personal, managerial, negotiator, and consumer
Catastrophe modeling : a new approach to managing risk
by
Patricia Grossi
( )
26 editions published between
2002
and 2005 in 3 languages and held by 1,061 WorldCat member libraries worldwide
"Using data from three model cities (Oakland, CA, Long Beach, CA and Miami/Dade County, FL), experts from the Wharton School of the University of Pennsylvania examine the role of catastrophe modeling to develop risk management strategies for reducing and spreading the losses from future disasters. Given the uncertainties associated with terrorism, the book points out the opportunities for utilizing catastrophe models to set insurance rates and to examine public-private partnerships for providing financial assistance in the event of a terrorist attack."--Jacket
Leadership dispatches : Chile's extraordinary comeback from disaster
by
Michael Useem
( )
9 editions published in
2015
in
English
and held by 828 WorldCat member libraries worldwide
On February 27, 2010, Chile was rocked by a violent earthquake five hundred times more powerful than the one that hit Haiti just six weeks prior. The Chilean earthquake devastated schools, hospitals, roads, and homes, paralyzing the country for weeks and causing economic damage that was equal to 18 percent of Chile's GDP. This calamity hit just as an incumbent political regime was packing its bags and a new administration was preparing to take office. For most countries, it would have taken years, if not decades, to recover from such an event. Yet, only one year later, Chile's economy had reached a six percent annual growth rate. In Leadership Dispatches, Michael Useem, Howard Kunreuther, and Erwann Michel-Kerjan look at how the nation's leaders-in government, business, religion, academia, and beyond-facilitated Chile's recovery. They attribute Chile's remarkable comeback to a two-part formula consisting of strong national leadership on the one hand, and deeply rooted institutional practices on the other. Coupled with strategic, deliberative thinking, these levers enabled Chile to bounce back quickly and exceed its prior national performance. The authors make the case that the Chilean story contains lessons for a broad range of organizations and governments the world over. Large-scale catastrophes of many kinds-from technological meltdowns to disease pandemics-have been on the rise in recent years. Now is the time to seek ideas and guidance from other leaders who have triumphed in the wake of a disaster. In this vein, Leadership Dispatches is both a remarkable story of resilience and an instructive look at how those with the greatest responsibility for a country, company, or community should lead
On risk and disaster : lessons from Hurricane Katrina
by
Ronald J Daniels
( Book )
12 editions published between
2006
and 2011 in
English
and held by 820 WorldCat member libraries worldwide
(Publisher-supplied data) This timely volume contains valuable lessons and insights into the critical areas of disaster prevention, mitigation, recovery, and risk financing. It is an eclectic blend of lessons born of practical experience and academic research that collectively provides valuable insights that policymakers and lawmakers, insurers and academic researchers can draw upon to help guide them through the difficult years that lie ahead.--Robert P. Hartwig, Senior Vice President and Chief Economist, Insurance Information Institute An enormously important volume that comes at just the right time. In the wake of Katrina, new thinking is urgently needed on how to manage catastrophic risk most effectively--especially regarding prevention and recovery. This precious volume offers insights on both fronts, with contributions from many of the nation's leading authorities on risk and disaster. It is a must-read for scholars and policymakers alike.--David A. Moss, Harvard Business School Hurricane Katrina not only devastated a large area of the nation's Gulf coast, it also raised fundamental questions about ways the nation can, and should, deal with the inevitable problems of economic risk and social responsibility. This volume gathers leading experts to examine lessons that Hurricane Katrina teaches us about better assessing, perceiving, and managing risks from future disasters. In the years ahead we will inevitably face more problems like those caused by Katrina or by fire, earthquake, or even a flu pandemic. America remains in the cross hairs of terrorists, while policy makers continue to grapple with important environmental and health risks. Each of these scenarios might, in itself, be relatively unlikely to occur. But it is statistically certain that we will confront such catastrophes, or perhaps one we have never imagined, and the nation and its citizenry must be prepared to act. That is the fundamental lesson of Katrina. The 20 contributors to this volume address questions of public and private roles in assessing, managing, and dealing with risk in American society and suggest strategies for moving ahead in rebuilding the Gulf coast. Contributors: Matthew Adler, Vicki Bier, Baruch Fischhoff, Kenneth R. Foster, Robert Giegengack, Peter Gosselin, Scott E. Harrington, Carolyn Kousky, Robert Meyer, Harvey G. Ryland, Brian L. Strom, Kathleen Tierney, Michael J. Trebilcock, Detlof von Winterfeldt, Jonathan Walters, Richard J. Zeckhauser
Decision sciences : an integrative perspective
by
Paul R Kleindorfer
( Book )
20 editions published between
1993
and 1998 in
English
and held by 443 WorldCat member libraries worldwide
This long-awaited textbook provides a unified perspective of a rich and varied field. It recognises that in order to develop strategies for improving the decision-making process one needs to understand how decisions are made in practice and in what ways behaviour differs from guidelines implied by normative theories of choice. It is the interplay between descriptive, normative, and prescriptive analysis that gives this book a special flavour. Using a set of illustrative examples, Decision Sciences synthesises current research about different types of decision making, including individual, group, organisational, and societal. Special attention is given to the linkage between problem finding and problem solving. The principal message emerging from the book is that decision making entails a complex set of processes that need to be understood in order to develop sound prescriptions or policy advice
more
fewer
Audience Level
0

1
Kids
General
Special
Audience level: 0.23 (from 0.05 for Paying the ... to 0.66 for The Risk a ...)
Related Identities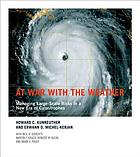 Covers
Alternative Names
Howard Kunreuther born:1938-11-14 Kunreuther, Howard C.; Kunreuther, H. (Howard); Kunreuther, Howard, 1938-; Kunreuther, Howard C. (1938- ).

Kunreuther, H. 1938-

Kunreuther, Howard.

Kunreuther, Howard 1938-

Kunreuther Howard C.

Kunreuther, Howard C. 1938-

Kunreuther, Howard Charles 1938-

컨루더, 하워드 C

クンリューサー, ハワード・C.

クンルーサー, ハワード

Languages