Wilson, Edward O.
Overview
| | |
| --- | --- |
| Works: | 867 works in 2,874 publications in 15 languages and 102,200 library holdings |
| Genres: | Autobiographies Biographies Personal correspondence Conference papers and proceedings Documentary films Internet videos Nonfiction films Ethnographic films Biographical films Documentary television programs |
| Roles: | Author, Editor, Author of introduction, htt, Interviewee, Other, Contributor, Speaker, Compiler, Creator, wpr, Publishing director, Translator, Illustrator, Honoree, pre, Author of afterword, colophon, etc. |
| Classifications: | QH75, 333.95 |
Most widely held works about Edward O Wilson
more
fewer
Most widely held works by Edward O Wilson
On human nature
by
Edward O Wilson
( Book )
81 editions published between
1978
and 2015 in 4 languages and held by 4,309 WorldCat member libraries worldwide
Presents a philosophy based on sociobiological theory and applying the theory of natural selection to human society
The diversity of life
by
Edward O Wilson
( Book )
88 editions published between
1992
and 2019 in 5 languages and held by 3,862 WorldCat member libraries worldwide
"In the Amazon Basin the greatest violence sometimes begins as a flicker of light beyond the horizon. There in the perfect bowl of the night sky, untouched by light from any human source, a thunderstorm sends its premonitory signal and begins a slow journey to the observer, who thinks: the world is about to change." Watching from the edge of the Brazilian rain forest, witness to the sort of violence nature visits upon its creatures, Edward O. Wilson reflects on the crucible of evolution, and so begins his remarkable account of how the living world became diverse and how humans are destroying that diversity. Wilson, internationally regarded as the dean of biodiversity studies, conducts us on a tour through time, traces the processes that create new species in bursts of adaptive radiation, and points out the cataclysmic events that have disrupted evolution and diminished global diversity over the past 600 million years. The five enormous natural blows to the planet (such as meteorite strikes and climatic changes) required 10 to 100 million years of evolutionary repair. The sixth great spasm of extinction on earth - caused this time entirely by humans - may be the one that breaks the crucible of life. Wilson identifies this crisis in countless ecosystems around the globe: coral reefs, grasslands, rain forests, and other natural habitats. Drawing on a variety of examples such as the decline of bird populations in the United States, the extinction of many species of freshwater fish in Africa and Asia, and the rapid disappearance of flora and fauna as the rain forests are cut down, he poignantly describes the death throes of the living worlds diversity - projected to decline as much as 20 percent by the year 2020. All evidence marshaled here resonates through Wilson's tightly reasoned call for a spirit of stewardship over the worlds biological wealth. He makes a plea for specific actions that will enhance rather than diminish not just diversity but the quality of life on earth. Cutting through the tangle of environmental issues that often obscure the real concern, Wilson maintains that the era of confrontation between forces for the preservation of nature and those for economic development is over; he convincingly drives home the point that both aims can, and must, be integrated. Unparalleled in its range and depth, Wilson's masterwork is essential reading for those who care about preserving the worlds biological variety and ensuring our planets health
Biodiversity II : understanding and protecting our biological resources
by
Edward O Wilson
( )
30 editions published between
1996
and 1997 in
English
and held by 3,862 WorldCat member libraries worldwide
Biodiversity is the whole of life on Earth - and every day it is diminished as human population growth and exploitation of land causes the extinction of animal and plant species. If the world does not act quickly and cooperatively, species numbering into the millions will be doomed. In the process, we lose opportunities in medicine, agriculture, biotechnology, and a host of other human endeavors. This is the warning sounded by some of the world's most renowned environmental authorities in Biodiversity II. In words meaningful to lay readers and scientists alike, this book alerts us that we may soon be bereft of species that could help us fight disease and produce useful products - not to mention bringing us the wonder of natural life. Unlike other books on the topic, Biodiversity II tells us what can and must be done right now to preserve life on Earth. The experts who lend their voices to Biodiversity II explain how scientists study biodiversity, what they have learned about the scope of life on the planet, and what urgent questions remain. These experts advocate the fusion of resources already at our command - government biological surveys, private agencies, museum collections, universities - into a more effective force to better understand and protect the wealth of the natural world
Biodiversity
by
National Forum on Biodiversity (1986: Washington D.C.)
( )
66 editions published between
1986
and 2003 in 3 languages and held by 3,469 WorldCat member libraries worldwide
This important book for scientists and nonscientists alike calls attention to a most urgent global problem: the rapidly accelerating loss of plant and animal species to increasing human population pressure and the demands of economic development. Based on a major conference sponsored by the National Academy of Sciences and the Smithsonian Institution, Biodiversity creates a systematic framework for analyzing the problem and searching for possible solutions
Consilience : the unity of knowledge
by
Edward O Wilson
( Book )
78 editions published between
1998
and 2010 in 4 languages and held by 3,094 WorldCat member libraries worldwide
Biologist Wilson, considered to be one of the world's greatest living scientists, argues for the fundamental unity of all knowledge, that everything in our world is organized in terms of a small number of fundamental natural laws. Wilson, the pioneer of sociobiology and biodiversity, now once again breaks out of the conventions of current thinking. He shows how and why our explosive rise in intellectual mastery of the truths of our universe has its roots in the ancient Greek concept of an intrinsic orderliness that governs our cosmos--a vision that found its apogee in the Age of Enlightenment, then gradually was lost in the increasing fragmentation and specialization of knowledge in the last two centuries. Drawing on the physical sciences and biology, anthropology, psychology, religion, philosophy, and the arts, Professor Wilson shows why the goals of the original Enlightenment are reappearing on the frontiers of science and humanistic scholarship.--From publisher description
The future of life
by
Edward O Wilson
( Book )
43 editions published between
2001
and 2016 in 3 languages and held by 3,009 WorldCat member libraries worldwide
Examines the richness of the natural world, how it is currently being threatened, and what can be done to safeguard it
Biophilia
by
Edward O Wilson
( Book )
42 editions published between
1984
and 2021 in 3 languages and held by 2,945 WorldCat member libraries worldwide
The eminent biologist reflects on his own response to nature and the aesthetic aspects of his exploration of natural systems in an intensely personal essay that examines the essential links between mankind and the rest of the living world
Sociobiology : the new synthesis
by
Edward O Wilson
( Book )
100 editions published between
1975
and 2002 in 3 languages and held by 2,912 WorldCat member libraries worldwide
When this classic work was first published in 1975, it created a new discipline and started a tumultuous round in the age-old nature versus nurture debate. Although voted by officers and fellows of the international Animal Behavior Society the most important book on animal behavior of all time, Sociobiology is probably more widely known as the object of bitter attacks by social scientists and other scholars who opposed its claim that human social behavior, indeed human nature, has a biological foundation. The controversy surrounding the publication of the book reverberates to the present day. In the introduction to this edition, Edward O. Wilson shows how research in human genetics and neuroscience has strengthened the case for a biological understanding of human nature. Human sociobiology, now often called evolutionary psychology, has in the last quarter of a century emerged as its own field of study, drawing on theory and data from both biology and the social sciences. For its still fresh and beautifully illustrated descriptions of animal societies, and its importance as a crucial step forward in the understanding of human beings, this anniversary edition of Sociobiology: the new synthesis will be welcomed by a new generation of students and scholars in all branches of learning
In search of nature
by
Edward O Wilson
( Book )
32 editions published between
1996
and 2021 in 4 languages and held by 2,648 WorldCat member libraries worldwide
"Perhaps more than any other scientist of our century, Edward O. Wilson has scrutinized animals in their natural settings, tweezing out the dynamics of their social organization, their relationship with their environments, and their behavior, not only for what it tell us about the animals themselves, but for what it can tell us about human nature and our own behavior. He has brought the fascinating and sometimes surprising results of these studies to general readers through a remarkable collection of books, including The Diversity of Life, The Ants, On Human Nature, and Sociobiology. The grace and precision with which he writes of seemingly complex topics has earned him two Pulitzer prizes, and the admiration of scientists and general readers around the world." "This book is a lively and accessible introduction to the writings of one of the most brilliant scientists of the 20th century. Imaginatively illustrated by noted artist Laura Southworth, it is a book all readers will treasure."--Jacket
Silent spring
by
Rachel Carson
( Book )
13 editions published between
1962
and 2012 in
English
and held by 2,386 WorldCat member libraries worldwide
"First published in 1962, this book alerted a large audience to the environmental and human dangers of indiscriminate use of pesticides. The outcry that followed its publication forced the banning of DDT and spurred revolutionary changes in the laws affecting our air, land, and water. 'Silent Spring became a runaway bestseller, with international reverberations ... [It is] well crafted, fearless and succinct ... Even if she had not inspired a generation of activists, Carson would prevail as one of the greatest nature writers in American letters' (Peter Matthiessen, for Time's '100 Most Influential People of the Century'). This fortieth anniversary edition celebrates the author's watershed book with new essays by the author and scientist Edward O. Wilson and the acclaimed biographer Linda Lear, who tells the story of Carson's courageous defense of her truths in the face of ruthless assault from the chemical industry in 1963, the year following the publication of Silent Spring and before her untimely death in 1964"--Publisher's description
more
fewer
Audience Level
0

1
Kids
General
Special
Audience level: 0.21 (from 0.02 for A Darwinia ... to 0.54 for Sociobiolo ...)
Related Identities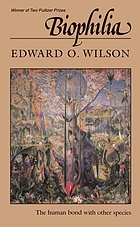 Covers
Alternative Names
E.O. Wilson

E. O. Wilson biologus

Edgar Wilson

Edvards Osborns Vilsons

Edward O. Wilson ahli biologi asal Amerika Serikat

Edward O. Wilson americký přírodovědec

Edward O. Wilson Amerikaans entomoloog

Edward O. Wilson amerikansk biolog och författare

Edward O. Wilson amerykański biolog

Edward O. Wilson Biòleg estatunidenc

Edward O. Wilson biólogo estadounidense (n. 1929)

Edward O. Wilson biologo statunitense

Edward O. Wilson biolojiste american

Edward O. Wilson U.S. biologist and author

Edward O. Wilson US-amerikanischer Entomologe und Biologe

Edward O. Wilson USA bioloog

Edward O. Wilson usona biologo

Edward Osborne Wilson

Edward Osborne Wilson Amerikaans entomoloog

Edward Osborne Wilson amerykański biolog

Edward Osborne Wilson biologiste américain

Edward Osborne Wilson biologo statunitense

Osborne Wilson, Edward 1929-

Weiersen

Weiersen 1929-

Weierxun, Aidehua

Weierxun, Aidehua 1929-

Wilson E.O.

Wilson, E.O. 1929-

Wilson, E. O. 1929- (Edward O.)

Wilson, E. O. (Edward O.)

Wilson, E. O. (Edward Osborne), 1929-

Wilson, Edward 1929-

Wilson Edward O.

Wilson, Edward O. 1929-

Wilson, Edward O. (Edward Osborne)

Wilson, Edward O. ((Edward Osborne), 1929-

Wilson Edward Osborne

Wilson, Edward Osborne 1929-

Wilsonas Edwardas O.

Wiruson, Edowādo O

Wiruson Edowādo O. 1929-....

Έντουαρντ Όσμπορν Γουίλσον Αμερικανός βιολόγος

Едвард Озборн Вилсон американски биолог

Едвард Осборн Вілсон

Едуард Уилсън

Уилсон, Эдвард Осборн, 1929-

Уилсон, Эдвард Осборн американский биолог, социобиолог, мирмеколог, эколог, писатель

Эдвард Осборн Уилсон американский биолог, социобиолог, мирмеколог, эколог, писатель

אדוארד וילסון

إدوارد أوسبورن ويلسون

ادوارد ویلسون

এডওয়ার্ড ও উইলসন

ಎ.ಒ ವಿಲ್ಸನ್

ഇ. ഒ. വിൽസൺ

애덕화·위이손 1929-

에드워드 오스본 윌슨

웨이얼쉰, 아이더화 1929-

위이손, 애덕화 1929-

윌슨, 에드워드 1929-

윌슨, 에드워드 O. 1929-

윌슨, 에드워드 오스본 1929-

윌슨, 에드워드 오즈번 1929-

ウィルソン, E. O.

ウィルソン, エドワード・O.

エドワード・オズボーン・ウィルソン

艾德華·威爾森

艾德華·威爾森 美国生态学家

Languages