Kallianpur, G.
Most widely held works about G Kallianpur
Most widely held works by G Kallianpur
Stochastic analysis and diffusion processes
by
G Kallianpur
( )
15 editions published between
2013
and 2014 in
English
and held by 501 WorldCat member libraries worldwide
"Stochastic Analysis and Diffusion Processes presents a simple, mathematical introduction to Stochastic Calculus and its applications. The book builds the basic theory and offers a careful account of important research directions in Stochastic Analysis. The breadth and power of Stochastic Analysis, and probabilistic behavior of diffusion processes are told without compromising on the mathematical details. Starting with the construction of stochastic processes, the book introduces Brownian motion and martingales. The book proceeds to construct stochastic integrals, establish the Itô formula, and discuss its applications. Next, attention is focused on stochastic differential equations (SDEs) which arise in modeling physical phenomena, perturbed by random forces. Diffusion processes are solutions of SDEs and form the main theme of this book. The Stroock-Varadhan martingale problem, the connection between diffusion processes and partial differential equations, Gaussian solutions of SDEs, and Markov processes with jumps are presented in successive chapters. The book culminates with a careful treatment of important research topics such as invariant measures, ergodic behavior, and large deviation principle for diffusions. Examples are given throughout the book to illustrate concepts and results. In addition, exercises are given at the end of each chapter that will help the reader to understand the concepts better. The book is written for graduate students, young researchers and applied scientists who are interested in stochastic processes and their applications. The reader is assumed to be familiar with probability theory at graduate level. The book can be used as a text for a graduate course on Stochastic Analysis."--
Stochastic filtering theory
by
G Kallianpur
( Book )
20 editions published between
1980
and 2010 in 4 languages and held by 471 WorldCat member libraries worldwide
This book is based on a seminar given at the University of California at Los Angeles in the Spring of 1975. The choice of topics reflects my interests at the time and the needs of the students taking the course. Initially the lectures were written up for publication in the Lecture Notes series. How ever, when I accepted Professor A.V. Balakrishnan's invitation to publish them in the Springer series on Applications of Mathematics it became necessary to alter the informal and often abridged style of the notes and to rewrite or expand much of the original manuscript so as to make the book as self-contained as possible. Even so, no attempt has been made to write a comprehensive treatise on filtering theory, and the book still follows the original plan of the lectures. While this book was in preparation, the two-volume English translation of the work by R.S. Liptser and A.N. Shiryaev has appeared in this series. The first volume and the present book have the same approach to the sub ject, viz. that of martingale theory. Liptser and Shiryaev go into greater detail in the discussion of statistical applications and also consider inter polation and extrapolation as well as filtering
Introduction to option pricing theory
by
G Kallianpur
( Book )
15 editions published between
1999
and 2000 in
English
and held by 364 WorldCat member libraries worldwide
"Since the appearance of seminal works by R. Merton, and F. Black and M. Scholes, stochastic processes have assumed an increasingly important role in the development of the mathematical theory of finance. This work examines, in some detail, that part of stochastic finance pertaining to option pricing theory. Thus the exposition is confined to areas of stochastic finance that are relevant to the theory, omitting such topics as futures and term-structure." "Introduction to Option Pricing Theory is intended for students and researchers in statistics, applied mathematics, business, or economics, who have a background in measure theory and have completed probability theory at the intermediate level. The work lends itself to self-study, as well as to a one-semester course at the graduate level."--Jacket
Stochastic methods in biology : proceedings of a workshop held in Nagoya, Japan, July 8-12, 1985
by
Motoo Kimura
( Book )
13 editions published in
1987
in 3 languages and held by 295 WorldCat member libraries worldwide
This proceedings volume collects a selection of the research and/or survey papers presented at a workshop by biologists and probabilists, and thus provides an account of the latest developments in their respective fields, with particular emphasis on population genetics, neurophysiology and stochastic and other mathematical methods
Stochastics in finite and infinite dimensions : in honor of Gopinath Kallianpur
by
G Kallianpur
( Book )
9 editions published in
2001
in
English
and held by 220 WorldCat member libraries worldwide
During the last fifty years, Gopinath Kallianpur has made extensive and significant contributions to diverse areas of probability and statistics, including stochastic finance, Fisher consistent estimation, non-linear prediction and filtering problems, zero-one laws for Gaussian processes and reproducing kernel Hilbert space theory, and stochastic differential equations in infinite dimensions. To honor Kallianpur's pioneering work and scholarly achievements, a number of leading experts have written research articles highlighting progress and new directions of research in these and related areas. This commemorative volume, dedicated to Kallianpur on the occasion of his seventy-fifth birthday, will pay tribute to his multi-faceted achievements and to the deep insight and inspiration he has so graciously offered his students and colleagues throughout his career. Contributors to the volume: S. Aida, N. Asai, K.B. Athreya, R.N. Bhattacharya, A. Budhiraja, P.S. Chakraborty, P. Del Moral, R. Elliott, L. Gawarecki, D. Goswami, Y. Hu, J. Jacod, G.W. Johnson, L. Johnson, T. Koski, N.V. Krylov, I. Kubo, H.-H. Kuo, T.G. Kurtz, H.J. Kushner, V. Mandrekar, B. Margolius, R. Mikulevicius, I. Mitoma, H. Nagai, Y. Ogura, K.R. Parthasarathy, V. Perez-Abreu, E. Platen, B.V. Rao, B. Rozovskii, I. Shigekawa, K.B. Sinha, P. Sundar, M. Tomisaki, M. Tsuchiya, C. Tudor, W.A. Woycynski, J. Xiong
Stochastic processes : a Festschrift in honor of Gopinath Kallianpur
by
Stamatis Cambanis
( Book )
9 editions published between
1992
and 1993 in
English
and held by 185 WorldCat member libraries worldwide
This volume celebrates the many contributions which Gopinath Kallianpur has made to probability and statistics. It comprises 40 chapters which taken together survey the wide sweep of ideas which have been influenced by Professor Kallianpur's writing and research. All the chapters have been written by experts in their respective fields and as a result the volume provides a comprehensive survey of the current state of research in stochastic processes
more
fewer
Audience Level
0

1
Kids
General
Special
Audience level: 0.63 (from 0.18 for Stochastic ... to 0.99 for Kallianpur ...)
Related Identities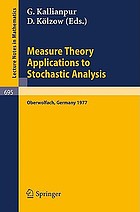 Covers
Alternative Names
Gopinath Kallianpur

Gopinath Kallianpur Indiaas wiskundige (1925-)

Gopinath Kallianpur Indian mathematician

Gopinath Kallianpur indischer Statistiker

Gopinath Kallianpur matemático indio

Kallianpur G.

Kallianpur, G. 1925-

Kallianpur, Gopinath

Languages