Reich, Wilhelm 1897-1957
Most widely held works about Wilhelm Reich
more
fewer
Most widely held works by Wilhelm Reich
Character analysis
by
Wilhelm Reich
( Book )
252 editions published between
1858
and 2013 in 8 languages and held by 2,353 WorldCat member libraries worldwide
Reich's classic work on the development and treatment of human character disorders, first published in 1933. As a young clinician in the 1920s, Wihelm Reich expanded psychoanalytic resistance into the more inclusive technique of character analysis, in which the sum total of typical character attitudes developed by an individual as a blocking against emotional excitations became the object of treatment. These encrusted attitudes functioned as an "armor," which Reich later found to exist simultaneously in chronic muscular spasms. Thus mind and body came together and character analysis opened the way to a biophysical approach to disease and the prevention of it
The mass psychology of fascism
by
Wilhelm Reich
( Book )
83 editions published between
1946
and 2015 in 3 languages and held by 1,659 WorldCat member libraries worldwide
I. Ideology as a material force -- The cleavage -- Economic and ideological structure of the German society, 1928-1933 -- How mass psychology sees the problem -- The social function of sexual repression -- II. The authoritarian ideology of the family in the mass psychology of fascism -- Führer and mass structure -- Hitler's background -- On the mass psychology of the lower middle class -- Family ties and nationalistic feelings -- Nationalistic self-confidence -- The "domestication" of the industrial workers -- III. The race theory -- Its contents -- The objective and subjective functions of ideology -- Racial purity, blood poisoning, and mysticism -- IV. The symbolism of the swastika -- V. The sex-economic presuppositions of the authoritarian family -- VI. Organized mysticism as an international anti-sexual organization -- The interest in the church -- The fight against "cultural Bolshevism" -- The appeal to mystical feelings -- The goal of the cultural revolution in the light of fascist reaction -- VII. Sex-economy in the fight against mysticism -- The three basic elements of religious feeling -- Anchoring of religion by means of sexual anxiety -- Healthy and neurotic self-confidence -- VIII. Some questions of sex-political practice -- Theory and practice -- The struggle against mysticism until now -- Sexual happiness contra mysticism -- The individual uprootment of the religious feeling -- The practice of sex-economy and objections to it -- The nonpolitical man -- IX. The masses and the state -- 1936: Speak the truth -- but how & when? -- "What takes place in the masses of people?" -- The "socialist yearning" -- The "withering away of the state" -- The program of the Communist Party of the Soviet Union (Eighth Party Congress, 1919) -- The "introduction of Soviet democracy" -- The development of the apparatus of the authoritarian state from rational social relationships -- The social function of state capitalism -- X. Biosocial function of work -- The problem of "voluntary work discipline" -- XI. Give responsibility to vitally necessary work! -- What is "work-democracy"? -- What is new in work-democracy? -- XII. The biologic miscalculation in the human struggle for freedom -- Our interest in the development of freedom -- Biologic rigidity, incapacity for freedom, and mechanical authoritarian view of life -- The arsenal of human freedom -- XIII. On natural work-democracy -- Investigation of the natural social forces for the purpose of overcoming the emotional plague -- Work in contrast to politics -- Notes on objective criticism and irrational caviling -- Work is inherently rational -- Vitally necessary and other work. 650 0
Selected writings; an introduction to orgonomy
by
Wilhelm Reich
( Book )
43 editions published between
1951
and 2013 in
English
and held by 802 WorldCat member libraries worldwide
"Freud had argued for the existence of a sexual energy which he called "libido", which he initially described as "something which is capable of increase, decrease, displacement and discharge, and which extends itself over the memory traces of an idea like an electric charge over the surface of the body". But by 1925 Freud had rejected the idea that the libido represented a physical energy. Reich took the idea further, arguing that he had discovered a primordial cosmic energy. He called it "orgone", and the study of it "orgonomy". Orgone is blue in color, he wrote, omnipresent, visible to the naked eye, and responsible for such things as weather, the color of the sky, gravity, the formation of galaxies, and the biological expressions of emotion and sexuality. Reich argued that St. Elmo's Fire is a manifestation of it, as is the blue color of sexually excited frogs. Red corpuscles, plant chlorophyll, gonadal cells, protozoa, and cancer cells are all charged with orgone, he said. He argued that humankind had previously split its knowledge of orgone in two: "ether" for its mechanistic, physical aspects, and "God" for the spiritual, the subjective. He wrote that "God-Father is the basic cosmic energy from which all being stems, and which streams through (the) body as through anything else in existence."--from Wikipedia, Nov. 2011
Listen, little man!
by
Wilhelm Reich
( Book )
118 editions published between
1946
and 2016 in 7 languages and held by 757 WorldCat member libraries worldwide
"Listen, Little Man! is a great physician's quiet talk to each one of us, the average human being, the Little Man. Written in 1946 in answer to the gossip and defamation that plagued his remarkable career, it tells how Reich watched, at first naively, then with amazement, and finally with horror, at what the Little Man does to himself; how he suffers and rebels; how he esteems his enemies and murders his friends; how, wherever he gains power as a "representative of the people," he misuses this power and makes it crueler than the power it has supplanted. Reich has us to look honestly at ourselves and to assume responsibility for our lives and for the great untapped potential that lies in the depth of human nature
Sex-pol; essays, 1929-1934
by
Wilhelm Reich
( Book )
7 editions published between
1972
and 2013 in
English
and held by 725 WorldCat member libraries worldwide
This volume contains the first complete translations of Wilhelm Reich's writings from his Marxist period. Reich, who died in 1957, had a career with a single goal: to find ways of relieving human suffering. And the same curiosity and courage that led him from medical school to join the early pioneers of Freudian psychoanalysis, and then to some of the most controversial work of this century--his development of the theory of the orgone--led him also, at one period of his life, to become a radical socialist. The renewed interest in Reich's Marxist writings, and particularly in his notions about sexual and political liberation, follows the radical critiques of Herbert Marcuse, Frantz Fanon and Paul Goodman, the political protest movements toward personal liberation in the present decade
The sexual revolution : toward a self-governing character structure
by
Wilhelm Reich
( Book )
67 editions published between
1945
and 1986 in
English
and
German
and held by 671 WorldCat member libraries worldwide
In het tweede deel, over de Sovjet-unie, in hfstk 9: 'Liberation of birth control and homosexuality, and subsequent inhibition'
Reich speaks of Freud; Wilhelm Reich discusses his work and his relationship with Sigmund Freud
by
Wilhelm Reich
( Book )
49 editions published between
1967
and 1975 in
English
and
German
and held by 579 WorldCat member libraries worldwide
The core of this book is a tape-recorded interview of Wilhelm Reich, conducted by a representative of the Sigmund Freud Archives, Inc. Published here for the first time, it is a profoundly human and an unusually candid document that supplies a long-awaited clarification of the relationship between Reich and Freud. Reich discusses the personally tragic but scientifically vital implications of his relationship with Sigmund Freud in a manner both simple and concise, placing the reader in a position to determine for himself what was at issue. The book has an extensive documentary supplement containing pertinent extracts from Reich's writings as well as previously unpublished material from his archives, including letters to Freud, Adler, Ferenczi, and others involved in the early struggles within psychoanalysis. It also includes documents revealing the unrelenting hostility of the psychoanalysts toward Reich
The invasion of compulsory sex-morality
by
Wilhelm Reich
( Book )
25 editions published between
1971
and 2013 in
English
and
German
and held by 561 WorldCat member libraries worldwide
This study of the invasion of compulsory sexual morality into human society was written in 1931 and now appears for the first time in the English language. It preceded "The Mass Psyhchology of Fascism" and "The Sexual Revolution" and was Reich's first step in approaching the answer to the problem of human mass neuroses. Growing out of his involvement with the crucial question of the origin of sexual suppression, this attempt to explain historically the problem of sexual disturbances and neuroses draws upon the ethnological works of Morgan, Engels and, in particular, Malinowski, whose remarkable studies of the sexual life and customs of the primitive people of the Trobriand Islands confirmed Reich's clinical discoveries
more
fewer
Audience Level
0

1
Kids
General
Special
Audience level: 0.46 (from 0.33 for Orgone, Re ... to 0.90 for Die Massen ...)
Related Identities
Associated Subjects
Adolescent psychology
Alienation (Social psychology)
Anxiety
Austria
Child psychology
Communism and society
Electrophysiology
Fascism
Freud, Sigmund,
Fromm, Erich,
Gross, Otto,
Ideology
Jesus Christ
Jung, C. G.--(Carl Gustav),
Life (Biology)
Marcuse, Herbert,
Marx, Karl,
Neill, Alexander Sutherland,
Neuroses
Orgasm
Orgonomy
Paraphilias
Passion of Jesus Christ
Personality and politics
Psychiatry
Psychoanalysis
Psychoanalysts
Rationalistic interpretations of Jesus Christ
Reich, Peter,
Reich, Wilhelm,
Repression (Psychology)
Róheim, Géza,
Scotland
Sex
Sex (Psychology)
Sex customs
Sexual disorders
Sexual ethics
Sexual freedom
Social classes
Socialism
Social psychology
Subconsciousness
Teachers
Therapeutics
United States
United States.--Food and Drug Administration
Vital force
Women--Sexual behavior
Yugoslavia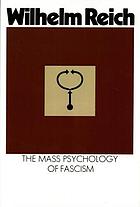 Covers
Alternative Names
Gulielmus Reich

Parell Ernst

Parell, Ernst 1897-1957

Raïch, Bilchelm 1897-1957

Raĭkh, Vilʹgelʹm 1897-1957

Rajch, Vilchelm 1897-1957

Rajch, Vil'gel'm 1897-1957

Rajh, Vil'gel'm.

Rajh, Vilhelm

Rajh, Vilhelm 1897-1957

Rāyš, Fīlhilm 1897-1957

Rāysh, Vīlhilm 1897-1957

Rāysh, Wīlhēlm, 1897-1957

Reich, ..., 1897-1957

Reich W. 1897-1957

Reich, W. (Wilhelm), 1897-1957

Reich, Wilhelm

Vïlʹgelʹm Raýx

Vilhelm Rajh

Vilhelm Reyx

Vilhelmas Reichas

Vilhelms Reihs

Wilhelm Reich

Wilhelm Reich Austro-Hungarian-born Austrian-American psychoanalyst

Wilhelm Reich medico e psichiatra austriaco

Wilhelm Reich psychiatre et psychanalyste américain d'origine ukrainienne et autrichienne

Wilhelm Reich psycholog austriacki

Wilhelm Reich psychotherapeut uit Oostenrijk-Hongarije (1897-1957)

Βίλχελμ Ράιχ

Вилхелм Райх

Вилхелм Рајх

Вильгельм Райх

Вільгельм Райх

Райх В.

Райх В. 1897-1957

Райх, В. (Вильгельм), 1897-1957

Райх Вильгельм

Райх, Вильгельм, 1897-1957

Райх, Вильгельм австрийский и американский психолог

Райх Вільгельм Американський психолог, родом з України

וילהלם רייך

راىش, وىلهـێلم.

,رایش, ویلهـێلم

فيلهلم رايش

ولهەلم رەجه

ویلهلم رایش

ۆىيلگەلم رايح

빌헬름 라이히

ヴィルヘルム・ライヒ

エゴ

ライヒ, W

ライヒ, ヴィルヘルム

威廉·赖希

Languages