Newhouse, Joseph P.
Most widely held works by Joseph P Newhouse
Pricing the priceless : a health care conundrum
by
Joseph P Newhouse
( )
20 editions published between
1459
and 2004 in
English
and
Thai
and held by 2,046 WorldCat member libraries worldwide
"In Pricing the Priceless, Joseph Newhouse explains the different pricing systems and how they affect resource allocation and efficiency. All pricing arrangements, he explains, involve trade-offs. The advantages of more inclusive bases of payment, for example, may be offset by incentives for providers to select good risks or to stint on the delivery of services."--Jacket
Variation in health care spending : target decision making, not geography
by
Institute of Medicine (U.S.)
( )
7 editions published in
2013
in
English
and
Undetermined
and held by 1,252 WorldCat member libraries worldwide
"Variation in Health Care Spending investigates geographic variation in health care spending and quality for Medicare beneficiaries as well as other populations, and analyzes Medicare payment policies that could encourage high-value care. This report concludes that regional differences in Medicare and commercial health care spending and use are real and persist over time. Furthermore, there is much variation within geographic areas, no matter how broadly or narrowly these areas are defined. The report recommends against adoption of a geographically based value index for Medicare payments, because the majority of health care decisions are made at the provider or health care organization level, not by geographic units. Rather, to promote high value services from all providers, Medicare and Medicaid Services should continue to test payment reforms that offer incentives to providers to share clinical data, coordinate patient care, and assume some financial risk for the care of their patients."--Publisher's description
Interim report of the Committee on Geographic Variation in Health Care Spending and Promotion of High-Value Care : preliminary committee observations
by
Institute of Medicine (U.S.)
( )
8 editions published in
2013
in
English
and held by 1,213 WorldCat member libraries worldwide
"Interim Report of the Committee on Geographic Variation in Health Care Spending and Promotion of High-Value Health Care: Preliminary Committee Observations is designed to provide the committee's preliminary observations for the 113th Congress as it considers further Medicare reform. This report contains only key preliminary observations related primarily to the committee's commissioned analyses of Medicare Parts A (Hospital Insurance program), B (Supplementary Medical Insurance program) and D (outpatient prescription drug benefit), complemented by other empirical investigations. It does not contain any observations related to the committee's commissioned analyses of the commercial insurer population, Medicare Advantage, or Medicaid, which will be presented in the committee's final report after completion of quality-control activities. This interim report excludes conclusions or recommendations related to the committee's consideration of the geographic value index or other payment reforms designed to promote high value care. Additional analyses are forthcoming, which will influence the committee's deliberations. These analyses include an exploration of how Medicare Part C (Medicare Advantage) and commercial spending, utilization, and quality vary compared with, and possibly are influenced by, Medicare Parts A and B spending, utilization, and quality. The committee also is assessing potential biases that may be inherent to Medicare and commercial claims-based measures of health status. Based on this new evidence and continued review of the literature, the committee will confirm the accuracy of the observations presented in this interim report and develop final conclusions and recommendations, which will be published in the committee's final report"--Publisher's description
Moral hazard in health insurance
by
Amy Finkelstein
( )
7 editions published between
2014
and 2015 in
English
and held by 1,078 WorldCat member libraries worldwide
In this short and accessible book, Amy Finkelstein tackles the tricky question of moral hazard, which is the tendency to take risks when the cost will be borne by others. Kenneth J. Arrow's seminal 1963 paper, "Uncertainty and the Welfare Economics of Medical Care", included in the volume, was one of the first to explore the implication of moral hazard for healthcare, and, in this book, Finkelstein examines this issue in the context of contemporary American health care policy
Handbook of health economics
by
Mark V Pauly
( Book )
30 editions published between
2000
and 2007 in
English
and held by 610 WorldCat member libraries worldwide
V. 1B. Economics and mental health / Richard G. Frank and Thomas G. McGuire ; Long-term care / Edward C. Norton ; Economics of disability and disability policy / Robert Haveman and Barbara Wolfe ; Child health in developed countries / Janet Currie ; The industrial organization of health care markets / David Dranove and Mark A. Satterthwaite ; Not-for-profit ownership and hospital behavior / Frank A. Sloan ; Economics of general practice / Anthony Scott ; Waiting lists and medical treatment / John G. Cullis, PhilipR. Jones and Carol Propper ; Economics of dental services / Harri sintonen and Ismo Linnosmaa ; The pharmaceutical industry / F.M. Scherer ; Liability for medical malpractice / Patricia M. Danzon ; Antitrust and competition in health care markets / Martin Gaynor and William B. Vogt ; Regulation of prices and investment in hospitals in th U.S. / David S. Salkever ; The economics of smoking / Frank J. Chaloupka and Kenneth E. Warner ; Alcohol / Philip J. Cook and Michael J. Moor
Free for all? : lessons from the Rand Health Insurance Experiment
by
Joseph P Newhouse
( Book )
14 editions published between
1993
and 1996 in
English
and
Undetermined
and held by 543 WorldCat member libraries worldwide
In the most important health insurance study ever conducted researchers at the RAND Corporation devised all experiment to address two key questions in health care financing: how much more medical care will people use if it is provided free of charge, and what are the consequences for their health? For three- or five-year periods the experiment measured both use and health outcomes in populations carefully selected to be representative of both urban and rural regions throughout the United States. Participants were enrolled in a range of insurance plans requiring different levels of copayment for medical care, from zero to 95 percent. The researchers found that in plans that reimbursed a higher proportion of the bill, patients used substantially more services - indeed, those who paid nothing used 40 percent more services than those required to pay a high deductible - but the effect on the health of the average person was negligible. In addition, participants who were assigned at random to a well-established health maintenance organization used hospitals substantially less than those in the fee-for-service system, again with no measurable effect on the health of the average person. This book collects in one place for the first time results previously dispersed through many journals over many years. Drawing comprehensive, coherent conclusions from an immense amount of data, it is destined to be a classic work serving as an invaluable reference for all those concerned with health care policy - health service researchers, policymakers in both the public and the private sectors, and students
Handbook of health economics
by
A. J Culyer
( )
36 editions published between
2000
and 2008 in
English
and
Undetermined
and held by 403 WorldCat member libraries worldwide
The Handbook of Health Economics provide an up-to-date survey of the burgeoning literature in health economics. As a relatively recent subdiscipline of economics, health economics has been remarkably successful. It has made or stimulated numerous contributions to various areas of the main discipline: the theory of human capital; the economics of insurance; principal-agent theory; asymmetric information; econometrics; the theory of incomplete markets; and the foundations of welfare economics, among others. Perhaps it has had an even greater effect outside the field of economics, introducing terms such as opportunity cost, elasticity, the margin, and the production function into medical parlance. Indeed, health economists are likely to be as heavily cited in the clinical as in the economics literature. Partly because of the large share of public resources that health care commands in almost every developed country, health policy is often a contentious and visible issue; elections have sometimes turned on issues of health policy. Showing the versatility of economic theory, health economics and health economists have usually been part of policy debates, despite the vast differences in medical care institutions across countries. The publication of the first Handbook of Health Economics marks another step in the evolution of health economics
An economic analysis of public library services
by
Joseph P Newhouse
( Book )
18 editions published in
1972
in
English
and held by 323 WorldCat member libraries worldwide
This study addresses itself to several questions important to most public libraries. How should the library allocate its book budget? What kinds of books should it tend to buy? What types of households use the library? Why do some households not use the library? What is the cost of the various services provided by the library? What specific steps can the library take to improve its services? What are the library's options in choosing among the different circulation systems? For how long should the library allow books to be checked out? How frequently should overdue notices be sent out? Is an investment in a security system worthwhile? These questions were studied in the context of the Beverly Hills (California) Public Library. A methodology for determining answers to these questions, as well as to other questions that arose during the investigation was developed. Although answers will vary from library to library, the methodology is quite general and should prove useful at many public libraries. The user survey and community survey questionnaires, and a bibliography are appended. (Author/SJ)
more
fewer
Audience Level
0

1
Kids
General
Special
Audience level: 0.29 (from 0.05 for Pricing th ... to 0.66 for Coinsuranc ...)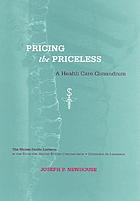 Covers
Alternative Names
Joseph Newhouse American economist

Joseph Newhouse economista estadounidense

Joseph Newhouse economista estatunidenc

Joseph Newhouse économiste américain

Joseph Newhouse econoom

Joseph Newhouse ekonomist amerikan

Joseph P. Newhouse

Newhouse, J.P.

Newhouse, J. P. 1942-

Newhouse, J.P. (Joseph Paul)

Newhouse, J. P. (Joseph Paul), 1942-

Newhouse, Joseph 1942-

Newhouse, Joseph Paul

Newhouse, Joseph Paul 1942-

Languages