Wright, James D.
Most widely held works about James D Wright
Most widely held works by James D Wright
Covenant marriage : the movement to reclaim tradition in America
by
Steven L Nock
( )
11 editions published in
2008
in
English
and held by 2,166 WorldCat member libraries worldwide
From the publisher. Regardless how you interpret the statistics, the divorce rate in the United States is staggering. But, what if the government could change this? Would families be better off if new public policies made it more difficult for couples to separate? This book explores a movement that emerged over the past fifteen years, which aims to do just that. Guided by certain politicians and religious leaders who herald marriage as a solution to a range of longstanding social problems, a handful of state governments enacted "covenant marriage" laws, which require couples to choose between a conventional and a covenant marriage. While the familiar type of union requires little effort to enter and can be terminated by either party unilaterally, covenant marriage requires premarital counseling, an agreement bound by fault-based rules or lengthy waiting periods to exit, and a legal stipulation that divorce can be granted only after the couple has received counseling. Drawing on interviews with over 700 coupleshalf of whom have chosen covenant unionsthis book not only evaluates the viability of public policy in the intimate affairs of marriage, it also explores how growing public discourse is causing men and women to rethink the meaning of marriage
Handbook of survey research
by
Peter H Rossi
( Book )
33 editions published between
1983
and 2013 in
English
and
Undetermined
and held by 1,238 WorldCat member libraries worldwide
"The Handbook of Survey Research, Second Edition, builds on its widely-recognized 1983 predecessor edited by Peter H. Rossi, James D. Wright, and Andy B. Anderson. Wright, together with Peter V. Marsden, assembled this edition. A new introductory chapter reviews the development of survey research, and highlights new directions and expansion of the field during the past quarter century. Subsequent chapters, all but two entirely new to this edition, provide comprehensive coverage of survey research methods." "Editors Marsden (Department of Sociology at Harvard University and a Co-Principal Investigator of the General Social Survey) and Wright (Department of Sociology at the University of Central Florida where he directs the Institute for Social and Behavioral Sciences, and the long-time editor of Elsevier's journal Social Science Research) significantly enlarged this edition to reflect the vast changes and growth in the survey research industry over the past three decades. In addition to updated material on central survey processes including sampling, measurement theory, and questionnaire construction, the new Edition includes new chapters on such topics as total survey error, ethical considerations in conducting surveys, power analysis, the psychology of survey response, specific survey modes (mail, telephone, Internet, and mixed-mode surveys), linking survey data to GIS and administrative data, cross-national and cross-cultural surveys, archiving and dissemination, and many others." "Comprehensiveness and depth of coverage distinguish the Handbook of Survey Research, Second Edition, from other texts. Timely and relevant, it includes emerging topics that are only now becoming highly salient within the industry. An authoritative reference book providing extensive coverage of the field, the Handbook is a vital resource for social scientists and students who conduct or plan to conduct survey research."--Jacket
Address unknown : the homeless in America
by
James D Wright
( Book )
13 editions published between
1989
and 2017 in
English
and held by 1,157 WorldCat member libraries worldwide
"Homelessness in America has grown from a minor problem in isolated areas of a few big cities into a near epidemic. Today, scarcely an American city of any appreciable size lacks homeless people. Homeless shelters and programs have become as essential and as commonplace as police protection or water ad sewage treatment. What to do for, with, or about the homeless is a nagging and complex social policy issue debated at all levels of government. This text emphasizes the large-scale and economic forces that have priced an increasingly large segment of the urban poor completely out of the housing market. Seen in this light, the problem of homelessness is that there are too many extremely poor people competing for too few affordable housing units. The nation would be facing an formidable homelessness problem even if there were no alcoholics, no drug addicts, no deinstitutionalized mental ill people-no personal pathologies of any kind. Rather than a choice, homelessness is the result of housing markets that have very little to offer to extremely poor people. This book is an investigative study into the nature and multiple causes of the problem which considers demographic, economic, sociological, and social policy antecedents of homelessness. A hallmark is the delineation of the range of factors involved, including deinstitutionalization of the mentally ill, urban renewal, the decrease in lower-skilled jobs, changing political priorities, and bureaucratic obstacles to proving existing social services to the homeless population"--Provided by publisher
Armed and considered dangerous : a survey of felons and their firearms
by
James D Wright
( Book )
17 editions published between
1986
and 2017 in
English
and held by 1,016 WorldCat member libraries worldwide
This is a book about "bad guys" and their guns. But Wright and Rossi contend that for every suspected criminal who owns and abuses a firearm, a hundred or more average citizens own guns for sport, for recreation, for self protection, and for other reasons generally regarded as appropriate or legitimate. Armed and Considered Dangerous is the most ambitious survey ever undertaken of criminal acquisition, possession, and use of guns
Beside the golden door : policy, politics, and the homeless
by
James D Wright
( Book )
7 editions published in
1998
in
English
and held by 671 WorldCat member libraries worldwide
"Written for the general public as well as for specialists, this volume details some of the numerous dimensions of the homelessness issue: the rise in poverty; the decline of low-income housing: problems in counting the homeless; the role of familial estrangement; mental illness; substance abuse; and health status and behaviors. The authors conclude with discussions of rural versus urban homelessness, street children in Latin America, and homelessness in postindustrial societies."--Jacket
The state of the masses
by
Richard F Hamilton
( Book )
17 editions published between
1986
and 2017 in
English
and held by 641 WorldCat member libraries worldwide
Is the consciousness of Americans in the midst of dramatic transformation? Or do people think and feel much the same as they have always thought and felt? Do most people enjoy their work, or hate it? Is the American family being replaced by new institutional forms, or is it much the same as it was in the 1950's? Have material values been replaced by a "postmaterial consciousness" in a postindustrial society? Are Americans becoming more conservative, less conservative, or staying about the same? State of the Masses asks the important questions.Originally published in 1986, this prescient study evaluate the views of social critics, neo-conservatives, neo-Marxists, post-industrialists, and the theorists of the little man, who puport to describe the nature, social conditions, outlooks, and motivations of the American populace. The claims of one group are often diametrically opposed to those of another. The authors make the case for which claims can be considered true and which false. Hamilton and Wright analyze the contradictory claims and compares their implications with the best social science research and data available at that time. They also explore the implications for theories in light of the conflicting portrait the evidence provides. The authors conclude with a new perspective for understanding continuities and changes in the United States. This is a prescient view of American society during turmoil, and a model for how social science research can be used predictively
The greatest of evils : urban poverty and the American underclass
by
Joel A Devine
( Book )
9 editions published in
1993
in
English
and held by 610 WorldCat member libraries worldwide
The debate on persisting poverty in the United States, somewhat dampened for the past decade, has now been fully rekindled. Devine and Wright have entered that debate with an analysis that is both quantitative and qualitative, informed on the one side by urban ethnography and steeped in official statistics and relevant data on the other. The result is an incisive and cogently documented narrative account leading to policy recommendations for a new president and a new era. In The Greatest of Evils, Devine and Wright develop three principal themes. First they argue that poverty is by no means monolithic: each subgroup within the population in poverty tends to have different problems. Secondly, the so-called "underclass" within the poverty population represents a new and especially corrosive development, one that cannot be analyzed in traditional terms nor dealt with in traditions ways. Thirdly, the War on Poverty of the Sixties was not the unmitigated disaster that so many have come to believe, and offered a boldness of vision that today's poverty policies tend to lack. In exploring these themes, the authors show how the social and economic costs of poverty-related problems exceed what it will cost to find remedies that address the underlying causes of residual poverty
more
fewer
Audience Level
0

1
Kids
General
Special
Audience level: 0.33 (from 0.05 for Covenant m ... to 0.93 for William S. ...)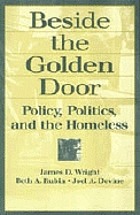 Covers
Alternative Names
James D. Wright socioloog

Wright, J.

Wright, J. D.

Wright, James D.

Wright James D. 1947-....

Wright, James David 1947-

جیمز رایت

ライト, ジェームズ・D

詹姆斯·D·賴特

Languages