Ainley, John G.
Most widely held works about John G Ainley
Most widely held works by John G Ainley
Preparing for Life in a Digital Age : The IEA International Computer and Information Literacy Study International Report
by
Julian Fraillon
( )
14 editions published between
2014
and 2015 in
English
and held by 482 WorldCat member libraries worldwide
Ability to use information and communication technologies (ICT) is an imperative for effective participation in today's digital age. Schools worldwide are responding to the need to provide young people with that ability. But how effective are they in this regard? The IEA International Computer and Information Literacy Study (ICILS) responded to this question by studying the extent to which young people have developed computer and information literacy (CIL), which is defined as the ability to use computers to investigate, create, and communicate with others at home, school, the workplace and in society. The study was conducted under the auspices of the International Association for the Evaluation of Educational Achievement (IEA) and builds on a series of earlier IEA studies focusing on ICT in education. Data were gathered from almost 60,000 Grade 8 students in more than 3,300 schools from 21 education systems. This information was augmented by data from almost 35,000 teachers in those schools and by contextual data collected from school ICT-coordinators, school principals, and the ICILS national research centers. The IEA ICILS team systematically investigated differences among the participating countries in students' CIL outcomes, how participating countries were providing CIL-related education, and how confident teachers were in using ICT in their pedagogical practice. The team also explored differences within and across countries with respect to relationships between CIL education outcomes and student characteristics and school contexts. In general, the study findings presented in this international report challenge the notion of young people as "digital natives" with a self-developed capacity to use digital technology. The large variations in CIL proficiency within and across the ICILS countries suggest it is naive to expect young people to develop CIL in the absence of coherent learning programs. Findings also indicate that system- and school-level planning needs to focus on increasing teacher expertise in using ICT for pedagogical purposes if such programs are to have the desired effect. The report furthermore presents an empirically derived scale and description of CIL learning that educational stakeholders can reference when deliberating about CIL education and use to monitor change in CIL over time
Becoming Citizens in a Changing World : IEA International Civic and Citizenship Education Study 2016 International Report
by
Wolfram Schulz
( )
8 editions published in
2018
in
English
and held by 335 WorldCat member libraries worldwide
"This open access book presents the results from the second cycle of the IEA International Civic and Citizenship Education Study (ICCS 2016). Using data from 24 countries in Asia, Europe and Latin America, the study investigates the ways in which young people are prepared to undertake their roles as citizens in a range of countries in the second decade of the 21st century. It also responds to the enduring and emerging challenges of educating young people in a world where contexts of democracy and civic participation continue to change. New developments of this kind include the increase in the use of social media by young people as a tool for civic engagement, growing concerns about global threats and sustainable development, as well as the role of schools in fostering peaceful ways of interaction between young people. Besides enabling the evaluation of a wide range of aspects of civic and citizenship education, including those related to recent developments in a number of countries, the inclusion of test and questionnaire material from the first cycle of the study in 2009 allows the results from ICCS 2016 to be used to examine changes in civic knowledge, attitudes and engagement over seven years."--
Participation in and progress through new apprenticeships
by
John G Ainley
( )
2 editions published in
2005
in
English
and held by 253 WorldCat member libraries worldwide
Focuses on two broad research questions: What are the characteristics of young people who commence a New Apprenticeship overall, as well as of those in traditional apprenticeships or traineeships separately & those in different fields of training?
Schools and the social development of young Australians
by
John G Ainley
( Book )
4 editions published in
1998
in
English
and held by 102 WorldCat member libraries worldwide
"This study was designed to investigate systematically how Australian schools provide for the social development of young people. The report presents a picture of the responses of young Australians to questions about how importantly they regard issues concerned with relating to others community well-being, social rules and conventions, how interested they are in continued learning, their self-confidence and their sense of optimism for the future. It goes beyond a description of social outcomes in these areas by reporting on variations among students and their schools according to year level, individual characteristics such as gender and social background, and characteristics of their schools. The project was conducted in two consecutive stages. The first stage was the definition and mapping phase involving descriptive aspects and review of the literature: the second stage involved collection and analysis of data from a survey of schools, teachers and students in a nationally representative sample of schools."--BOOK JACKET
The Australian science facilities program : a study of its influence on science education in Australian schools
by
John G Ainley
( Book )
7 editions published between
1976
and 1978 in
English
and held by 65 WorldCat member libraries worldwide
This report is a study conducted by the Australian Council for Educational Research to evaluate the influence of science material resources, provided under the Australian Science Facilities Program, on science education in Australia. Under the Australian Science Facilities Program some $123 million was spent, between July 1964 and June 1975, on laboratories and apparatus in both government and non-government schools. The study is based on the examination of three levels of impact of the program: (1) the impact of the program on the standard of science facilities in schools of different types; (2) the influence on the standard of resources on the quality of science teaching; and (3) the effects of better resources and different teaching methods in student achievement. In addition, an exhaustive examination of the administration of the program is reported. The report shows that while there was a general improvement in the standard of resources for science teaching over the period of the program, some schools with inadequate facilities remain. Questionnaires used in the study and a list of references are also included. (Author/HM)
Progress through high school : a study of senior secondary schooling in New South Wales
by
John G Ainley
( Book )
4 editions published between
1900
and 1993 in
English
and
Undetermined
and held by 50 WorldCat member libraries worldwide
In the 1980s Australian education systems have seen dramatic changes in the pattern of participation in postcompulsory schooling. In the 20 years from 1971 to 1990 the percentage of each cohort of young people completing secondary education to Year 12 has more than doubled. Most of that growth in the retention of young people into the postcompulsory years of school has taken place since 1983. In a short space of time postcompulsory schooling has changed from minority to majority participation. Changes such as these have impelled a consideration of how best to respond to the interests and aptitudes of the increasingly diverse population of students and how to encourage further increases in levels of participation. These issues are the central concern of the present study. The report is concerned with senior secondary schooling in the government high schools of New South Wales
Between school and adult life : an approach to the evaluation of pre-vocational education in TAFE
by
John G Ainley
( Book )
2 editions published in
1979
in
English
and held by 50 WorldCat member libraries worldwide
The purpose of this publication is to outline an approach to, and issues involved in the evaluation of some types of full- time educational programs intended to prepare young people for work. It examines the stated rationale for these programs and describes important features of some courses. From this basis key issues for program evaluation concerned with students backgrounds, teaching methods and outcomes are identified. Appropriate measuring instruments are suggested and the results of trials of those instruments among prevocational students are reported. Among the instruments tried was a scale designed to assess the extent to which such students viewed the environment in which they were learning as similar to that of someone at work. Even though the approach is not intended to be prescriptive it offers a range of methods and procedures which could be adapted by those concerned with the evaluation of programs of pre-vocational education. (Author) Research funded by Technical and Further Education Council of the Tertiary Education Commission
more
fewer
Audience Level
0

1
Kids
General
Special
Audience level: 0.48 (from 0.19 for Subject ch ... to 0.88 for Old master ...)
Related Identities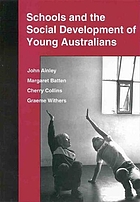 Covers
Alternative Names
Ainley, J.

Ainley, John 1945-

Ainley, John G

Ainley, John G. 1945-

Languages