Gardner, Howard 1943-
Overview
| | |
| --- | --- |
| Works: | 716 works in 2,327 publications in 11 languages and 61,232 library holdings |
| Genres: | Case studies History Biography Biographies Educational films Abstracts Criticism, interpretation, etc Interviews |
| Roles: | Author, Interviewee, Interviewer, Teacher , Editor, Compiler, Author of introduction, Speaker, Creator, Other, Commentator |
| Classifications: | BF432.3, 153.9 |
Most widely held works about Howard Gardner
more
fewer
Most widely held works by Howard Gardner
Frames of mind : the theory of multiple intelligences
by
Howard Gardner
( Book )
117 editions published between
1983
and 2011 in 3 languages and held by 4,749 WorldCat member libraries worldwide
Explores the development of the theory of multiple intelligences over the last decade
Intelligence reframed : multiple intelligences for the 21st century
by
Howard Gardner
( Book )
35 editions published between
1999
and 2010 in
English
and
Spanish
and held by 2,712 WorldCat member libraries worldwide
From the Publisher: A brilliant state-of-the-art report on how the landmark theory of multiple intelligences is radically changing our understanding of education and human development. Since its original description in Frames of Mind (1983, 1993), the theory of multiple intelligences has taken its place as one of the seminal ideas of the twentieth century. Further explicated in Gardner's 1993 book, Multiple Intelligences, these ideas continue to attract attention and generate controversy all over the world. Now, in Intelligence Reframed, Gardner provides a much-needed state of the art report on the theory. He describes how it has evolved and been revised. He introduces two new intelligences, and argues that the concept of intelligence should be broadened, but not so much that it includes every human faculty and value. In addition, he offers practical guidance on the educational uses of the theory, and responds in lively dialogue to the critiques leveled against it. Harvard psychologist Howard Gardner has been acclaimed as the most influential educational theorist since John Dewey. His ideas about intelligence and creativity-explicated in such bestselling books as Frames of Mind and Multiple Intelligences (over 200,000 copies in print combined)-have revolutionized our thinking. In his groundbreaking 1983 book Frames of Mind, Howard Gardner first introduced the theory of multiple intelligences, which posits that intelligence is more than a single property of the human mind. That theory has become widely accepted as one of the seminal ideas of the twentieth century and continues to attract attention all over the world. Now in Intelligence Reframed, Gardner provides a much-needed report on the theory, its evolution and revisions. He offers practical guidance on the educational uses of the theory and responds to the critiques leveled against him. He also introduces two new intelligences (existential intelligence and naturalist intelligence) and argues that the concept of intelligence should be broadened, but not so absurdly that it includes every human virtue and value. Ultimately, argues Gardner, possessing a basic set of seven or eight intelligences is not only a unique trademark of the human species, but also perhaps even a working definition of the species. Gardner also offers provocative ideas about creativity, leadership, and moral excellence, and speculates about the relationship between multiple intelligences and the world of work in the future
The unschooled mind : how children think and how schools should teach
by
Howard Gardner
( Book )
53 editions published between
1991
and 2011 in
English
and held by 2,613 WorldCat member libraries worldwide
"I like to invoke the image of figure and ground. In any scene, certain elements stand out as figures, as dominant foci, against a less prominent background, which (ideally) supports the central figure. At present, test scores and rankings have become figures, so dominant that they virtually occlude everything else. In my preferred portrait of education, a well-schooled mind becomes the central figure--a mind that truly understands disciplinary ways of thinking and one that also encourages respectful and ethical behavior. All the rest--including the instruments of accountability should be in the backgroud, providing support for that central, powerful image. Why the current ideal of school focuses so much on a certain view of knowledge, transmitted in a certain way, and documented in a certain way, is a question for historians and policy makers: That it has taken this turn is a source of regret to those of us who harbor a different view of knowledge and education."--The introduction by the author (p. xxviii)
The app generation : how today's youth navigate identity, intimacy, and imagination in a digital world
by
Howard Gardner
( Book )
21 editions published between
2013
and 2014 in
English
and held by 2,475 WorldCat member libraries worldwide
"No one has failed to notice that the current generation of youth is deeply-some would say totally-involved with digital media. Professors Howard Gardner and Katie Davis name today's young people The App Generation, and in this spellbinding book they explore what it means to be "app-dependent" versus "app-enabled" and how life for this generation differs from life before the digital era. Gardner and Davis are concerned with three vital areas of adolescent life: identity, intimacy, and imagination. Through innovative research, including interviews of young people, focus groups of those who work with them, and a unique comparison of youthful artistic productions before and after the digital revolution, the authors uncover the drawbacks of apps: they may foreclose a sense of identity, encourage superficial relations with others, and stunt creative imagination. On the other hand, the benefits of apps are equally striking: they can promote a strong sense of identity, allow deep relationships, and stimulate creativity. The challenge is to venture beyond the ways that apps are designed to be used, Gardner and Davis conclude, and they suggest how the power of apps can be a springboard to greater creativity and higher aspirations"--
Multiple intelligences : new horizons
by
Howard Gardner
( )
31 editions published between
2006
and 2012 in 4 languages and held by 2,375 WorldCat member libraries worldwide
"This new edition of Multiple Intelligences covers all developments since its original publication in 1993, and stands as the most thorough and up-to-date account of the theory and application of Multiple Intelligences available anywhere. Completely revised throughout, it features new material on global applications and on Multiple Intelligences in the workplace, an assessment of Multiple Intelligences practice in the current conservative educational climate, new evidence about brain functioning, and much more."--Jacket
Creating minds : an anatomy of creativity seen through the lives of Freud, Einstein, Picasso, Stravinsky, Eliot, Graham, and Gandhi
by
Howard Gardner
( Book )
28 editions published between
1993
and 2011 in
English
and held by 2,262 WorldCat member libraries worldwide
"Creative people feature unusual combinations of intelligence and personality, and Gardner delineates the indispensable role of the circumstances in which an individual works and the crucial reactions of the surrounding group of informed peers. He finds that an essential element of the creative process is the support of caring individuals who believe in the revolutionary ideas of the creators. And he documents the fact that extraordinary creativity almost always carries with it extraordinary costs in human terms."--Jacket
The mind's new science : a history of the cognitive revolution
by
Howard Gardner
( Book )
52 editions published between
1985
and 2011 in 3 languages and held by 2,175 WorldCat member libraries worldwide
A full-scale history of cognitive science, this work addresses a central issue: What is the nature of knowledge?
Changing minds : the art and science of changing our own and other people's minds
by
Howard Gardner
( Book )
27 editions published between
2004
and 2015 in
English
and held by 2,137 WorldCat member libraries worldwide
Publisher's description: Minds are exceedingly hard to change. Ask any advertiser who has tried to convince consumers to switch brands, any CEO who has tried to change a company's culture, or any individual who has tried to heal a rift with a friend. So many aspects of life are oriented toward changing minds--yet this phenomenon is among the least understood of familiar human experiences. Now, eminent Harvard psychologist Howard Gardner, whose work has revolutionized our beliefs about intelligence, creativity, and leadership, offers an original framework for understanding exactly what happens during the course of changing a mind--and how to influence that process. Drawing on decades of cognitive research and compelling case studies--from famous business and political leaders to renowned intellectuals and artists to ordinary individuals--Gardner identifies seven powerful factors that impel or thwart significant shifts from one way of thinking to a dramatically new one. Whether we are attempting to change the mind of a nation or a corporation, our spouse's mind or our own, this book provides insights that can broaden our horizons and improve our lives. Howard Gardner is the John H. and Elisabeth A. Hobbs Professor of Cognition and Education at the Harvard Graduate School of Education and senior director of Harvard Project Zero. The recipient of a MacArthur Prize Fellowship and 20 honorary degrees, he is the author of more than 20 books
Multiple intelligences : the theory in practice
by
Howard Gardner
( Book )
35 editions published between
1993
and 2012 in
English
and
Spanish
and held by 2,065 WorldCat member libraries worldwide
Howard Gardner's brilliant conception of individual competence is changing the face of education today. In the ten years since the publication of his seminal Frames of Mind, thousands of educators, parents, and researchers have explored the practical implications of Multiple Intelligences (MI) theory -- the powerful notion that there are separate human capacities, ranging from musical intelligence to the intelligence involved in understanding oneself. Multiple Intelligences: The Theory in Practice brings together previously published and original work by Gardner and his colleagues at Project Zero to provide a coherent picture of what we have learned about the educational applications of MI theory from projects in schools and formal research over the last decade. -- Back cover
Leading minds : an anatomy of leadership
by
Howard Gardner
( Book )
41 editions published between
1995
and 2011 in 3 languages and held by 2,020 WorldCat member libraries worldwide
In a powerful conclusion, Gardner identifies the six constant features of leadership, six trends that complexify leadership in our time, and the paradoxes that must be resolved for leadership to be effective
more
fewer
Audience Level
0

1
Kids
General
Special
Audience level: 0.25 (from 0.09 for Extraordin ... to 0.76 for Gardner on ...)
Associated Subjects
Aesthetics
Application software
Artificial intelligence
Arts--Psychological aspects
Brain damage
Brain--Localization of functions
Cerebrovascular disease
Change (Psychology)
Child artists
Child development
China
Cognition
Cognition in children
Cognition--Research--Methodology
Cognitive learning
Comparative education
Comprehension
Creation (Literary, artistic, etc.)
Creative ability
Creative ability in adolescence
Creative ability in children
Creative thinking
Drawing, Psychology of
Education
Education--Aims and objectives
Education--Philosophy
Freud, Sigmund,
Gandhi,--Mahatma,
Gardner, Howard,
Gifted persons
Identity (Psychology)
Influence (Psychology)
Intellect
Internet and youth
Leadership
Learning
Learning, Psychology of
Lévi-Strauss, Claude
Mozart, Wolfgang Amadeus,
Multiple intelligences
Persuasion (Psychology)
Piaget, Jean,
Social intelligence
Structuralism
Success
Technology and youth
Thought and thinking
United States
Woolf, Virginia,
Youth--Social networks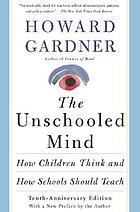 Covers
Alternative Names
Gardner H.

Gardner, Howard

Gardner, Howard E.

Gardner, Howard E. 1943-

Gardner, Howard Earl 1943-

Gardneris Hovardas

Hovardas Gardneris

Howard Gardner americký psycholog

Howard Gardner Amerikaans onderwijzer

Howard Gardner amerikansk pedagog och utvecklingspsykolog

Howard Gardner amerykański psycholog

Howard Gardner psicologo e docente statunitense

Howard Gardner psicólogo, investigador y profesor estadounidense

Howard Gardner psychologue américain

Howard Gardner US-amerikanischer Erziehungswissenschaftler, Professor für Erziehungswissenschaften, Psychologie und Neurologie

Χάουαρντ Γκάρντνερ

Гарднер Говард

Гарднер, Говард 1943-

Говард Гарднер

Хауард Гарднер

Հովարդ Գարդներ

הווארד גרדנר

غاردنر، هوارد، 1943-

هوارد جاردنر، 1943-

هوارد غاردنر

هوارد قاردنر

هوارد گاردنر

हार्वर्ड गार्डनर

ഹോവാർഡ് ഗാർഡ്നർ

가드너, 하워드 1943-

가드너, 하워드 E. 1943-

하워드 가드너

ガードナー, H

ガードナー, ハワード

ハワード・ガードナー

哈沃德·加德納

Languages