Euripides
Overview
| | |
| --- | --- |
| Works: | 11,919 works in 28,614 publications in 28 languages and 212,426 library holdings |
| Genres: | Drama Tragedies (Drama) Comedy plays Criticism, interpretation, etc Biography History Fiction Commentaries Textbooks Portraits |
| Roles: | Author, Lyricist, Bibliographic antecedent, Other, Contributor, Honoree, Attributed name, Dubious author, Creator, Composer, Adapter, Conceptor, Translator, Facsimilist, Collector |
| Classifications: | PA3973, 882.01 |
Most widely held works about Euripides
more
fewer
Most widely held works by Euripides
The Bacchae
by
Euripides
( Book )
713 editions published between
1730
and 2016 in 11 languages and held by 6,408 WorldCat member libraries worldwide
"Regarded by many as Euripides' masterpiece, Bakkhai examines both the horror and the beauty of the religious ecstasy that Dionysos brings to Thebes. His offer of closeness to nature and freedom from the constraints of civilization, especially for women, excites bitter resistance as well as fanatical acceptance." "Disguised as a young holy man and accompanied by his band of Asian worshipers, the god Dionysos arrives in Greece at Thebes, proclaims his godhood and his new religion, and drives the Theban women mad. When the Theban king, Pentheus, tries to imprison him, Dionysos afflicts Pentheus himself with madness and leads him, dressed as a bacchant, to the mountains, where his own mother, Agaue, and her companions tear him to pieces in an insane Bacchic frenzy."
Alcestis
by
Euripides
( Book )
669 editions published between
1567
and 2014 in 20 languages and held by 4,292 WorldCat member libraries worldwide
"Euripides' Alcestic - perhaps the most anthologized Attic drama - is an ideal test for students reading their first play in the original Greek. Literary commentaries and language aids in most editions are too advanced or too elementary for intermediate students of the language, but in this new student edition, C.A.E. Luschnig and H.M. Roisman remedy such deficiencies." "The introductory section of this edition provides historical and literary perspective; the commentary explains points of grammar, syntax, and vocabulary, as well as elucidating background features such as dramatic conventions and mythology; and a discussion section introduces the controversies surrounding this most elusive drama. In their presentation, Luschnig and Roisman have initiated a new method for introducing students to current scholarship." "This edition also includes a glossary, an index, a bibliography, and grammatical reviews designed specifically for students of Greek language and culture in their second year of university study or third year of high school"--Jacket
Ion
by
Euripides
( Book )
335 editions published between
1730
and 2014 in 16 languages and held by 3,308 WorldCat member libraries worldwide
One of Euripides' late plays, Ion tells the story of Kreousa, queen of Athens, and her son by the god Apollo. Apollo raped Kreousa; she secretly abandoned their child, assuming thereafter that the god had allowed him to die. Ion, however, is saved to become a ward of Apollo's temple at Delphi. In the play, Kreousa and her husband Xouthos go to Delphi to seek a remedy for their childlessness; Apollo, speaking through his oracle, gives Ion to Xouthos as a son, enraging the apparently still childless Kreousa. Mother tries to kill son, son traps mother at an altar and is about to do her violence; just then, Apollo's priestess appears to reveal the birth tokens that permit Kreousa to recognize and embrace the child she thought she had lost forever. Ion must accept Apollo's duplicity along with his benevolence toward his son. Disturbing riptides of thought and feeling run just below the often shimmering surface of this masterpiece of Euripidean melodrama. Despite Ion's "happy ending," the concatenation of mistaken identities, failed intrigues, and misdirected violence enacts a gripping and serious drama. Euripides leaves the audience to come to terms with the shifting relations of god and mortals in his complex and equivocal interpretation of myth
Cyclops
by
Euripides
( Book )
325 editions published between
1582
and 2013 in 12 languages and held by 2,085 WorldCat member libraries worldwide
"Based on the conviction that only translators who write poetry themselves can properly re-create the celebrated and timeless tragedies of Aeschylus, Sophocles, and Euripides, the Greek Tragedy in New Translations series offers new translations that go beyond the literal meaning of the Greek in order to evoke the poetry of the originals. Under the general editorship of Peter Burian and Alan Shapiro, each volume includes a critical introduction, commentary on the text, full stage directions, and a glossary of the mythical and geographical references in the play." "Brimming with lusty comedy and horror, this new version of Euripides' only extent satyr play has been refreshed with all the salty humor, vigorous music, and dramatic shapeliness available in modern American English." "Driven by storms onto the shores of the Cyclops' Island, Odysseus and his men find that the Cyclops has already enslaved a horde of satyrs. When some of Odysseus' crew are seized and eaten by the Cyclops, Odysseus resorts to spectacular stratagems to free his crew and escape the island. In this powerful work, poet Heather McHugh and classicist David Konstan combine their talents to create an unusually strong tragicomedy marked by lively lyricism and moral subtlety"--Jacket
Medea
by
Euripides
( Book )
154 editions published between
1734
and 2015 in 11 languages and held by 1,887 WorldCat member libraries worldwide
Medea is the archetypal wronged women driven to despair. When uncontrollable anger is unleashed, the obsessed mind's capacity for revenge knows no bounds
The children of Herakles
by
Euripides
( Book )
169 editions published between
1730
and 2013 in 9 languages and held by 1,670 WorldCat member libraries worldwide
The theme of the Heraclidae is how the children of Heracles, under the care of Iolaus and Alemena, were driven from city to city throughout Greece, fleeing the wrath of Eurystheus, king of Argos, who hated them for their father's sake
Andromache
by
Euripides
( Book )
186 editions published between
1730
and 2016 in 12 languages and held by 1,656 WorldCat member libraries worldwide
"In Andromache, Euripides challenges our concept of tragic character as he transforms our expectations of tragic structure. Through its subtly varied metrics, the play develops an increasingly complex plot and concludes with a simultaneous realization of realism and supernaturalism. The play takes place in the aftermath of the Trojan War. Andromache has become a concubine to Achilles' son, Neoptolemus, bearing him a child, Molossus. The captive Andromache is haunted by memories of her former life and by her love for Hector and their son Astyanax, both slain by the Greeks who are now her masters. As the play opens, Andromache and Molossus are threatened with death by Neoptolemus' young wife, Hermione, who has been unable to conceive a child and is fiercely jealous. The struggle between the two women is mirrored in the conflict between Peleus, who arrives to defend Andromache, and Menelaus, who arrives to help his daughter Hermione complete her bid for power."--Back cover
Iphigenia in Tauris
by
Euripides
( Book )
171 editions published between
1730
and 2016 in 9 languages and held by 1,496 WorldCat member libraries worldwide
Iphigenia in Tauris tells the story of the princess Iphigenia who was sacrificed by her father Agamemnon to expedite his campaign against Troy but was rescued by the goddess Artemis and transported to the land of the Taurians. Text in ancient Greek and English
Hippolytos
by
Euripides
( Book )
65 editions published between
1756
and 2014 in 9 languages and held by 1,282 WorldCat member libraries worldwide
De Hippolytos van Euripides (480-406 v.C.) Is net als de Medea een tragedie van liefde en wraak. Ook hier voelt de vrouw, in dit geval Faidra, zich verraden in haar liefde voor haar stiefzoon Hippolytos, die als trouw aanhanger van de kuise godin Artemis afkerig was van seksuele contacten en haar avances radicaal afwees. Om gezichtsverlies en vernedering te vermijden besluit Faidra tot zelfmoord maar sleurt tegelijk Hippolytos mee in de afgrond door een verzonnen aanklacht van verkrachting
more
fewer
Audience Level
0

1
Kids
General
Special
Audience level: 0.38 (from 0.01 for Hippolytus ... to 0.67 for Suppliant ...)
Related Identities
Associated Subjects
Adrastus,--King of Argos
Alcestis,--Queen, consort of Admetus, King of Pherae
Andromache (Euripides)
Andromache--(Legendary character)
Bacchae (Euripides)
Bacchantes
Civilization
Civilization, Modern--Greek influences
Closure (Rhetoric)
Comparative literature
Criticism and interpretation
Cyclopes (Greek mythology)
Dionysus--(Greek deity)
Dramatists, Greek
Electra--(Greek mythological figure)
Euripides
Families
Goethe, Johann Wolfgang von,
Greece
Greek drama
Greek drama (Tragedy)
Greek literature
Hecuba,--Queen of Troy
Helen,--of Troy, Queen of Sparta
Heracles--(Greek mythological character)
Hippolytus--(Mythological character)
Influence (Literary, artistic, etc.)
Ion--(Mythological character)
Iphigenia--(Mythological character)
Literature
Medea,--consort of Aegeus, King of Athens (Mythological character)
Medea (Euripides)
Mythology, Greek
Mythology, Greek, in literature
Odysseus,--King of Ithaca (Mythological character)
Orestes,--King of Argos (Mythological character)
Originality (Aesthetics)
Pentheus,--King of Thebes (Mythological character)
Queens
Rhesus,--King of Thrace (Legendary character)
Rhetoric, Ancient
Seven against Thebes (Greek mythology)
Shakespeare, William,
Silenus--(Mythological character)
Technique
Theseus,--King of Athens
Tragedy
Tragicomedy
Trojan War
Turkey--Troy (Extinct city)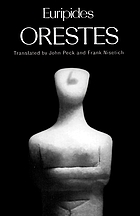 Alternative Names
E.

Eiripīds

Eurípede

Eurípedes

Euripedes ca. 480-406 aC.

Euripedes v480-v406

Euripid

Euripid 0480-0406 av. J.-C.

Euripid sin Mnesarhov

Euripid v480-v406

Euripidas

Eurípide

Euripide 0480-0406 av.J. -C.

Euripide 480-407 a.C.

Euripide asi 480-406 př. Kr

Euripide, asi 480 př. Kr.-406 př. Kr.

Euripide auteur grec classique

Euripide ca. 480-406 aC.

Euripide, ca 480-406 f.Kr.

Euripide ca. 480-406 v.Chr

Euripide de Salamine v480-v406

Euripide drammaturgo greco antico

Euripide tragediografo ateniese

Euripidē v480-v406

Euripide v480-v406 de Salamine

Eurípides

Eu̓ripídēs 0480-0406 av. J.-C.

Euripides Alcestis v480-v406

Euripides ancient Athenian playwright

Eurípidés asi 480-406 př. Kr

Eurípidés, asi 480 př. Kr.-406 př. Kr.

Euripides Atheniensis v480-v406

Euripides B.C.

Eurípides dramaturgo da antiga Grecia

Euripides klassischer griechischer Dichter

Eurípides poeta tráxico grego da antigüidade

Euripides" Pseudo- v480-v406

Euripides Sohn des Mnesarchides v480-v406

Euripides Sohn des Mnesarchos v480-v406

Euripides toneelschrijver uit Oude Athene (480v Chr-406v Chr)

Euripides Tragicus

Euripides Tragicus v480-v406

Euripides Tragiker v480-v406

Eurípides v480-v406

Euripides v480-v406 Atheniensis

Euripides" v480-v406 Pseudo-

Euripides v480-v406 Sohn des Mnesarchides

Euripides v480-v406 Sohn des Mnesarchos

Euripides v480-v406 Tragicus

Euripides v480-v406 Tragiker

Euripides v480-v406 von Athen

Euripides v480-v406 von Salamis

Euripides von Athen v480-v406

Euripides von Salamis v480-v406

Euripides ок.480-406 до н.э.

Euripidesu

Euripidesu ca. 480-406 aC.

Euripidész

Euripidész v480-v406

Euripidi

Euripídīs

Eu̓ripídīs 0480-0406 av. J.-C.

Euripidis" v480-v406

Eŭripido

Euripido ca. 480-406 aC.

Euripydes

Eurypides.

Eurypides 0480-0406 av. J.-C.

Eurypides ca. 480-406 aC.

Eurypides dramaturg antyczny

Eurypides v480-v406

Evripede" v480-v406

Evripedes

Ėvripid

Evripid" v480-v406

Evripídes

Evripides v480-v406

Eyripidēs v480-v406

Pseudo-Euripides v480-v406

Yūrībīdīs

Yūrı̄bidı̄s" v480-v406

Εὐριπίδης

Εὐριπίδης 0480-0406 av. J.-C.

Ευριπίδης, 480-406

Ευριπίδης αρχαίος Έλληνας θεατρικός συγγραφέας

Еврипид

Еврипид древнегреческий драматург

Еврипид ок.480-406 до н.э.

Еврипід

Евріпід давньогрецькій драматург

Еурипид

Эврипид ок.480-406 до н.э.

Эўрыпід

Եվրիպիդես

אויריפידס 480-406 לפנה"ס

אוריפידס

אוריפידס 480-406 לפנה"ס

اوریپید.

يوربيد

يوربيديس

يوريبيد

يوريبيديس

یوریپیدیس

युरिपिडस

ਯੁਰੀਪਿਡੀਜ਼

യൂറിപ്പിഡിസ്

ევრიპიდე

에우리피데스

エウリーピデース

エウリピデス 古代ギリシアの詩人

欧里庇得斯

欧里庇得斯 古希腊剧作家

Languages
English
(1,293)
Greek, Ancient
(794)
German
(324)
Italian
(313)
Greek, Modern
(199)
Latin
(181)
French
(164)
Multiple languages
(50)
Dutch
(41)
Spanish
(35)
Danish
(11)
Portuguese
(9)
Turkish
(7)
Polish
(4)
Swedish
(4)
French, Middle
(3)
Hebrew
(3)
Miscellaneous languages
(3)
Chinese
(2)
Finnish
(2)
Irish
(2)
Japanese
(1)
Czech
(1)
Georgian
(1)
Norwegian
(1)
Slovenian
(1)
Catalan
(1)
Esperanto
(1)
more
fewer
Covers