Grob, Gerald N. 1931-2015
Most widely held works about Gerald N Grob
Most widely held works by Gerald N Grob
The deadly truth : a history of disease in America
by
Gerald N Grob
( )
16 editions published between
2002
and 2009 in
English
and held by 2,281 WorldCat member libraries worldwide
"The Deadly Truth chronicles the complex interactions between disease and the peoples of America from the pre-Columbian world to the present. Grob's ultimate lesson is stark but valuable: there can be no final victory over disease. The world in which we live undergoes constant change, which in turn creates novel risks to human health and life. We conquer particular diseases, but others always arise in their stead. In a powerful challenge to our tendency to see disease as unnatural and its virtual elimination as a real possibility, Grob asserts the undeniable biological persistence of disease."--Jacket
Diagnosis, therapy, and evidence : conundrums in modern American medicine
by
Gerald N Grob
( )
10 editions published in
2010
in
English
and held by 1,917 WorldCat member libraries worldwide
In Diagnosis, Therapy, and Evidence, Gerald N. Grob and Allan V. Horwitz employ historical and contemporary data and case studies, combining into one book a variety of medical and psychiatric conditions. They utilize case studies and examine tonsillectomy, cancer, heart disease, PTSD, anxiety, and depression, and identify differences between rhetoric and reality and the weaknesses in diagnosis and treatment
Interpretations of American history: patterns and perspectives
by
Gerald N Grob
( Book )
47 editions published between
1967
and 2009 in
English
and
Multiple languages
and held by 1,888 WorldCat member libraries worldwide
In ten lively chapters, essays by the editors introduce dialectical readings by distinguished historians on topics from Reconstruction to the present. The essays and readings address history's timeless questions: "Reconstruction: Change or Stasis?," "American Imperialism: Economic Expansion or Ideological Crusade?," and "The Civil Rights Movement: Top-Down or Bottom-Up?" New readings are included on African Americans, women, and immigrants. In the fray of debate, eminent historians from Samuel Hays and Alfred Chandler to John Lewis Gaddis, Walter LaFeber, and Kathryn Kish Sklar struggle to interpret the past. The editors'essays moderate the passionate arguments and offer a clear, distanced vision of the changing character of history. They explain how history has usually been viewed through the lens of the present and demonstrate with sparkling historiography that the discipline is as contemporary as the headlines of today, as vital as the problems of tomorrow
Aging bones : a short history of osteoporosis
by
Gerald N Grob
( )
6 editions published in
2014
in
English
and held by 1,596 WorldCat member libraries worldwide
This book makes a historical inquiry into how the normal aging of bones was transformed into a medical diagnosis requiring treatment. -- Publisher description
The mad among us : a history of the care of America's mentally ill
by
Gerald N Grob
( Book )
18 editions published between
1994
and 2014 in
English
and held by 1,476 WorldCat member libraries worldwide
Americans want to be humane toward the mentally ill, yet we have always been divided about what is best for them and for society. Now, the foremost historian of the care of the mentally ill compellingly recounts our various attempts to solve this ever-present dilemma
From asylum to community : mental health policy in modern America
by
Gerald N Grob
( Book )
16 editions published between
1991
and 2016 in
English
and held by 1,411 WorldCat member libraries worldwide
The distinguished historian of medicine Gerald Grob analyzes the post-World War II policy shift that moved many severely mentally ill patients from large state hospitals to nursing homes, families, and subsidized hotel rooms--and also, most disastrously, to the streets. On the eve of the war, public mental hospitals were the chief element in the American mental health system. Responsible for providing both treatment and care and supported by major portions of state budgets, they employed more than two-thirds of the members of the American Psychiatric Association and cared for nearly 98 percent of all institutionalized patients. This study shows how the consensus for such a program vanished, creating social problems that tragically intensified the sometimes unavoidable devastation of mental illness. Examining changes in mental health care between 1940 and 1970, Grob shows that community psychiatric and psychological services grew rapidly, while new treatments enabled many patients to lead normal lives. Acute services for the severely ill were expanded, and public hospitals, relieved of caring for large numbers of chronic or aged patients, developed into more active treatment centers. But since the main goal of the new policies was to serve a broad population, many of the most seriously ill were set adrift without even the basic necessities of life. By revealing the sources of the euphemistically designated policy of "community care," Grob points to sorely needed alternatives. Originally published in 1991. The Princeton Legacy Library uses the latest print-on-demand technology to again make available previously out-of-print books from the distinguished backlist of Princeton University Press. These paperback editions preserve the original texts of these important books while presenting them in durable paperback editions. The goal of the Princeton Legacy Library is to vastly increase access to the rich scholarly heritage found in the thousands of books published by Princeton University Press since its founding in 1905
The dilemma of federal mental health policy : radical reform or incremental change?
by
Gerald N Grob
( )
4 editions published in
2006
in
English
and held by 1,355 WorldCat member libraries worldwide
"Severe and persistent mental illnesses are among the most pressing health and social problems in contemporary America. Recent estimates suggest that more than three million people in the U.S. have disabling mental disorders. The direct and indirect costs of their care exceed 180 billion dollars nationwide each year. Effective treatments and services exist, but many such individuals do not have access to these services because of limitations in mental health and social policies. For nearly two centuries Americans have grappled with the question of how to serve individuals with severe disorders. During the second half of the twentieth century, mental health policy advocates reacted against institutional care, claiming that community care and treatment would improve the lives of people with mental disorders. Once the exclusive province of state governments, the federal government moved into this policy arena after World War II. Policies ranged from those focused on mental disorders, to those that focused more broadly on health and social welfare. In this book, Gerald N. Grob and Howard H. Goldman trace how an ever-changing coalition of mental health experts, patients' rights activists, and politicians envisioned this community-based system of psychiatric services. The authors show how policies shifted emphasis from radical reform to incremental change. Many have benefited from this shift, but many are left without the care they require"--Jacket
Mental illness and American society, 1875-1940
by
Gerald N Grob
( Book )
16 editions published in
1983
in
English
and held by 1,271 WorldCat member libraries worldwide
"Gerald Grob examines the complex interrealtionships of patients, psychiatrists, mental hospitals, and government between 1875 and World War II. Challenging the now prevalent notion that mental hospitals in this period functioned as jails, he finds that, despite their shortcomings, they provided care for people unable to survive by themselves. From a rich variety of previously unexploited sources, he shows how professional and political concerns, rather than patient needs, changed American attitudes toward mental hospitals from support to antipathy."--Back cover
Mental institutions in America; social policy to 1875
by
Gerald N Grob
( Book )
19 editions published between
1972
and 2017 in
English
and held by 1,088 WorldCat member libraries worldwide
"Mental Institutions in America: Social Policy to 1875 examines how American society responded to complex problems arising out of mental illness in the nineteenth century. All societies have had to confront sickness, disease, and dependency, and have developed their own ways of dealing with these phenomena. The mental hospital became the characteristic institution charged with the responsibility of providing care and treatment for individuals seemingly incapable of caring for themselves during protracted periods of incapacitation.The services rendered by the hospital were of benefit not merely to the afflicted individual but to the community. Such an institution embodied a series of moral imperatives by providing humane and scientific treatment of disabled individuals, many of whose families were unable to care for them at home or to pay the high costs of private institutional care. Yet the mental hospital has always been more than simply an institution that offered care and treatment for the sick and disabled. Its structure and functions have usually been linked with a variety of external economic, political, social, and intellectual forces, if only because the way in which a society handled problems of disease and dependency was partly governed by its social structure and values.The definition of disease, the criteria for institutionalization, the financial and administrative structures governing hospitals, the nature of the decision-making process, differential care and treatment of various socio-economic groups were issues that transcended strictly medical and scientific considerations. Mental Institutions in America attempts to interpret the mental hospital as a social as well as a medical institution and to illuminate the evolution of policy toward dependent groups such as the mentally ill. This classic text brilliantly studies the past in depth and on its own terms."--Provided by publisher
more
fewer
Audience Level
0

1
Kids
General
Special
Audience level: 0.22 (from 0.02 for Aging bone ... to 0.99 for Grob, Gera ...)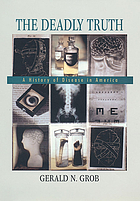 Covers
Alternative Names
Grob, Gerald N.

Grob, Gerald N., 1931-

Languages