Donaldson, Erle C.
Most widely held works by Erle C Donaldson
Petrophysics : theory and practice of measuring reservoir rock and fluid transport properties
by
Djebbar Tiab
( )
85 editions published between
1996
and 2016 in
English
and held by 2,632 WorldCat member libraries worldwide
"Petrophysics, 2nd edition, offers engineers and geologists a manual for much-needed calculations and formulas on fluid flow, rock properties, and many other topics that are encountered every day in locating oil reservoirs. The material has been fully revised and expanded in cover new topics in engineering and geology that have emerged since the highly respected first edition was published in 1996." "This book reviews the origin, composition, and geology of sedimentary rocks and their interstitial fluids and the important role they play in reservoir engineering. Chapters concentrate on the specific theories and mathematics of rock and fluid interactions, and the reader will find complete coverage of electrical, capillary pressure, and fluid transport properties."--Jacket
Wettability
by
Erle C Donaldson
( )
11 editions published between
2008
and 2013 in
English
and held by 781 WorldCat member libraries worldwide
"The wettability of oil reservoirs is the most important factor controlling the rate of oil recovery, providing a profound effect on petroleum production. The petroleum industry has increased the research effort on wettability, but, so far, there has never been a comprehensive book on the topic. This is the first book to go through all of the major research and applications on wettability. This book will prepare the professional, and academic, engineer for the challenges facing the oil and gas production characteristics of petroleum reservoirs."--Jacket
Enhanced oil recovery
by
Erle C Donaldson
( )
39 editions published between
1984
and 2014 in
English
and
Undetermined
and held by 581 WorldCat member libraries worldwide
Written by foremost experts in the field, and formulated with attention to classroom use for advanced studies in reservoir characterization and processes, this book reviews and summarises state-of-the-art progress in the field of enhanced oil recovery (EOR). All of the available techniques: alkaline flooding; surfactant flooding; carbon dioxide flooding; steam flooding; in-situ combustion; gas injection; miscible flooding; microbial recovery; and polymer flooding are discussed and compared. Together with Volume I, it presents a complete text on enhanced recovery technology and, hence, is an almost indispensible reference text. This second volume compliments the first by presenting as complete an analysis as possible of current oilfield theory and technology, for accomplishment of maximum production of oil. Many different processes have been developed and field tested for enhancement of oil recovery. The emerging philosophy is that no single process is applicable to all petroleum reservoirs. Each must be treated as unique, and carefully evaluated for characteristics that are amenable to one or two of the proven technologies of EOR. This book will aid the engineer in field evaluation and selection of the best EOR technology for a given oilfield. Even the emerging technology of microbial applications to enhance oil recovery are reviewed and explained in terms that are easily understood by field engineers. The book is presented in a manner suitable for graduate studies. The only addition required of teachers is to supply example problems for class work. An appendix includes a reservoir mathematic model and program for general application that can also be used for teaching
Subsidence due to fluid withdrawal
by
Erle C Donaldson
( )
11 editions published in
1995
in
English
and held by 538 WorldCat member libraries worldwide
Subsidence of geologic surface structures due to withdrawal of fluids from aquifers and petroleum reservoirs is a phenomenon experienced throughout the world as the demand for water and hydrocarbons increases with increasing population growth. This book addresses the definition and theories of subsidence, and the influences of unique conditions on subsidence; it includes discussions of specific field cases and a basic mathematical model of reservoir compaction and accompanying loss of porosity and permeability. The book is designed as a reference for readers giving immediate access to the geological events that establish conditions for compaction, the mathematical theories of compaction and subsidence, and practical considerations of field case histories in various regions of the world
Microbial enhanced oil recovery
by
Erle C Donaldson
( )
16 editions published between
1988
and 1989 in
English
and
Undetermined
and held by 325 WorldCat member libraries worldwide
The use of microorganisms and their metabolic products to stimulate oil production is currently receiving renewed interest worldwide. This technique involves the injection of selected microorganisms into the reservoir and the subsequent stimulation and transportation of their in situ growth products, in order that their presence will aid in further reduction of residual oil left in the reservoir after secondary recovery is exhausted. Although unlikely to replace conventional microbial enhanced oil recovery, this unique process seems superior in many respects. Self-duplicating units, namely the bacteria cells, are injected into the reservoir and by their in situ multiplication they magnify beneficial effects. This new approach to enhancement of oil recovery was initiated in 1980 and the first results were published in the proceedings of two international conferences. This book evolved from these conferences, and was designed to encompass all current aspects of microbial enhanced oil recovery: the development of specific cultures, increase of the population for field application, various methods for field applications and the results, and the environmental concerns associated with this newly developed technology. It provides a comprehensive treatise of the subject, and is arranged to show the laboratory development of microbes suited to microbial enhanced oil recovery and the perpetuation of the special cultures in a petroleum reservoir. Thus, this book has specific usefulness in the laboratory, the oilfield and the classroom. Although not written as a text book, it can be used as a reference volume for graduate studies in enhanced oil recovery
Microbial enhancement of oil recovery : recent advances : proceedings of the 1990 International Conference on Microbial Enhancement of Oil Recovery
by
Erle C Donaldson
( )
18 editions published between
1991
and 2014 in
English
and held by 299 WorldCat member libraries worldwide
This conference was instituted to examine field activities in Microbial Enhancement of Oil Recovery. The U.S. Department of Energy has sponsored several field projects and the details from some of these were presented, as well as a few from industry. The balance of the program was concerned with new developments in research. Today's oil production technology leaves one third to one half of the original oil in place in the reservoir at abandonment of secondary recovery (waterflooding). This leaves a very large target for microbial enhanced oil recovery which was shown by the research papers of this conference to be capable of producing up to 50% of the residual oil. The field trials show that the normal projected oil production decline curve can be reversed, or leveled off by microbial enhancement of oil recovery. This conference has shown that a variety of applications are possible to correct oilfield problems as well as to enhance oil recovery. Among these is the suppression of hydrogen sulfide production which alone is a tremendous advance because of the large quantity of sour oil production. If hydrogen sulfide production can be curtailed it would increase the value of the produced oil, decrease it toxicity, and largely decrease it corrosiveness. All of these would be welcome both in the field and at the petroleum refinery where special precautions must be taken to process sour crude oil. Another very important discovery is the ability of certain bacteria to eliminate paraffin deposition around the producing well and in the tubulars. This is a welcome improvement for many producers who have considerable difficulty in controlling paraffin deposition
Hydraulic fracturing explained : evaluation, implementation, and challenges
by
Erle C Donaldson
( )
10 editions published between
2013
and 2016 in
English
and held by 298 WorldCat member libraries worldwide
Rocks mechanics legend Erle Donaldson, along with colleagues Waqi Alam and Nasrin Begum from the oil and gas consultant company Tetrahedron, have authored this handbook on updated fundamentals and more recent technology used during a common hydraulic fracturing procedure. Meant for technical and non-technical professionals interested in the subject of hydraulic fracturing, the book provides a clear and simple explanation of the technology and related issues to promote the safe development of petroleum reserves leading to energy independence throughout the world
more
fewer
Audience Level
0

1
Kids
General
Special
Audience level: 0.44 (from 0.33 for Petrophysi ... to 0.88 for Enhanced o ...)
Related Identities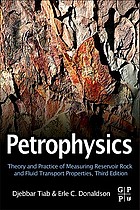 Covers
Alternative Names
Donaldson, E.C.

Donaldson, E. C. 1926-

Donaldson, E. C. (Erle C.)

Donaldson, E. C. (Erle C.), 1926-

Donaldson, Erle 1926-

Donaldson, Erle C.

Languages