Natsume, Sōseki 1867-1916
Overview
| | |
| --- | --- |
| Works: | 2,821 works in 8,622 publications in 27 languages and 49,655 library holdings |
| Genres: | Fiction History Criticism, interpretation, etc Biography Juvenile works Domestic fiction Portraits Illustrated works Comic books, strips, etc Conference papers and proceedings |
| Roles: | Author, Author of screenplay, Bibliographic antecedent, Honoree, Artist, Translator, Other |
| Classifications: | PL812.A8, 895.634 |
Most widely held works about Sōseki Natsume
more
fewer
Most widely held works by Sōseki Natsume
Kokoro
by
Sōseki Natsume
( Book )
427 editions published between
1900
and 2016 in 20 languages and held by 2,910 WorldCat member libraries worldwide
Thieves, gamblers, prostitutes, confidence men: these and other such types mingled with priests, merchants, and ordinary citizens along the great trunk road between Edo (Tokyo) and Kyoto in early 19th century Japan. This colorful cast of thousands eddies and swirls around ne'er-do-well narrator Katsu Kochiki (1802-1850). Written after he had retired and adopted the name "Musui" (dream-besotted), Katsu's memoirs provide a rich and often amusing account of everyday life in Japan when it was still isolated from the rest of the world
Botchan
by
Sōseki Natsume
( Book )
444 editions published between
1907
and 2017 in 15 languages and held by 2,138 WorldCat member libraries worldwide
The setting is Japan's deep south, where the author himself spent some time teaching English in a boys' school. Into this conservative world, with its social proprieties and established pecking order, breezes Botchan, down from the big city, with scant respect for either his elders or his noisy young charges; and the result is a chain of collisions large and small
I am a cat
by
Sōseki Natsume
( Book )
285 editions published between
1907
and 2016 in 6 languages and held by 1,918 WorldCat member libraries worldwide
I Am a Cat, satirizes the follies of upper-middle-class Japanese society during the Meiji era
The three cornered world
by
Sōseki Natsume
( Book )
195 editions published between
1914
and 2017 in 8 languages and held by 1,251 WorldCat member libraries worldwide
The story of an artist who retreats to a country resort hotel and becomes involved in a series of mysterious encounters
The gate
by
Sōseki Natsume
( Book )
175 editions published between
1911
and 2017 in 7 languages and held by 1,059 WorldCat member libraries worldwide
Humble clerk and his loving wife scrape out a quiet existence on the margins of Tokyo. Resigned, following years of exile and misfortune, to the bitter consequences of having married without their families' consent, and unable to have children of their own, Sosuke and Oyone find the delicate equilibrium of their household upset by a new obligation to meet the educational expenses of Sosuke's brash younger brother
Light and darkness : an unfinished novel
by
Sōseki Natsume
( Book )
122 editions published between
1917
and 2016 in 4 languages and held by 977 WorldCat member libraries worldwide
"Japan's preeminent modern novelist, Natsume Sôseki (1867-1916), may be better known for his works of fiction Kokoro, Botchan, and I Am a Cat, than for his last novel, Meian, uncompleted at his death, which remains something of an enigma -- a neglected masterpiece. A simple plot summary doesn't do it justice: the marriage of Tsuda and O-Nobu is threatened when Kobayashi and others begin dropping hints about another woman. Tsuda departs on a trip to rendezvous with the woman in question, Kiyoko, his former fiancée. The novel is a study of human character, a marriage tested, and what it means to be an individual in the modern world." -- Amazon.com
The wayfarer = Kōjin
by
Sōseki Natsume
( Book )
134 editions published between
1914
and 2015 in 6 languages and held by 894 WorldCat member libraries worldwide
This novel involves the hero Ichiro, his wife Onao, and his brother Jiro in a triangle. As their drama unfolds, the novel gradually assumes unexpected implications
And then : Natsume Sōseki's novel Sorekara
by
Sōseki Natsume
( Book )
149 editions published between
1910
and 2017 in 5 languages and held by 851 WorldCat member libraries worldwide
"Daisuke, the protagonist, is a man in his twenties who is struggling with his personal purpose and identity as well as the changing social landscape of Meiji-era Japan. As Japan enters the Twentieth Century, ancient customs give way to western ideals, and Daisuke works to resolve his feelings of disconnection and abandonment during this time of change. Thanks to his father's wealth, Daisuke has the luxury of having time to develop his philosophies and ruminate on their meaning while remaining intellectually aloof from traditional Japanese culture and the demands of growing industrialization. Then Daisuke's life takes an unexpected turn when he is reunited with his college friend and his sickly wife. At first, Daisuke's stoicism allows him to act according to his intellect, but his intellectual fortress begins to show its vulnerabilities as his emotions start to hold greater sway over his inner life. Daisuke must now weigh his choices in a culture that has always operated on the razor's edge of societal obligation and personal freedom."--Page 4 of cover
Grass on the wayside = Michikusa : a novel
by
Sōseki Natsume
( Book )
142 editions published between
1914
and 2014 in 5 languages and held by 838 WorldCat member libraries worldwide
The "hero" of this book is a prof named Kenzo (based on the author himself) who spends most of his energy reading English books and preparing lectures. He is a quiet taciturn man who had rather not speak to his wife and two daughters. He is not wealthy by any means, but among his relatives he is the most financially secure. It is this bit of financialm security that causes the problems in Kenzo's life. His older brother, older sister, and former adoptive father look upon him as a benefactor, and Kenzo resents this view, but because of society's strictures he does all that he can to support his destitute family members. --Daitokuji31 at Amazon.com
Sanshiro : a novel
by
Sōseki Natsume
( Book )
212 editions published between
1909
and 2016 in 10 languages and held by 730 WorldCat member libraries worldwide
"One of Soseki's most beloved works of fiction, the novel depicts the 23-year-old Sanshiro leaving the sleepy countryside for the first time in his life to experience the constantly moving 'real world' of Tokyo, its women and university. In the subtle tension between our appreciation of Soseki's lively humour and our awareness of Sanshiro's doomed innocence, the novel comes to life. Sanshiro is also penetrating social and cultural commentary."--Jacket
more
fewer
Audience Level
0

1
Kids
General
Special
Audience level: 0.51 (from 0.01 for Chaos and ... to 0.80 for Shao ye / ...)
Related Identities
Associated Subjects
Akutagawa, Ryūnosuke,
Artists
Authors, Japanese
Authors, Japanese--Meiji period
Autobiographical fiction, Japanese
Buddhist hermits
Cats
Characters and characteristics
Children's literature, Japanese
College students
England--London
Fiction
Friendship
Humorous stories, Japanese
Husband and wife
Industrialization
Intellectual life
Japan
Japanese fiction
Japanese fiction--Meiji period
Japanese fiction--Translations into English
Japanese language
Japanese literature
Japanese literature--Meiji period
Japan--Tokyo
Kawabata, Yasunari,
Kobayashi, Issa,
Literature
Manners and customs
Man-woman relationships
Middle class
Mori, Ōgai,
Natsume, Sōseki,
Nogi, Maresuke,
Novelists, Japanese
Painters
Philosophy
Psychological fiction
Psychology
Seppuku
Shimazaki, Tōson,
Short stories, Japanese
Social conditions
Suicide in literature
Tanizaki, Jun'ichirō,
Teachers
Tower of London (London, England)
Travel
Wagahai wa neko de aru (Natsume, Sōseki)
Yamahata, Yōsuke,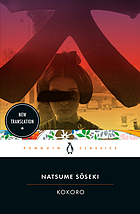 Alternative Names
Hsia-mu, Shu-shih 1867-1916

Kinnosuke, Natsume

Kinnosuke Natsume 1867-1916

Kinosuke , Natsume

Matsume, Soseki

Nacume, Sooseki

Nacume, Sōseki

Nacume, Sōseki, 1867-1916

Nacume, Szószeki

Nasseume, Soseki

Nasseume, Soseki 1867-1916

Naṭsumah, Sosaḳi

Nātsūmah, Sūsahkī

Natsume, Kinnosuke.

Natsume Kin'nosuke 1867-1916

Nat︠s︡u̇mė, Soosėki

Nat︠s︡umė, Sosėki

Natsume , Soseki <1867-1916>

Natsume Sōseki écrivain japonais

Natsume Sōseki Japanese novelist of the Meiji period

Natsume Sōseki japanischer Schriftsteller der Meiji-Zeit

Natsume Soseki Japans schrijver

Natsume, Souseki, 1867-1916.

Natume, Sôseki

Natusme, Sōseki, 1867-1916.

Shushi 1867-1916

Sōseki

Sōseki 1867-1916

Soseki, Matsume

Sōseki, Nacume, 1867-1916

Sóseki Nacume japonský spisovatel

Sōseki, Natsume.

Soseki, Natsumé 1854-1916

Sō̄seki, Natsume, 1867-1916

Sōseki Natsume pisarz japoński

Sōseki Natsume scrittore giapponese

Xiamu, Shushi

Xiamu, Shushi 1867-1916

Нацуме, Сосеки

Нацуме Сосеки јапонски романописец

Нацуме Сосекі

Нацуме, Сосэки

Нацумэ, Кинносукэ, 1867-1916

Нацумэ, Киноске, 1867-1916

Нацумэ Сасэкі

Нацумэ, Сосэки

Нацүмэ, Соосэки

Сосэки, Нацумэ

Сосэки Нацумэ 1867-1916

Сосэкі Нацумэ

Նացումե Սոսեկի

נאטסומה, סוסאקי

סוסקי, נטסומה

ناتسومه سوزکی نویسنده و شاعر ژاپنی

ناتسومي سوسيكي

नात्सुमे सोसेकी

ನಟ್ಸುಮೆ ಸೊಸೆಕಿ

ན་ཏི་སུ་མེ་སོ་སེ་ཁི

ნაცუმე სოსეკი

긴노스케 1867-1916

김지조 1867-1916

나스메 소세끼 1867-1916

나스메 소오세끼 1867-1916

나스메 쇼세키 1867-1916

나쓰메 긴노스케 1867-1916

나쓰메, 소세키

나쓰메 소세키 1867-1916

나쓰메 소오세끼 1867-1916

나쓰메 소오세키 1867-1916

나쓰메 킨노스케 1867-1916

나쯔메 소세끼 1867-1916

나쯔메 소오세끼 1867-1916

나츠메 소세키 1867-1916

나츠메, 소오세키

나츠메 소오세키 1867-1916

소세키 1867-1916

하목금지조 1867-1916

하목수석 1867-1916

ナツメ, キンノスケ

ナツメ, ソウセキ

ナツメ, ソウセキ, 1867-1916

ナツメソウセキ 1867-1916

夏目、漱石

夏目 漱石 1867-1916

夏目, 金之助

夏目 金之助 1867-1916

夏目漱石

夏目潄石, 1867-1916

夏目漱石 日本の明治時代の小説家

夏目漱石 日本小说家

夏目金之助

夏目金之助 1867-1916

漱石 1867-1916

Languages
Japanese
(1,531)
English
(746)
Chinese
(293)
French
(102)
Spanish
(40)
Korean
(27)
German
(16)
Vietnamese
(8)
Italian
(7)
Czech
(5)
Malay
(5)
Polish
(3)
Galician
(3)
Thai
(3)
Sinhalese
(2)
Arabic
(1)
Indonesian
(1)
Tagalog
(1)
Croatian
(1)
Swedish
(1)
Greek, Modern
(1)
Hebrew
(1)
Finnish
(1)
Romanian
(1)
Turkish
(1)
Kannada
(1)
Russian
(1)
more
fewer
Covers