Rose, Steven P. R. (Steven Peter Russell) 1938-
Most widely held works by Steven P. R Rose
The future of the brain : the promise and perils of tomorrow's neuroscience
by
Steven P. R Rose
( )
21 editions published between
2004
and 2016 in
English
and
Chinese
and held by 2,187 WorldCat member libraries worldwide
Brain repair, smart pills, mind-reading machines--modern neuroscience promises to soon deliver a remarkable array of wonders as well as profound insight into the nature of the brain. But these exciting new breakthroughs, warns Steven Rose, will also raise troubling questions about what it means to be human. In The Future of the Brain, Rose explores just how far neuroscience may help us understand the human brain--including consciousness--and to what extent cutting edge technologies should have the power to mend or manipulate the mind. Rose first offers a panoramic look at what we now know about the brain, from its three-billion-year evolution, to its astonishingly rapid development in the embryo, to the miraculous process of infant development (how a brain becomes a human). More important, he shows what all this science can--and cannot--tell us about the human condition. He examines questions that still baffle scientists: if our genes are 99% identical to those of chimpanzees, if our brains are composed of identical molecules, arranged in pretty similar cellular patterns, how come we are so different? And he explores the potential threats and promises of new technologies and their ethical, legal, and social implications, wondering how far we should go in eliminating unwanted behavior or enhancing desired characteristics, focusing on the new "brain steroids" and on the use of Ritalin to control young children. The Future of the Brain is a remarkable look at what the brain sciences are telling us about who we are and where we came from--and where we may be headed in the years ahead
Not in our genes : biology, ideology, and human nature
by
Richard C Lewontin
( Book )
46 editions published between
1984
and 2017 in 5 languages and held by 1,562 WorldCat member libraries worldwide
In this classic work, three eminent scientists expose and dismantle the claims that class, race, and gender inequalities are the products of our biological and genetic inheritances. Not in Our Genes provides a bold and biting critique of biological determinism and sociobiology. In refuting the claim that what individuals can and cannot do is fixed, in essence, by their genetic makeup, the authors offer an important reply to an argument raging far beyond the scientific world and widely affecting our society and our lives. This edition features a new introduction by the authors
The conscious brain
by
Steven P. R Rose
( Book )
61 editions published between
1973
and 1989 in 6 languages and held by 1,266 WorldCat member libraries worldwide
The richness of life : the essential Stephen Jay Gould
by
Stephen Jay Gould
( Book )
16 editions published between
2006
and 2007 in
English
and
Undetermined
and held by 968 WorldCat member libraries worldwide
Collects forty-four key segments from the late paleontologist and evolutionary biologist's books, papers, and essays, in a collection that includes an assortment of previously unpublished articles and speeches
Alas, poor Darwin : arguments against evolutionary psychology
( Book )
31 editions published between
2000
and 2010 in
English
and held by 894 WorldCat member libraries worldwide
"The claim of genetics and evolutionary psychology to explain and indeed legislate on the human condition have been loudly trumpeted in recent years in a host of popular books." "Biologists, social scientists and philosophers have begun to rebel against this roughshod ride over their different understandings of the world, demonstrating that the claims of evolutionary psychology rest on shaky empirical evidence, flawed premises and unexamined political presuppositions. In this provocative and groundbreaking book, Hilary Rose and Steven Rose have gathered together the leading and outspoken critics of this fashionable ideology, from Britain and the United States, in a shared and perhaps uniquely cross-disciplinary project." "The result of this joint work is a critique of the most fashionable ideology of recent years. What emerges is a new perspective which challenges the reductionism of evolutionary psychology ad offers a richer understanding of the biosocial nature of the human condition."--BOOK JACKET
The making of memory : from molecules to mind
by
Steven P. R Rose
( Book )
58 editions published between
1992
and 2012 in
English
and
Undetermined
and held by 851 WorldCat member libraries worldwide
The author retraces the road he and his fellow researchers have followed to a new understanding of the cellular mechanisms of memory and learning. Offers insights into the links between brain and mind and in our understanding of just how the elusive, mysterious, and extraordinary mind works
Genes, cells, and brains : the Promethean promises of the new biology
by
Hilary Rose
( Book )
17 editions published between
2012
and 2014 in
English
and held by 673 WorldCat member libraries worldwide
Reveals the industry scale of genetic research and the promise of the biosciences, addressing such topics as the rivalries between public and private sequencers, the rise of stem-cell research, and the current failures of bioethics
CBW: chemical and biological warfare
by
Steven P. R Rose
( Book )
34 editions published between
1968
and 2008 in 5 languages and held by 652 WorldCat member libraries worldwide
Papers presented to the Conference on Chemical and Biological Warfare held in the Bonnington Hotel, London on February 22 and 23, 1968
From brains to consciousness? : essays on the new sciences of the mind
by
Steven P. R Rose
( Book )
20 editions published between
1998
and 2000 in
English
and
German
and held by 622 WorldCat member libraries worldwide
Neuroscientists now approach some of the deepest problems of the human condition - from illnesses and disorders such as Alzheimer's disease and schizophrenia, to the search for the nature of consciousness itself - in the belief that their science can say something useful about these processes and how to intervene in them. At the same time, by addressing the biological mechanisms involved in phenomena as varied as street violence, drug addiction and sexual orientation, the new science raises profound ethical, legal, social and medical questions. Over many of these issues there is no clear consensus but rather, intense debate. Is memory a molecular process? Is schizophrenia a genetic disorder? What does the future hold for psychopharmacology? Can consciousness be computed and is artificial intelligence a real prospect? From Brains to Consciousness? brings together fourteen of the world's leading neuroscientists, psychologists, computer modellers and philosophers, in a series of chapters that offer fascinating and up-to-the-minute insight into the debates that are taking place in this exciting area of research
Lifelines : biology beyond determinism
by
Steven P. R Rose
( Book )
9 editions published between
1997
and 1999 in
English
and
Undetermined
and held by 612 WorldCat member libraries worldwide
"In Lifelines, biologist Steven Rose offers a powerful alternative to the ultra-Darwinist claims of Dawkins, E.O. Wilson, Daniel Dennett, and others. Rose argues against an extreme reductionist approach that would make the gene the key to understanding human nature, in favor of a more complex and richer vision of life. He urges instead that we focus on the organism and in particular on the organism's lifeline: the trajectory it takes through time and space. Our personal lifeline, Rose points out, is unique - even identical twins, with identical genes at birth, will differ over time. These differences are obviously not embedded in our genes, but come about through our developmental trajectory in which genes, as part of the biochemical orchestra of trillions of cells in each human body, have an important part - but only a part - to play. To illustrate this idea, Rose examines recent research in modern biology, and especially two disciplines - genetics (which looks at the impact of genes on form) and developmental biology (which examines the interaction between the organism and the environment) - and he explores new ideas on biological complexity proposed by scientists such as Stuart Kauffman. He shows how our lifelines are constructed through the interplay of physical forces - such as the intrinsic chemistry of lipids and proteins, and the self-organizing and stabilizing properties of complex metabolic webs - and he reaches a startling conclusion: that organisms are active players in their own fate, not simply the playthings of the gods, nature, or the inevitable workings out of gene-driven natural selection. The organism is both the weaver and the pattern it weaves."
more
fewer
Audience Level
0

1
Kids
General
Special
Audience level: 0.38 (from 0.07 for Papers of ... to 0.68 for The Politi ...)
Related Identities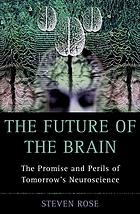 Covers
Alternative Names
Rose S.P.R.

Rose S. P. R. 1938-....

Rose, S. P. R. (Steven Peter Russell), 1938-

Rose, Stephen.

Rose Stephen 1938-....

Rose Steven

Rose Steven 1938-....

Rose Steven P.R.

Rose Steven P. R. 1938-....

Rose, Steven P. R. (Peter Russell)

Rose , Steven Peter Russell

Rose, Steven Peter Russell 1938-

Rose, Stiven

Rouz, Stiven

Rouz Stiven 1938-....

Steven P. Rose

Steven P. Rose britischer Biologe

Steven Peter Russell Rose

Steven Rose ahli biologi asal Inggris

Steven Rose biologo inglese

Steven Rose bioloog uit Engeland

Steven Rose neurobiólogo y profesor británico

Роуз С.

Роуз, С 1938-

Роуз, С. (Стивен), 1938-

Роуз Стивен

Роуз, Стивен (1938-....).

Стивен Роуз

Стівен Роуз

סטיבן רוז

روز, ستيفن

ستيفن روز، 1938-

ستيفن روز عالم أحياء بريطاني

로우즈, 스티븐 1938-

로즈, 스티븐 1938-

로즈, 스티븐 피터 러셀 1938-

스티븐 로즈

スティーブン・ローズ

ローズ, S

ローズ, スティーヴン

史蒂文·罗斯

Languages