Von Mises, Ludwig 1881-1973
Most widely held works about Ludwig Von Mises
more
fewer
Most widely held works by Ludwig Von Mises
Human action : a treatise on economics
by
Ludwig Von Mises
( Book )
195 editions published between
1949
and 2015 in 6 languages and held by 2,609 WorldCat member libraries worldwide
La acción humana - La acción en el marco de la sociedad - El cálculo económico - La cataláctica o la teoría del mercado - La cooperación social en ausencia del mercado - El mercado intervenido - El lugar de la economía en la sociedad
The theory of money and credit
by
Ludwig Von Mises
( Book )
117 editions published between
1912
and 2015 in 5 languages and held by 1,717 WorldCat member libraries worldwide
Ludwig von Mises was the leading exponent of the Austrian School of economics throughout most of the twentieth century. He has long been regarded as a most knowledgeable and respected economist, even though his teachings were generally outside the mainstream. He wrote twenty-five books and hundreds of articles on human action, free markets, and political economy. When Ludwig von Mises wrote The Theory of Money and Credit in 1912 at the age of thirty-one, the world of economic thought was full of contending monetary theories, none of which could be considered truly united, in the sense of being at once securely founded on economic reality and also properly incorporated into an analysis of the entire economic system. This landmark book changed that for good. The Theory of Money and Credit integrated monetary theory into the main body of economic analysis for the first time, providing fresh, new insights into the nature of money and its role in the economy and bringing Mises into the front rank of European economists. -- Publisher description
Theory and history; an interpretation of social and economic evolution
by
Ludwig Von Mises
( Book )
68 editions published between
1957
and 2008 in
English
and
Undetermined
and held by 1,394 WorldCat member libraries worldwide
Theory and History is primarily a critique of Karl Marx, his materialism, and his prediction of the inevitability of socialism. Marx attributes the creation of tools and machines, as well as the economic structure of society, to undefined "material productive forces;" Mises rejects this materialistic view; he points out that tools and machines are actually created by individuals acting on the basis of non-materialistic ideas. This book discusses the theory of economics, i.e., the study of purposive human action, and with history, the record of the past actions of individuals. All actions are determined by ideas. Thoughts and ideas are "real things," Mises writes. "Although intangible and immaterial, they are factors in bringing about changes in the realm, of tangible and material things." Rather than rejecting the study of historical change as a "useless pastime," Mises considers it of the utmost practical importance. "History looks backward into the past, but the lesson it teaches concerns things to come." History opens the mind to an understanding of human nature, increases wisdom, and distinguishes civilized man from the barbarian. Moreover, historical knowledge is of the utmost importance in helping to anticipate and plan for the future. -- Publisher description
Bureaucracy
by
Ludwig Von Mises
( Book )
95 editions published between
1944
and 2014 in 6 languages and held by 1,326 WorldCat member libraries worldwide
The anti-capitalistic mentality
by
Ludwig Von Mises
( Book )
91 editions published between
1956
and 2014 in 6 languages and held by 1,316 WorldCat member libraries worldwide
The Anti-Capitalistic Mentality by Austrian School economist and libertarian thinker Ludwig von Mises is an investigation into the psychological roots of the anti-capitalistic stance that is widespread in segments of the general population of the capitalist world. Von Mises suggests various reasons for this mentality, primarily his claim that free competition in the market economy allows no excuses of one's failures. Rather, he argues, it creates great incentive for one's desire for improvement and greater effort to succeed, as well as a greater reward for that success
The free and prosperous commonwealth; an exposition of the ideas of classical liberalism
by
Ludwig Von Mises
( Book )
104 editions published between
1927
and 2014 in 8 languages and held by 1,247 WorldCat member libraries worldwide
"This book presents the theoretical and practical arguments for liberalism. Mises contrasts liberalism with other conceivable systems of social organization such as socialism, communism, and fascism. He is also more specific here than elsewhere in applying the liberal program to economic policy, domestic and foreign."--Jacket
Omnipotent government, the rise of the total state and total war
by
Ludwig Von Mises
( Book )
64 editions published between
1944
and 2014 in 3 languages and held by 1,082 WorldCat member libraries worldwide
Although Mises's primary target is Nazism, there is a much broader application for his theories regarding the stifling effect totalitarian governments have on the development of technologies for improving the well-being of citizens. What he wrote in 1944 is still true today: "Mankind has not reached the stage of ultimate technological perfection. There is ample room for further progress and for further improvement of the standards of living. The creative and inventive spirit ... flourishes only where there is economic freedom."
Epistemological problems of economics
by
Ludwig Von Mises
( Book )
49 editions published between
1960
and 2014 in
English
and
Undetermined
and held by 1,082 WorldCat member libraries worldwide
This Web site is an online version of Epistemological problems of economics, written by Ludwig von Mises in 1933. It features the first outline of the science of human action and voices Mises' views on the logical and epistemological features of social interpretation. In addition, the work contains essays in which Mises refutes the theories of the thinkers to whom he felt the closest intellectual affinity such as: Carl Menger and Max Webber
more
fewer
Audience Level
0

1
Kids
General
Special
Audience level: 0.38 (from 0.20 for Monetary a ... to 0.72 for Ludwig von ...)
Related Identities
Associated Subjects
Austria
Austrian school of economics
Banks and banking
Bureaucracy
Business cycles
Capital
Capitalism
Capitalism--Philosophy
Central planning
Chicago school of economics
Collectivism
Commerce
Comparative economics
Credit
Dialectical materialism
Economic history
Economic policy
Economics
Economics--Methodology
Economists
Entrepreneurship
Free enterprise
Germany
Hayek, Friedrich A. von--(Friedrich August),
History--Philosophy
Imperialism
Industrial policy
Interest
International relations
Liberalism
Liberty
Marx, Karl,
Marxian economics
Menger, Carl,
Monetary policy
Money
National socialism
Positivism
Post-communism
Public administration
Rand, Ayn
Serie Crédito
Socialism
State, The
Subjectivity
Totalitarianism
United States
Value
Von Mises, Ludwig,
World War (1914-1918)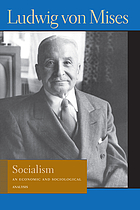 Alternative Names
Fon Mises, Ludvigs 1881-1973

Ludovicus von Mises

Ludvigs fon Mīzess

Ludwig von MISES

Ludwig von Mises Amerikaans filosoof

Ludwig von Mises austrian economist

Ludwig von Mises economista austriaco

Ludwig von Mises Economista de la Escuela austríaca

Ludwig von Mises économiste

Ludwig von Mises ekonomista austriacki

Ludwig von Mises österreichischer Wirtschaftswissenschaftler

Ludwig von Mises Rakouský ekonom

Lyudvïg fon Mïzes

Mi-sai-ssce, 1881-1973

Mi-sai-ssu

Misaisi 1881-1973

Mises L. H. E. von 1881-1973

Mises L. von 1881-1973

Mises, Ludvigs fon 1881-1973

Mises Ludwig

Mises, Ludwig 1881-1973

Mises Ludwig Edler Von

Mises, Ludwig, Edler von, 1881-1973

Mises, Ludwig Heinrich von.

Mises, Ludwig Heinrich von 1881-1973

Mises, Ludwig v. 1881-1973

Mises Ludwig Von

Mises, Ludwig von 1881-1973

Von Mises L. 1881-1973

Von Mises, L. (Ludwig), 1881-1973

Von Mises, Ludwig.

Von Mises Ludwig Edler

VonMises, Ludwig 1881-1973

Λούντβιχ φον Μίζες

Λούντβιχ φον Μίζες Αυστριακός οικονομολόγος

Лудвиг фон Мизес

Людвиг фон Мизес

Людвіг фон Мізес

Мизес Л. Г. Э. фон 1881-1973

Мизес Л. фон 1881-1973

Мизес, Людвиг фон 1881-1973

Мизес, Людвиг фон австрийский и американский экономист, историк, философ

Фон Мизес, Людвиг 1881-1973

Լյուդվիգ ֆոն Միզես

לודוויג פון מיזס

لودفيج فون ميزس

لودویگ فن میزس

ليۋدۆىيگ فون مىيزەس

லுட்விக் வான் மீசசு

ല്യുഡ്വിഗ് ഫോൻ മീസസ്

ლუდვიგ ფონ მიზესი

루트비히 폰 미제스

미제스, 루드비히 폰 1881-1973

미제스, 루트비히 폰 1881-1973

폰 미제스, 루드비히 1881-1973

폰 미제스, 루트비히 1881-1973

フォン・ミーゼス, ルートヴィヒ

ミ-ゼス, L. V. 1881-1973

ミーゼス

ミーゼス, ルドウイッヒ フォン

ルートヴィヒ・フォン・ミーゼス

米塞斯 1881-1973

米瑟斯, 路徳維希・馮

路德維希·馮·米塞斯

Languages
Covers