Hosek, James R.
Most widely held works by James R Hosek
Married to the military : the employment and earnings of military wives compared with those of civilian wives
( )
13 editions published in
2002
in
English
and held by 2,080 WorldCat member libraries worldwide
Today's military is a military of families; many service members are married, and many of their spouses work and contribute to family income. But military wives earn less than civilian wives, and this study seeks to understand why. The authors find that military wives, knowing they are likely to move frequently, are willing to accept jobs that offer a lower wage rather than to use more of their remaining time at a location to find a higher-wage job. Compared with civilian wives, military wives tend to work somewhat less if they have young children but somewhat more if their children are older. The probability that military wives work declines with age, although it changes little with age in the civilian world. This probability declines more rapidly for wives with a college education, most of whom are officers' wives. Although it is often assumed that military families live in rural areas where the job opportunities for wives are poor, the authors found fairly small differences in the location of civilian versus military families. Finally, whereas in the civilian world an increase in the unemployment rate leads to a slight increase in the probability that wives worked during the year and the probability that they worked full-time (responding as "added workers" to the loss or threat of loss of their husbands' work), military wives appear to respond as workers with a more permanent attachment to the labor force
How deployments affect service members
by
James R Hosek
( )
13 editions published in
2006
in
English
and held by 2,079 WorldCat member libraries worldwide
To offer insights into the challenges faced by active-duty service members deployed to Iraq and Afghanistan and their families in coping with these challenges, and the adequacy of defense manpower policy in assisting members and families, this monograph draws on the perspectives of economics, sociology, and psychology; provides a formal model of deployment and retention; reviews published work; reports on the results of focus groups conducted in each of the services; and presents findings from an analysis of survey data
U.S. competitiveness in science and technology
by
Titus Galama
( )
14 editions published in
2008
in
English
and held by 2,066 WorldCat member libraries worldwide
Is the United States in danger of losing its competitive edge in science and technology? This volume reviews the arguments surrounding this issue and contrasts them with relevant data, including trends in research and development investment; information on the size, composition, and pay of the U.S. science and engineering workforce; and domestic and international education statistics. The authors conclude with recommendations for policymakers
How have deployments during the war on terrorism affected reenlistment?
by
James R Hosek
( )
7 editions published in
2009
in
English
and held by 1,851 WorldCat member libraries worldwide
The military operations in Iraq and Afghanistan have been the United States' longest military engagements since the Vietnam War and the most severe test of the all-volunteer force, with the possible exception of the Gulf War in 1991. More than 1.5 million service members were deployed between 2002 and 2007, many of them more than once, and the fast pace of deployment has been felt throughout the military. Soldiers and marines have faced a steady cycle of predeployment training and exercises, deployment itself, and postdeployment reassignment and unit regeneration. Service members not on deployment are nonetheless busy planning and supporting military operations, caring for injured service members, and attending to recruiting, training, and other responsibilities at home and abroad. Many service members are married, and deployments have disrupted their family routines and created stress from separation and reintegration. At the same time, the long hours, tension, uncertainty, and violence of deployments have stressed the service members sent to fight. Remarkably, despite the pressures from deployments on service members and their families, reenlistment rates have been stable since 2002. The purpose of this monograph is to enhance understanding of whether deployments affected service members' willingness to stay in the military, as the stress caused by deployments would suggest, and how it was that reenlistment held steady
Does perstempo hurt reenlistment? : the effect of long or hostile perstempo on reenlistment
by
James R Hosek
( )
3 editions published in
1998
in
English
and held by 1,607 WorldCat member libraries worldwide
"Manpower constitutes a vital element of the nation's defense capability, one that must be sustained if tomorrow's force is to be ready for the wide set of contingencies currently envisioned in the post-Cold War world. The authors focus on a key aspect of this concern: the effect of recent personnel tempo, or perstempo, on reenlistment. They develop several new measures of perstempo as well as construct a theoretical model of retention that encompasses the effects of perstempo. They report that limited episodes of long separation or hostile duty positively affect the decision to stay by first-term or early-career service members. However, more extensive duty, especially if it is hostile, can reduce this positive effect; in some cases, long or hazardous duty reduces reenlistment below what it would have been in the absence of such duty. The authors also recommend new methods of data collection and analysis, and propose future studies that would enhance retention"--Publisher's website
A policy analysis of reserve retirement reform
by
Beth J Asch
( )
8 editions published in
2013
in
English
and held by 1,275 WorldCat member libraries worldwide
"As the burden of defense borne by reserve forces has increased, more attention has been paid to differences between the compensation systems for the reserve and active components. One particular emphasis is on the retirement systems, a key difference being that reserve members who complete 20 years must wait until age 60 to draw benefits whereas active members can draw benefits immediately upon discharge. This monograph compares the reserve and active retirement systems, discusses the importance of structuring compensation to enable flexibility in managing active and reserve manpower, describes how the debate over reserve retirement reform has differed from active component retirement reform debate, and considers obstacles to reform and how they might be overcome. It also provides a quantitative assessment of several past congressional proposals to change the reserve retirement system in terms of their effects on reserve participation and personnel costs, concluding that proposals to reduce the age at which eligible members may begin receiving retirement benefits are not cost-effective means of sustaining or increasing reserve component retention. It also concludes that a menu of member options can be a powerful tool to maintain morale and overcome obstacles to reform. Current members could be given the choice of staying in the current retirement system or joining the new one, and the choice might be offered over a period of time, say five years. New entrants and reentrants with few years of service might be placed under the new system."--Page 4 of cover
A new tool for assessing workforce management policies over time : extending the dynamic retention model
by
Beth J Asch
( )
4 editions published in
2013
in
English
and held by 596 WorldCat member libraries worldwide
The dynamic retention model (DRM) is a state-of-the-art modeling capability that supports decisionmaking about workforce management policy. The DRM can be applied in a wide variety of workforce contexts for a variety of compensation and personnel policies, though to date the focus has been on supporting military compensation decisions to sustain the all-volunteer force in the United States. While the DRM is an extremely powerful tool, a drawback in the use of the model to date is that it has focused on the steady state. That is, implementations of the model to date show only the retention and cost effects of alternative policies when the entire workforce is under the new policy versus when the workforce is under existing policy. The research presented in this report extends DRM to allow simulations of the effects of alternative policies both in the steady state and in the transition to the steady state. It also shows the effects of alternative implementation strategies and how different policies can affect how quickly the population and costs move toward the new steady state
Reforming military retirement : analysis in support of the Military Compensation and Retirement Modernization Commission
by
Beth J Asch
( )
5 editions published in
2015
in
English
and held by 572 WorldCat member libraries worldwide
MCRMC engaged the RAND National Defense Research Institute for analytical support during its internal deliberations regarding the form and details of its retirement plan. We based our analysis on the RAND Dynamic Retention Model, a dynamic programming model of individual choice regarding active-component (AC) retention and reserve-component (RC) participation that has been estimated based on longitudinal data and with significant capability to simulate alternative compensation policies. An important criterion of the analysis was whether a reform could sustain the current force size and shape. We found that the MCRMC plan could do so; this was the case by service, for officer and enlisted, for AC and RC
PACER SHARE productivity and personnel management demonstration : third year evaluation
by
Bruce R Orvis
( Book )
30 editions published between
1991
and 1994 in
English
and held by 546 WorldCat member libraries worldwide
This Note contains appendixes of R-4127, which describes the PACER SHARE demonstration project and the plan that has been developed to evaluate it. The appendixes include the survey questionnaire used in the second-year evaluation and provide supplementary statistical results
Military compensation : trends and policy options
by
Beth J Asch
( )
14 editions published in
1999
in
English
and held by 526 WorldCat member libraries worldwide
Options aimed at ameliorating personnel concerns. They conclude that pay raises targeted to those in higher grades supplemented by well-funded separation pay incentives, selective reenlistment bonuses, more cost-effective recruiting policies aimed at college-bound youth, and, if desired, offering a thrift savings plan without matching contributions from the government to help service members tax-shelter income for retirement are the best options. Targeted pay raises can help reduce the senior enlisted personnel and officer pay gaps and should strengthen the incentives for high-quality personnel to remain in service and exert the effort needed to reach higher ranks
more
fewer
Audience Level
0

1
Kids
General
Special
Audience level: 0.17 (from 0.01 for Does perst ... to 0.63 for Looking to ...)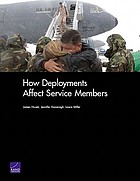 Covers
Alternative Names
Hosek, James 1944-

Hosek, James R.

Hosek, James Robert 1944-

Languages