O'Malley, John W.
Most widely held works about John W O'Malley
Most widely held works by John W O'Malley
Four cultures of the West
by
John W O'Malley
( )
31 editions published between
2004
and 2012 in 3 languages and held by 2,330 WorldCat member libraries worldwide
"By showing how these cultures, as modes of activity and discourse in which Western intelligence has manifested itself through the centuries and continues to do so, O'Malley produces an essay that especially through the history of Christianity brilliantly illuminates the larger history of the West."--Jacket
Trent : what happened at the council
by
John W O'Malley
( )
27 editions published in
2013
in
English
and
Italian
and held by 2,049 WorldCat member libraries worldwide
During the council's eighteen years, war and threat of war among the key players, as well as the Ottoman Turks' onslaught against Christendom, turned the council into a perilous enterprise. Its leaders declined to make a pronouncement on war against infidels, but Trent's most glaring and ironic silence was on the authority of the papacy itself. The popes, who reigned as Italian monarchs while serving as pastors, did everything in their power to keep papal reform out of the council's hands -- and their power was considerable. O'Malley shows how the council pursued its contentious parallel agenda of reforming the Church while simultaneously asserting Catholic doctrine. -- Publisher
What happened at Vatican II
by
John W O'Malley
( Book )
20 editions published between
2008
and 2012 in 5 languages and held by 1,982 WorldCat member libraries worldwide
"During four years in session, Vatican Council II held television audiences rapt with its elegant, magnificently choreographed public ceremonies, while its debates generated front-page news on a near-weekly basis. By virtually any assessment, it was the most important religious event of the twentieth century, with repercussions that reached far beyond the Catholic church. Remarkably enough, this is the first book, solidly based on official documentation, to give a brief, readable account of the council from the moment Pope John XXIII announced it on January 25, 1959, until its conclusion on December 8, 1965; and to locate the issues that emerge in this narrative in their contexts, large and small, historical and theological, thereby providing keys for grasping what the council hoped to accomplish." "What Happened at Vatican II captures the drama of the council, depicting the colorful characters involved and their clashes with one another. The book also offers a new set of interpretive categories for understanding the council's dynamics - categories that move beyond the tired "progressive" and "conservative" labels. As we approach the fiftieth anniversary of the calling of the council, this work reveals in a new way the spirit of Vatican II. A reliable, even-handed introduction to the council, the book is a critical resource for understanding the Catholic church today, including the pontificate of Benedict XVI."--Jacket
Early modern Catholicism : essays in honour of John W. O'Malley, S.J.
by
Nelson H Minnich
( )
18 editions published between
2001
and 2008 in
English
and held by 1,713 WorldCat member libraries worldwide
"The so-called Counter- or Catholic Reformation has traditionally been viewed as a monolith. John O'Malley, a distinguished scholar of the Renaissance and Reformation, has decisively challenged this interpretation, emphasizing the diversity, vitality, and complexity of Catholicism in the early modern era. The essays in Early Modern Catholicism, written in O'Malley's honour, present new research on subjects ranging from popular religion to colonial architecture, and suggest new interpretations of the accepted picture of various societies, institutions, and individuals which together constituted the Catholic Church in the period from the fifteenth through the seventeenth centuries." "The book examines a wide variety of themes through many different methodologies and offers perspectives from a number of disciplines, including social history, law, art history, education, musicology, and philosophy. Unique in both scope and subject, it is a significant contribution to the growing field of interdisciplinary studies of Early Modern Catholicism, and will be especially useful in various courses in history and religion."--Résumé de l'éditeur
The Jesuits : cultures, sciences, and the arts, 1540-1773
by
John W O'Malley
( )
45 editions published between
1999
and 2019 in
English
and held by 1,699 WorldCat member libraries worldwide
"In recent years scholars in a range of disciplines have begun to re-evaluate the history of the Society of Jesus. Approaching the subject with new questions and methods, they have reconsidered the importance of the Society in many sectors, including those related to the sciences and the arts. They have also looked at the Jesuits as emblematic of certain traits of early modern Europeans, especially as those Europeans interacted with 'the Other' in Asia and the Americas." "Originating in an international conference held at Boston College in 1997, the thirty-five essays here reflect this new historiographical trend."--Provided by publisher
The Jesuits : cultures, sciences, and the arts ; 1540-1773
by
John W O'Malley
( )
29 editions published between
2000
and 2019 in
English
and held by 1,616 WorldCat member libraries worldwide
With contributions from distinguished scholars from a dozen different countries, The Jesuits, II continues in the illustrious tradition of its predecessor to make an important contribution to religious memory
Disputatiuncula de taedio, pavore, tristicia Iesu ; Concio de immensa Dei misericordia ; Modus orandi Deum ; Explanatio symboli apostolorum sive catechismus ; De praeparatione ad mortem
by
Desiderius Erasmus
( )
18 editions published between
1988
and 2016 in
English
and held by 1,435 WorldCat member libraries worldwide
The five pieces in this volume are among the twenty selected for inclusion in volumes 66-70 of the Collected Works of Erasmus, the series of spiritualia and pastoralia. Like many of the other works in this series, they represent an Erasmus that, despite the recent growth of interest in him, has remained largely unfamiliar - the Erasmus of the works 'pertaining to pietas.' As Professor O'Malley's introduction makes clear, Erasmian pietas assumes an intrinsic relationship among spirituality, theology, and ministry, and the five works in volume 70 characteristically develop the implications of that relationship. Professor O'Malley provides background and context for each of the selections, and shows how over the course of the years Erasmus gives pietas a theological base and centre by grounding it ever more firmly in the mystery of Christ's death and resurrection. Volume 70 includes A Short Debate Concerning the Distress, Alarm and Sorrow of Jesus; A Sermon on the Immense Mercy of God; On Praying to God; An Explanation of the Apostles' Creed; and Preparing for Death
A history of the popes : from Peter to the present
by
John W O'Malley
( Book )
25 editions published between
2009
and 2016 in 6 languages and held by 1,284 WorldCat member libraries worldwide
Church historian John W. O'Malley examines the 265 individuals who have claimed to be Peter's successors. Rather than describe each pope one by one, the book focuses on the popes that shaped pivotal moments in both church and world history. --from publisher description
The first Jesuits
by
John W O'Malley
( Book )
42 editions published between
1993
and 2012 in 7 languages and held by 1,276 WorldCat member libraries worldwide
John W. O'Malley gives us the most comprehensive account ever written of the Society of Jesus in its founding years, one that heightens and transforms our understanding of the Jesuits in history and today. Following the Society from 1540 through 1565, O'Malley shows how this sense of mission evolved. He looks at everything--the Jesuits' teaching, their preaching, their casuistry, their work with orphans and prostitutes, their attitudes toward Jews and "New Christians," and their relationship to the Reformation. All are taken in by the sweep of O'Malley's story as he details the Society's manifold activities in Europe, Brazil, and India. --! From back cover
more
fewer
Audience Level
0

1
Kids
General
Special
Audience level: 0.19 (from 0.01 for Jesuit Map ... to 0.69 for Rev. John ...)
Related Identities
Associated Subjects
Apostles' Creed
Berrigan, Daniel
Cartography
Catholic Church
Catholic historians
Change--Religious aspects--Catholic Church
China
Christianity and culture
Christian life
Christian literature, Latin (Medieval and modern)
Church history
Civilization, Western
Council of Trent
Counter-Reformation
Crucifixion of Jesus Christ
Death--Religious aspects
Egidio,--da Viterbo, Cardinal,
Erasmus, Desiderius,
God--Mercy
Gracián y Morales, Baltasar,
History
Intellectual life
Italy--Rome
Jesuits
Jesus Christ
Massachusetts--Boston
Missions
Multiculturalism--Religious aspects--Catholic Church
Murray, John Courtney
O'Malley, John W
Ong, Walter J
Papacy
Philosophy, Renaissance
Prayer
Preaching
Reformation
Renaissance
Research
Spiritual life
Theology, Doctrinal
Ultramontanism
Vatican Council
Washington (D.C.)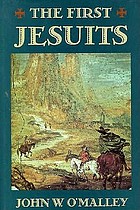 Covers
Alternative Names
John O'Malley jésuite américain

John O'Malley kerkhistoricus

John W. O'Malley

John W. O'Malley amerikanischer Historiker

Malley, John W.

Malley, John W. O', 1927-

O'Malley, J.W.

O'Malley, J. W. 1927-

O'Malley, John 1927-

O'Malley, John William.

O'Malley, John William 1927-

Джон О'Мэлли

오말리, 존 1927-

오말리, 존 W. 1927-

Languages