Burton, David H. (David Henry) 1925-2016
Most widely held works about David H Burton
Most widely held works by David H Burton
Clara Barton : in the service of humanity
by
David H Burton
( )
4 editions published in
1995
in
English
and held by 1,570 WorldCat member libraries worldwide
This book is a concise, interpretive account of the life of Clara Barton from her childhood in Massachusetts through her feats of heroism during the Civil War, her founding of the American Red Cross, which she led for 20 years, and her bitterly contested ejection from office which clouded her last decade. Clara Barton (1821-1912) led a life in the service of humanity. Undoubtedly heroic and undoubtedly generous in her impulse to aid others, she nonetheless remained a self-centered individual who could brook neither criticism nor ingratitude. Her life story is told here with sympathy and unders
Oliver Wendell Holmes, Jr.
by
David H Burton
( Book )
13 editions published between
1979
and 1980 in
English
and
Undetermined
and held by 889 WorldCat member libraries worldwide
William Howard Taft : confident peacemaker
by
David H Burton
( Book )
7 editions published in
2004
in
English
and held by 394 WorldCat member libraries worldwide
"William Howard Taft was an experienced diplomat when he became president. As Governor General of the Philippines, he had begun the preparation of the Islands for nationhood. Serving as Theodore Roosevelt's Secretary of War, he brought about the Taft-Katsura Agreement with Japan and was instrumental in avoiding the breakdown of civil government in Cuba. Proposing arbitration treaties with Great Britain and France and free trade with Canada were typical of his presidential diplomacy. He was more progressive than Roosevelt in the years 1917-18 and more practical minded than Woodrow Wilson in matters of realpolitik. To make a lasting peace at the end of World War I, he advocated what may be clearly discerned as a prototype of the United Nations. Taft challenged Roosevelt's ultranationalism, and he had serious doubts about Wilson's ultramoralism. In international politics his vision was extraordinary. All this is spelled out in William Howard Taft: Confident Peacemaker, a landmark study, relying on historical analysis and supplemented by critical documentation."--Jacket
Political ideas of Justice Holmes
by
David H Burton
( Book )
3 editions published in
1992
in
English
and held by 351 WorldCat member libraries worldwide
The Court opinions of Justice Oliver Wendell Holmes have been so influential and so persuasively stated that too little attention has been paid to his political philosophy. Yet a theory of government paralleled the development of his jurisprudence and was a consistent part of his total outlook. To determine the nature of that political philosophy, reliance must be placed largely on empirical evidence, very much as Holmes would have insisted. There should be no shying away from the fact that Holmes, as with other Supreme Court justices, was guided by a philosophy of government, even as he insisted that cases must be judged on their particulars. For example, Holmes was almost always prepared to allow Congress to determine policy as implemented by law; denying the will of Congress was to him a last resort. For constructing a Holmesian theory of government, the building materials are readily at hand. He was very much a man of his times in political outlook even as he became a leader in jurisprudential matters. Holmes was a social Darwinist and a fierce nationalist, but he also owed much to his Puritan inheritance transformed into a humanistic ethical code in which honor and honesty had secure places. By assembling his views of the place and function of government in the lives of the people from his extra-Court writings, Court opinions, and private letters exchanged with key correspondents, a theory can be constructed. Woodrow Wilson's The State, a standard piece of work for the period, serves as a method for organizing Holmes's thoughts on government, something he himself never did. Using Wilson's study as a guide and frame of reference, the many scattered observations Holmes made over a lifetime are brought together in a form that is cohesive, if incomplete, and in a fashion that unarguably speaks the mind of Justice Holmes on the science and art of government, with a special concern for American politics. His deeply felt convictions respecting the nature of government are an important feature of the total Holmes. To come to an awareness of his thinking pertaining to political affairs enables one to work forward from his basic postulates for a comprehension of the direction of his judicial growth. The organization of this particular commentary tends to bear this out. Only by working through his times, his mind, his rulings, and the candid expression of views discovered in his correspondence is it possible to make judgments on his political theory. In the logical order that theory should be the foundation of his jurisprudence, and thus the first order of business. But as with his study of the common law, the life of this investigation has not been logic but experience: the experience of Oliver Wendell Holmes as soldier, scholar, jurist, and philosopher. Then, and perhaps only then, can he be brought into focus as a significant American political thinker
Taft, Holmes, and the 1920s court : an appraisal
by
David H Burton
( Book )
3 editions published in
1998
in
English
and held by 347 WorldCat member libraries worldwide
"This study of William Howard Taft and Oliver Wendell Holmes delivers much more than the title suggests, yet the title remains appropriate. This is an account not only of their common membership on the Court in the 1920s but an explanation, by means of a quasi-biographical method, of how they arrived at the summit of their careers as public men. By probing their Puritan influence, the foundations of much of what they believed and ruled upon as judges become clear and persuasive. Their public lives diverged, to be sure. Taft and Holmes both began as judges at the state level only to have Taft veer off in the direction of high-level administrative and elective offices."--BOOK JACKET. "Holmes, for his part, lived a much more sequestered life: five decades as a Massachusetts and then as a federal jurist. Holmes theorized about actualities, whereas Taft had known them directly. Somewhat surprisingly, Taft and Holmes could find common ground in a number of cases coming before them in the 1920s, but in controversial cases, such as Adkins v. Children's Hospital, they voted to uphold progressive legislation for women working in the District of Columbia. Down to 1927, in fact, Taft and Holmes either agreed or agreed to disagree. Thereafter, they were more often at cross purposes."--BOOK JACKET
Theodore Roosevelt, American politician : an assessment
by
David H Burton
( Book )
6 editions published in
1997
in
English
and held by 332 WorldCat member libraries worldwide
The author draws on Roosevelt's life and the political history of the times, resulting in an analysis that is familiar to scholars as well as to the larger audience, that of historical readership. What is different here, however, is the application of the principles of decision-making theory both to decisions taken and mistakes made. Perhaps sterile in itself, the theory comes to life when used to objectify much of what is too often looked upon as the result of impulse in TR's conduct of affairs, in both his triumphs and his failures
more
fewer
Audience Level
0

1
Kids
General
Special
Audience level: 0.33 (from 0.02 for Clara Bart ... to 0.76 for Unit : rec ...)
Associated Subjects
American Red Cross
Barton, Clara,
Burton, David H.--(David Henry),
Catholic Church
Citizenship
Clergy
Diplomatic history
Diplomatic relations
Diplomats
Europe
Ford, Franklin,
Friendship
Great Britain
Historiography
Holmes, Oliver Wendell,--Jr.,
Ireland
Judges
Law--Political aspects
League of Nations
Learning and scholarship
Military campaigns
Nurses
Peace
Poets, American
Political and social views
Political questions and judicial power
Politics and government
Politics and government--Decision making
Presidents
Presidents--Intellectual life
Progressivism (United States politics)
Red Cross and Red Crescent
Robinson, Edwin Arlington,
Roosevelt, Theodore,
Sheehan, Patrick Augustine,
Speeches, addresses, etc., American
Spring Rice, Cecil,--Sir,
Taft, William H.--(William Howard),
United States
United States.--Supreme Court
Wilson, Woodrow,
World politics
World War (1914-1918)
World War (1939-1945)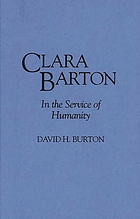 Covers
Alternative Names
Burton, David

Burton, David H.

Burton, David H. 1925-

Burton, David H. (David Henry), 1925-

Burton, David Henry 1925-

Languages