Blais, Marie Claire
Most widely held works about Marie Claire Blais
more
fewer
Most widely held works by Marie Claire Blais
Mad shadows
by
Marie-Claire Blais
( Book )
94 editions published between
1959
and 2014 in 5 languages and held by 933 WorldCat member libraries worldwide
A harrowing pathology of the soul, Mad Shadows centres on a family group: Patrice, the beautiful and narcissistic son; his ugly and malicious sister, Isabelle-Marie; and Louise, their vain and uncomprehending mother. These characters inhabit an amoral universe where beauty reflects no truth and love is an empty delusion. Each character is ultimately annihilated by their own obsessions
Deaf to the city
by
Marie-Claire Blais
( Book )
45 editions published between
1979
and 2006 in 3 languages and held by 808 WorldCat member libraries worldwide
De lecture plutôt difficile, ce roman exigeant a deux caractéristiques principales: le temps y est aboli et "les déplacements de perspective dans le discours" sont très nombreux. Dans un bon article, Mélançon décrit l'ouvrage comme une sorte de gravitation des thèmes (le suicide, la fuite, le voyage, la philosophie, etc.) "dans un espace où tout arrive à la fois". Pour Réginald Martel, "dans un même mouvement très vaste, dont le lyrisme n'est pas du tout artificiel, M.-C. Blais renouvelle en partie son univers romanesque et peut-être bien son écriture"
A season in the life of Emmanuel
by
Marie-Claire Blais
( Book )
75 editions published between
1965
and 2010 in 4 languages and held by 747 WorldCat member libraries worldwide
La critique des années 2000 voit dans l'oeuvre une parodie des romans du terroir et une critique d'attitudes conservatrices antérieures très répandues: éloge des familles nombreuses, peur de la ville, soumission au clergé, etc. [SDM]
The wolf
by
Marie-Claire Blais
( Book )
38 editions published between
1972
and 2008 in 3 languages and held by 607 WorldCat member libraries worldwide
Texte nu. Illustration de couverture maniřě. Dixim̈e roman de Marie-Claire Blais. "Je veux parler dans ce rčit de l'amour des garȯns pour les hommes, des hommes pour les garȯns" dčlare Sb̌astien, principal personnage du ##Loup##, bien dčrit par Gilles Cossette en "jeune homme pervers qui mďite sur ses conqut̊es". Ce hřos au "lourd pass ̌sensuel" croit ̉l'amour; sa tension vers la charit ̌m̌eut le lecteur. Selon toute vraisemblance, l'auteure a voulu illustrer l'aspect amoral de toute passion, et non pas celui de la seule homosexualit.̌ Selon Gilles Cossette, ce rčit de facture classique a "une aridit ̌de thǒrm̈e". L'ďition Stank ̌de 1980 (SDM 8100752) proposait un choix de critiques de cinq pages. Il est ici rďuit ̉trois extraits, aucun n'ťant sign ̌d'un Qub̌čois francophone. [SDM]
Tête Blanche
by
Marie-Claire Blais
( Book )
50 editions published between
1960
and 1991 in 3 languages and held by 605 WorldCat member libraries worldwide
St. Lawrence blues : a novel
by
Marie-Claire Blais
( Book )
22 editions published between
1973
and 1999 in 4 languages and held by 532 WorldCat member libraries worldwide
Roman beschrijft de woelige dagen na het bezoek van Charles de Gaulle aan Québec, o.a. een protestmars van nonnen en rooie flikkers, verontwaardige huismoeders en verlichte poëten etc
A literary affair
by
Marie-Claire Blais
( Book )
43 editions published between
1975
and 1991 in 3 languages and held by 529 WorldCat member libraries worldwide
Un roman d'éducation où un jeune écrivain québécois, épris de culture, part à la découverte de Paris. C'est une ville mondaine et superficielle qui se donne d'abord à lui, dans la première partie du livre, avant que ne lui apparaisse l'autre visage de la réalité française, qui lui apprendra à délaisser son esthétisme de surface pour s'attacher davantage à ses racines québécoises. On a parlé, à propos de ce roman, de pastiche proustien et de satire des milieux parisiens; sans doute faut-il tenir compte aussi, avec François Ricard qui donne à cette oeuvre une excellente "Postface critique", de la "dimension ironique" profonde de ce livre et résister à la tentation de la réduire à un message univoque. Au total, une réussite moyenne pour Marie-Claire Blais
Les nuits de l'Underground : roman
by
Marie-Claire Blais
( Book )
27 editions published between
1978
and 2006 in 3 languages and held by 491 WorldCat member libraries worldwide
Night after night through the winter, in a club called The Underground, Genevieve and her friends live out their loves and their tragedies, apart from the day-to-day life of the city. Genevieve is a sculptor. Her idealistic love for a doctor cannot be returned but then she meets a new lover to whom she is able to give a new optimism and will to live. Genevieve, her lover, and her friends emerge from the dark winter into the spring sunshine. This novel, a best seller in its French edition, is rich in character and emotion. The quiet melancholy of Genevieve's story is set against the lively, racy humor of her friends. The book has a vitality and optimism that will delight admirers of Marie-Claire Blais and bring her a wide new audience.--Adapted from back cover
The manuscripts of Pauline Archange; a novel
by
Marie-Claire Blais
( Book )
29 editions published between
1968
and 2009 in 3 languages and held by 453 WorldCat member libraries worldwide
Autobiographie lyrique en trois volets, respectivement parus en 1968, 1969 et 1970. Le lecteur assiste à l'enfance, puis à "l'enterrement", enfin à la résurrection de Pauline Archange, fille de la misère et d'un monde oublié de Dieu et des hommes, qui quitte couvent et famille pour voler de ses propres ailes. Pas d'appareil critique. Seulement trois brefs extraits critiques. Prix du gouverneur général, section romans, 1968
These festive nights
by
Marie-Claire Blais
( Book )
32 editions published between
1995
and 2014 in 3 languages and held by 420 WorldCat member libraries worldwide
"An apocalyptic sensibility and stirring prose offer a vision of the consequences of humanity's tolerance of injustice and suffering in this celebrated novel. On the shores of the Gulf of Mexico during the last days of the 20th century, Renata and a host of personalities including artists, children, young men dying of AIDS, and refugees converge to celebrate a baby's birth and the turn of the millennium. Separate worlds of great wealth and extreme poverty intermingle on this island to reveal the challenges of life in the modern age."
more
fewer
Audience Level
0

1
Kids
General
Special
Audience level: 0.57 (from 0.35 for Marie-Clai ... to 0.78 for Notes amé ...)
Related Identities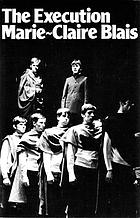 Alternative Names
Blais, Marie-Claire

Blais, Marie-Claire 1939-

Marie-Claire Blais Canadees toneelschrijfster

Marie-Claire Blais Canadian writer

Marie-Claire Blais kanadische Schriftstellerin

Marie-Claire Blais scrittrice canadese

ماری-کلر بله

ماری-کلێر بولێ

ブレ, マリ・クレール

Languages
Covers