Ferling, John E.
Most widely held works about John E Ferling
Most widely held works by John E Ferling
Adams vs. Jefferson : the tumultuous election of 1800
by
John E Ferling
( )
21 editions published between
2004
and 2005 in
English
and held by 3,648 WorldCat member libraries worldwide
A history of the presidential campaign follows the clash between the two candidates, Adams and Jefferson, and their different visions of the future of America, the machinations that led to Jefferson's victory, and the repercussions of the campaign
A leap in the dark : the struggle to create the American republic
by
John E Ferling
( Book )
19 editions published between
2003
and 2005 in
English
and held by 3,393 WorldCat member libraries worldwide
The author revisits a truly revolutionary period in American history, chronicling the battles over allegiance, philosophy, leadership, and ideas that surrounded the birth of the American republic
Almost a miracle : the American victory in the War of Independence
by
John Ferling
( Book )
18 editions published between
2007
and 2009 in
English
and held by 3,107 WorldCat member libraries worldwide
Describes the military history of the American Revolution and the grim realities of the eight-year conflict while offering descriptions of the major engagements on land and sea and the decisions that influenced the course of the war
The first of men : a life of George Washington
by
John E Ferling
( Book )
29 editions published between
1988
and 2010 in
English
and held by 1,686 WorldCat member libraries worldwide
"Written by John Ferling, one of America's leading historians of the Revolutionary era, The first of men offers an illuminating portrait of George Washington's life, with emphasis on his military and political career. Here is a riveting account that captures Washington in all his complexity, recounting not only Washington's familiar sterling qualities--courage, industry, ability to make difficult decisions, ceaseless striving for self-improvement, love of his family and loyalty to friends--but also his less well known character flaws. Indeed, as Ferling shows, Washington had to overcome many negative traits as he matured into a leader. The young Washington was accused of ingratitude and certain of his letters from this period read as if they were written by "a pompous martinet and a whining, petulant brat." As commander-in-chief of the Continental Army, he lost his temper more than once and indulged flatterers. Aaron Burr found him "a boring, colorless person." As president, he often believed the worst about individual officials. Ferling concludes that Washington's personality and temperament were those of "a self-centered and self-absorbed man, one who since youth had exhibited a fragile self-esteem." And yet he managed to realize virtually every grand design he ever conceived. Ferling's Washington is driven, fired by ambition, envy, and dreams of fame and fortune. Yet his leadership and character galvanized the American Revolution--probably no one else could have kept the war going until the master stroke at Yorktown--and helped the fledgling nation take, and survive, its first unsteady steps. This superb paperback makes available once again an unflinchingly honest and compelling biography of the father of our country"--Provided by publisher
John Adams : a life
by
John E Ferling
( Book )
29 editions published between
1992
and 2012 in
English
and
Undetermined
and held by 1,607 WorldCat member libraries worldwide
Better than any other full-scale biography to date, Ferling's book places Adams in the context of his swirling times and makes clear why he deserves our admiration for his apolitical courage and stubborn independence. John Ferling's masterful John Adams: A Life is the most comprehensive single-volume biography of the man who succeeded George Washington in the presidency and shepherded the fragile new nation through the most dangerous of times. Drawing on extensive research, Ferling depicts a reluctant revolutionary, a leader who was deeply troubled by the warfare that he helped to make, and a fiercely independent statesman
Setting the world ablaze : Washington, Adams, Jefferson, and the American Revolution
by
John E Ferling
( Book )
17 editions published between
2000
and 2002 in
English
and held by 1,490 WorldCat member libraries worldwide
"Setting the World Ablaze is the story of the three men who, perhaps more than any others, helped bring the United Sates into being: George Washington, John Adams, and Thomas Jefferson. Braiding three strands into one narrative, John Ferling brings these American icons down from their pedestals to show them as men of flesh and blood, and gives us a new understanding of the passion and uncertainty of the struggle to form a new nation." "Setting the World Ablaze shows in detail how these conservative men - successful members of the colonial elite - were transformed into radical revolutionaries, and in doing so, it illuminates not just the special genius of these three leaders, but the transformation of His Majesty's colonies into the United States."--Jacket
The ascent of George Washington : the hidden political genius of an American icon
by
John E Ferling
( Book )
11 editions published between
2009
and 2010 in
English
and held by 1,273 WorldCat member libraries worldwide
Even compared to his fellow founders, George Washington stands tall. Our first president has long been considered a stoic hero, holding himself above the rough-and-tumble politics of his day. Now historian John Ferling peers behind that image, carefully burnished by Washington himself, to show us a leader who was not only not above politics, but a canny infighter--a master of persuasion, manipulation, and deniability. In the War of Independence, Washington used his skills to steer the Continental Army through crises that would have broken less determined men; he squeezed out rivals and defused dissent. Ending the war as a national hero, Washington "allowed" himself to be pressed into the presidency, guiding the nation with the same brilliantly maintained pose of selfless public interest. Ferling argues that not only was Washington one of America's most adroit politicians--the proof of his genius is that he is no longer thought of as a politician at all.--From publisher description
Adams vs. Jefferson : [the tumultuous election of 1800]
by
John E Ferling
( )
19 editions published between
2004
and 2014 in
English
and held by 1,021 WorldCat member libraries worldwide
"It was a contest of titans: John Adams and Thomas Jefferson, two heroes of the Revolutionary era, once intimate friends, now icy antagonists locked in a fierce battle for the future of the United States. The election of 1800 was a thunderous clash of a campaign that climaxed in a deadlock in the Electoral College and led to a crisis in which the young republic teetered on the edge of collapse. Adams vs. Jefferson is a gripping account of a true turning point in American history, a dramatic struggle between two parties with profoundly different visions of how the nation should be governed. Adams led the Federalists, conservatives who favored a strong central government, and Jefferson led the Republicans, egalitarians who felt the Federalists had betrayed the Revolution of 1776 and were backsliding toward monarchy. The campaign itself was a barroom brawl every bit as ruthless as any modern contest, with mud-slinging--Federalists called Jefferson "a howling atheist"--Scare tactics, and backstabbing. The low point came when Alexander Hamilton printed a devastating attack on Adams, the head of his own party, in "fifty-four pages of unremitting vilification." The election ended in a stalemate in the Electoral College that dragged on for days and nights and through dozens of ballots. Tensions ran so high that the Republicans threatened civil war if the Federalists denied Jefferson the presidency. Finally a secret deal that changed a single vote gave Jefferson the White House. A devastated Adams left Washington before dawn on Inauguration Day, too embittered even to shake his rival's hand. Jefferson's election, John Ferling concludes, consummated the American Revolution, assuring the democratization of the United States and its true separation from Britain. With magisterial command, Ferling brings to life both the outsize personalities and the hotly contested political questions at stake. He shows not just why this moment was a milestone in U.S. history, but how strongly the issues--and the passions--of 1800 resonate with our own time"--product description
Whirlwind : the American Revolution and the War That Won It
by
John E Ferling
( Book )
11 editions published between
2015
and 2016 in
English
and held by 948 WorldCat member libraries worldwide
Written in the authoritative and narrative-driven style that has made his books critical and commercial successes, John Ferling's Whirlwind will become the definitive history of the American Revolution for our time. This master historian illuminates the years 1763 to 1783--from the end of the French and Indian War that left England triumphant in North America to the signing of the Treaty of Paris and the final departure of British troops from New York City. Embracing characters both celebrated and unknown, Ferling chronicles the myriad and complex events and contentious viewpoints that drove Americans in their insurgency against Great Britain and sustained them in the seemingly quixotic belief that they could win their independence. He takes us to the halls of power in Parliament and the streets of London to view the Revolution from British perspectives. He presents the individual battles--from Lexington and Concord to Yorktown---in a fresh and dramatic new light. With a wide scope and insight, John Ferling brings the most important event in America's long history to a new generation of American readers.--From publisher description
Jefferson and Hamilton : the rivalry that forged a nation
by
John E Ferling
( Book )
8 editions published between
2013
and 2014 in
English
and held by 934 WorldCat member libraries worldwide
"A spellbinding history of the epic rivalry that shaped our republic: Thomas Jefferson, Alexander Hamilton, and their competing visions for America ... The decade of the 1790s has been called the 'age of passion.' Fervor ran high as rival factions battled over the course of the new republic-- each side convinced that the other's goals would betray the legacy of the Revolution so recently fought and so dearly won. All understood as well that what was at stake was not a moment's political advantage, but the future course of the American experiment in democracy. In this epochal debate, no two figures loomed larger than Thomas Jefferson and Alexander Hamilton. Both men were visionaries, but their visions of what the United States should be were diametrically opposed. Jefferson, a true revolutionary, believed passionately in individual liberty and a more egalitarian society, with a weak central government and greater powers for the states. Hamilton, a brilliant organizer and tactician, feared chaos and social disorder. He sought to build a powerful national government that could ensure the young nation's security and drive it toward economic greatness. Jefferson and Hamilton is the story of the fierce struggle-- both public and, ultimately, bitterly personal-- between these two titans. It ended only with the death of Hamilton in a pistol duel, felled by Aaron Burr, Jefferson's vice president. Their competing legacies, like the twin strands of DNA, continue to shape our country to this day. Their personalities, their passions, and their bold dreams for America leap from the page in this epic new work from one of our finest historians"--Publisher's web page
more
fewer
Audience Level
0

1
Kids
General
Special
Audience level: 0.18 (from 0.09 for Adams vs. ... to 0.88 for A leap in ...)
Associated Subjects
Adams, John,
African Americans
American loyalists
American Revolution (1775-1783)
Armed Forces--Military life
Federal Party (U.S.)
France
Galloway, Joseph,
Generals
Great Britain
Hamilton, Alexander,
Indians of North America--Wars
Jefferson, Thomas,
Lawyers
Military campaigns
Monroe, James,
MP3 (Audio coding standard)
Paine, Thomas,
Political and social views
Politics and government
Presidents
Presidents--Election
Revolution (France : 1789-1799)
Slavery
Soldiers
Statesmen
United States
United States.--Army
United States.--Continental Army
War--Causes
Washington, George,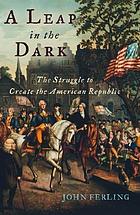 Covers
Alternative Names
Ferling, John.

Ferling, John 1940-

Ferling, John E.

Ferling, John Ernie 1940-

John E. Ferling Amerikaans historicus

John E. Ferling historiador estadounidense

John E. Ferling Historian

ジョン・E・フェーリング

约翰·E·弗林

Languages