Kammen, Michael G.
Most widely held works about Michael G Kammen
more
fewer
Most widely held works by Michael G Kammen
A machine that would go of itself : the Constitution in American culture
by
Michael G Kammen
( Book )
33 editions published between
1986
and 2017 in
English
and held by 2,349 WorldCat member libraries worldwide
Examines the influence of the constitution on U.S. culture, looks at misconceptions concerning it, and describes how the Constitution has been interpreted, defended, and attacked
People of paradox; an inquiry concerning the origins of American civilization
by
Michael G Kammen
( Book )
55 editions published between
1972
and 1996 in
English
and held by 1,813 WorldCat member libraries worldwide
In this major interpretive work Mr. Kammen argues that most attempt to understand America's history and culture have minimized its complexity, and he demonstrates that, from our beginnings, what has given our culture its distinctive texture, pattern, and thrust is the dynamic interaction of the imported and the indigenous. He shows now, during the years of colonization, especially in the century from 1660 to 1760, many ideas and institutions were transferred virtually unchanged from Britain, while, simultaneously, others were being transformed in the New World environment. As he unravels the tangled origins of our "bittersweet" culture, Mr. Kammen makes us see that unresolved contradictions in the American experience have functioned as the prime characteristic of our national style. Puritanical and hedonistic, idealistic and materialistic, peace-loving and war-mongering, isolationist and interventionist, consensus-minded and conflict-prone'these opposing strands go back to the roots of our history. He pursues them down through the seventeenth and eighteenth centuries'from the traumas of colonization and settlement through the tensions of the American Revolution'making clear both the relevance of this early experience to ninetieth and twentieth-century realities and the way in which America' dualisms have endured and accumulated to produced such dilemmas as today's poverty amidst abundance and legitimized lawlessness. Far from being a study in social pathology, People of Paradox is a depiction of a complex society and am explanations of its development'a bold interpretation that gives an entirely new perceptive to the American ethos
Colonial New York : a history
by
Michael G Kammen
( Book )
27 editions published between
1975
and 1996 in
English
and
Undetermined
and held by 1,531 WorldCat member libraries worldwide
Mystic chords of memory : the transformation of tradition in American culture
by
Michael G Kammen
( Book )
21 editions published between
1991
and 2013 in
English
and
Undetermined
and held by 1,480 WorldCat member libraries worldwide
In this ground-breaking, panoramic work of American cultural history, the author examines a central paradox of our national identity: How did "the land of the future" acquire a past? And to what extent has our collective memory of that past - as embodied in our traditions - been distorted, or even manufactured? Ranging from John Adams to Ronald Reagan, from the origins of Independence Day celebrations to the controversies surrounding the Vietnam War Memorial, from the Daughters of the American Revolution to immigrant associations, and filled with inclusive analyses of such phenomena as Americana and its collectors, "historic" villages and Disneyland, Mystic Chords of Memory is a brilliant, immensely readable, and enormously important book.--
Visual shock : a history of art controversies in American culture
by
Michael G Kammen
( Book )
17 editions published between
2006
and 2009 in
English
and held by 1,324 WorldCat member libraries worldwide
From the early years of the American Republic to the present, art and architecture have consistently aroused major disputes among artists, critics, scholars, politicians, and ordinary citizens. Now one of our most respected cultural historians chronicles these clamorous debates about the public appropriateness of paintings, sculpture, memorials, and monuments. Michael Kammen examines the nature, diversity, and persistence of major disputes generated by art and artists and shows what has changed since the 1830s and why. He looks at the role of artists and patrons, local and national governments, conservatives and liberals, and the media in creating and sustaining heated controversies. We see the notable acceleration of such episodes since the 1960s; the effect of the democratization of American museums; the quest for provocative shows to attract crowds; the increased visibility resulting from the public art movement that has stirred anger and created some of our stormiest battles; the desire of many artists and galleries to shock, provoke, and contest, engendering the perplexity, if not outright hostility, of audiences; the use of art as social criticism; the effort to include and appeal to minorities; the threat of litigation and the role of courts; and the commercialization stemming from dependence on corporate sponsorship. Kammen's central themes include such questions as, What kind of art is most appropriate for a democratic society? What should our relationship be to Old World criteria of excellence in the arts? How can we achieve a distinctively American art? Why have so many controversies hinged upon issues of nudity, decency, and sexuality? Why has public art (most notably sculpture) become so politicized since the late 1960s? He explores the "death-of-art" debate that began in the 1970s and issues of censorship that have arisen over time. Finally, he asks whether art controversies have invariably had a negative effect - noticing the interesting ways in which minds have been changed and museums have overcome difficult episodes. He also reminds us that when New York's Museum of Modern Art celebrated its twentieth-fifth anniversary, President Dwight Eisenhower declared "as long as artists are at liberty to feel with high personal intensity, as long as our artists are free to create with sincerity and conviction, there will be healthy controversy and progress in art." Kammen agrees. -- from dust jacket
The Past before us : contemporary historical writing in the United States
by
Michael G Kammen
( Book )
31 editions published between
1980
and 1996 in
English
and
Undetermined
and held by 1,316 WorldCat member libraries worldwide
"Is there a distinctive American style of historical scholarship? To what extent have quantitative methods and computer technology affected the writing of history? Has descriptive history been supplanted by analytical history? What constitutes adequate historical explanation? These are just a few of the questions addresed in "The Past Before Us." The contributors, twenty-one distinguished historians, discuss the state of their profession today and describe their interests, activities, and problems. Reflecting new and exciting trends in historical research, their essays, taken together, provide a searching assessment of the major advances in historical methods as well as in historical knowledge during the 1970s"--Jacket
American culture, American tastes : social change and the 20th century
by
Michael G Kammen
( Book )
20 editions published between
1999
and 2000 in
English
and held by 1,310 WorldCat member libraries worldwide
"Americans have a long history of public arguments about taste, the uses of leisure, and what is culturally appropriate in a democracy that has a strong work ethic. Michael Kammen surveys these debates as well as our changing taste preferences, especially in the past century, and the shifting perceptions that have accompanied them." "Focusing on our own time, Kammen discusses the use of the fluid nature of cultural taste to enlarge audiences and increase revenues, and reveals how the public role of intellectuals and cultural critics has declined as the power of corporate sponsors and promoters has risen. As a result of this diminution of cultural authority, he says, definitive pronouncements have been replaced by divergent points of view, and there is, as well, a tendency to blur fact and fiction, reality and illusion."--Jacket
A season of youth : the American Revolution and the historical imagination
by
Michael G Kammen
( Book )
27 editions published between
1978
and 1988 in
English
and
Undetermined
and held by 1,269 WorldCat member libraries worldwide
Publisher description: What has the American Revolution meant to Americans during the two centuries since it began? In this book Kammen once again dispels the mists of cultural misunderstanding and national self-deception as he reveals to us how this, the most central event in our past, has been seen by those in the mainstream of our culture as well as by dissenting social critics. The result is a fresh and unprecedented contribution to American historical writing and to American self-knowledge
A rope of sand : the colonial agents, British politics, and the American Revolution
by
Michael G Kammen
( Book )
15 editions published between
1966
and 2012 in
English
and held by 1,126 WorldCat member libraries worldwide
During the twenty years before the American Revolution, thirty-seven men acted as paid agent or lobbyists for the American colonies in England. The most famous among them were Benjamin Franklin, who represented four different colonies and served for seventeen years as agenet for Pennsylvania, and Edmund Burke, who accepted the position to further his own career. Yet the other thirty-five were also a colorful and heterogenous group. This detailed study, by a Pulitzer-prize-winning historian, of their activities and of the gradual breakdown of communications between the colonies and the mother country, until the link between the two become only "a rope of sand," is, in the words of the Richmond News Leader, "a new and invigorating approach to the American fight for independence." "Soundly documented, well organized and highly readable."--The New York Historical Society Quarterly "A challenging book about an important historical institution."--The Historian "A substantial contribution to our understanding of Anglo-American history during the eighteenth century." - The New England Quarterly "Both in concept and execution, A Rope of Sand is impressive." - The Journal of American History
more
fewer
Audience Level
0

1
Kids
General
Special
Audience level: 0.27 (from 0.09 for The lively ... to 1.00 for Records, 1 ...)
Associated Subjects
Aesthetics--Social aspects
America
American Revolution (1775-1783)
Art, American--Public opinion
Art, Modern
Art and society
Art critics
Artists
Arts and society
British colonies
Burial
Civilization
Colonial agents
Constitution (United States)
Constitutional history
Constitutional law
Consumption (Economics)--Social aspects
Eastern State Penitentiary of Pennsylvania
Exhumation
Folk art
Funeral rites and ceremonies
Great Britain
Gwathmey, Robert,
Historiography
History--Methodology
Influence (Literary, artistic, etc.)
Kammen, Michael G
Klein, Randolph Shipley
Landscapes in art
Liberty
Manners and customs
Manners and customs--Historiography
Memory
Memory--Social aspects
Mercantile system
Molly Maguires (Organization)
National characteristics, American
New York (State)
Patriotism
Political science
Politics and government
Popular culture
Popular culture--Historiography
Pressure groups
Public opinion
Representative government and representation
Seldes, Gilbert,
Social change
United States
Wyeth, Andrew,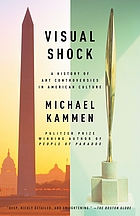 Alternative Names
Kammen, M. G. 1936-2013

Kammen, Michael.

Kammen, Michael 1936-2013

Kammen, Michael G.

Kammen, Michael Gedaliah 1936-

Kammen, Michael Gedaliah 1936-2013

Michael Kammen American historian

Michael Kammen Amerikaans cultureel historicus (1936-2013)

Michael Kammen historiador estadounidense

Michael Kammen historiador estatunidenc

Michael Kammen US-amerikanischer Historiker

Languages
Covers