Walton, Douglas N.
Most widely held works about Douglas N Walton
Most widely held works by Douglas N Walton
Ad hominem arguments
by
Douglas N Walton
( )
13 editions published between
1998
and 2009 in
English
and
Russian
and held by 2,147 WorldCat member libraries worldwide
"In the media, in the courtroom, and in everyday confrontation, ad hominem arguments are easy to put forward as accusations, are difficult to refute, and often have an extremely powerful effect on persuading an audience. Although ad hominem arguments have been around for a long time, now more than ever, the problem of how to deal with them in a critically balanced way is a matter of concern for public discourse in a democracy." "Douglas Walton presents a clear account of the structure of the ad hominem argument and how that structure can be used to evaluate specific cases of this type of argumentation as fallacious or not." "An important feature of the book is the use of case studies illustrating familiar arguments in everyday conversation for which the charge of fallaciousness is at issue. The numerous case studies show in concrete terms many practical techniques for using textual evidence to identify and analyze fallacies and to evaluate argumentation as fallacious or not in particular cases. Walton gives a clear, user-friendly method for analyzing and evaluating cases of ad hominem arguments found in everyday argumentation."--BOOK JACKET
A pragmatic theory of fallacy
by
Douglas N Walton
( )
11 editions published between
1995
and 2004 in
English
and held by 1,689 WorldCat member libraries worldwide
Although many individual fallacies have now been studied and analyzed in the growing literature on argumentation, the concept of fallacy itself has lacked a sufficiently clear meaning to make it as useful as it could be for evaluating arguments. Walton looks at how an argument is used in the context of conversation. He defines a fallacy as a conversational move, or sequence of moves, that is supposed to be an argument that contributes to the purpose of the conversation but in reality interferes with it. The view is a pragmatic one, based on the assumption that when people argue, they do so in a context of dialogue, a conventionalized normative framework that is goal-directed. Such a contextual framework is shown to be crucial in determining whether an argument has been used correctly. Three problems are those of fallacy identification, fallacy analysis, and fallacy evaluation. Walton presents solutions for all three problems by developing new pragmatic structures to display the form of an argument (the so-called argumentation scheme). The fallacy is revealed when it is shown, in a given case, how its form fits into an enveloping normative structure of dialogue. In this book Walton shows how the 25 or so major informal fallacies standardly treated in textbooks are basically reasonable presumptive types of arguments that have been used inappropriately in such a normative model. Another key feature of the book is its demonstration that a fallacy is typically an argument that seems correct when it is not. Walton shows that such an argument is used in a way that disguises a covert, illicit shift from one type of dialogue to another. This novel approach to solving the analysis problem provides a pragmatic way of analyzing a fallacy as a deceptive type of argumentation with an appearance of correctness. Walton suggests that different contexts of dialogue are involved and that fallacies are often associated with a partially concealed illicit shift from one type of dialogue to another
The new dialectic : conversational contexts of argument
by
Douglas N Walton
( )
15 editions published between
1998
and 2008 in
English
and held by 1,469 WorldCat member libraries worldwide
In this book Douglas Walton proposes a new and practical approach to argument analysis based on his theory that different standards for argument must apply in the case of different types of dialogue. By refining and extending the existing formal classifications of dialogue, Walton shows that each dialogue type, be it inquiry, negotiation, or critical discussion, has its own set of goals. He goes on to demonstrate that an argument can best be evaluated in terms of its contribution, positive or negative, to the goals of the particular dialogue it is meant to further. In this way he illustrates how argument can be brought into the service of many types of dialogue, and thus has valuable uses that go well beyond the mere settling of disputes and differences
Dialog theory for critical argumentation
by
Douglas N Walton
( )
16 editions published in
2007
in
English
and
Dutch
and held by 1,370 WorldCat member libraries worldwide
Because of the need to devise systems for electronic communication on the internet, multi-agent computing is moving to a model of communication as a structured conversation between rational agents. For example, in multi-agent systems, an electronic agent searches around the internet, and collects certain kinds of information by asking questions to other agents. Such agents also reason with each other when they engage in negotiation and persuasion. It is shown in this book that critical argumentation is best represented in this framework by the model of reasoned argument called a dialog, in whi
Informal fallacies : towards a theory of argument criticisms
by
Douglas N Walton
( )
17 editions published in
1987
in
English
and held by 1,277 WorldCat member libraries worldwide
Lists types of informal fallacies and provides examples of each, compiled by Charles Ess. Details fallacies of relevance and presumption. Links to other critical thinking resources
Abductive reasoning
by
Douglas N Walton
( )
17 editions published between
2004
and 2014 in
English
and
Undetermined
and held by 1,262 WorldCat member libraries worldwide
"This book examines three areas in which abductive reasoning is especially important: medicine, science, and law. Douglas Walton introduces the foundations of abduction and shows how it has evolved historically into the framework of conventional wisdom in logic." "Discussions draw upon recent techniques used in artificial intelligence, particularly in the areas of multi-agent systems and plan recognition, to develop a dialogue model of explanation. Cases of causal explanations in law are analyzed using abductive reasoning, and all the components are finally brought together to build a new account of abductive reasoning."--Jacket
Informal logic : a pragmatic approach
by
Douglas N Walton
( Book )
18 editions published between
2008
and 2012 in
English
and held by 965 WorldCat member libraries worldwide
"Informal Logic is an introductory guidebook to the basic principles of constructing sound arguments and criticizing bad ones. Non-technical in approach, it is based on 186 examples, which Douglas Walton, a leading authority in the field of informal logic, discusses and evaluates in clear, illustrative detail. Walton explains how errors, fallacies, and other key failures of argument occur. He shows how correct uses of argument are based on sound strategies for reasoned persuasion and critical responses. Among the many subjects covered are: forms of valid argument, defeasible arguments, relevance, appeals to emotion, personal attack, straw man argument, jumping to a conclusion, uses and abuses of expert opinion, problems in drawing conclusions from polls and statistics, loaded terms, equivocation, arguments from analogy, and techniques of posing, replying to, and criticizing questions."--Jacket
more
fewer
Audience Level
0

1
Kids
General
Special
Audience level: 0.17 (from 0.02 for Dialog the ... to 0.92 for Doug Walto ...)
Related Identities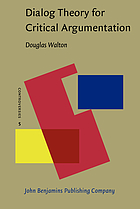 Covers
Alternative Names
Doug Walton Canadees filosoof

Doug Walton filosof, argumentationsteoretiker

Doug Walton filósofo canadiense

Douglas Walton

Douglas Walton Argumentationstheoretiker

Walton, Doug.

Walton, Douglas.

Walton Douglas 1942-....

Walton, Douglas (Douglas N.)

Walton, Douglas N.

Walton, Douglas N. 1942-

Walton, Douglas Neil.

Walton, Douglas Neil 1942-

Дуглас Уолтон

월튼, 더글러스

Languages