Trebilcock, M. J.
Overview
| | |
| --- | --- |
| Works: | 364 works in 1,182 publications in 2 languages and 22,563 library holdings |
| Genres: | History Conference papers and proceedings Contracts Trials, litigation, etc Abstracts |
| Roles: | Author, Editor, Contributor, Creator, Honoree, Other |
| Classifications: | K3943, 341.754 |
Most widely held works by M. J Trebilcock
The making of the mosaic : a history of Canadian immigration policy
by
Ninette Kelley
( )
29 editions published between
1998
and 2014 in
English
and held by 2,453 WorldCat member libraries worldwide
"This book examines the ideas, interests, institutions, and rhetoric that have shaped Canada's immigration history." "Beginning their study in the pre-Confederation period, the authors tell of the dramatic transformations that have characterized Canadian attitudes towards immigrants. While, at first, few obstacles were placed in the way of newcomers to Canada, the turn of the century brought policies of increasing selectivity. The massive deportations of the First World War and Depression eras were exceeded in harshness only by the tactics implemented during the Second World War, when nearly all of the Japanese-Canadian population was subjected to forced relocation and when Jewish refugees fleeing from mass extermination abroad were turned away from Canada's shores." "Bringing readers up to date with an analysis of the more expansionary policies of the 1990s, the authors clarify the central issues and attitudes underlying each phase and juncture of policy decision making. Their thoughtful study reveals a set of core normative and ethical values that have been fundamental in the making of the Canadian mosaic."--Jacket
Trade and transitions : a comparative analysis of adjustment policies
by
M. J Trebilcock
( )
20 editions published between
1990
and 2004 in
English
and held by 1,990 WorldCat member libraries worldwide
Based on a comparative study of eight leading industrial powers this book argues that ǹew protectionism' is economically inefficient and countries should try to develop the policies which are least harmful to their trading partners
The regulation of international trade
by
M. J Trebilcock
( Book )
91 editions published between
1994
and 2013 in
English
and
Undetermined
and held by 1,817 WorldCat member libraries worldwide
Introduces the rules and institutions that govern international trade. This new edition has been fully up-dated to take account of the most recent developments
The law and economics of Canadian competition policy
by
Paul Collins
( )
23 editions published between
2000
and 2016 in
English
and
German
and held by 1,713 WorldCat member libraries worldwide
This is the only book available that offers an up-to-date integrated analysis of economic theory and legal doctrine in the context of Canadian competition policy
Exploring the domain of accident law : taking the facts seriously
by
Donald N Dewees
( )
20 editions published between
1995
and 1996 in
English
and
German
and held by 1,712 WorldCat member libraries worldwide
Most of the academic literature on the tort system has traditionally been doctrinal or, in recent years, highly theoretical. Very little of this literature provides an in-depth consideration of how the system works, and whether or not there are any feasible alternatives. Exploring the Domain of Accident Law contributes valuable new evidence to the tort law reform debate. It will be of interest to academic lawyers and economists, policy analysts, policy professionals in government and research organizations, and all those affected by tort law reform
Hard choices, soft law : voluntary standards in global trade, environment, and social governance
by
John J Kirton
( )
16 editions published between
2004
and 2017 in
English
and held by 1,229 WorldCat member libraries worldwide
"An important read for academics and policy-makers alike, Hard Choices, Soft Law asserts that voluntary standards, or 'soft' law, are an important supplement to international law in a number of areas. This key work firstly outlines the approach taken to combining soft and hard law and trade, environment and labour values in the WTO and NAFTA, and in the prospective Millennium Round. Then, using the forestry sector - a realm where formal international law remains largely absent - the book provides a detailed examination of the role of soft law in action. It demonstrates how soft and hard law can be combined to promote trade, environmental and social cohesion, in ways that also permit sustainable development. Hard Choices, Soft Law presents a wealth of knowledge from a range of contributors familiar with the work of the G7/G8, the OECD, the Biodiversity Convention and the Codex Alimentarius."--Jacket
Regulating traffic safety
by
Martin L Friedland
( )
14 editions published between
1987
and 2016 in
English
and
Undetermined
and held by 1,178 WorldCat member libraries worldwide
Traffic accidents are responsible for the greatest number of deaths each year for many age groups. At present, authorities rely heavily on policing and prosecutions to control accidents. The authors of this work examine the effectiveness of these and other techniques, and suggest alternatives that may provide better results. They particularly favour an epidemilogical approach that takes driver conduct as a given and looks for other ways to control the frequency and severity of accidents. They examine the use of rewards to encourage good driving and the use of licensing to control the exposure of high-risk drivers. The deterrent effect of civil liability and the question of no-fault insurance are also considered, as are various methods used to control drinking and driving. The authors conclude by asking for greater evaluation of the interventions used. Traffic safety research, they argue, has barely begun to confront the central policy issue: how can society get the greatest payoff from the marginal dollar spent to prevent accidents?
Rethinking the welfare state : the prospects for government by voucher
by
Ronald J Daniels
( )
21 editions published between
2004
and 2005 in
English
and held by 1,151 WorldCat member libraries worldwide
"This book offers a comprehensive and comparative analysis of social welfare policy in an international context, with a particular emphasis on the US and Canada. The authors investigate the claim that a decentralized delivery of government-supported goods and services, enables policy objectives to be achieved in a more innovative, efficient and responsive manner. They also examine the effectiveness of the voucher system as a solution to problematic welfare concerns."--Jacket
Middle income access to justice
by
M. J Trebilcock
( )
9 editions published between
2012
and 2018 in
English
and held by 932 WorldCat member libraries worldwide
"Though most conceptions of the rule of law assume equality before the law - and hence equal access to the justice system - this basic right is not being met for many low and middle income Canadians. This book focuses on the problem of civil access to justice for middle income earners - those whose household income is high enough to disqualify them from legal aid but not high enough to cover the costs of litigation
The limits of freedom of contract
by
M. J Trebilcock
( Book )
29 editions published between
1989
and 1997 in
English
and held by 570 WorldCat member libraries worldwide
"Our Legal System is committed to the idea that private markets and the law of contracts that supports them are the primary institutions for allocating goods and services in a modern economy. Yet the market paradigm, Michael Trebilcock argues, leaves substantial room for challenge. For example, should people be permitted to buy and sell blood, bodily organs, surrogate babies, pornography, or sexual favors? Is it fair to allow people with limited knowledge about a transaction and its consequences to enter into it without guidance from experts? Finally, do people always know their own preferences, many of which may be socially conditioned?" "These are only a few of the issues Trebilcock explores in this sweeping analysis of the private ordering model of contract law and the major theoretical camps critiquing it, including the communication and the feminist. He examines the implication that the private ordering paradigm simultaneously promotes autonomy and welfare values, and argues that in many contexts the convergence of these values is much more contestable than its proponents claim. The book treats all the conflicting perspectives with care, acknowledging both their strengths and their weaknesses, and using them to illuminate many specific dilemmas. Trebilcock also pays close attention to how various theories may be translated into practice, revealing that ideas which appear to oppose each other at an abstract level are in fact similar when implemented at the institutional level." "In conclusion, Trebilcock argues that we need to be more alert to the possibility of adopting public policies that broaden access to market opportunities for the disadvantaged. Economists, lawyers, political scientists, philosophers, and policy analysts will all benefit from reading this brilliant synthesis and reinterpretation of contract law."--Jacket
more
fewer
Audience Level
0

1
Kids
General
Special
Audience level: 0.25 (from 0.05 for The law an ... to 0.71 for Advanced i ...)
Related Identities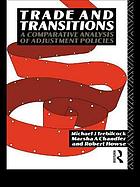 Covers
Alternative Names
Michael John Trebilcock

Trebilcock, M. 1941-

Trebilcock M.J.

Trebilcock, M.J. 1941-

Trebilcock, M. J. (Michael J.), 1941-

Trebilcock, M.J. (Michael John), 1941-

Trebilcock, Michael

Trebilcock Michael 1941-....

Trebilcock, Michael J.

Trebilcock, Michael J. 1941-

Trebilcock, Michael John.

Trebilcock, Michael John 1941-...

Trebilcock, Michael (Michael J.), 1941-

트레빌코크, 마이클 J. 1941-

Languages