Trebilcock, M. J.
Most widely held works by M. J Trebilcock
The regulation of international trade
by
M. J Trebilcock
( Book )
77 editions published between
1994
and 2013 in
English
and
Undetermined
and held by 1,491 WorldCat member libraries worldwide
Introduces the rules and institutions that govern international trade. This new edition has been fully up-dated to take account of the most recent developments
The making of the mosaic : a history of Canadian immigration policy
by
Ninette Kelley
( Book )
26 editions published between
1998
and 2014 in
English
and held by 681 WorldCat member libraries worldwide
"This book examines the ideas, interests, institutions, and rhetoric that have shaped Canada's immigration history." "Beginning their study in the pre-Confederation period, the authors tell of the dramatic transformations that have characterized Canadian attitudes towards immigrants. While, at first, few obstacles were placed in the way of newcomers to Canada, the turn of the century brought policies of increasing selectivity. The massive deportations of the First World War and Depression eras were exceeded in harshness only by the tactics implemented during the Second World War, when nearly all of the Japanese-Canadian population was subjected to forced relocation and when Jewish refugees fleeing from mass extermination abroad were turned away from Canada's shores." "Bringing readers up to date with an analysis of the more expansionary policies of the 1990s, the authors clarify the central issues and attitudes underlying each phase and juncture of policy decision making. Their thoughtful study reveals a set of core normative and ethical values that have been fundamental in the making of the Canadian mosaic."--Jacket
The limits of freedom of contract
by
M. J Trebilcock
( Book )
24 editions published between
1989
and 1997 in
English
and held by 553 WorldCat member libraries worldwide
"Our Legal System is committed to the idea that private markets and the law of contracts that supports them are the primary institutions for allocating goods and services in a modern economy. Yet the market paradigm, Michael Trebilcock argues, leaves substantial room for challenge. For example, should people be permitted to buy and sell blood, bodily organs, surrogate babies, pornography, or sexual favors? Is it fair to allow people with limited knowledge about a transaction and its consequences to enter into it without guidance from experts? Finally, do people always know their own preferences, many of which may be socially conditioned?" "These are only a few of the issues Trebilcock explores in this sweeping analysis of the private ordering model of contract law and the major theoretical camps critiquing it, including the communication and the feminist. He examines the implication that the private ordering paradigm simultaneously promotes autonomy and welfare values, and argues that in many contexts the convergence of these values is much more contestable than its proponents claim. The book treats all the conflicting perspectives with care, acknowledging both their strengths and their weaknesses, and using them to illuminate many specific dilemmas. Trebilcock also pays close attention to how various theories may be translated into practice, revealing that ideas which appear to oppose each other at an abstract level are in fact similar when implemented at the institutional level." "In conclusion, Trebilcock argues that we need to be more alert to the possibility of adopting public policies that broaden access to market opportunities for the disadvantaged. Economists, lawyers, political scientists, philosophers, and policy analysts will all benefit from reading this brilliant synthesis and reinterpretation of contract law."--Jacket
Exploring the domain of accident law : taking the facts seriously
by
Donald N Dewees
( Book )
20 editions published between
1995
and 1996 in 3 languages and held by 315 WorldCat member libraries worldwide
Most of the academic literature on the tort system has traditionally been doctrinal or, in recent years, highly theoretical. Very little of this literature provides an in-depth consideration of how the system works, and whether or not there are any feasible alternatives. Exploring the Domain of Accident Law contributes valuable new evidence to the tort law reform debate. It will be of interest to academic lawyers and economists, policy analysts, policy professionals in government and research organizations, and all those affected by tort law reform
Trade and transitions : a comparative analysis of adjustment policies
by
M. J Trebilcock
( Book )
20 editions published between
1990
and 2003 in
English
and held by 314 WorldCat member libraries worldwide
Based on a comparative study of eight leading industrial powers this book argues that ǹew protectionism' is economically inefficient and countries should try to develop the policies which are least harmful to their trading partners
The Professions and public policy
by
Philip Slayton
( Book )
8 editions published between
1976
and 1978 in
English
and held by 281 WorldCat member libraries worldwide
The professions in American society are examined in this collection of 24 papers given at a conference sponsored by the Law and Economics program of the University of Toronto's Faculty of Law. An attempt is made to define and focus on the issues that fail to be considered in any re-evaluation of public policies towards the professions. The essays examine: regulatory philosophies such as competition policy and self-regulation; who qualifies for self-regulation and the objectives of professional education; supply and access; paraprofessionals; employed professionals and their income and power of bargaining; and regulating continuing competence. An introduction by Michael J. Trebilcock defines the need for examining the role of professionals. The final chapter by Ivan Illich concludes that the present time will be remembered as The Age of Schooling, "when people for one-third of their lives were trained to accumulate needs on prescription and for the other two-thirds were clients of prestigious pushers who managed their habits." It is suggested that professional dominance be channeled to provide for the actual needs of society. (Lc)
Hard choices, soft law : voluntary standards in global trade, environment, and social governance
by
John J Kirton
( Book )
14 editions published between
2004
and 2017 in
English
and held by 280 WorldCat member libraries worldwide
"An important read for academics and policy-makers alike, Hard Choices, Soft Law asserts that voluntary standards, or 'soft' law, are an important supplement to international law in a number of areas. This key work firstly outlines the approach taken to combining soft and hard law and trade, environment and labour values in the WTO and NAFTA, and in the prospective Millennium Round. Then, using the forestry sector - a realm where formal international law remains largely absent - the book provides a detailed examination of the role of soft law in action. It demonstrates how soft and hard law can be combined to promote trade, environmental and social cohesion, in ways that also permit sustainable development. Hard Choices, Soft Law presents a wealth of knowledge from a range of contributors familiar with the work of the G7/G8, the OECD, the Biodiversity Convention and the Codex Alimentarius."--Jacket
The political economy of economic adjustment : the case of declining sectors
by
M. J Trebilcock
( Book )
13 editions published between
1982
and 1986 in
English
and held by 268 WorldCat member libraries worldwide
"The primary purpose of this study is to examine why nations find it difficult in practice to adopt and maintain policies of "positive adjustment." We therefore review both Canadian and comparative experience. Essentially, the perspective we have adopted in this study is a "public choice" or "economics of politics" framework in which we analyze political constraints on economically desirable forms of adjustment. The principal focus will be on policies toward declining industrial sectors and the exit of resources from such sectors."--p. 2
Rule of law reform and development : charting the fragile path of progress
by
M. J Trebilcock
( Book )
15 editions published between
2008
and 2009 in
English
and held by 251 WorldCat member libraries worldwide
"This important book addresses a number of key issues regarding the relationship between the rule of law and development. It presents a deep and insightful inquiry Into the current orthodoxy that the rule of law is the panacea for the world's problems. The authors chart the precarious progress of law reforms both in overall terms and in specific policy areas such as the judiciary, the police, tax administration and access to justice, among others. They accept that the rule of law is necessarily tied to the success of development, although they propose a set of procedural values to enlighten this institutional approach. The authors also recognize that states face difficulties in implementing this institutional structure, and identify the probable impediments, before proposing a rethink of law reform strategies and offering some conclusions about the role of the international community in the rule of law reform."--Jacket
more
fewer
Audience Level
0

1
Kids
General
Special
Audience level: 0.46 (from 0.03 for The law an ... to 0.71 for Rule of la ...)
Related Identities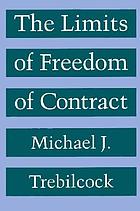 Alternative Names
Michael John Trebilcock

Trebilcock, M. 1941-

Trebilcock, M.J.

Trebilcock, M.J. 1941-

Trebilcock, M. J. (Michael J.), 1941-

Trebilcock, M.J. (Michael John), 1941-

Trebilcock, Michael

Trebilcock Michael 1941-....

Trebilcock, Michael J.

Trebilcock, Michael J. 1941-

Trebilcock, Michael John.

Trebilcock, Michael John 1941-...

Trebilcock, Michael (Michael J.), 1941-

트레빌코크, 마이클 J

Languages
Covers