Slife, Brent D.
Most widely held works by Brent D Slife
Taking sides
by
Kurt Finsterbusch
( Book )
48 editions published between
1980
and 2008 in
English
and
Undetermined
and held by 2,354 WorldCat member libraries worldwide
[The book] is a debate-style reader designed to introduce students to controversies in psychology. The readings, which represent the arguments of leading psychologists and commentators, reflect a variety of viewpoints and have been selected for their liveliness and substance and becasue of their value in a debate framework. For each issue, the editor provides a concise introduction and challenge questions. The introduction sets the stage for the debate as it is argued in the "yes" and "no" readings, and the challenge questions provoke further examinations of the issue. By requiring students to analyze opposing viewpoints and reach considered judgement, [the book] develops students' critical thinking skills.-Pref
Critical issues in psychotherapy : translating new ideas into practice
by
Brent D Slife
( )
10 editions published in
2001
in
English
and
Undetermined
and held by 1,243 WorldCat member libraries worldwide
This volume evaluates the theory and practice of new and existing models in psychotherapy. It includes the topics individualism, spirituality, mainstream theories, empirically validated treatments, multiculturalism and managed care
What's behind the research? : discovering hidden assumptions in the behavioral sciences
by
Brent D Slife
( Book )
14 editions published between
1995
and 1997 in
English
and held by 807 WorldCat member libraries worldwide
"Slife and Williams present a compelling and potentially controversial look at the implicit underpinnings of behavioral research. The do an admirable job of specifically describing the 'embedded ideas' of some of the most commonly accepted behavioral theories. ... Well written, concise, and well thought out; arguments are made in readable fashion, suitable for scholar and nonscholar alike."--Choice "The manuscript completely captivated me around the middle of Chapter 2 with 'Eclectic Theories, ' where I began reading with absorption in order to process ideas for myself, instead of reading on the surface to see what the author was about. Again and again I found myself pausing to contemplate provocative one-liners. ... Throughout, the philosophical inquiry seems to me profound and enchanting, with an original and compelling synthesis."--Maria Arrigo, Psychology Graduate Student, Claremont Graduate School "These authors have an uncanny ability of identifying, as they would say, 'hidden' issues and assumptions that permeate the behavioral sciences. The arguments they marshall are most compelling and deserving of serious consideration by devoted professionals, students, or lay persons. Hopefully, with the publication of the book such consideration will at long last be realized."--Jeffrey P. Lindstrom, Fontbonne College, Missouri "This book will stimulate more dialogue; it is long overdue. Thanks to the lucid writing style, sensible organization, and occasional recapitulations in the text, the book will also be accessible to advanced undergraduates and graduates. I plan to require the book in at least one of my courses."--Allan W. Wicker, Center for Organizational and Behavioral Science, The Claremont Graduate School "This book is important for cultivating a view of behavioral sciences as something far more important than a collection of techniques for gathering and analyzing data. I would recommend it to my colleagues in educational psychology who teach psychological foundations." --Thomas A. Schwandt, School of Education, Indiana University "To my mind, the finest feature of this book--at the level of a near miracle--is the author's clear and engaging explanation of complex, subtle, and counter-intuitive ideas. This amazing pedagogical achievement should stand as an example to philosophers. I am also struck by the author's affection for the reader. The prose is simple because the author wants to make a real connection with the reader; there is no feeling of condescension for the novice or the commercial market. It is a loving instead of a battering style of philosophical disclosure, which did not occur to the philosophical giants whose works the author mercifully interprets for the reader." --Maria Arrigo, Psychology Graduate Student, Claremont Graduate School "Each chapter consistently follows a similar outline. Introductions and conclusions genuinely assist the reader, as do references back to earlier segments. Daily life examples bring the text to life. The book is designed to engage the reader. Addressing the root metaphor of each theory is effective. Most issues that concerned me wound up being addressed as I went along (which amazed me given such a short volume written to be understood by undergraduates)." --Constance T. Fischer, Department of Psychology, Duquesne University Aimed at facilitating critical theoretical thinking in the behavioral sciences, What's Behind the Research? explores the main assumptions that behavioral science theories are based on and offers some alternatives to these assumptions. The book begins with a review of the major theoretical approaches in the behavioral sciences (psychoanalysis, behaviorism, humanism, cognitivism, eclecticism, structuralism, and postmodernism) and examines which assumptions are made versus those that are overlooked in these theories. The next four chapters reveal and discuss the key assumptions of the theories (knowing, determinism, reductionism, and science) by tracing the intellectual history of these conceptions, followed by a presentation of contrasting options. The book concludes with an examination of possible ways to come to terms with some of the inadequacies in the assumptions of the behavioral sciences. Readers will find that this book will enable them to make better choices in doing their research and in critical theoretical thinking."
Taking sides
by
Brent D Slife
( Book )
18 editions published between
2006
and 2016 in
English
and held by 763 WorldCat member libraries worldwide
This Fifteenth Edition of TAKING SIDES: PSYCHOLOGICAL ISSUES presents current controversial issues in a debate-style format designed to stimulate student interest and develop critical thinking skills. Each issue is thoughtfully framed with an issue summary, an issue introduction, and a postscript. An instructors manual with testing material is available for each volume. USING TAKING SIDES IN THE CLASSROOM is also an excellent instructor resource with practical suggestions on incorporating this effective approach in the classroom
Critical thinking about psychology : hidden assumptions and plausible alternatives
by
Brent D Slife
( Book )
11 editions published between
2004
and 2009 in
English
and held by 552 WorldCat member libraries worldwide
"In this volume, experts from varied subdisciplines critique assumptions peculiar to their speciality and then propose alternatives to replace the original assumptions. The book covers six major psychology subdisciplines, ranging from clinical psychology to neuropsychology. Contributors critique unquestioned tenets of the field such as the dualism between mind and body, the truth of efficient causation, and the discrete unit known as the individual. Authors then provide alternative ways of seeing the field, such as nondualistic models of the self and a moral vision of human development, effectively creating new conceptual ground for psychology. In analyzing what is taken for granted, this volume teaches critical thinking skills at the same time that it moves psychology in exciting new directions."--Résumé de l'éditeur
Frailty, suffering, and vice : flourishing in the face of human limitations
by
Blaine J Fowers
( Book )
7 editions published in
2017
in
English
and held by 279 WorldCat member libraries worldwide
Positive psychology studies the strengths that enable individuals to thrive. It is founded on the belief that we want to cultivate our best virtues and traits, and enhance our lives by embracing our best selves. But we are imperfect creatures. How do we realize our best selves and flourish in the face of our frailty, suffering, and vice? This volume addresses the human condition in its entirety and discusses the pathways to flourishing in light of the everyday limitations that we all must face. Fowers, Richardson, and Slife discuss what they call the "breathless optimism" of positive psychology and explain how human dependency, limits, and suffering are not just negatives to be overcome. Rather they are part of our journey toward development and thriving. Farilty, Suffering, and Vice: Flourishing in the Face of Human Limitations is a vital corrective for the conceptual and practical limitations of contemporary scholarship, reminding us all that understanding our limitations is essential to living the best kind of life. -- from back cover
The hidden worldviews of psychology's theory, research, and practice
by
Brent D Slife
( )
9 editions published in
2017
in
English
and held by 137 WorldCat member libraries worldwide
Cover -- Title -- Copyright -- Dedication -- Contents -- Series Editor's Foreword -- 1 Introduction to Psychology's Worldviews -- 2 The Sociocultural Dynamics of Worldviews in Psychology and Their Challenges -- 3 A Prominent Worldview of Professional Psychology -- 4 A Prominent Worldview of Psychological Research -- 5 Cultures, Worlds, and Worldviews -- 6 Toward Worldview Pluralism in Psychology -- Index
Taking sides
( )
in
English
and held by 136 WorldCat member libraries worldwide
Taking sides
( Book )
5 editions published in
2004
in
English
and held by 134 WorldCat member libraries worldwide
Presents opposing viewpoints on eighteen controversial psychological issues, covering research, biology, human development, mental health, and other topics
more
fewer
Audience Level
0

1
Kids
General
Special
Audience level: 0.20 (from 0.02 for Critical i ... to 0.86 for Black v. T ...)
Related Identities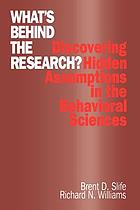 Covers
Alternative Names
Slife Brent

Slife Brent D.

Slife, Brent Donald

Languages