Stalnaker, Robert
Most widely held works about Robert Stalnaker
more
fewer
Most widely held works by Robert Stalnaker
Inquiry
by
Robert Stalnaker
( Book )
27 editions published between
1984
and 1987 in 3 languages and held by 624 WorldCat member libraries worldwide
Table of Contents<br><br>Preface p.ix<br> 1 The Problem of Intentionality p.1<br> 2 The Linguistic Picture p.27<br> 3 Possible Worlds p.43<br> 4 Belief and Belief Attribution p.59<br> 5 The Problem of Deduction p.79<br> 6 Conditional Belief p.101<br> 7 Conditional Propositions p.119<br> 8 Realism about Counterfacts p.147<br> Notes p.171<br> References p.179<br> Index p.183
Our knowledge of the internal world
by
Robert Stalnaker
( Book )
26 editions published between
2008
and 2010 in
English
and held by 457 WorldCat member libraries worldwide
"This book is in the anti-Cartesian tradition that seeks to reverse the order of explanation. Robert Stalnaker argues that we can understand our knowledge of our thoughts and feelings only by viewing ourselves from the outside, and by seeing our inner lives as features of the world as it is in itself. He uses the framework of possible worlds both to articulate a conception of the world as it is in itself, and to represent the relation between our objective knowledge and our knowledge of our place in the world. He explores an analogy between knowledge of one's own phenomenal experience and self-locating knowledge - knowledge of who one is, and what time it is. He criticizes the philosopher's use of the notion of acquaintance to characterize our intimate epistemic relation to the phenomenal character of our experience, and explores the tension between an anti-individualist conception of the contents of thought and the thesis that we have introspective access to that content. The conception of knowledge that emerges is a contextualist and anti-foundationalist one but, it is argued, a conception that is compatible with realism about both the external and internal worlds."--Jacket
Context and content : essays on intentionality in speech and thought
by
Robert Stalnaker
( Book )
28 editions published between
1999
and 2009 in
English
and
Spanish
and held by 427 WorldCat member libraries worldwide
In Context and Content Robert Stalnaker develops a philosophical picture of the nature of speech and thought and the relations between them. Two themes in particular run through these collected essays: the role that the context in which speech takes place plays in accounting for the way language is used to express thought, and the role of the external environment in determining the contents of our thoughts. Stalnaker argues against the widespread assumption of the priority of linguistic over mental representation, which he suggests has had a distorting influence on our understanding
Ways a world might be : metaphysical and anti-metaphysical essays
by
Robert Stalnaker
( Book )
21 editions published between
2003
and 2012 in
English
and held by 321 WorldCat member libraries worldwide
The central theme is the role of possible worlds in articulating our various metaphysical commitments. The book begins with reflections on the general idea of a possible world, and then uses the framework of possible worlds to formulate and clarify some questions about properties and individuals, reference, thought, and experience. The essays also reflect on the nature of metaphysics, and on the relation between questions about what there is and questions about how we talk and think about what there is. Two of the fourteen essays, plus an extensive introduction that sets the papers in context and draws out the essays' common threads, are published here for the first time
IFs : conditionals, belief, decision, chance, and time
by
William L Harper
( Book )
14 editions published between
1980
and 1981 in
English
and held by 311 WorldCat member libraries worldwide
With publication of the present volume, The University of Western Ontario Series in Philosophy of Science enters its second phase. The first fourteen volumes in the Series were produced under the managing editorship of Professor James J. Leach, with the cooperation of a local editorial board. Many of these volumes resulted from colloguia and workshops held in con nection with the University of Western Ontario Graduate Programme in Philosophy of Science. Throughout its seven year history, the Series has been devoted to publication of high quality work in philosophy of science con sidered in its widest extent, including work in philosophy of the special sciences and history of the conceptual development of science. In future, this general editorial emphasis will be maintained, and hopefully, broadened to include important works by scholars working outside the local context. Appointment of a new managing editor, together with an expanded editorial board, brings with it the hope of an enlarged international presence for the Series. Serving the publication needs of those working in the various subfields within philosophy of science is a many-faceted operation. Thus in future the Series will continue to produce edited proceedings of worthwhile scholarly meetings and edited collections of seminal background papers. How ever, the publication priorities will shift emphasis to favour production of monographs in the various fields covered by the scope of the Series. THE MANAGING EDITOR vii W.L. Harper, R. Stalnaker, and G. Pearce (eds.), lIs, vii
Mere possibilities : metaphysical foundations of modal semantics
by
Robert Stalnaker
( Book )
18 editions published between
2011
and 2012 in
English
and held by 229 WorldCat member libraries worldwide
"It seems reasonable to believe that there might have existed things other than those that in fact exist, or have existed. But how should we understand such claims? Standard semantic theories exploit the Leibnizian metaphor of a set of all possible worlds: a proposition might or must be true if it is true in some or all possible worlds. The actualist, who believes that nothing exists except what actually exists, prefers to talk of possible states of the world, or of ways that a world might be. But even the actualist still faces the problem of explaining what we are talking about when we talk about the domains of other possible worlds. In Mere Possibilities, Robert Stalnaker develops a framework for clarifying this problem, and explores a number of actualist strategies for solving it. Some philosophers have hypothesized a realm of individual essences that stand as proxies for all merely possible beings. Others have argued that we are committed to the necessary existence of everything that does or might exist. In contrast, Mere Possibilities shows how we can make sense of ordinary beliefs about what might and must exist without making counterintuitive metaphysical commitments. The book also sheds new light on the nature of metaphysical theorizing by exploring the interaction of semantic and metaphysical issues, the connections between different metaphysical issues, and the nature of ontological commitment."--Jacket
Bush pilot's log #2
by
Lloyd Jarman
( Book )
1 edition published in
1982
in
English
and held by 7 WorldCat member libraries worldwide
Historical interpretation
by
Robert Stalnaker
( )
5 editions published between
1965
and 1970 in
English
and held by 5 WorldCat member libraries worldwide
What is rationality?
by
Robert Stalnaker
( Recording )
2 editions published in
1976
in
English
and held by 2 WorldCat member libraries worldwide
Note: Only the final discussion was recorded
more
fewer
Audience Level
0

1
Kids
General
Special
Audience level: 0.35 (from 0.04 for Mere possi ... to 0.98 for La semioti ...)
Related Identities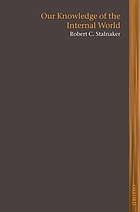 Alternative Names
Robert Stalnaker Amerikaans filosoof

Robert Stalnaker filósofo estadounidense

Robert Stalnaker philosophe américain

Robert Stalnaker US-amerikanischer Philosoph

Stalnaker, Robert.

Stalnaker, Robert C.

Stalnaker, Robert C. 1940-

Stalnaker, Robert Culp

Stalnaker, Robert Culp 1940-

رابرت استالنکر فیلسوف آمریکایی

羅伯特·斯塔爾內克

罗伯特·斯托奈克

Languages
Covers