Hargittai, István
Most widely held works about István Hargittai
Most widely held works by István Hargittai
Symmetry through the eyes of a chemist
by
István Hargittai
( Book )
71 editions published between
1986
and 2010 in
English
and
Undetermined
and held by 1,299 WorldCat member libraries worldwide
Symmetry through the Eyes of a Chemist, 3rd Edition Magdolna Hargittai and István Hargittai are PhD's (Eötvös University), DSc's (Hungarian Academy of Sciences), and Dr.h.c.'s (University of North Carolina). They are currently affiliated with the Department of Inorganic and Analytical Chemistry and Materials Structure and Modeling Research Group of the Hungarian Academy of Sciences at the Budapest University of Technology and Economics. They are also members of the Hungarian Academy of Sciences and the Academia Europaea (London). Reviews of previous editions "This has to be the most delightful book on symmetry ever written!" F.L. Pilar, Elementary Quantum Chemistry "The book gives a fascinating overview of the rich variety of applications of symmetry, showing both its power and its aesthetic appeal." Science "Education by aesthetic appeal." Nature "The cosmopolitan eye... good-humored and clearly delighted by diversity, informs this entire book. The work offers a broad new perspective." Scientific American "In the refreshing style of scientists with an almost renaissance versatility." New Scientist "This beautiful book... looks at symmetry as a unifying theme in the nature of things." Mathematical Reviews "...gives the reader a broad perspective..." The Mathematical Intelligencer "An outstanding book that succeeds admirably on a number of levels..." Bowker's Good Reading "I warmly recommend it to all chemists." Journal of Chemical Education "Succeeds not only in demonstrating how central [in] the study of all fields of chemistry symmetry consideration [is] but how these same concepts of symmetry can be traced through all our cultural traditions unifying and contrasting diverse endeavors in literature, music, and art." Journal of the American Chemical Society "The book...to which I shall return frequently and with considerable pleasure." Chemistry and Industry
The Martians of Science : five physicists who changed the twentieth century
by
István Hargittai
( Book )
21 editions published between
2006
and 2008 in
English
and held by 645 WorldCat member libraries worldwide
"If science has the equivalent of a Bloomsbury group, it is the five men born at the turn of the twentieth century in Budapest: Theodore von Karman, Leo Szilard, Eugene Wigner, John von Neumann, and Edward Teller. From Hungary to Germany to the United States, they remained friends and continued to work together and influence each other throughout their lives. As a result, their work was integral to some of the most important scientific and political developments of the twentieth century."
Candid science : conversations with famous chemists
by
István Hargittai
( Book )
33 editions published between
2000
and 2004 in 3 languages and held by 626 WorldCat member libraries worldwide
In this book, 36 famous chemists, including 18 Nobel laureates, tell about their lives in science, the beginnings of their careers, their aspirations, and their hardships and triumphs. The reader will learn about their seminal discoveries, and the conversations in the book bring out the humanity of these great scientists. NMR spectroscopy, computational chemistry, the drama of buckminsterfullerene, the story of the Pill, the politics of atmospheric chemistry and the resonance theory, the beginnings of molecular mechanics and modern stereochemistry are examples of the topics discussed first-han
Symmetry : a unifying concept
by
István Hargittai
( Book )
12 editions published between
1994
and 2000 in
English
and held by 496 WorldCat member libraries worldwide
Verhandeling over verschillende vormen van symmetrie
The road to Stockholm : Nobel Prizes, science, and scientists
by
István Hargittai
( Book )
22 editions published between
2002
and 2007 in
English
and held by 433 WorldCat member libraries worldwide
"The Nobel Prizes enjoy enormous prestige throughout the world. Every year, science is propelled into the limelight, and in October, when the prizes are announced, and December, when they are awarded at a ceremony in Stockholm, a chosen few scientists acquire celebrity status and their science receives wide coverage in the news media. First awarded in 1901, the Nobel Prize remains the only science prize widely recognized by the general public." "What sort of scientists become Nobel laureates? How are they chosen? Are there features common to them, and to their prize-winning research? These sorts of questions have long intrigued Istvan Hargittai and seeking answers, he began interviewing Nobel prize-winning scientists about their careers. Some 70 laureates, and a similar number of other distinguished scientists, have been interviewed, most of them during the late 1990s, and the result is this book." "Written for a general readership, The Road to Stockholm illuminates the nature of scientific discovery, the Nobel Prize selection process, the factors common to award-winning research, and the effects of the Nobel Prize on science itself. Here are stories of scientists who overcame adversity, eventually to win the Prize; insights into the importance of the laureate's mentor in earlier life, and into the significance of the location where prize-winning research is carried out; and a variety of responses to the question: what first turned you to science? No less fascinating are the well-publicised examples of deserving (in many eyes) scientists who were not awarded the Nobel Prize, and Professor Hargittai devotes a chapter to them."--Jacket
Judging Edward Teller : a closer look at one of the most influential scientists of the twentieth century
by
István Hargittai
( Book )
7 editions published in
2010
in
English
and held by 391 WorldCat member libraries worldwide
"Many people know Edward Teller as the "Father of the H-Bomb." His name tends to generate extreme views. To his supporters he was a hero of the Cold War. To his detractors he was evil personified. Between these extremes was the life of the real man. In this definitive and comprehensive biography, Hungarian scientist Istvan Hargittai, a personal acquaintance of Teller's, presents a balanced portrait of the multifaceted and enigmatic scientist against the backdrop of a turbulent period of history. Taking pains to avoid bias and preconceptions, Hargittai critically examines Teller's personality, family background, and the experiences that guided his actions--correcting many of the myths that others and Teller himself promulgated. Drawing for the first time on hitherto unknown archival material from Hungarian, American, and German sources, the author provides fresh insights that help the reader to understand Teller's motivations, his relationships with friends and foes, and his driven personality. In addition to this research and his own memories of Teller, Hargittai has interviewed for this book such prominent figures as Richard Garwin, Freeman Dyson, George A. Keyworth, and Wendy Teller (Edward Teller's daughter), among others" -- Publisher description
Drive and curiosity : what fuels the passion for science
by
István Hargittai
( Book )
6 editions published between
2011
and 2014 in
English
and
Undetermined
and held by 347 WorldCat member libraries worldwide
Uncovers a singular personality characteristic, motivational factor, or circumstance that, in addition to their extraordinary drive and curiosity, led fifteen eminent scientists to achieve some of the most notable discoveries of the twentieth century
Spiral symmetry
by
István Hargittai
( Book )
21 editions published between
1991
and 2000 in
English
and
Undetermined
and held by 319 WorldCat member libraries worldwide
From the tiny twisted biological molecules to the gargantuan curling arms of many galaxies, the physical world contains a startling repetition of spiral patterns. Today, researchers have a keen interest in identifying, measuring, and defining these patterns in scientific terms. Spirals play an important role in the growth processes of many biological forms and organisms. Also, through time, humans have imitated spiral motifs in their art forms, and invented new and unusual spirals which have no counterparts in the natural world. Therefore, one goal of this multiauthored book is to stress the conspicuous role that spirals play in science, and to show the reader how to create such spirals using a computer. Another goal is to show how simple mathematical formulas can reveal magnificent shapes and images. This interdisciplinary book revolves around a common theme, spiral symmetry, and is intended for scientists, humanists, and interested laypeople
The VSEPR model of molecular geometry
by
Ronald J Gillespie
( Book )
19 editions published between
1991
and 2012 in
English
and held by 313 WorldCat member libraries worldwide
"Valence Shell Electron Pair Repulsion (VSEPR) theory is a simple technique for predicting the geometry of atomic centers in small molecules and molecular ions. This authoritative reference, written by the developer of VSEPR theory features extensive coverage of structural information as well as theory and applications. Helpful data on molecular geometries, bond lengths, and band angles appear in tables and other graphics. 1991 edition"--
Symmetry : unifying human understanding
by
István Hargittai
( Book )
24 editions published between
1986
and 2014 in 3 languages and held by 313 WorldCat member libraries worldwide
International Series in Modern Applied Mathematics and Computer Science, Volume 10: Symmetry: Unifying Human Understanding provides a tremendous scope of "symmetry", covering subjects from fractals through court dances to crystallography and literature.This book discusses the limits of perfection, symmetry as an aesthetic factor, extension of the Neumann-Minnigerode-Curie principle, and symmetry of point imperfections in solids. The symmetry rules for chemical reactions, matching and symmetry of graphs, mosaic patterns of H. J. Woods, and bilateral symmetry in insects are also elaborated. This
more
fewer
Audience Level
0

1
Kids
General
Special
Audience level: 0.31 (from 0.02 for Candid sci ... to 0.67 for Accurate m ...)
Related Identities
Associated Subjects
Architecture
Arts
Atomic bomb
Biochemistry
Biochemists
Biologists
Chemistry
Chemistry, Inorganic
Chemistry, Physical and theoretical
Chemistry--Mathematics
Chemists
Communication in chemistry
Crystallography
Discoveries in science
Hargittai, István
History
Hungarian Americans
Hungary
Hungary--Budapest
Jews, Hungarian
Life sciences
Mathematicians
Medical scientists
Molecular biologists
Molecular biology
Molecular structure
Molecular theory
Nobel Prizes
Physical organic chemistry
Physical sciences
Physicists
Physics
Science
Science--Awards
Scientists
Scientists--Psychology
Soviet Union
Spirals
Symmetry
Symmetry (Art)
Symmetry (Biology)
Symmetry (Mathematics)
Symmetry (Physics)
Szilard, Leo
Teller, Edward,
United States
Von Kármán, Theodore,
Von Neumann, John,
Watson, James D.,
Wigner, Eugene Paul,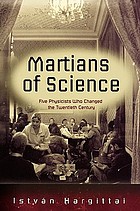 Alternative Names
Hargittai, I.

Hargittai, I. 1941-

Hargittai, I. (István)

Hargittai István

István Hargittai

István Hargittai chimico ungherese

István Hargittai Hungarian chemist and author

István Hargittai ungarischer Chemiker

Харгиттаи, И 1941-

Languages
Covers