Lambeth, Benjamin S.
Most widely held works by Benjamin S Lambeth
The transformation of American air power
by
Benjamin S Lambeth
( Book )
9 editions published in
2000
in
English
and held by 457 WorldCat member libraries worldwide
Beskriver udviklingen inden for luftkrig og luftmagt navnlig med relation til amerikanske forhold og strategier
NATO's air war for Kosovo : a strategic and operational assessment
by
Benjamin S Lambeth
( Book )
15 editions published in
2001
in
English
and held by 321 WorldCat member libraries worldwide
"This book offers a thorough appraisal of Operation Allied Force, NATO's 78-day air war to compel the president of Yugoslavia, Slobodan Milosevic, to end his campaign of "ethnic cleansing" in Kosovo. The author sheds light both on the operation's strengths and on its most salient weaknesses. He outlines the key highlights of the air war and examines the various factors that interacted to induce Milosevic to capitulate when he did. He then explores air power's most critical accomplishments in Operation Allied Force as well as the problems that hindered the operation both in its planning and in its execution. Finally, he assesses Operation Allied Force from a political and strategic perspective, calling attention to those issues that are likely to have the greatest bearing on future military policymaking. The book concludes that the air war, although by no means the only factor responsible for the allies' victory, certainly set the stage for Milosevic's surrender by making it clear that he had little to gain by holding out. It concludes that in the end, Operation Allied Force's most noteworthy distinction may lie in the fact that the allies prevailed despite the myriad impediments they faced."--Rand abstracts
Air power against terror : America's conduct of Operation Enduring Freedom
by
Benjamin S Lambeth
( Book )
13 editions published between
2001
and 2005 in
English
and held by 294 WorldCat member libraries worldwide
The terrorist attacks of 9/11 plunged the United States into a determined counteroffensive against Osama bin Laden and his al Qaeda terrorist network. This report details the initial U.S. military response to those attacks, namely, the destruction of al Qaeda's terrorist infrastructure and the removal of the ruling Taliban regime in Afghanistan. The author emphasizes several distinctive achievements in this war, including the use of precision air-delivered weapons that were effective irrespective of weather, the first combat use of Predator unmanned aerial vehicles armed with Hellfire missiles, and the integrated employment of high-altitude drones and other air- and space-based sensors that gave CENTCOM unprecedented round-the-clock awareness of enemy activity
Mastering the ultimate high ground : next steps in the military uses of space
by
Benjamin S Lambeth
( Book )
15 editions published between
1999
and 2003 in
English
and held by 255 WorldCat member libraries worldwide
The author assesses the military space challenges that face the Air Force and the nation in light of the findings and recommendations of the congressionally mandated Space Commission, released in January 2001. After reviewing the main milestones in the Air Force's involvement in space since its creation as an independent service in 1947, he examines the circumstances that occasioned the Space Commission's creation, as well as the conceptual and organizational roadblocks that have impeded a more rapid growth of U.S. military space capability. He concludes that the Air Force faces five basic challenges with respect to space: continuing the operational integration of space with the three terrestrial warfighting mediums while ensuring the organizational differentiation of space from Air Force air; effectively wielding its newly granted military space executive-agent status; realizing a transparent DoD-wide budget category for space; showing progress toward fielding a meaningful space control capability while decoupling that progress from any perceived taint of force-application involvement; and making further progress toward developing and nurturing a cadre of skilled space professionals within the Air Force
The unseen war : allied air power and the takedown of Saddam Hussein
by
Benjamin S Lambeth
( Book )
6 editions published in
2013
in
English
and held by 242 WorldCat member libraries worldwide
The Unseen War offers a comprehensive assessment of the air contribution to the three weeks of major combat that ended the rule of Iraq's Saddam Hussein in 2003. Unlike in the earlier instance of Operation Desert Storm in 1991, the role of allied air power in the nation's second war against Iraq was not apparent to most observers, since the land offensive began concurrently with the air offensive and the overwhelming majority of the reporters who accompanied allied forces into combat were embedded with ground units
Russia's air power at the crossroads
by
Benjamin S Lambeth
( Book )
5 editions published in
1996
in
English
and held by 194 WorldCat member libraries worldwide
This report is an assessment of trends and prospects in Russian military aviation. It is based in large measure on the extensive reportage on air power and other military matters that has pervaded the Russian defense literature since the onset of glasnost in 1986. It also benefits from limited first-hand contacts between the author and senior Russian Air Force and aviation industry leaders. The roots of this undertaking go back to a Project AIR FORCE study initiated at RAND in 1987 for the Office of the Deputy Chief of Staff for Plans and Operations, Headquarters United States Air Force, aimed at providing a comprehensive look at how tactical aviation fitted into broader Soviet concepts for theater warfare in Europe. That project, entitled "Soviet Tactical Air Power in Strategic Perspective," sought to examine the USSR's fighter force in terms of its historical origins, organizational development, training and tactics, operational style, mission tasking, and role in overall theater campaign strategy. Soon after work began, most of the original questions posed, along with the geostrategic setting of Soviet force planning, underwent a fundamental change as a result of then-President Mikhail Gorbachev's doctrinal innovations and the ensuing end of the cold war. At the same time, Gorbachev's domestic reforms created new issues of interest with regard to Soviet military aviation. They also opened up some unprecedented sources of insight into the inner workings of the Soviet defense establishment. As a result, the sponsoring office, Project CHECKMATE, agreed to Put the study on hold so that these developments might be taken into proper account
American carrier air power at the dawn of a new century
by
Benjamin S Lambeth
( Book )
14 editions published in
2005
in
English
and held by 188 WorldCat member libraries worldwide
In the Afghanistan war, U.S. carrier-based fighters substituted almost entirely for land-based theater air forces. The Navy's carriers again played a key role in conducting around-the-clock operations against Saddam Hussein's forces in Iraq. American carrier air power is now able to conduct coordinated deep-strike missions well beyond coastal reaches. The Navy's performance over Afghanistan and Iraq showed how the nation's carrier force can provide around-the-clock target coverage, consistently accurate target attack, and multiple successful target attacks per sortie
Russia's air power in crisis
by
Benjamin S Lambeth
( Book )
7 editions published in
1999
in
English
and held by 171 WorldCat member libraries worldwide
Desert Storm and its meaning : the view from Moscow
by
Benjamin S Lambeth
( Book )
7 editions published in
1992
in
English
and held by 163 WorldCat member libraries worldwide
The 1991 Persian Gulf war is proving to be a fertile source of insight not only for the American military establishment, but also for present and potential allies of the United States around the world. This insight is broad-ranging and involves such considerations as joint planning, technology application, coalition management, training and tactics, and changing patterns in the relative importance of the many combat and combat-support functions performed by the services. This report assesses how Russian defense experts have thus far perceived and drawn policy-useful conclusions from Operation Desert Storm. Although it is commonly observed that losers tend to profit more than winners by the way of lessons learned from such experiences, that observation does not strictly apply to the former USSR, since the Soviet government supported the coalition throughout the Gulf crisis despite the fact that Iraq had been one of its principal arms recipients. All the same, the Soviet defense establishment was more than passingly interested in the combat performance of both sides, and its successor institutions continue to exert major efforts to comprehend the war's course and outcome
more
fewer
Audience Level
0

1
Kids
General
Special
Audience level: 0.33 (from 0.03 for American c ... to 0.62 for Soviet str ...)
Related Identities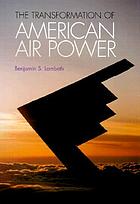 Alternative Names
Lambeth, Benjamin Simmons.

Lambeth, Benjamin Simmons 1943-

למבת', בנג'מין ס'

Languages
Covers