Comstock, George A.
Most widely held works about George A Comstock
Most widely held works by George A Comstock
Television : what's on, who's watching, and what it means
by
George A Comstock
( )
15 editions published between
1999
and 2007 in
English
and held by 2,107 WorldCat member libraries worldwide
"Television: What's On, Who's Watching, and What it Means presents a comprehensive examination of the role of television in one's life. The emphasis is on data collected over the past two decades pointing to an increasing and in some instances a surprising influence of the medium. Television advertising no longer persuades - it sells by creating a burst of emotional liking for the commercial. The emphases of television news determine not only what voters think about but also the presidential candidate they expect to support on election day. Children and teenagers who watch a great deal of television perform poorly on standardized achievement tests, and among the reasons are the usurpation of time spent learning to read and the discouragement of book reading. Television violence frightens some children and excites others, but its foremost effect is to increase aggressive behavior that sometimes spills over into seriously harmful antisocial behavior."--Jacket
Media and the American child
by
George A Comstock
( )
24 editions published between
2007
and 2010 in
English
and held by 1,948 WorldCat member libraries worldwide
This new work summarizes the research on all forms of media on children, looking at how much time they spend with media everyday, television programming and its impact on children, how advertising has changed to appeal directly to children and the effects on children and the consumer behavior of parents, the relationship between media use and scholastic achievement, the influence of violence in media on anti-social behavior, and the role of media in influencing attitudes on body image, sex and work roles, fashion, & lifestyle. The average American child, aged 2-17, watches 25 hours of TV per week, plays 1 hr per day of video or computer games, and spends an additional 36 min per day on the internet. 19% of children watch more than 35 hrs per week of TV. This in the face of research that shows TV watching beyond 10 hours per week decreases scholastic performance. In 1991, George Comstock published Television and the American Child, which immediately became THE standard reference for the research community of the effects of television on children. Since then, interest in the topic has mushroomed, as the availability and access of media to children has become more widespread and occurs earlier in their lifetimes. No longer restricted to television, media impacts children through the internet, computer and video games, as well as television and the movies. There are videos designed for infants, claiming to improve cognitive development, television programs aimed for younger and younger children-even pre-literates, computer programs aimed for toddlers, and increasingly graphic, interactive violent computer games. *Presents the most recent research on the media use of young people *Investigates the content of children's media and addresses areas of great concern including violence, sexual behavior, and commercialization *Discusses policy making in the area of children and the media *Focuses on experiences unique to children and adolescents
The psychology of media and politics
by
George A Comstock
( )
21 editions published between
2005
and 2007 in
English
and held by 1,647 WorldCat member libraries worldwide
"The media have a central role in modern politics in providing the information that individuals use to assess candidates and their platforms. Through selected coverage of poll information, political advertisements and political debates, and the coverage of political candidates, campaigns, and issues, media may influence public opinion." "The Psychology of Media and Politics discusses how this influence may occur and the impact of this influence on an individual's political impressions knowledge, and decisions. The book brings together information from a variety of fields, including communication, psychology, political science and sociology including a discussion of recent political phenomena and the implications for media and politics in the 21st century."--Jacket
Television and human behavior
by
George A Comstock
( Book )
16 editions published between
1975
and 1978 in
English
and held by 1,522 WorldCat member libraries worldwide
Studies the impact of television on viewers' habits, activities, and attitudes, examining patterns of viewing, concepts that television imposes on public consciousness, and effects on children, blacks, and the poor
Television in America
by
George A Comstock
( Book )
32 editions published between
1980
and 1991 in
English
and
Undetermined
and held by 1,240 WorldCat member libraries worldwide
Television and the American child
by
George A Comstock
( Book )
11 editions published in
1991
in
English
and held by 968 WorldCat member libraries worldwide
Comstock explores the effects of television viewing on children's daily experience, scholastic achievement, belief and perception formation, consumer behavior, and psychology. He draws on numerous studies to show how American society has changed and will change further as the result of television viewing
Television and human behavior : the research horizon, future and present : prepared under a grant from the Edna McConnell Clark Foundation
by
George A Comstock
( Book )
17 editions published in
1975
in
English
and held by 281 WorldCat member libraries worldwide
Current activity in the area of television research was reviewed, with an emphasis on some of the factors which will influence future research. An analysis was made of: (1) the priorities held by the scientific community in regard to research on television and human behavior, (2) the perspectives within the community that are likely to influence such research, and (3) some of the implications of the desire on the part of many social scientists to make such research more relevant to television policy decision-making. The analysis was based on in-depth interviews with selected social scientists, information collected in other ways from the scientific community, and reactions to preliminary analyses of a panel of highly informed social scientists. About 50 "in progress" research projects were uncovered. A description of these projects and an annotated bibliography of current publications are appended. (Author/HB)
Television and human behavior : the key studies
by
George A Comstock
( Book )
14 editions published in
1975
in
English
and held by 261 WorldCat member libraries worldwide
Some 450 studies and other items judged to be of key importance to research on television and human behavior are summarized. For empirical research, each summary presents: (1) principal findings; (2) design and methodology; (3) theory and discussion. For theory, review and nonempirical works, each summary presents: principal conclusions and theory and discussion. The summaries are described as critical annotations because they represent a judgment about the data or, in the case of nonempirical work, about the major thrust, and not a reiteration of stated conclusions. The summaries were rated by a jury of social scientists on the basis of "interest at this time," and their opinions are noted by a system of asterisks. In addition, the summaries are preceded by an analysis of methodological issues and trends within each of the substantive areas covered by the eleven specialized bibliographies. It concluded that many of the apparent disputes about the substantive scientific findings instead represent differences in the way various evaluators collate and analyze evidence, and that debate should be focused on the validity and implications of alternative means of evaluation, instead of on the "rightness" or "wrongness" of the findings. (Author/HB)
more
fewer
Audience Level
0

1
Kids
General
Special
Audience level: 0.24 (from 0.07 for Television ... to 0.99 for George Com ...)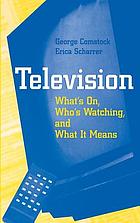 Covers
Alternative Names
Comstock, George.

Comstock, George A.

Languages