Tanner, Janet
Most widely held works by Janet Tanner
Women and war
by
Janet Tanner
( Book )
12 editions published between
1987
and 2014 in
English
and
Hebrew
and held by 622 WorldCat member libraries worldwide
Oriental hotel
by
Janet Tanner
( Book )
18 editions published between
1984
and 2014 in 3 languages and held by 562 WorldCat member libraries worldwide
Elise Sanderson remembers her passionate affair with a dashing RAF pilot as she tried to travel from Cairo to Hong Kong during WWII
The emerald valley
by
Janet Tanner
( Book )
10 editions published between
1985
and 2016 in
English
and held by 550 WorldCat member libraries worldwide
1926 . . . Amy Hall was wild, wilful and stubborn - struggling to make a success of the haulage business her dead husband Llew had created - and to come to terms with the shocking secret of his past. Ralph Porter was handsome, successful and ruthless - "the richest man in Hillsbridge". He was waiting, it seemed, for Amy to make one slip that would enable him to absorb her struggling business into his own empire. Sometimes it seemed to Amy she was fighting the whole world. But then Amy was a fighter. She always had been . . . Beneath the Black Mountains in the small Somerset mining town of Hillsbridge, Amy Hall battles to find her very own Emerald Valley
Daughter of riches
by
Janet Tanner
( Book )
13 editions published between
1992
and 2014 in 4 languages and held by 468 WorldCat member libraries worldwide
HISTORICAL FICTION. Did Sophia Langlois - passionate, wealthy, respected - really shoot her eldest son that November night in 1972? Or was she protecting someone else when she claimed she did? Twenty years later her granddaughter Juliet is determined to learn the truth. But she is not the only one interested in the Langlois case. Dan Deffains, son of Sophia's late attorney, and an investigative reporter by profession, has scented a story. His path and Juliet's cross as they follow the tangled leads and uncover a story of love and passion, loyalty and betrayal which has its roots in beleaguered wartime Jersey, when the island was occupied by the Nazis. But is the truth more devastating than the lie? Would it have been better for all concerned if Juliet - and Dan - had left the past where it belonged
The truth game
by
Janet Tanner
( Book )
7 editions published between
2008
and 2010 in
English
and held by 467 WorldCat member libraries worldwide
When six-year-old Kate Morton overhears her mother talking about her four children, Kate is mystified: there are only three children in the family. The mystery is resurrected twenty years later when Kate's grandfather's will states that the four children of his daughter should benefit. But who is the missing child? And what does a game played in the past have to do with the mystery?
The reunion
by
Janet Tanner
( Book )
4 editions published between
2007
and 2009 in
English
and held by 462 WorldCat member libraries worldwide
At school Hannah and her three best friends, Laura, Jenny and Annabel, were known as The Inseparables. So when Laura calls out of the blue with the idea of holding a reunion, Hannah is excited at the prospect of seeing how the years have treated her contemporaries. But things soon turn sour when one of them is found dead, drowned in her own swimming pool
Porthminster Hall
by
Janet Tanner
( Book )
5 editions published between
2005
and 2007 in
English
and
Undetermined
and held by 453 WorldCat member libraries worldwide
When she is eighteen Tam tells Ella the truth. She decides to make the acquaintance of her family and try to learn the fate of her mother and brother . Are they still alive? Why did Louise leave her, never to return? There are dark secrets at Portminster Hall. As Ella begins to unravel the mysteries of past and present, she finds herself in mortal danger. The same mortal danger from which her mother had fled more than twenty years ago?
The hills and the valley
by
Janet Tanner
( Book )
10 editions published between
1988
and 2016 in
English
and
Hebrew
and held by 444 WorldCat member libraries worldwide
The spell-binding story of a girl catapulted by fate into maturity - and of a close-knit mining community caught up in the horror and hardship of war. At seventeen it seems that Barbara, youngest of the Hall clan, has the world at her feet. She is pretty, she is mischievous, and she has grown up wanting for nothing. But the carefree idyll is about to end with the suddenness of a summer storm. For a shadow of which she knows nothing hangs over her charmed life; a long dark shadow from the past threatening her happiness and denying her the one man she truly loves. And in the world outside the Hillsbridge valley the clouds of war are gathering . .
The dark side of yesterday
by
Janet Tanner
( Book )
6 editions published between
1978
and 2009 in
English
and held by 427 WorldCat member libraries worldwide
Jo's husband died 2 years ago in a car crash ; his business partner has disappeared, and when she begins to investigate, she dicovers the world of real estate and time share apartments is even murkier and more dangerous than one might expect. She encounters a shocking level of criminality which puts her life at risk ; she begins to wonder if her husband was involved in the whole sordid business -- and soon begins to wonder if he really died
Dangerous deception
by
Janet Tanner
( Book )
5 editions published between
2006
and 2008 in
English
and
Undetermined
and held by 418 WorldCat member libraries worldwide
On a bright summer's day a young girl, carefree and smiling, receives an ominous warning from an old gypsy woman - a warning that she will never be able to forget. Some years later, another young woman is caught up, unwittingly, in Alex's sinister story. Imogen Voisey arrives at Upton Stowey House as governess to little Janine, daughter of the dangerously attractive Bradley Palmer. Janine's mother Alexandra died in mysterious circumstances - and now Brad's second wife, Rosalie, has also disappeared. Rumours abound concerning the role of Brad Palmer in the fate of his two wives. Against her will - and despite the powerful emotions his presence arouses in her - Imogen is forced to confront these rumours and establish, for herself and for Janine, the truth
more
fewer
Audience Level
0

1
Kids
General
Special
Audience level: 0.34 (from 0.22 for Women and ... to 0.50 for Seagull Ba ...)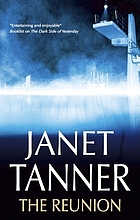 Alternative Names
Carr, Amelia
Shannon, Jade
Carr, Amelia.

Shannon, Jade.

Tanner, J.

טאנר, ג'אנט

טנר, ג'נט

Languages
Covers