Levin, Jack 1941-
Most widely held works by Jack Levin
Elementary statistics in social research
by
Jack Levin
( Book )
96 editions published between
1969
and 2017 in 4 languages and held by 1,627 WorldCat member libraries worldwide
This text provides a streamlined and accessible introduction to statistics for students in sociology, criminal justice, political science, social work, and other social sciences
Extreme killing : understanding serial and mass murder
by
James Alan Fox
( Book )
21 editions published between
2005
and 2015 in
English
and held by 1,150 WorldCat member libraries worldwide
"Extreme Killing: Understanding Serial and Mass Murder provides a comprehensive, fascinating overview of multiple homicide, including both serial and mass murder. Adopting a unified conceptual framework for understanding these divergent forms of extreme killing, this book illustrates the many violent expressions of power, revenge, terror, greed, and loyalty using contemporary and classic case studies in multiple murder."--Jacket
Hate crimes : the rising tide of bigotry and bloodshed
by
Jack Levin
( Book )
10 editions published between
1993
and 2001 in
English
and held by 1,071 WorldCat member libraries worldwide
Howard Beach! The Central Park Jogger! The Assassination of Alan Berg! Vincent Chin's Murder! The Portland Skinhead Slaying! Headlines scream of the latest in a wave of hate crime attacks. Hate crime-violence aimed at individuals because they are members of a particular group - were once considered the rare illegal actions of a small but vocal assortment of extremists who thrived on hating minorities. No more. Hate crimes have been sweeping the nation - as well as the world. They are happening in even the most unlikely of places. Whereas college campuses at one time epitomized the lofty principles of tolerance, diversity, and idealism, they have now become the repositories of hatred and division. Hate is hip on campus, as evidenced not only by the popularity of racist and misogynistic music, but by the recent rash of attacks against blacks, women, Asians, Latinos, Jews, and gays. These perceptive authors step back to reveal how the campus of hate has become a microcosm for the world at large. This expose by Jack Levin, one of America's leading sociologists and co-author of Mass Murder: America's Growing Menace, and Jack McDevitt, America's foremost authority on hate crimes, explores the spreading venom of prejudice and bigotry in our society and the world. They proclaim that political correctness - as in tolerance of diversity - is no longer deemed fashionable but, rather, obsolete. Organized hate groups have been taking our alienated youth by storm. But beyond bemoaning our present crisis, Levin and McDevitt set forth practical guidelines on how to stem the rising tide of hate. These experts persuasively argue that as the economic pie shrinks, a new type of terrorism is leaving a trail of bloodshed and destruction in its wake. For anyone who is different, the message of this new brand of terrorism is unmistakable: Either flee or be killed. These courageous and provocative analysts force us to face a spiraling problem around us as well as the prejudices within ourselves
Why we hate
by
Jack Levin
( Book )
5 editions published in
2004
in
English
and held by 911 WorldCat member libraries worldwide
"Expressions of hate are trumpeted each evening on the news, from the mayhem unleashed by suicide bombers to the steadily increasing casualties in the Middle East and Iraq. And since September 11, Americans have repeatedly asked themselves, "Why do they hate us?" In this look at the most troubling aspect of human nature, Jack Levin and Gordana Rabrenovic seek to explain why hate exists and offer practical methods for creating a more peaceable society."
The will to kill : making sense of senseless murder
by
James Alan Fox
( Book )
20 editions published between
2001
and 2012 in
English
and held by 887 WorldCat member libraries worldwide
This thoroughly revised and updated text is about the circumstances in which people kill one another. Authored by renowned experts, it reviews homicide laws, introduces theories purporting to explain murder, and presents up-to-date statistical data identifying homicide patterns and trends. It covers topics ranging from domestic and workplace homicide to cult and hate killings; murder committed by juveniles to serial slayings. Finally, it examines criminal justice responses to homicide, including the strategies and tactics employed to apprehend, prosecute, and punish killers. Virtually every chapter in this edition has undergone significant revision. In particular, this edition reflects recent legislative changes and Supreme Court decisions, includes new case examples, and contains extensively expanded discussions of family and school homicide
A twentieth-century Congress
by
Estes Kefauver
( Book )
17 editions published between
1947
and 1969 in
English
and
Undetermined
and held by 709 WorldCat member libraries worldwide
Gossip : the inside scoop
by
Jack Levin
( Book )
8 editions published in
1987
in
English
and held by 637 WorldCat member libraries worldwide
The violence of hate : confronting racism, anti-semitism, and other forms of bigotry
by
Jack Levin
( Book )
12 editions published between
2002
and 2013 in
English
and held by 624 WorldCat member libraries worldwide
This text explores two forms of hate and prejudice - racism in contemporary American society and the historical occurrence of anti-Semitism - under a single conceptual framework. Jack Levin, is a well-known scholar, author, and lecturer on the subject of hate crimes. In this book he shows how support for both racism and anti-Semitism can be conceptualized as occurring among four groups: hatemongers, dabblers, sympathizers, and spectators. Levin argues that hate and prejudice continue at a very dangerous level in our society, and that hate typically emanates not from the ranting and raving of a few people at the margins of society, but from ordinary people in the mainstream. -- Publisher description
Hate crimes revisited : America's war against those who are different
by
Jack Levin
( Book )
7 editions published in
2002
in
English
and held by 569 WorldCat member libraries worldwide
Two leading experts on hate crime reassess the threat of violence based on difference--whether in sexual orientation, race, gender, ethnicity, or citizenship-- to help us better understand and ultimately prevent such acts from occurring in the future
more
fewer
Audience Level
0

1
Kids
General
Special
Audience level: 0.33 (from 0.01 for Sociologic ... to 0.50 for Elementary ...)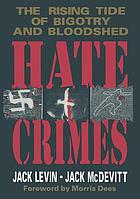 Alternative Names
Jack Levin American sociologist

Jack Levin Amerikaans socioloog

Jack Levin sociólogo estadounidense

Jack Levin sociologue américain

Levin, J.

Levin, Jack A.

Джек Левин

レヴィン, ジャック

Languages
Covers