Van House, Nancy A.
Most widely held works about Nancy A Van House
Most widely held works by Nancy A Van House
Digital library use : social practice in design and evaluation
by
Ann P Bishop
( )
19 editions published between
2003
and 2005 in
English
and held by 2,050 WorldCat member libraries worldwide
The contributors to this volume view digital libraries (DLs) from a social as well as technological perspective. They see DLs as sociotechnical systems, networks of technology, information artifacts, and people and practices interacting with the larger world of work and society. As Bruce Schatz observes in his foreword, for a digital library to be useful, the users, the documents, and the information system must be in harmony. The contributors begin by asking how we evaluate DLs -- how we can understand them in order to build better DLs -- but they move beyond these basic concerns to explore how DLs make a difference in people's lives and their social worlds, and what studying DLs might tell us about information, knowledge, and social and cognitive processes. The chapters, using both empirical and analytical methods, examine the social impact of DLs and also the web of social and material relations in which DLs are embedded; these far-ranging social worlds include such disparate groups as community activists, environmental researchers, middle-school children, and computer system designers. Topics considered include documents and society; the real boundaries of a "library without walls"; the ecologies of digital libraries; usability and evaluation; information and institutional change; transparency as a product of the convergence of social practices and information artifacts; and collaborative knowledge construction in digital libraries
Measuring academic library performance : a practical approach
by
Nancy A Van House
( Book )
20 editions published between
1990
and 1991 in
English
and
Undetermined
and held by 1,365 WorldCat member libraries worldwide
Prepared for the Association of College and Research Libraries Ad Hoc Committee on Performance Measures
A planning process for public libraries
by
Vernon E Palmour
( Book )
14 editions published between
1980
and 1982 in
English
and held by 548 WorldCat member libraries worldwide
This guide from the Public Libraries Association (pla) describes a planning process to be used by individual library systems to establish their own standards appropriate to local conditions and needs; design strategies to reach those needs; and inaugurate a planning cycle that involves continuous monitoring of progress and regular adjustment of objectives as community conditions and needs change. The introduction to the guide discusses the need for planning, the planning process, collecting and using data, and subsequent planning cycles. The first of three major sections then addresses preparing to plan, which includes the planning committee, tailoring the process to the library, information for planning, using the data, and presenting the data. Focusing on the planning process, the second section provides information on developing a community profile to determine user needs; assessing how well the library is currently meeting those needs; determining the role the library should play in the community; setting goals, objectives and priorities; developing strategies for change; implementation of the plan, including measuring activity and performance, and monitoring and evaluating progress; and the collection of management data. The third section addresses the collection and use of data, including secondary data for the community profile; statistics and performance measures for the evaluation of services; designing questionnaires, coding and processing the findings, and sample questionnaires for surveys of the library staff, citizens, students, and users; and processing the survey data. Four appendixes contain examples of library goals and objectives, sample forms and maps for the community profile, a set of sample tables for current library services, and sample tables for the analysis of survey responses. Twenty-seven figures and a 44-item selected bibliography are included. (Sd)
The public library effectiveness study : the complete report
by
Nancy A Van House
( Book )
21 editions published between
1989
and 1993 in
English
and
Undetermined
and held by 508 WorldCat member libraries worldwide
This study investigated the construct of effectiveness as it applies to public libraries and developed a methodology that can be transferred to other types of libraries and organizations. The research team began by compiling a list of indicators that are commonly used to gauge library effectiveness within the areas of: (1) services access; (2) internal administrative processes; (3) administrative resources; (4) community relationships; (5) materials; (6) service output; (7) physical plant; (8) broad social impact; (9) service offering/fit with community; (10) service quality; (11) staff; (12) internal technical processes; and (13) user population/market penetration. A mail questionnaire was sent to members of seven major constituencies of public libraries at 84 sites, and an overall response rate of 89.8 percent was achieved. The survey asked library managers, library service personnel, library trustees, library users, friends of the library, local officials from the library's funding jurisdiction, and community leaders with influence on library decisions, which indicators they most preferred. Librarians were also asked to rate their library's performance for each indicator. It was concluded that, although libraries which place priorities on different roles have different performance profiles for the indicators included on the survey, there is more agreement than disagreement among the various public library constituents as to what constitutes effectiveness. (28 references) (sd)
What's good? : describing your public library's effectiveness
by
Thomas Childers
( Book )
11 editions published in
1993
in
English
and held by 382 WorldCat member libraries worldwide
This workbook explains how to define what various constituents connected with a public library want it to do and what doing these things well means in qualitative terms. The book aims to define effectiveness for the public library and to provide guidelines for assessing the library's effectiveness and communicating this to stakeholders. The eight chapters address the following topics: (1) organizational effectiveness; (2) how to gauge effectiveness; (3) the steps that the public library field has taken to improve the ways of assessing and communicating effectiveness, including strategic planning, measurement, personnel appraisal, and budgeting; (4) key characteristics of the public library and how these characteristics might affect the way library managers depict its effectiveness; (5) the major results of "The Public Library Effectiveness Study"; (6) the ample (a Model of Public Library Effectiveness) framework by which a manager may plan a program of assessing public library effectiveness; (7) using ample to communicate with a library's constituent groups; and (8) summary or the major arguments of the book. The ample worksheet is found in the appendices, and a bibliography is included. (Jlb)
Missouri statewide bibliographic data base survey
by
Vernon E Palmour
( Book )
4 editions published in
1980
in
English
and held by 31 WorldCat member libraries worldwide
This report contains the conduct, methodology, and major findings of a survey of all the libraries in Missouri to assess their needs for a statewide database. The survey addresses the current state of automation, the functions that libraries would like to see a database perform, the materials to be included in the database, and the means of financing and governing it. It also includes recommendations of the Missouri Bibliographic Data Base Committee developed from the survey. Appendices provide a survey background letter, the questionnaire, and detailed tables of survey results. (Author/RAA)
more
fewer
Audience Level
0

1
Kids
General
Special
Audience level: 0.27 (from 0.08 for Digital li ... to 0.96 for Mått och ...)
Related Identities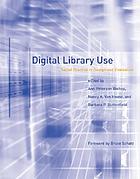 Alternative Names
De Wath, Nancy A.

DeWath, Nancy A.

DeWath, Nancy A. 1950-

DeWath, Nancy A. (Nancy Anita), 1950-

DeWath, Nancy V.

House Nancy A. Van

House, Nancy A. van 1950-

House, Nancy A. van (Nancy Anita van), 1950-

Van House, Nancy.

Van House, Nancy A.

Van House, Nancy Anita.

Wath, Nancy A. De.

Wath, Nancy A. de 1950-

Wath, Nancy A. de (Nancy Anita de), 1950-

Wath, Nancy de

Wath, Nancy E. de

Wath, Nancy V. De.

Languages
Covers