Mark, Clyde R.
Most widely held works by Clyde R Mark
Israel : U.S. foreign assistance
by
Clyde R Mark
( Book )
43 editions published between
2001
and 2005 in
English
and held by 374 WorldCat member libraries worldwide
Israel is not economically self-sufficient, and relies on foreign assistance and borrowing to maintain its economy. Since 1985, the United States has provided $3 billion in grants annually to Israel. Since 1976, Israel has been the largest annual recipient of U.S. foreign assistance, and is the largest cumulative recipient since World War II. In addition to U.S. assistance, it is estimated that Israel receives about $1 billion annually through philanthropy, an equal amount through short- and long- term commercial loans, and around $1 billion in Israel Bonds proceeds. Israeli Prime Minister Netanyahu told a joint session of Congress on July 10, 1996, that Israel would reduce its need for U.S. aid over the next four years. In January 1998, Finance Minister Neeman proposed eliminating the $1.2 billion economic aid and increasing the $1.8 billion in military aid by $60 million per year during a 10-year period beginning in the year 2000. The FY1999, 2000, 2001, 2002, and 2003 appropriations bills included cuts of $120 million in economic aid and an increases of $60 million in military aid for each year. U.S. aid to Israel has some unique aspects, such as loans with repayment waived, or a pledge to provide Israel with economic assistance equal to the amount Israel owes the United States for previous loans. Israel also receives special benefits that may not be available to other countries, such as the use of U.S. military assistance for research and development in the United States, the use of U.S. military assistance for military purchases in Israel, or receiving all its assistance in the first 30 days of the fiscal year rather than in 3 or 4 installments as other countries do
Libya
by
Clyde R Mark
( Book )
33 editions published between
1994
and 2013 in
English
and held by 359 WorldCat member libraries worldwide
Israeli-United States relations
by
Clyde R Mark
( Book )
43 editions published between
1990
and 2005 in
English
and held by 338 WorldCat member libraries worldwide
Israeli-U.S. relations are an important factor in U.S. policy in the Middle East, and Congress has placed considerable importance on the maintenance of a close and supportive relationship. The main vehicle for expressing support for Israel has been foreign aid; Israel currently receives about $3 billion per year in economic and military grants, refugee settlement assistance, and other aid. Congress has monitored the aid issue closely along with other issues in bilateral relations, and its concerns have affected several Administration's policies. U.S.-Israeli relations have evolved from an initial American policy of sympathy and support for the creation of a Jewish homeland in 1948 to an unusual partnership that links a small but militarily powerful Israel, dependent on the United States for its economic and military strength, with the U.S. superpower trying to balance competing interests in the region. Some in the United States question the levels of aid and general commitment the United States has to Israel, and argue that a U.S. bias toward Israel operates at the expense of improved U.S. relations with various Arab states. Others maintain that democratic Israel is a strategic ally, and that U.S. relations with Israel strengthens the U.S. presence in the Middle East. The United States fully supported the Israeli-PLO Declaration of Principles signed in Washington on September 13, 1993, and the follow-up agreements in May 1994, September 1995, the Hebron agreement of January 15, 1997, and the Wye agreement of October 23, 1998, mediated by President Clinton. See also CRS Issue Brief IB85066, "Israel: U.S. Foreign Assistance"; CRS Issue Brief IB91137, "The Middle East Peace Talks"; CRS Report RS20339, "Jerusalem: The U.S. Embassy and P.L. 104-45"; and CRS Report RS20001, "Jonathan Pollard: Background and Consideration for Presidential Clemency."
Lebanon
by
Clyde R Mark
( Book )
32 editions published between
1984
and 2006 in
English
and held by 284 WorldCat member libraries worldwide
The United States and Lebanon continue to enjoy good relations. Prominent current issues between the United States and Lebanon include progress toward a Lebanon-Israel peace treaty, U.S. aid to Lebanon, and Lebanon[alpha]s capacity to stop Hizballah militia attacks on Israel. The United States supports Lebanon's independence and favored the end of Israeli and Syrian occupation of parts of Lebanon. Israel withdrew from southern Lebanon on May 23, 2000, and Syria completed withdrawing its forces on April 26, 2005. Lebanon is rebuilding after the 1975-1990 civil war
Egypt-U.S. relations
by
Clyde R Mark
( Book )
22 editions published between
2001
and 2003 in
English
and held by 281 WorldCat member libraries worldwide
Jerusalem
by
Clyde R Mark
( Book )
9 editions published between
1992
and 1995 in
English
and held by 145 WorldCat member libraries worldwide
Palestine and the Palestinians
by
Clyde R Mark
( Book )
6 editions published between
1978
and 1991 in
English
and held by 108 WorldCat member libraries worldwide
more
fewer
Audience Level
0

1
Kids
General
Special
Audience level: 0.65 (from 0.49 for Israel's p ... to 0.69 for Israeli-Un ...)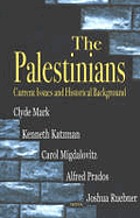 Covers
Alternative Names
Clyde Mark Amerikaans schrijver

マーク, クライド

Languages